Hi everyone! It's time for the 2016 yearly wrap-up. I was going to keep this brief but I think I'm incapable of ever keeping a post brief. So go grab yourself a cup of tea and get comfortable as you whiz through my reading year and the books that were the best of the bunch. My yearly wrap up consists of books I read in 2016, not when the book was published.
You must forgive me to being late (I don't know, is the first/second week of Jan really that late for a yearly wrap up? Pssht) but I've been working arduously to bring this masterpiece of a blog post to you so please, enjoy.
---
The Year in Wrap-Ups
---
The Goodreads Round-Up
Number of books read:
85!
My best reading year yet.
Number of pages read:
28,534
Not bad, but considering I read 15 books more than 2015,
I only read 1,000 more pages soo . . .
Shortest book read:
The Moth & the Flame
(#0.25 in The Wrath & the Dawn series by Renée Ahdieh), 40 pages
Of course, this will always be a novella so tah dah!
Technically, the shortest book was one of the other novellas in this
series but as it was only 9 pages long I didn't log it on Goodreads.
That seemed just a little bit too much like a cheat.
Longest book read:
Empire of Storms
(#5 in the Throne of Glass series by Sarah J. Maas), 693 pages
A sneaky book that looks a lot shorter than it is – but nonetheless
I'm surprised that this is the longest book I read!
Most popular book read:
Harry Potter and the Philosopher's Stone
4.6+ million ratings (on Goodreads)
How could it not be? In the year I listened to the audiobook of this
and it was absolutely fantastic. I can't wait to continue on listening.
Least popular book read:
Women at War 1939-1945: The Home Front
9 ratings (on Goodreads)
I read this for an essay for uni this year and I actually really enjoyed it!
---
On the Blog
Most popular posts:
Bookstores to Visit in London for Book Lovers
Top Ten Tuesday: Reason to Love Doctor Who
Beautiful Books: What I'm Writing
---
 2016 Reads That Made My All Time Favourite List
These three books were feels-destroyers. I loved them all whole-heartedly and hope that the authors continue to write more books like them because damn were they good. In particular, I can't believe it took me this long to get around to reading The Book Thief: SO. GOOD.
All of these were absolutely fantastic in the realm of fiction. Carry On was a surprise on this list because the beginning was so painfully Harry Potter-ish I didn't think I'd like the book. But here we are, on the favourites list. A Court of Mist and Fury was probably my favourite book in 2016 and The Darkest Minds ended on one of the most cruel cliff-hangers.
Man, each of these authors just keeps bringing out the goods. Empire of Storms was another surprise on my favourites list; as much as I like Maas I've been finding it difficult to read and get stuck into the Throne of Glass series in the last few books – I've loved them all in the ending but they're slow burners for me. We won't talk about Blood for Blood to avoid a mental breakdown and OMG AMY PLUM IS LIFE.
Of course, there is also this majestic piece of work: The Wrath and the Dawn duology. I read both of these books in 2016 and both hit my favourites list. I can't choose between them, they're both fabulous. If you haven't read this year then WHAT. ARE. YOU. DOING.
---
 Best of Genres
Best YA (Young Adult) Contemporary
Carry On
by Rainbow Rowell
Best YA Fantasy
A Court of Mist and Fury
by Sarah J. Maas
Best Fantasy
Wards of Faerie
by Terry Brooks
Best NA (New Adult)
It Ends With Us
by Colleen Hoover
Best YA Sci-Fi
Ten Thousand Skies Above You
by Claudia Gray
Best Sci-Fi
The Just City
by Jo Walton
Best Thriller/Mystery
And Then There Were None
by Agatha Christie
Best Children's Fiction
Cartwheeling in Thunderstorms
by Katherine Rundell
Best Debut
The Wrath & the Dawn
by Renée Ahdieh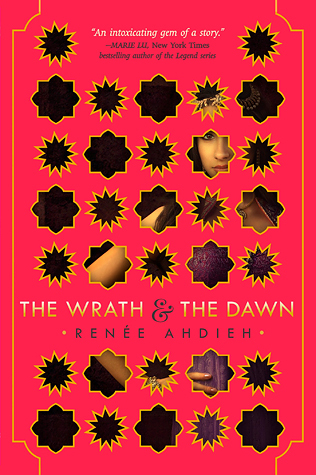 Best Non-Fiction
Is It Just Me?
by Miranda Hart
Best General Fiction
Me Before You
by Jojo Moyes
Best Retelling
Blood for Blood
by Ryan Graudin
Best Classic
Dr Jekyll & Mr Hyde
by Robert Louis Stevenson
Best Historical Fiction
The Book Thief
by Markus Zusak
---
 Favourite Covers
Ten Thousand Skies Above You is probably my absolute favourite of book covers right now. I love the splattering of colours and the reflection of the cityscapes amongst the water colours. Blood for Blood is certainly an attention grabber and I love the mysteriousness of Die For Me with the black swirls
Salt & Stone is an absolute stunner, as well. The icy blue against the white just begs for the book to be read. As always, Houck has been blessed with an amazing cover for her latest book Recreated and The Neverland Wars is so pretty I want to cry.
Finally, I love the cover for The Shadow Queen (and this was actually done with a real apple) – it's very fitting! Then Aerie is a real beauty, even if the story didn't live us to it, and It Ends with Us is GORGEOUS.
---
 Series I Finished in 2016
I really did not finish many series this year. Which surprised me. I started the year having participated in the Slay-That-Series-A-Thon scoffing and going, pah! I always finish series. Suddenly I have developed the affliction of not finishing series. So behold, the puny number of series I have completed and brace yourself for those left incomplete.
The Halo series by Alexandra Adornetto
I read this series altogether and whilst it was good I thought it ended weakly in the end and there were a few sticking points for me.
The Wolf by Wolf series by Ryan Graudin
The horrendously beautiful Wolf by Wolf series finished ME off this year. Absolutely stunning conclusion to this retelling of WWII and a series I highly recommend.
The Magonia series by Maria Dahvana Headley
An incredibly weird but wonderful series with an overwhelming disappointing sequel. So much promise for a unique story in these pages but I was left bitterly upset in the lack of delivery.
The Wrath & the Dawn series by Renée Ahdieh
As I mentioned before, this series is absolutely amazing and you really do need to read it if you haven't already!
The Divergent series by Veronica Roth
It's shameful how long it took me to read this trilogy but at last! It is done. It was a pretty good ending to the series but I have a few sticking points. I also just realised there's a #3.5 coming out NEXT WEEK GUYS. 5 years later or something. You're welcome.
---
 Series I Started in 2016
And here's a little break down of the new series that I dived into this year. There are quite a few (apparently I have a short attention span, but I think we all already knew that, didn't we?) This will be a list of series I intend to continue, and it's long, very long (sorry).
The Fire & Flood series by Victoria Scott
Absolutely loving this series and PRAYING WITH ALL I'VE GOT that book three gets picked up by someone. DON'T LEAVE ME HANGING, SCOTT, DON'T LEAVE ME HANGING.
The Firebird series by Claudia Gray
Don't even get me started on how amazing this series is. I'm positively gasping to finish it off and read the third book because THE CLIFF HANGER. MY GOD.
The Gender Game series by Bella Forrest
So much love for this series already. I received an ARC of book one and this is one of those fabulous series where the books have come out in rapid succession. The first three came out in 2016 with the final book coming out next month. I can't wait to keep reading!
The Secret Order series by Kristin Bailey 
I read book one at the start of the year and I have book two ready to go. This is an awesome steampunk series and I can't wait to power through the final two books!
The Falling Kingdoms series by Morgan Rhodes
This is such an amazing series and I'm thoroughly enjoying it. So far I have read the first two books and will probably go and buy the remainder of the series once it's out and binge read the life out o it.
The After the End series by Amy Plum
I have actually now finished this series but damn, what a cool concept. Plum is definitely one of my favourite authors now for writing gorgeous characters!
The Die For Me series by Amy Plum
I really should have finished this this year too but I didn't. This is a series that has fallen victim to my affliction of not finishing series. I absolutely love this (and the covers!) and I can't wait to finish it . . . soon.
The Covenant series by Jennifer L. Armentrout
This is the first time reading Armentrout for me and I am impressed. I have only read the first book (and a novella) of this series but I do have the second on standby. I can't wait to keep reading it because I already love the story. And damn, those covers.
The Hidden Masterpiece series by Kristy Cambron
This is an interesting historical fiction series that I've read the first book of. I'm really curious to see what it's like reading the sequel because the first could easily be a standalone.
The Red Queen series by Victoria Aveyard
I really enjoyed the first book in this series and have the second book awaiting in the wings of my bookshelf. I can't wait to see where the story goes, gotta love those dystopians.
The Ravenspire series by C. J. Redwine
I'm so curious to see how long this series goes on for – it's not long now until The Wish Granter's release and I'm so excited! Redwine is such a fabulous author I can't wait to see where she takes this series.
The Mortal Instruments series by Cassandra Clare
Well, the first book was okay. It wasn't all that inspiring however so many people say how it just gets better and better so I plan to persevere and read all of these.
The White Hart series by Sarah Dalton
I'm really enjoying this series – and I've just the last book to go! I'm hoping to dive right into it whilst I'm travelling.
The Otherselves series by Nicole Luiken
I'm not 100% sold on this series. However, I received the second book for review an age ago now and I do want to read and review it at some point so I will most likely give it a go.
The Dark Legacy of Shannara series by Terry Brooks
Now this is a series I'm loving. I only read book one but I'd happily go out and buy every single other book that Brooks' has written because I loved it that much.
The Talon series by Julie Kagawa
I was so-so about this first book if I'm being honest. However, I absolutely love Kagawa so I'm willing to keep going with the series and see where it goes.
The Seraphina series by Rachel Hartman
I thoroughly enjoyed book one in this little duology and I can't wait to pick up the sequel and finish off the series!
The Me Before You series by Jojo Moyes
Like everyone else on this planet, I read Me Before You this year and LOVED it. I'm very curious to see where the sequel takes things and where it's equally moving or not.
The Blackcoat Rebellion series by Aimee Carter
I spontaneously read the first book to this series and WHY AREN'T PEOPLE TALKING ABOUT THIS? I need the rest of the books right now, seriously.
The Neverland Wars 
series by Audrey Greathouse
Despite a large number of negative reviews for book one, I absolutely LOVED it. I've already pre-ordered the sequel on my e-reader and I can't wait for it to be released!
The Eon series by Alison Goodman
This series was started on a whim when I had the chance to meet Goodman at an event. I loved the concept of book one and I just know the sequel will be kickass.
The Darkest Minds series by Alexandra Bracken
This first book was absolutely amazing and I'm desperate to continue reading the rest of the series . . . as soon as I buy the final two books.
The Miss Peregrine's Home for Peculiar Children series by Ransom Riggs
I adored this first book and have bought the entire boxed set so as soon as I have time to marathon the rest of them, I shall!
The Thessaly series by Jo Walton
This first book was so, so, so interesting and I do have the second book at the ready to read! I don't know where this series is going to go next but it's sure to be interesting.
---
Some Stats!
Gender of Authors I Read
Woo! Go female representation, right? I'm amazed at how many female authors I'm reading and also surprised at the lack of male authors. I'd definitely like to have this more even down the middle but I guess that is also influenced by who's writing the genres I'm reading and which series I'm making my way through. Nonetheless, maybe in 2017 I should aim to read more books written by men!
Genres I Read
I don't think any of us are surprised there that fantasy wins.
Now this was interesting to do. I buy SO many books throughout the year and my TBR only ever grows rather than shrinks. Perhaps the solid evidence there that I easily bought more books than I read this year will inspire me to buy less this year so that my TBR stands a chance of shrinking.
Each week I participate in Wishlist Wednesday so I thought it'd be fun to see how many of those books I've featured throughout the year I own by the end of it. The answer is that out of the 38 books I discussed as being on my Wishlist throughout the year, I now own 2.
Similarly, I wanted to know the balance between those books I featured on Waiting on Wednesday this year and how many of them I bought this year. Turns out that of the 50 books I featured for WoW, I also then bought 15 of those.
---
 What About Me?
I finished university this year – I now have a Bachelor's degree in History and Italian
I went to England for a month (and Ireland) and did lots of cool things
I accepted a job at Walt Disney World, Florida where I'll be moving to this week
I started an Instagram account and now have over 500 followers
I hit the 450 follower mark on my blog
I won NaNoWriMo by surpassing the 50k word count for my book
---
 That's a Wrap!
Alas, we reach the end of this enormous post. How was your reading year? Did you achieve your challenges and hit your goals? Let me know in the comments below!
---
~~ Kirstie ~~