I am a massive Whovian and I have been for most of my life. I've always loved the stories that come out of and it appeals to my imagination on so, so, so many levels. I'm not the biggest TV show watcher in the world (I get so ridiculously distracted by books, you see) but the world STOPS when Doctor Who is on. For Doctor Who is life.
This week's theme is:
Ten Reasons I Love Doctor Who
This week's prompt let us choose what we love and I've decided to choose Doctor Who. Why? Because THERE ARE BOOKS. A-ha! You weren't expecting that were you? Oh, you were? Well, shush, eat your popcorn. When I first discovered that there were Doctor Who Novels I freaked out and bought many. But I think a lot of people aren't sure how the whole shabam works. SO:
There are the episodes from the Doctor Who TV series. These are written by a director/script writer and there are about 13 episodes per series, give or take. We also get one Christmas Special per year. Unfortunately, there is not Doctor Who this year (2016) for various reasons, but it's fine, it's fine (it's not).
There are comics. I don't really read these (the shame) but they do exist.
But mostly importantly, there are books. The books are written by a variety of authors and they are NOT the episodes in novel form. There are whole brand spanking new stories and are in cannon with the TV show (although they are never referenced in the TV show, it's a one way thing). So if you love Doctor Who and aren't reading these then WHAT ARE YOU DOING?
Although if I'm being honest this post is mostly going to be about the show and not the books. I apologise (not really) – so quick, go grab your TARDIS mug, pull up your TARDIS socks, stash your sonic screws driver in your pocket (just in case) and nibble on a jammy dodger. IT'S DOCTOR WHO TIME.
Top Ten Tuesday is a weekly meme hosted over @ The Broke and the Bookish and each week there's a different theme that we get to make a list about featuring ten related books. It's so much fun and the topics are always great! It's also a fabulous way to learn more about people's reading adventures and I recommend heading over to the official page to do some exploring through the link up.
---
#1
It's Science Fiction
And sci-fi is FUN. That is the first rule of this genre: funness. Anything can happen, and everything does. We've had some amazing episodes and this is just sci-fi done right. I've enjoyed all the stories that I've read in the Doctor Who books as well – being such an old series means that the rules and whatnot are pretty set so now it's just down to wreaking havoc!
---
#2
The Books Avoid You Being Stuck in a Doctor Who-less Pit of Sadness
This is obviously a bonus. It means that during years like this year when there are no episodes whatsoever we can survive by binging on the books. And, I mean, when there are only 13 episodes or so per series it's always nice to have an abundance of books to choose from.
---
#3
 David Tennant

So the absolute best part of the this series is David Tennant. If you are unaware of the existence of this human being then WHAT ARE YOU DOING WITH YOUR LIFE. I absolutely adore Tennant. He is my favourite being in the whole wide world. In the whole wide universe, dangit! He's amazing. And he's SO funny in the show – like, argh. I can't. I just can't.
Of course, there are many other brilliant actors in the series and they always bring in AMAZING guest actors, such as Michael Gambon, but it's Doctor Who and it can do what it wants.
---
#4
It's Funny. Like, Really Funny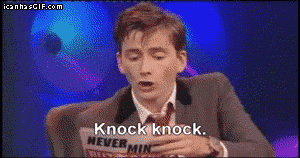 Aside from Tennant's general hilarity, the show is super humourous. Okay, so there's the occasional sad bit but mostly it just a bucket of fun. The actors have a rollicking time (I've been dying to use that word) and the plots allow for much needed comedy relief. Such as David Tennant holding kittens. Oh, what was that? You need proof? . . . . . .
You're welcome.
---
#5
The Quotes are Unbelievable
Doctor Who has a ridiculous number of quotable quotes. I actually have a poster up in my room of all the beautiful quotes from one of the season, such as:
"I am making sense. You just aren't keeping up."
And,
"Biting it excellent. It's like kissing, only there's a winner."
But there are of course wonderful, meaningful quotes that'll make you cry like a baby as well. So there's always those to look forward to.
---
#6
Peter Capaldi's Eyebrows
Okay this is really just a silly point but LOOK at them. They are fearsome.
---
#7
The Feels Are Too Real
If you want to have something to turn to when you want to be SOUL DESTROYED and UTTERLY DEVASTATED then Doctor Who is for you. But seriously, you will never get more attached to a character than your Doctor. You won't. And you will cry muchly so. All the good sign of something done right, yes? Yes.
---
#8
It's Never-Ending. Literally.
This has to be the best thing about Doctor Who: it doesn't have to end. I'm sure at some point it will hit a road block, but for now it's smooth sailing and there are giant gusts of wind in our sails. It did actually start in the 1960s and go off air for a bit but the revamped Doctor Who is doing mighty fine. And we're getting a new director next year! And a new companion! And . . . probably a new Doctor not long after that *cries*
If you don't know how it works: The Doctor is a Timelord and Timelords can regenerate 12 times. So, they die, they regenerate, and their bodies change. The only way to kill them is to kill them again before the regeneration process is complete. It's very emotional and very spectacular – and the director did some super cool thing to enable The Doctor to have a whole new set of lives. ENDLESS DOCTOR WHO FOR EVERYONE *throws celebratory broccoli*.
---
#9
 The Episodes Do Fun Things
This gif here has to be from one of my most favourite episodes for how much fun it was. The Doctor and Donna (companion) travelled back in time and met Agatha Christie. Of course, true to Doctor Who style they get caught up in a murder mystery not unlike the ones she writes and it's magnificent. There are so many gems of an episode like this one where the show plays around with history – Shakespeare being one of my favourite ones. Oh, it is magnificent, this show.
---
#10
 There's a Huge Fandom and a Doctor Who Experience
What better than something with oodles of fans! That has to be one of the greatest things, when you finish watching an episode and can promptly flee to the internet to discuss everything that went down. And then there's the matter of the Doctor Who Experience in Cardiff. Mamma mia, what fun. I'm really hoping that I can go and see that at some point because I think I'd have a whale of a time. Fandoms really do make everything so much better – and I mean, if it weren't for the fandom, there'd be no Doctor Who books, and that'd be a disaster.
---
#11
The Monsters
Well how could I write this post without mentioning these? The monsters and bad guys in Doctor Who are AMAZING. They're both terrifying and magnificent all wrapped up in one. The Weeping Angels will forever scare me (imagine having to put them away at the end of each day in a dark store room *shudders*) and The Silence make me very nervous. Personally, I find the Daleks quite funny (unless they kill one of my favourite characters, that, is clearly not okay) because they're all metal and squably and they have a plunger *delighted cackles*.
---
 Do you watch Doctor Who?
 LET'S FLAIL TOGETHER.
Seriously though, bookworms, check out the Doctor Who novels. They're fabulous and marvellous and ARGH. I shall one day do a Doctor Who book reference post so prepare your chocolate sundaes for that ball of fun!
---
~~ Kirstie ~~