I hope you're settled in with a large cup of tea because I have a lot of books to show you today! The end of the month always seems to come around so busily and so, somehow, in neither April nor March did I manage to get my book haul up. Sheesh. Shame on me!
Which means today, as May has now ticked over and we gaily galavant into June, I'm going to lump all of the new books from the last three months into one post. How exciting. As always, a big thanks to all the publishers (HarperCollins, Harlequin Bloomsbury, Allen & Unwin, and Penguin) for filling up my shelves with bookish delights. Some ARCs I have already read and loved, and some I am eager to yet pick up!
---
BOUGHT
The Boy Who Steals Houses
by C.G. Drews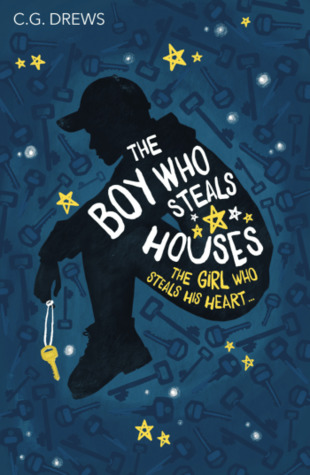 Click Here for Blurb

Can two broken boys find their perfect home?

Sam is only fifteen but he and his autistic older brother, Avery, have been abandoned by every relative he's ever known. Now Sam's trying to build a new life for them. He survives by breaking into empty houses when their owners are away, until one day he's caught out when a family returns home. To his amazement this large, chaotic family takes him under their wing – each teenager assuming Sam is a friend of another sibling. Sam finds himself inextricably caught up in their life, and falling for the beautiful Moxie.

But Sam has a secret, and his past is about to catch up with him.
This is Cait's second book out into the wild and that's so exciting! I so so so loved A Thousand Perfect Notes (and so did my mum) and I can't wait to pick this one up. This is on my priority list for June (that's a list I just made up on the spot) because I simply HAVE to get around to it soon!
Internment
by Samira Ahmed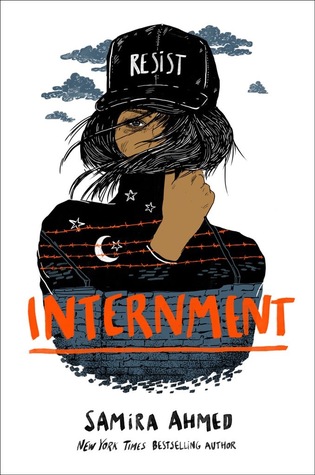 Click Here for Blurb

Rebellions are built on hope.

Set in a horrifying near-future United States, seventeen-year-old Layla Amin and her parents are forced into an internment camp for Muslim American citizens.

With the help of newly made friends also trapped within the internment camp, her boyfriend on the outside, and an unexpected alliance, Layla begins a journey to fight for freedom, leading a revolution against the internment camp's Director and his guards.

Heart-racing and emotional, Internment challenges readers to fight complicit silence that exists in our society today.
I was so excited to grab a copy of this. The wait for its release nearly killed me. The topic that this dystopian YA book is dealing with feels very real and topical – and scary! I'm so curious to dip into it and see just how heart-breaking this is going to be. Apart from anything, the first line of the book gives me (out of place) Star Wars vibes and gets me all excited.
Always and Forever Lara Jean
by Jenny Han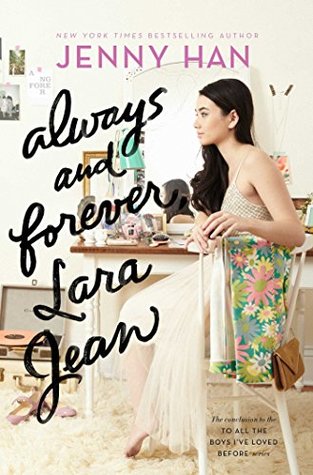 Click Here for Blurb

Lara Jean is having the best senior year.

And there's still so much to look forward to: a class trip to New York City, prom with her boyfriend Peter, Beach Week after graduation, and her dad's wedding to Ms. Rothschild. Then she'll be off to college with Peter, at a school close enough for her to come home and bake chocolate chip cookies on the weekends.

Life couldn't be more perfect!

At least, that's what Lara Jean thinks . . . until she gets some unexpected news.

Now the girl who dreads change must rethink all her plans—but when your heart and your head are saying two different things, which one should you listen to?
At the beginning of this year, I read the second book in this series, P.S. I Still Love You, and just adored it. With the movies coming out on Netflix I simply had to make sure that I will continue and finish the story. So when I was wandering through a bookstore and the beautiful spine of this book was peeping out at me, I just happened to buy it.
Girls of Paper and Fire
by Natasha Ngan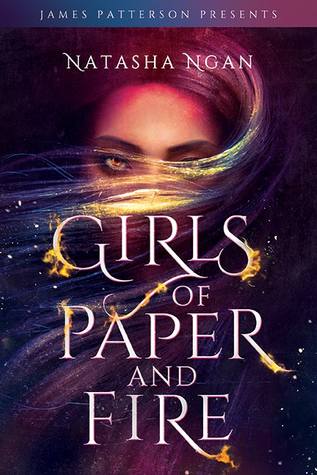 Click Here for Blurb

Each year, eight beautiful girls are chosen as Paper Girls to serve the king. It's the highest honor they could hope for…and the most cruel.

But this year, there's a ninth girl. And instead of paper, she's made of fire.

In this lush fantasy, Lei is a member of the Paper caste, the lowest and most oppressed class in Ikhara. She lives in a remote village with her father, where the decade-old trauma of watching her mother snatched by royal guards still haunts her. Now, the guards are back, and this time it's Lei they're after–the girl whose golden eyes have piqued the king's interest.

Over weeks of training in the opulent but stifling palace, Lei and eight other girls learn the skills and charm that befit being a king's consort. But Lei isn't content to watch her fate consume her. Instead, she does the unthinkable–she falls in love. Her forbidden romance becomes enmeshed with an explosive plot that threatens the very foundation of Ikhara, and Lei, still the wide-eyed country girl at heart, must decide just how far she's willing to go for justice and revenge.
One of the most popular releases at the moment, dare I say? Everyone is currently losing their minds over the cover reveal for the sequel to this book which is super exciting. But I've yet to read the first, so if everyone could please slow down? Thank you. I'd been wanting to get a copy of this for so freaking long and just hadn't had the chance. Which meant when I saw it in a bookstore one day I went SCREW IT and bought myself a copy. There is a trigger warning for this book for violence and sexual abuse.
The Cold is in Her Bones
by Peternelle van Arsdale
Click Here for Blurb

One girl must uncover secrets of the past to save her friend from a terrible curse in this dark and mesmerizing story of love, revenge, and redemption inspired by the myth of Medusa.

Milla knows two things to be true: Demons are real, and fear will keep her safe.

Milla's whole world is her family's farm. She is never allowed to travel to the village and her only friend is her beloved older brother, Niklas. When a bright-eyed girl named Iris comes to stay, Milla hopes her loneliness might finally be coming to an end. But Iris has a secret she's forbidden to share: The village is cursed by a demon who possesses girls at random, and the townspeople live in terror of who it will come for next.

Now, it seems, the demon has come for Iris. When Iris is captured and imprisoned with other possessed girls, Milla leaves home to rescue her and break the curse forever. Her only company on the journey is a terrible new secret of her own: Milla is changing, too, and may soon be a demon herself.

The Cold Is in Her Bones is a novel about the dark, reverberating power of pain, the yearning to be seen and understood, and the fragile optimism of love.
This just sounds so good! I pre-ordered myself a copy of this and am keen to sit down and gobble it up in one reading. It's actually a much shorter book than I thought it would be so it potentially could be something to read in one sitting.
Now I Rise
by Kiersten White
Click Here for Blurb

She had chosen to leave them as an act of strength.

Lada is a princess without a kingdom. Her bid to seize her rightful crown ended in disaster.

She would never return to them in weakness.

Radu sacrificed so much for his coveted position in his friend Mehmed's court. But what he wants in return, Mehmed cannot give.

She had thought the throne was hers for the taking.

Their individual ambitions will force the three to make tough choices: faith or love; family or friend; duty or desire …

She had thought that she would be enough.

Once the decision is made, there can be no going back.
Lawd, am I excited about this. I devoured the first book in this series, And I Darken, via audiobook and then made the decision the carry on the series in its hardcopy format – simply because I wanted to read it even faster than the audiobook would allow me to. This gender-swapped retelling of Vlad the Impaler is simply to die for.
King of Scars
by Leigh Bardugo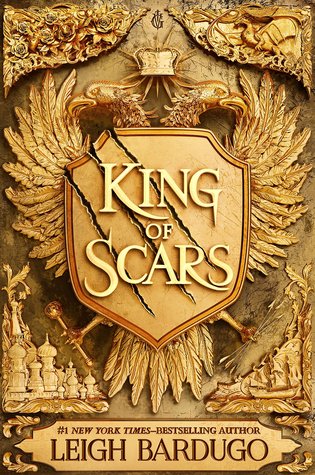 Click Here for Blurb

Nikolai Lantsov has always had a gift for the impossible. No one knows what he endured in his country's bloody civil war—and he intends to keep it that way. Now, as enemies gather at his weakened borders, the young king must find a way to refill Ravka's coffers, forge new alliances, and stop a rising threat to the once-great Grisha Army.

Yet with every day a dark magic within him grows stronger, threatening to destroy all he has built. With the help of a young monk and a legendary Grisha Squaller, Nikolai will journey to the places in Ravka where the deepest magic survives to vanquish the terrible legacy inside him. He will risk everything to save his country and himself. But some secrets aren't meant to stay buried—and some wounds aren't meant to heal.
Eeep this book is gorgeous! I have it in its hardback edition and the naked book itself is GORGEOUS. I feel like I won't get around to reading this super soon, however. It seems everyone else is really on top of the story but it's been so long since I read the Grisha Trilogy and the Six of Crows duology (perhaps the only series I read at the time they came out) that it's a bit fuggy in my mind. I'll need to touch on some recaps before I throw myself into Nicolai's story, I think.
Nocturna
by Maya Motayne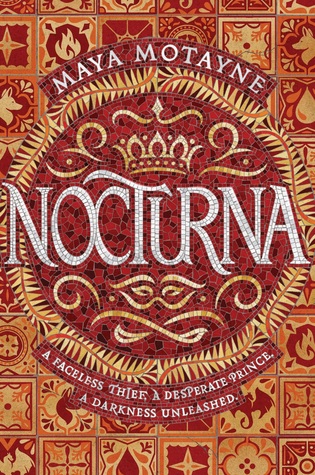 Click Here for Blurb

Set in a Latinx-inspired world, a face-changing thief and a risk-taking prince must team up to defeat a powerful evil they accidentally unleashed.

To Finn Voy, magic is two things: a knife to hold under the chin of anyone who crosses her…and a disguise she shrugs on as easily as others pull on cloaks.

As a talented faceshifter, it's been years since Finn has seen her own face, and that's exactly how she likes it. But when Finn gets caught by a powerful mobster, she's forced into an impossible mission: steal a legendary treasure from Castallan's royal palace or be stripped of her magic forever.

After the murder of his older brother, Prince Alfehr is first in line for the Castallan throne. But Alfie can't help but feel that he will never live up to his brother's legacy. Riddled with grief, Alfie is obsessed with finding a way to bring his brother back, even if it means dabbling in forbidden magic.

But when Finn and Alfie's fates collide, they accidentally unlock a terrible, ancient power—which, if not contained, will devour the world. And with Castallan's fate in their hands, Alfie and Finn must race to vanquish what they have unleashed, even if it means facing the deepest darkness in their pasts.
These next four books are the books I got for my birthday in May. I can't wait to read this because everyone seems so excited about Nocturna! The premise of the face-changing thief and the risk-taking prince just sounds like something so up my alley!
We Hunt the Flame
Hafsah Faizal
Click Here for Blurb

People lived because she killed. People died because he lived.

Zafira is the Hunter, disguising herself as a man when she braves the cursed forest of the Arz to feed her people. Nasir is the Prince of Death, assassinating those foolish enough to defy his autocratic father, the sultan. If Zafira was exposed as a girl, all of her achievements would be rejected; if Nasir displayed his compassion, his father would punish him in the most brutal of ways. Both Zafira and Nasir are legends in the kingdom of Arawiya—but neither wants to be.

War is brewing, and the Arz sweeps closer with each passing day, engulfing the land in shadow. When Zafira embarks on a quest to uncover a lost artifact that can restore magic to her suffering world and stop the Arz, Nasir is sent by the sultan on a similar mission: retrieve the artifact and kill the Hunter. But an ancient evil stirs as their journey unfolds—and the prize they seek may pose a threat greater than either can imagine.

Set in a world inspired by ancient Arabia.
I was getting super jealous of everyone on Instagram who was flashing their copies of this book that I did a dance of extreme happiness when I got this for my birthday. I just LOVE the sound of this book and think it's going to be a wickedly awesome read. Can you FEEL how excited I am?! We're talking ancient Arabia, people!!
Outrun the Wind
by Elizabeth Tammi
Click Here for Blurb

The Huntresses of Artemis must obey two rules: never disobey the goddess, and never fall in love. After being rescued from a harrowing life as an Oracle of Delphi, Kahina is glad to be a part of the Hunt; living among a group of female warriors gives her a chance to reclaim her strength, even while her prophetic powers linger. But when a routine mission goes awry, Kahina breaks the first rule in order to save the legendary huntress Atalanta.

To earn back Artemis's favor, Kahina must complete a dangerous task in the kingdom of Arkadia— where the king's daughter is revealed to be none other than Atalanta. Still reeling from her disastrous quest and her father's insistence on marriage, Atalanta isn't sure what to make of Kahina. As her connection to Atalanta deepens, Kahina finds herself in danger of breaking Artemis' second rule.

She helps Atalanta devise a dangerous game to avoid marriage, and word spreads throughout Greece, attracting suitors willing to tempt fate to go up against Atalanta in a race for her hand. But when the men responsible for both the girls' dark pasts arrive, the game turns deadly.
Okay, here we have a Greek myth-inspired fantasy revolving around the goddess Artemis. The forbidden love and female huntress vibes of this book has me itching to pick it up. I've heard some wonderful things about this over on Instagram and am expecting to fall in love with the story!
The Last Namsara
by Kristen Ciccarelli
Click Here for Blurb

In the beginning, there was the Namsara: the child of sky and spirit, who carried love and laughter wherever he went. But where there is light, there must be darkness—and so there was also the Iskari. The child of blood and moonlight. The destroyer. The death-bringer.

These are the legends that Asha, daughter of the king of Firgaard, has grown up learning in hushed whispers, drawn to the forbidden figures of the past. But it isn't until she becomes the fiercest, most feared dragon slayer in the land that she takes on the role of the next Iskari—a lonely destiny that leaves her feeling more like a weapon than a girl.

Asha conquers each dragon and brings its head to the king, but no kill can free her from the shackles that await at home: her betrothal to the cruel commandant, a man who holds the truth about her nature in his palm. When she's offered the chance to gain her freedom in exchange for the life of the most powerful dragon in Firgaard, she finds that there may be more truth to the ancient stories than she ever could have expected. With the help of a secret friend—a slave boy from her betrothed's household—Asha must shed the layers of her Iskari bondage and open her heart to love, light, and a truth that has been kept from her.
So here we have an epic fantasy with a dragon slayer and I don't really need to explain to you any more than that why I can't wait for this one. I'm SUPER keen to pick this up and can see myself diving into it, buried in its story for days, real soon. Plus the cover? Woweee, I loved it.
---
RECEIVED
Watch Us Rise
by Renée Watson & Ellen Hagan
Click Here for Blurb

A stirring and unputdownable read about what it means to be a woman today. Perfect for fans of Moxie and The Hate U Give.

Jasmine and Chelsea are best friends on a mission. Sick of the way that young women are treated even at their 'progressive' New York City high school, they decide to start a Women's Rights Club. One problem – no one shows up. That hardly stops them. They start posting everything from videos of Chelsea performing her poetry to Jasmine's response to being reduced to a racist and sexist stereotype in the school's theatre department. And soon, they've gone viral, creating a platform they never could've predicted.

With such positive support, the Women's Rights Club is also targeted by trolls. But Jasmine and Chelsea won't let their voices – or those of the other young women in their city – be silenced. They'll risk everything to be heard and effect change … but at what cost?
I was sent this from Bloomsbury and I think this sounds really interesting. It's feminist, contemporary fiction from what I understand. At first, I wasn't sure I was going to pick it up but the book is actually quite small and I think will be a quick read so I'm contemplating picking it up one afternoon and seeing how quickly I can smash through it.
The Eyes of Tamburah
by Maria V. Snyder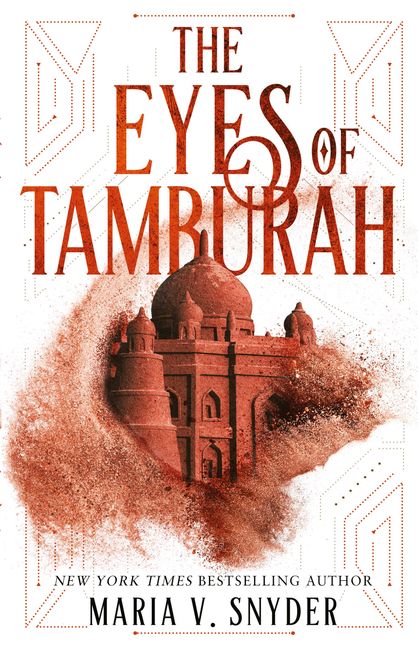 Click Here for Blurb

'He thinks you are the thief…'

Shyla is a researcher who resides in the underground desert city of Zirdai, which is ruled by the wealthy Water Prince and brutal Heliacal Priestess. Even though Shyla is sun-kissed – an outcast, considered cursed by the Sun Goddess – she is still renowned for uncovering innumerable archaic facts, lost artefacts, ancient maps, and obscure historical documents. Her quiet life is about to change when Banqui, an archaeologist, enlists her services to find The Eyes of Tamburah: legendary gemstones that bestows great magic to its wielder. These ancient objects can tip the balance of power and give whoever possesses them complete control of the city.

But chaos erupts when The Eyes are stolen soon after they're found – and Shyla is blamed for the theft. Forced to flee, with the Prince's soldiers and the Priestess' deacons on her trail, Shyla must recover the jewels and clear her name. A quest that will unearth secrets even more valuable than The Eyes of Tamburah themselves…
I was sent an advance copy of this from HarperCollins and oh my lord, I'm jumping with excitement to pick this one up! I'm probably going to read this super soon because I just finished reading Snyder's latest book and am totally on a Snyder high now. This has a wicked plot so click above to expand and devour it!
The Honeyman and the Hunter
by Neil Grant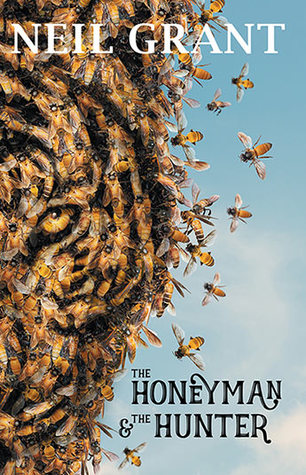 Click Here for Blurb

A beautifully written coming-of-age novel featuring a strong voice, set across two continents, exploring the universal themes of family and belonging.

When sixteen-year-old Rudra's grandmother arrives from India and a long hidden secret is dredged from the bay, life on Rudra's sleepy New South Wales village shifts dramatically and it's not long before Rudra and his mother are bound for Bengal on a journey of discovery and danger.
The Honeyman and the Hunter was sent to me from Allen & Unwin. This is a book with a gloriously creepy cover thatI'm weirdly excited for? I can't really work out exactly what the story is going to be. It sounds like it will be a self-discovery/uncovering family history and secrets and it set in Australia and India (specifically the Bengal region). This is classified as a YA novel and I'm just overly curious about the combination of bees and the tiger on the cover.
A Curse so Dark and Lonely
by Brigid Kemmerer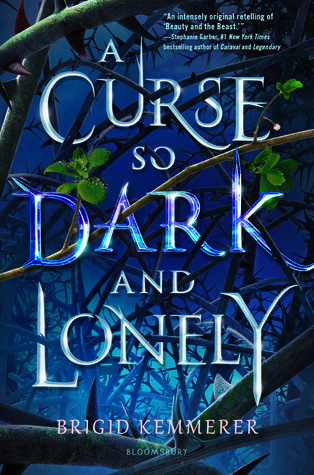 Click Here for Blurb

Fall in love, break the curse.

Cursed by a powerful enchantress to repeat the autumn of his eighteenth year, Prince Rhen, the heir of Emberfall, thought he could be saved easily if a girl fell for him. But that was before he turned into a vicious beast hell-bent on destruction. Before he destroyed his castle, his family, and every last shred of hope.

Nothing has ever been easy for Harper. With her father long gone, her mother dying, and her brother constantly underestimating her because of her cerebral palsy, Harper learned to be tough enough to survive. When she tries to save a stranger on the streets of Washington, DC, she's pulled into a magical world.

Break the curse, save the kingdom.

Harper doesn't know where she is or what to believe. A prince? A curse? A monster? As she spends time with Rhen in this enchanted land, she begins to understand what's at stake. And as Rhen realizes Harper is not just another girl to charm, his hope comes flooding back. But powerful forces are standing against Emberfall . . . and it will take more than a broken curse to save Harper, Rhen, and his people from utter ruin.
This was sent to me from Bloomsbury and I was blown away by it. I've rated this one a 5/5 stars (here's my review) and I cannot WAIT for the sequel to come out (and it has an equally gorgeous cover). This is a retelling of Beauty & the Beast and it is done so well. Can't recommend enough.
The Spanish Promise
by Karen Swan
Click Here for Blurb

Charlotte, a wealth counsellor who knows from personal experience the complications that a sudden inheritance can bring, helps her clients navigate the emotional side effects of sudden wealth syndrome. When she is asked by Mateo Mendoza, heir to a huge Spanish estate, to fly to Madrid to help resolve an issue in his father's will, she's confident it will be straightforward. The timing isn't great as Charlotte's due to get married the following week, but once her client signs on the dotted line, Charlotte can return to her life in London and her wedding, and live happily ever after. Marrying Stephen might not fill her with excitement, but she doesn't want to live in the fast lane anymore – safe and predictable is good.

But Carlos Mendoza's final bequest opens up a generation of secrets, and Charlotte finds herself compelled to unravel the mystery. As Charlotte digs deeper, she uncovers the story of a family divided by Spain's Civil War, and of a love affair across the battle lines that ended in tragedy.

And while she is consumed in the drama of the Mendozas, Charlotte's own tragic past catches up with her, threatening to overturn everything in her life she's worked so hard to build.
Ahhh, the good people at Pan MacMillan sent me another Karen Swan book and I am SUPER EXCITED. I read The Christmas Lights in December (2018) and really enjoyed Swan's writing style. My mum is also an avid fan of Swan's work and rates this one highly!
Women to the Front
by Heather Sheard & Ruth Lee
Click Here for Blurb

At the outbreak of World War I, 129 women were registered as medical practitioners in Australia, and many of them were eager to contribute their skills and expertise to the war effort. For the military establishment, however, the notion of women doctors serving on the battlefield was unthinkable. Undaunted, at least twenty-four Australian women doctors ignored official military policy and headed to the frontlines.

This book explores the stories of the Australian women who served as surgeons, pathologists, anaesthetists and medical officers between 1914 and 1919. Despite saving hundreds of lives, their experiences are almost totally absent from official military records, both in Australia and Great Britain, and many of their achievements have remained invisible for over a century. Until now.

Heather Sheard and Ruth Lee have compiled a fascinating and meticulously researched account of the Great War, seen through the eyes of these women and their essential work. From the Eastern to the Western Fronts, to Malta, and to London, we bear witness to the terrible conditions, the horrific injuries, the constant danger, and above all, the skill and courage displayed by this group of remarkable Australians. Women to the Front is a war story unlike any other.
This was sent to me from Penguin and I really enjoyed it! I will also have an interview that I conducted with Heather coming up really soon, so keep your eyes peeled for that one. This is a non-fiction historical book on the female doctors during World War I. It's super interesting and really informative!
---
 AUDIOBOOKS
The Everlasting Rose
Dhonielle Clayton
Click Here for Blurb

In this sequel to the instant New York Times bestseller, Camille, her sister Edel, and her guard and new love Remy must race against time to find Princess Charlotte. Sophia's Imperial forces will stop at nothing to keep the rebels from returning Charlotte to the castle and her rightful place as queen. With the help of an underground resistance movement called The Iron Ladies-a society that rejects beauty treatments entirely-and the backing of alternative newspaper The Spider's Web, Camille uses her powers, her connections and her cunning to outwit her greatest nemesis, Sophia, and restore peace to Orleans.
This was my audiobook for March! I subscribe to Audible and usually get through about one to two audiobooks a month. Although that being said, in April I did buy an extra book (for those who don't know how Audible works, you subscribe for a certain amount each month – I pay $14AUD but I think they've recently raised their prices to $16AUD – and you get one credit each month, but every book after that you buy for the same price as your subscription, so $14AUD for me). This is the sequel to The Belles, I've already read it and rated it 4/5 stars. This series is so much fun and I highly recommend!
The Priory of the Orange Tree
by Samantha Shannon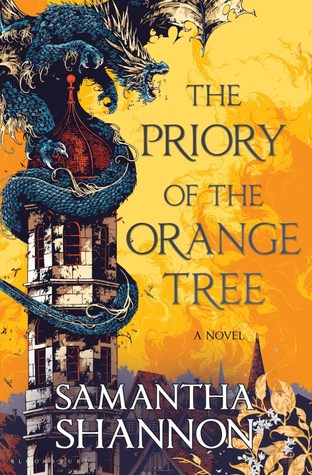 Click Here for Blurb

A world divided.
A queendom without an heir.
An ancient enemy awakens.

The House of Berethnet has ruled Inys for a thousand years. Still unwed, Queen Sabran the Ninth must conceive a daughter to protect her realm from destruction—but assassins are getting closer to her door.

Ead Duryan is an outsider at court. Though she has risen to the position of lady-in-waiting, she is loyal to a hidden society of mages. Ead keeps a watchful eye on Sabran, secretly protecting her with forbidden magic.

Across the dark sea, Tané has trained all her life to be a dragonrider, but is forced to make a choice that could see her life unravel.

Meanwhile, the divided East and West refuse to parley, and forces of chaos are rising from their sleep.
This is was the bonus audiobook that I bought and it was massive! Okay, but not that crazy because of how big the book in my haul is. This is a 26 hour audiobook and the story is an epic fantasy with four regions divided within a land, dragons, prophecies and pirates. It was a good read but I rated it 3/5 stars. For more thoughts on whether I would recommend this book for YOU, check out either my review HERE or on YOUTUBE.
The Fiery Cross
by Diana Gabaldon
Click Here for Blurb

The year is 1771, and war is coming. Jamie Fraser's wife tells him so. Little as he wishes to, he must believe it, for hers is a gift of dreadful prophecy—a time-traveler's certain knowledge. Claire's unique view of the future has brought him both danger and deliverance in the past; her knowledge of the oncoming revolution is a flickering torch that may light his way through the perilous years ahead—or ignite a conflagration that will leave their lives in ashes.
The fifth book in the Outlander series! This is whopping audiobook book, clocking in at nearly 56 hours. It's massive. But I'm so enjoying it. It's one of my current reads and it's going to be for some time (should give me ample opportunity to build up my audiobook TBR again). Can we appreciate though the fact that I depleted my audiobook TBR completely? It's not the same as my physical TBR but it still felt like an accomplishment! So far this is better than the fourth book which I found waxed and waned with excitement, but this is so in depth and we're barrelling into another set of adventures.
Circe
by Madeline Miller
Click Here for Blurb

In the house of Helios, god of the sun and mightiest of the Titans, a daughter is born. But Circe is a strange child—not powerful, like her father, nor viciously alluring like her mother. Turning to the world of mortals for companionship, she discovers that she does possess power—the power of witchcraft, which can transform rivals into monsters and menace the gods themselves.

Threatened, Zeus banishes her to a deserted island, where she hones her occult craft, tames wild beasts and crosses paths with many of the most famous figures in all of mythology, including the Minotaur, Daedalus and his doomed son Icarus, the murderous Medea, and, of course, wily Odysseus.

But there is danger, too, for a woman who stands alone, and Circe unwittingly draws the wrath of both men and gods, ultimately finding herself pitted against one of the most terrifying and vengeful of the Olympians. To protect what she loves most, Circe must summon all her strength and choose, once and for all, whether she belongs with the gods she is born from, or the mortals she has come to love. 
I've been tossing up whether to read this via audiobook for the longest of time. A little while back, Amanda @ Cover2CoverMom convinced me that I'll love this book. So when it came time for me to pick a new audiobook in May, I thought OH WHY NOT. So when I finish reading The Fiery Cross in about 10 years time, I'll be diving straight into this one (I'm so excited, omg).
---
That's a wrap!
Have you read any of these? What did you think!
---

~~ Kirstie ~~