I am so excited about the promise of Summer! Being in Australia, whilst all you Northern Hemispherers get excited for Autumn, I'm gleefully ditching the doom and gloom of what felt like an ENDLESS and overly chilly winter. I cannot wait for warm weather, the beach, late sunsets and ICE CREAM. Just kidding, I eat ice-cream all year round – I'm not a barbarian.
Top Ten Tuesday is a weekly event hosted by That Artsy Reader Girl and this week's theme is:
Books on My Fall Spring TBR!
Obviously, I scratched out Fall seeing as it isn't Autumn here. I'm raring to go and so excited to get around to some of the books on my TBR! So here's a list of the top ten books I cannot wait to read this season.
---
1. The Lantern's Ember
by Colleen Houck
Being Houck's number one fan, I'm so excited about this new release! There's got to be nothing more exciting than your favourite author starting a new series or standalone, don't you think?! This one is a Halloween inspired story and it's about a boy who ends up being a Lantern – a guide to the underworld – and there's a GIRL so there will be ROMANCE and oh boy does Houck do romance well. AND THE COVER.
---
2. Golden Son
by Pierce Brown
This is the second book in the Red Rising series which is a hardcore sci-fi story set in a world divided by class, labelled by colour. A Red (the lowest of the low) infiltrates the Golds (the highest of the high) and the first book is like a beautiful alien-mash-up of The Hunger Games. Having been badgered by my boyfriend, who is a die-hard fan of this series, to read it – I'm more than a little hyped to continue the story.
---
3. The Emperor of Nihon-Ja
by Richard Flanagan
This is the 10th book in the Ranger's Apprentice series which I'm fairly certain I'll be reading forever at the rate I'm going. It was one of my goals for this year to finish the series but I take SUCH long breaks between books. That being said, I literally don't think I've rated a single book in this series lower than 5-stars. I luuurv it.
---
4. Leah on the Offbeat
by Becky Albertalli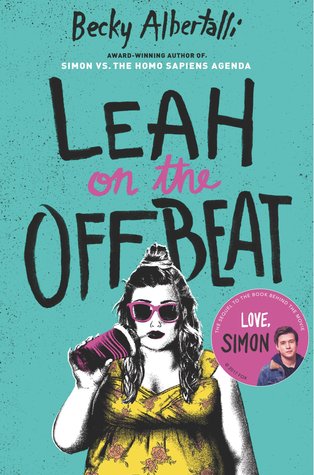 I can't believe I haven't actually picked this up yet. I'm such a big fan of the rest of Albertalli's books, she writes amazing contemporaries that are just so relatable – and I have very high expectations for this one. Which is always a dangerous thing. But I trust that I will come out of this on such a high!
---
5. Nil on Fire
by Lynne Matson
This is the third and final book in the Nil series and I just cannot handle how awesome this series is. It's a sci-fi about these portals that randomly open up and take only teenagers away onto this mysterious island called Nil. Here, they have one year to escape or they drop dead. TENSIONS ARE RUNNING HIGH.
---
6. We See Everything
by Willian Sutcliffe
This was an ARC sent to me WAY BACK WHEN and I'm a terrible blogger and haven't gotten around to it yet (my penance is that I'm currently, for once, reading an ARC well before it's publication date SO THERE) but I'm so keen to dive into this. Another sci-fi dystopian, this one is set in a war ravaged London, I believe, and father and son are tasked to kill each other (or maybe just one is and one is running away) but they don't know they're father and son. I'm so intrigued, even if I can't remember the plot right.
---
7. The Greek Escape
by Karen Swan
 I know, I know. Kirstie, what are you doing putting this on your list? This isn't my usual pick. I KNOW. It's another ARC I was sent though that I originally had much of the same thoughts you're having over it. I gave it a perfunctory look and categorised it as a "mum book". BUT. THEN. I actually gave it to my mum to read and she hasn't stopped raving on about how good it was for such a long time that even though I've no idea what the blurb is other than it's a chick flick sort of thing, I want to read it. And badly. Maybe I'll go make myself an espresso martini and float by the pool as I read this?
---
8.  Reunited
by Colleen Houck
Call myself a Houck fan and I haven't even finished her last series?! I know. I'm a disgrace. O' Glorious Houck, if thou readst this do bestow upon me your humble forgiveness!! Okay, but seriously, I have no reason for not having got to this sooner but I'M READY. I'm ready to finish off this series and probably be left an incoherent bubbling mess on the floor by the time I'm done. BRING IT ON.
---
9. Pantomime
by Laura Lam

This is the most intriguing impulse buy of my life. When I was in Dublin earlier this year, I was wandering through many of the amazing and huge bookstores they have over there in Europe the cover of this one caught my eye and I had to have it. We have a unique main character and a circus setting and I'm so down for it.
---
10. The Wish Granter
by C. J. Redwine
I've been meaning to read this for ages but because it's sitting on the bookshelf that isn't in my room I keep forgetting about it!! This is the second book in Redwine's latest series – each book a different retelling of a classic fairytale – and this time it's Rumpelstiltskin. I'm thrilled at the prospect of all the fun and trouble waiting in the pages of this book!
---
That's a Wrap!
That was such a hard list to keep to ten. There are hundreds (literally) of other books I want to pick up, but these are some of the first that came to mind and the ones that have me the most excited!
What books are you planning on reading next?
---

~~ Kirstie ~~