Yay – it's October! Which means I have the exciting job of deciding which books I want to get to this month. Now, in September I set myself a fairly ambitious goal and miserably failed. I decided to challenge myself in a month-long reading task I'd created called "Series September". If you want to read about what books I actually got to off that list you can check out my Wrap-Up post which will be up in the next few days (and if you missed that TBR you can see it HERE).
In October, I think I've been somewhat more reasonable. It's still a fairly large TBR but I am participating in a read-a-thon this month (see my TBR HERE) so that boosted the numbers. I'm really hoping I get to these books because I'm anxious to read all of them. I think I can do it – it's going to be pretty exciting because in addition to the read-a-thon, I have two buddy reads this month as well. Nothing is more exciting than a buddy read, I tell ya.
On to the books!
---
October TBR
Inkspell by Cornelia Funke
This is a roll-over from my previous TBR. I really want to finish off this series. In September I started reading it but didn't make it to the second nor third books. So, in October I'll be starting with these ones and will finally (with any luck) polish them off!
Inkdeath by Cornelia Funke
Same reasons as the second book, this book will complete the series for me. I'm a little anxious that I'll get distracted and not actually finish the series – but I so, so, so want to. Inkdeath is the only book in the series that I've never read before.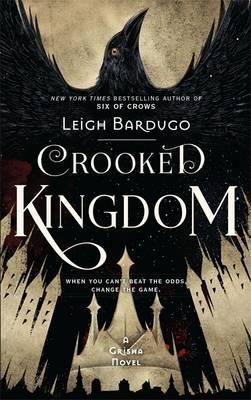 Crooked Kingdom by Leigh Bardugo
This is one of my buddy reads! I'll be reading this one with Amanda @ Cover2CoverMom and I'm so excited. This will be our first time buddy reading together so YAY. I have such high expectations for this book – I absolutely adored the first one and  despite this having been on my TBR for the last few months, I've yet to get around to it. October will be the month!!
Rise of the Chosen by Anna Kopp
I'm really trying recently to make some progress with the enormous backlog of books for review I have. If you want a quick story – I signed up with NetGalley two years ago and, thinking the approval rate would be low, requested a BUNCH of books. All of which I got approved for and then had a Mt. Everest of a TBR that I never managed to tackle. This is my effort, therefore, to make a dent in it. I'm pretty excited to read this one because whilst it is from NetGalley, the publishers actually sent it to me because they thought I'd like it, which I thought was sweet.
Borderline by Michelle Baker
This is my other buddy read *cheering the background*. It's the October book of the month for my book club that I run with Casey @ Adoptabookaus. It's called Squabbling Dragons and you can find us HERE on Goodreads. Each month we pick an underrated read that is SF/F (Sci-Fi/Fantasy) and read it together! This one follows a disabled MC whose career has come tumbling down around her after a failed suicide attempt. She gets another shot though, when she's recruited in for a particular job. Enter: fantastic creatures and other dimensions. It sounds so good!
Tower of Dawn by Sarah J. Maas
Well, it had to be on my TBR at some point. Depending on how I'm going for time, I might not read this one this month. Or maybe I'll start but not finish it. I'm keen to get around to it and I've actually heard a lot of great things about it despite people's general caution over it. But I mean, it's a Maas book – I've got to read it at some point.
The Three Doctors by Terrance Dicks
Moving in to my read-a-thon TBR, this is the first book that I'm going to be tackling. It's a short Doctor Who novel that I've had on my TBR for ages. I think it'll be a great kick-off to the week because it should be a short and enjoyable read for me. And thank god I'll finally be reading the damn book.
The Darkest Part of the Forest by Holly Black
I'm really excited to read this one. I've tried to structure my week of reading by the lightest books up to the books I think will take me the longest to get around to. I'm so keen to finally be reading a Holly Black book, so I'm crossing my fingers that I really enjoy this one.
Daughter of Smoke and Bone by Laini Taylor
I'm going to really push to get to this book in the read-a-thon (and I think I will). I promised a friend I'd get to this book soon so I have double the motivation to get to it and get reading. Again, Taylor is another author I'm dying to get around to so I'm very interested to see what I make of this book.
Dragon Champion by E. E. Knight
Finally, the last book on this TBR: Dragon Champion. No secrets here for why I picked this book. I'm a dragon-a-holic and I can't wait to read it. In truth, I suspect I won't get around to this book this month. I like to have four books on a read-a-thon's TBR (if it's a week-long), however, so this is really just there as "insurance" in case I do finish the previous three books before the week is out.
---
*Phew*
Well, that TBR is enormous. It's making me really nervous to think about but on average it's just two books a week and then a crazy week for a read-a-thon. I guess we'll just have to see how I go! What books are you planning on reading in October? AND, let me know in the comments if you're joining in reading with the Squabbling Dragons!
---

~~ Kirstie ~~