It has come to my attention that I entirely neglected to inform you my TBR for the month. I did make a video on the subject so if you like, you can always go and watch that. Basically, I made myself another very ambitious TBR for the month and seeing as it's the 10th of September as I'm writing this I figured it was a good time to reflect on my poor decisions of making that stack of books so ambitious.
---
Series September
This is something I made up for my month to motivate me. In August, I managed to achieve finishing off all my currently-reading books (I was reading about 8). That was wonderful. It meant that I got my reading life somewhat under control and it also gave me an idea for how to tackle my TBR.
I've decided that seeing as I have so many books on my shelves to read I need to approach it tactically. I sat back and thought about what bothers me the most right now about what is still unread. I discovered there were a few things including the fact that I have a huge number of series left unfinished. So we're changing that this month.
Series September is my challenge to finish off several series throughout the month – to focus only on doing that not reading anything else. So far, I've finished one book from my official TBR but we're not going to panic: everything will be fine. If I manage to read my entire list it would leave me with seven series finished WHICH WOULD BE AWESOME.
I think, however, I will finish three if I'm lucky. The reason I wanted to focus on this was because it's usually considered the norm to actually finish series you started but I also refuse to start new series that are out (such as The Lunar Chronicles and The Raven Boys) until I finish what I've already got. I've decided to structure this TBR by starting with the series where I only have one book to go to finish it and then moving on to those that have two or more. Let's take a look at the books.
---
The Books
If I Should Die (Amy Plum)
This is the one book that I've now finished. It was thoroughly enjoyable and I will endeavour to have a review up soon. I started this trilogy a few years back and for whatever reason it's taken me such a long time to get to this book – maybe it was because I was loving it so much I didn't want it to end?
Bitterblue (Kristin Cashore)

This one is a slightly larger book which has me concerned as to how long it's going to take to read. However, I'm really keen to finish off the Graceling Realm series because so far I've really enjoyed it! I'll be picking this one up today to read which has me very excited!
Inkheart, Inkspell & Inkdeath (Cornelia Funke)
I'm also planning on re-reading and finishing off the Inkworld series. I've read the first book and half of the second . . . maybe 10 years ago. It's finally time to bite the bullet and reacquaint myself with the series and FINISH IT. It's been slowly killing my soul that I didn't finish this one off when I was younger – so now is the time!
The Chimes (Anna Smaill)

This book I forgot to put into my TBR in my video – it's the book of the month for the book club I'm running, Squabbling Dragons, on Goodreads with Casey @adoptabookaus. We're so excited to read this one so feel free to join in with us! Hop along to the group to see when we'll be reading it so we can screech across the internet at each other with delight.

Shadow Scale (Rachel Hartman)
This is the conclusion to the Seraphina duology – and it's about dragons (which should really be enough said). I thoroughly enjoyed the first book and to be fair this sequel hasn't been on my shelf too long. However, I just have to read this one book more to finish the series so it seems silly to leave it sitting around unfinished!
Crooked Kingdom (Leigh Bardugo)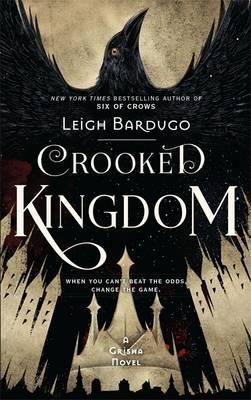 Obviously, I have to get onto this one some time soon! Bardugo is one of my favourite authors, I adore the worlds that she creates and this series is no exception. Being a part of a duology as well, I'd really like to just polish it off – it seems silly to have so many duologies just sitting around unfinished! I also think that if I get reading super fast this will be the last book I realistically get up too . . . but I'm also not that sure I will get to it at this point.

Hollow City, Library of Souls & Tales of the Peculiar (Ransom Riggs)
We have now reached what I call the 'bonus' part of this TBR. I'd love to finish of this series this month but like I said, I'm really running out of time. Nonetheless, I really enjoyed the first book and these aren't long reads at all. I'm hoping to read just book two and three and not worry too much about the novella but it'd be cool to get to that too if I can!
Tidal & Elegy (Amanda Hocking)

At last! We reach the end. This is the last series I am hoping to finish this month. I've been slowly, oh so slowly, reading this series over the last few years and I love Hocking's books so it'd be great to finally finish it. Elegy is quite a chunky book, though, so we shall have to see about this one!
---
Fingers Crossed
Those are all the books I'm trying to get to this month! Hopefully I manage to finish off a few – that would be nice – but I'm not holding too much hope to it. Considering it's a good way into the month already and I'm only now doing my TBR and only now starting to make progress with it, I think that says enough about the organisation of my reading life right now!
What books are you reading in September?
---

~~ Kirstie ~~
SaveSave
SaveSaveSaveSave