Now, June was a very modest month of book buying for me. Mostly, I didn't buy anything. But THANKFULLY the publishing houses have yet to abandon me and I drank their sweet water for the first time in about two months (I received some ARCs). As I've had some stupendously big hauls this year so far, I would say this small dose of books is probably very appropriate. Let us have a moment of silence for my TBR and pray that this helps it recover.
---
RECEIVED
Toffee
by Sarah Crossan
Click to Read Blurb:

The astonishing new novel from the incomparable, multi-award-winning and Laureate na nÓg Sarah Crossan.

I am not who I say I am,
and Marla isn't who she thinks she is.

I am a girl trying to forget.
She is a woman trying to remember.

Allison has run away from home and with nowhere to live finds herself hiding out in the shed of what she thinks is an abandoned house. But the house isn't empty. An elderly woman named Marla, with dementia, lives there – and she mistakes Allison for an old friend from her past called Toffee.

Allison is used to hiding who she really is, and trying to be what other people want her to be. And so, Toffee is who she becomes. After all, it means she has a place to stay. There are worse places she could be.

But as their bond grows, and Allison discovers how much Marla needs a real friend, she begins to ask herself – where is home? What is a family? And most importantly, who am I, really?

But when Finn and Alfie's fates collide, they accidentally unlock a terrible, ancient power—which, if not contained, will devour the world. And with Castallan's fate in their hands, Alfie and Finn must race to vanquish what they have unleashed, even if it means facing the deepest darkness in their pasts.
So I was sent this one by Bloomsbury and I think it sounds really interesting. I've never read any of this author's books before – this isn't usually what I'd buy for myself. It's also written like poetry the entire way through quite a sizeable book. To say I'm nervous, would be accurate. However, I think this might be a quick and gripping read.
The Gifted, the Talented and Me
by William Sutcliffe
Click Here for Blurb

Fifteen-year-old Sam is not a famous vlogger, he's never gone viral, and he doesn't want to be the Next Big Thing. In fact he's ordinary and proud of it.

None of which was a problem until Dad got rich and Mum made the whole family move to London. Now Sam's off to the North London Academy for the Gifted and Talented, where everyone's busy planning Hollywood domination or starting alt-metal psychedelica crossover bands. Sam knows he'll never belong, even if he wanted to. And that's before he ends up on stage wearing nothing but a fur onesie …
Another contemporary from Bloomsbury which I'm super curious about. I *have* read one of Sutcliffe's books before and loved the premise but on the whole was underwhelmed. That was a dystopian though. This sounds very funny and am hoping ends up being more my cup of tea!
Pan's Labyrinth
by Guillermo del Toro & Cornelia Funke
Click Here for Blurb

This book is not for the faint of heart or weak in spirit. It's not for skeptics who don't believe in fairy tales and the powerful forces of good. It's only for brave and intrepid souls like you, who will stare down evil in all its forms.

Inspired by the critically acclaimed film written and directed by Oscar winner Guillermo del Toro and reimagined by New York Times bestselling author Cornelia Funke, this haunting tale takes readers to a darkly magical and war-torn world filled with richly drawn characters like trickster fauns, murderous men, child-eating monsters, courageous rebels, and a long-lost princess hoping to be reunited with her family.

Perfect for fans of the movie and readers who are new to del Toro's visionary work, this atmospheric and absorbing novel is a portal to another universe where there is no wall between the real and the imagined. A daring, unforgettable collaboration between two brilliant storytellers.
*gleeful gasping* I'm so very excited about this book. A million thanks to Bloomsbury for sending a copy my way. I watched the film version of this last year for the first time and didn't *love* it (because it was the tiniest be scary and I have the scare factor tolerance of nothing) so I'm REALLY excited to read the book adaptation. Apart from anything, it's co-authored (adapted?) by the QUEEN who is Cornelia Funke (Inkheart trilogy, folks). I cannot wait to see what this is like to read. Plus, the original is in Spanish so it'll be nice to have it in English!
Call it What You Want
by Brigid Kemmerer
Click Here for Blurb

Rob had it all – friends, a near-guaranteed lacrosse scholarship to college and an amazing family – but all that changed when his dad was caught embezzling funds from half the town. Now he's a social pariah.

Maegan always does the right thing. But when her sister comes home from college pregnant, she's caught between telling their parents the truth about the father and keeping her sister's trust.

When Rob and Maegan are paired together for a project, they form an unexpectedly deep connection. But Rob's plan to fix his father's damage could ruin more than their new friendship …
Another thank YOU to Bloomsbury for sending me an ARC for this beauty. Having spouted endless praise for Kemmerer's first dalliance in fantasy (A Curse so Dark and Lonely) I'm overly delighted to have her newest contemporary foisted upon me. People have been really excited about this: SO I AM READY.
The Goddess Test
by Aimée Carter
Click Here for Blurb

Every girl who had taken the test has died.

Now it's Kate's turn.

It's always been just Kate and her mom—and her mother is dying. Her last wish? To move back to her childhood home. So Kate's going to start at a new school with no friends, no other family and the fear that her mother won't live past the fall.

Then she meets Henry. Dark. Tortured. And mesmerizing. He claims to be Hades, god of the Underworld—and if she accepts his bargain, he'll keep her mother alive while Kate tries to pass seven tests.

Kate is sure he's crazy—until she sees him bring a girl back from the dead. Now saving her mother seems crazily possible. If she succeeds, she'll become Henry's future bride and a goddess.

If she fails…
This was actually a birthday present from my bestest friend who lives over in New Zealand (thank you Sarah!) and I"m so excited to read it. I loved Carter's series Pawn (even though I've still only read the first book) so I'm super excited to read this. I've always wanted to read The Goddess Test so it's like THE most exciting thing ever to have something from the dark depths of my wishlist.
The Emerald Tablet
by Meaghan Wilson Anastasios
Click Here for Blurb

The Suez Canal, 1956. The world teeters on the brink of nuclear war and the Middle East is a tinderbox.

Conversely, redeemed archaeologist Benedict Hitchens is enjoying a peaceful existence after years in the professional and personal wilderness. His recent discoveries in western Turkey secured him a place in history and the smart thing to do would be to ignore his growing fear that Britain, France and Israel's imminent invasion of Egypt to liberate the Suez Canal is only a diversion.

But Ben's natural inclination towards self-sabotage is never far below the surface. When he learns that the woman who betrayed him is leading a team into the Sinai Desert in search of an ancient treasure, he puts everything at risk to seek his revenge.

She is as brilliant as Benedict, but has had to fight to survive in a world dominated by men. Having aligned herself with unprincipled and ruthless men to further her own interests, her motivations are laid bare as she confronts ghosts she'd rather forget, and makes amends for past wrongdoings.

Both are forced to grapple with their own personal demons as they race to unearth a secret that will, in the wrong hands, mean the annihilation of humankind.
Ach, so I received this from Pan Macmillan and was very surprised/disappointed that I did. This is technically book two in a series (although I think you might be able to read them in whatever order?) but I DNF'd the first one. Which is something I rarely do. I did also let Pan Macmillan know I DNF'd it and shared my review so truth be told, I'm very confused why I've been given a copy of this book. It is HIGHLY unlikely that I will pick this up. My main issue was that I found the plot slow and boring and the main character detestable.
---
 AUDIOBOOKS
Jane Steele
by Lyndsay Faye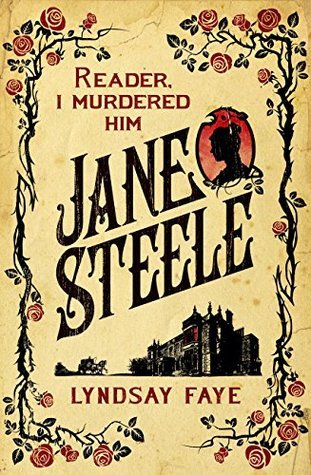 Click Here for Blurb

Reader, I murdered him.

A Gothic retelling of Jane Eyre.

Like the heroine of the novel she adores, Jane Steele suffers cruelly at the hands of her aunt and schoolmaster. And like Jane Eyre, they call her wicked – but in her case, she fears the accusation is true. When she flees, she leaves behind the corpses of her tormentors.

A fugitive navigating London's underbelly, Jane rights wrongs on behalf of the have-nots whilst avoiding the noose. Until an advertisement catches her eye. Her aunt has died and the new master at Highgate House, Mr Thornfield, seeks a governess. Anxious to know if she is Highgate's true heir, Jane takes the position and is soon caught up in the household's strange spell. When she falls in love with the mysterious Charles Thornfield, she faces a terrible dilemma: can she possess him – body, soul and secrets – and what if he discovers her murderous past?
This feels like a blast from the past because this book was super popular a few years ago. It's been sitting on my 'sounds-good' shelf for a lonnnng time, waiting for the right opportunity for me to acquire a copy somehow. And finally! I have bitten the bullet and shall be diving into this gothic Jane Eyre retelling via audiobook. I'm so excited, Jane Eyre is definitely one of my favourite classics.
---
That's a wrap!
Have you read any of these? What did you think!
---

~~ Kirstie ~~