Genre: Young Adult, Fantasy
Author: Maria V Snyder
Published: June 2019
Publisher: Harlequin
Pages: 480 {paperback}
Big thanks to Harlequin for sending me a copy of this in exchange for an honest review (NB: I read an uncorrected proof)
---
Initial Thoughts upon Finishing
This was such an adventure. It was really like Lara Croft, Indiana Jones and An Ember in the Ashes all rolled up together. It's a lot of fun which challenges jumping out on every second page and some clever twists! I'm so excited for book two, I'm totally in love with the uniqueness of the desert, subterranean world!
---
The Eyes of Tamburah
This is an exciting fantasy read about a world where the temperatures on the surface have become so hot, the earth has been reduced to deserts. I don't think we are ever explicitly told this is Earth, but there are enough nods towards it that I believe it is. This means that people have built underground cities, where the poor live on the higher levels (closer to the surface) and the rich can afford lower, cooler levels. The poor are very much so left to fend for themselves.
Our main character is wonderful but the biggest magnet for trouble that I have ever read. I will remind you here, again, that I read an uncorrected proof so some things *might* be different, but I imagine that will mostly be editing and the plot will remain largely intact.
Shyla is 'sun-kissed' which means she has blonde hair. This is unusual and seen to be a curse in Koraha (the kingdom). She lives in a city called Zirdai but has only been here for a few years. She has a dark complexion which makes her hair stand out even more so, but she was also raised by monks. The culture of this kingdom is to abandon/expose unwanted babies, i.e. the sun-kissed. This means these babies are left on the desert floor to die when the sun reaches critical levels, effectively boiling the babies to death.
Nice, right?
So it's a difficult life for Shyla who left the sanctuary of the monastery (the monks save the babies that they can) and try her hand at a normal life. She's an archaeologist of sorts, helping to locate historical artefacts (sometimes for looters because few people will hire her). She's scraping by on a meagre living, unable to stay in her rooms throughout the hot hours of the day because she lives so high up that she would die from the heat. However, she has made a friend in an archaeologist called Banqui who ends up getting her into all sorts of trouble.
Things kick off when The Eyes of Tamburah, a great find that Banqui just discovered thanks to Shyla's expert help, are stolen. These precious stones are said to have magical powers. Now, Zirdai is ruled by The Water Prince but his competitor, The Heliacal Priestess, is vying for power. This little power contest is great because we have a religious extremist on the one hand and a power-hungry dictator on the others. The contrast is striking. If The Water Prince acquires the stones, then the balance of power would tip in his favour, and he would no longer have to fight for power: he would be the most powerful, no questions asked.
So we have an outcast, supposed magic, two tyrannical rulers crushing all in their path, a subterranean desert setting, a mission to retrieve the gems and SO many obstacles in between. This book is a journey and a half that will leave you desperate for the sequel.
---
What I Loved
I think the best thing about this book is how entertaining it is without being too ridiculous. Shyla is kidnapped, trapped, tortured, questioned and encounters all sorts of roadblocks on her mission to save the gems. Every chapter brings her new strife and not a single step of her mission can be completed without something going wrong.
I admit, at about the 50% mark I was like OH COME ON as she got kidnapped for the eighteenth time and forced to ride a unicycle whilst singing the national anthem (I'm kidding), but it did become quite fun. When I stopped taking the whole thing so seriously, I found this book had the same level of pure levity that something like Ranger's Apprentice gives off. It's simple in its challenges but makes sure the MC never gets anything easy.
I loved all the twisty turns in this book, too. It could easily have been half the length that it was but Snyder has packed this full of so many plot twists that you find yourself going on and on. But they were so good! I loved where this left off how we are either questioning a character's integrity or fully on their side. It was a tease of a book to lead you on blindly, really not knowing where things were going to go.
I can say that I did not anticipate the ending at all. That was a shocking revelation but it was perfect at the same time.
---
What I Didn't Like
As fun as this was, I *do* think this book is a little bit too long. I had to switch gears from reading this and expecting a serious (can YA fantasy be serious?) fantastical read, to saying to myself: okay, let's just take this at face value and enjoy the ride. Whilst there's nothing wrong with that, per se, I did think there was a lot of room for refining this down and not being quite such a convoluted tale. The repetitiveness of the kidnappings and other obstacles made it feel like you were stuck reading the same chapters over and over.
---
Characters I Loved
I thought Shyla was great! I'm really excited for book two and hoping that there are slightly fewer injuries for her so that she's not exhausted all the time. I think she has a lot of kickass fighting still up her sleeve and I'm so ready for that!
I also was a big fan of Rendor, the love interest in this book. You know from page one that he's going to be peppered nicely throughout this story, and that he was. Shyla has a very keen eye for eye candy throughout the story, so don't worry: if an attractive man stumbles across the pages, we certainly will find time to paused fighting, running and all other endeavours to save the world, to pause and appreciate his physique.
Overall, I really enjoyed the sense of a lack of trust throughout the story. Quite literally none of the characters feel trustworthy (except for Shyla) and I'm left sitting on the fence about all of them, more or less. This is why I'm so excited to move onto book two so that we can dash the curtains aside and reveal everyone's true nature that is hiding underneath!
---
Summary
This is a fantastic, fun read – as one would expect from Snyder! – that I definitely recommend to you. I think it's refreshingly new with great concepts and so many pages in which to explore the city of Zirdai. That being said, this is also not my favourite of all the books Snyder has written but I'm hopeful that things will only improve as the series continues.
---
Grab a Copy!
I am an affiliate with these companies. By using these links to purchase books you are supporting Upside-Down Books!
Get free worldwide shipping and great prices with The Book Depository and Wordery!
Support an Australian company with Angus & Robertson and get free shipping on orders over $60!
Support an Australian company with Booktopia and enjoy flat rate shipping for AUS/NZ!
---
 You might also like . . .
---
The Eyes of Tamburah is in stores now!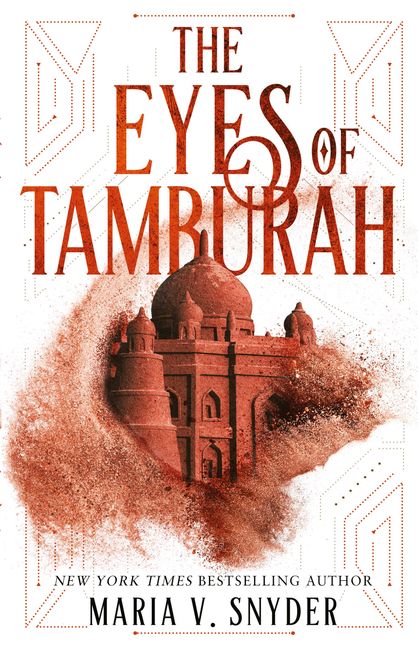 Are you planning on reading it?
---

~~ Kirstie ~~