Hey guys! Blast from the past, eh? Today I thought it'd be really fun to have a look at some books I haven't thought of in a while. Not to mention that these books I ADORED when I read them – back in my school days – and am sad to see people not really gushing over them anymore.
One could say that this is because now I'm much older so of course we've moved on. But HEY the internet is full of all kinds of people – old people, young people, tall people, short people and the occasional garden gnome. So why aren't YOU reading these? Let's have a look at them and let me convince you to pick them up.
Top Ten Tuesday is a weekly event hosted by That Artsy Reader Girl and today's prompt is:
Back to School
I assume this is because in some other countries people are returning to school. Not here. Nope, in Australia all the wee kiddies are bogged down studying their little butts off. We get our big break over Christmas – jealous? Unless you work full time FOREVER like an adult (which apparently I am now) in which case nevermindasyouweredon'tmindme *works forever*
---
1. The Everyday Witch
by Sandra Forrester
Okay, so I've started off super old school here. This is probably the first series I ever really fell in love with. In fact, just last year I realised there was a final book in the series that was added on that I never knew about so I bought it. This might be for 10 year olds but you just watch me read it. Every book a new challenge and magical adventure full of mythical creatures and witches for our main character – a budding witch – to overcome and defeat evil! Honestly, I'm due a re-read.
---
2. Switched
by Amanda Hocking
Arguably one of my favourite reads during my early high school years, this series is probably what got me hooked on anything to do with fae. I loved this series so much and I LOVED LOKI. He was my first villain that I loved. Hocking is the author who turned me to the bad side. Okay but seriously, this series is about changelings – ya know, how faeries steal humans and switch them with their own children – yup, it's about what happens when they get switched back *DRAMA*.
---
3. How To Ditch Your Fairy
by Justine Larbalestier
This book is a total hoot. It's about a world where everyone has there own little faeire – like Jiminy Cricket. Some people have faeries that make others fall in love with them, make them never have a bad hair day, make them amazing chefs. Our main character, who is maybe 12, has a parking faerie. And she hates it. This means she always finds a carpark spot – AND OH LAWD IN MY YOUTH I HAD NO IDEA HOW MUCH I'D WANT THIS NOW – so she always get taken by the older school kids so they can park. The plot is essentially her trying magic to swap her faerie with someone else. Everything goes wrong. It's great.
---
4. Wicked Lovely
by Melissa Marr
I mean, this wasn't everyone's cup of tea. In general, I think it's considered average. But I got very invested in this as I tried to push through. I struggled and screamed into the void, but I finished it. And I discovered that I liked its complexity and I really liked some of the characters. I got a few storylines crossed over wrong in my memory as it took me so long to read, but you know what, one day I'd like to re-read this series with fresh eyes – and I'd love to see some other people's thoughts on it.

---
5. The Indian in the Cupboard
by Lynne Reid Banks
This was the series that got me into reading, truly. I always say it was Tiger's Curse – but no, that got me into addictive reading. I wouldn't pick up a book, look at a book, say the word BOOK until I read this. This series had me hooked. A boy can make his little toy figurines come to life by placing them in a small cupboard, locking it, unlocking it and when he opens the door BOOM they're real. It's amazing and complex and COOL and this series revolutionised how I felt about literature.
---
6. Wings
by Aprilynne Pike
This is an old favourite of mine. When I read it when I was at school, there was one copy one girl had of all the books in the series and we rotated them around a group of about four of us. We could not put them down. Another faerie story about a girl who doesn't know she's fae and I just loved the world building and uniqueness of this one! Such as growing flower petals out of your back instead of having a period – yup!
---
7. The Tale of Despereaux
by Kate DiCamillo
Aw, a classic. Every now and then I hear stirrings of this one but honestly? We all need to be talking about it more. This is the cutest story about a mouse who just wants to be as brave and important as a knight. IT IS SO CUTE. I love this story and I could never ever get tired of it.
---
8. The Ruins of Gorlan
by John Flanagan
No seriously, I know half of you there have read this but when was the last time you heard someone other than me talking about it? I love this series and whilst it might be aimed at a much younger audience I have never stopped lapping up the adventure in this awesome medieval world. If you haven't read it, get on it, and if you have, get re-reading.
---
9. Poison Study
by Maria V. Snyder
This series is actually still relevant, just about. I'm not sure exactly where Snyder is up with it now but it's not a long dead and buried read. YET. Where's the hype?! Where is everyone who is reading and has loved this series?! Moreover – why haven't I continued on this series? WHY IS THIS SERIES SO MYSTERIOUS. This is about a girl who has the choice of carrying out of sentence – death by execution – or becoming a poison taster at the palace. Evidently, she choses the latter. It's brilliant.
---
10. Grave Mercy
by Robin LaFevers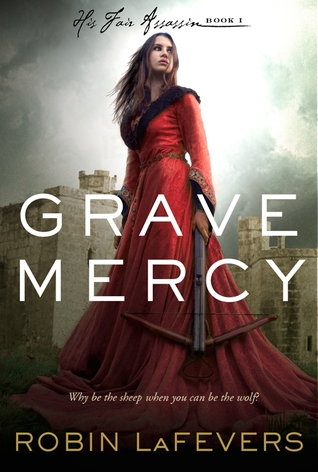 I LOVE THIS SERIES. And soon we're getting a fourth book. But point aside, who else has read this!? I cannot express my love for this dark tale of three maidens of death who, each in their own semi-magical way, carry out death's bidding. It's brilliant. In this world certain people serve different saints, and these girls have death, but the mix in of other saints is dynamic, awesome and a MUST-READ.
---
That's a wrap!
Have you read any of these? Did you love them?! Let me know in the comments!
---

~~ Kirstie ~~