Welcome, welcome! It's time for another glorious TTT post on another glorious (well I hope so) Tuesday. This week's topic is a good one – basically I'll be looking at some new releases for 2017. I can't wait to see them all when they're realised because I'll be in America which means they'll all be in hardback *squeals*. Americans, count yourself blessed that you have all the hardbacks at your fingertips.
This week's theme is:
Top Ten Books I'm Looking Forward To For The First Half Of 2017
It feels like only yesterday that I was doing this exact topic for 2016, let us weep in shock for a moment. It's crazy to think how quickly 2017 is approaching and exciting to think of all the adventures it wil hold! I'm very excited for a lot of books coming out in the first half of next year and I can't wait to faint with excitement over them momentarily.
Top Ten Tuesday is a weekly meme hosted over @ The Broke and the Bookish and each week there's a different theme that we get to make a list about featuring ten related books. It's so much fun and the topics are always great! It's also a fabulous way to learn more about people's reading adventures and I recommend heading over to the official page to do some exploring through the link up.
---
#1
Roseblood
by A. G. Howard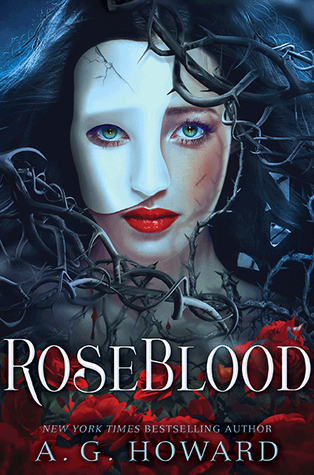 10th January 2017
In this modern day spin on Leroux's gothic tale of unrequited love turned to madness, seventeen-year-old Rune Germain has a mysterious affliction linked to her operatic talent, and a horrifying mistake she's trying to hide. Hoping creative direction will help her, Rune's mother sends her to a French arts conservatory for her senior year, located in an opera house rumored to have ties to The Phantom of the Opera.

At RoseBlood, Rune secretly befriends the masked Thorn—an elusive violinist who not only guides her musical transformation through dreams that seem more real than reality itself, but somehow knows who she is behind her own masks. As the two discover an otherworldly connection and a soul-deep romance blossoms, Thorn's dark agenda comes to light and he's forced to make a deadly choice: lead Rune to her destruction, or face the wrath of the phantom who has haunted the opera house for a century, and is the only father he's ever known.
I am extraordinarily excited about this book. Howard is one of my all time favourite authors because her Splintered series was beyond amazing. Not only is this a new book – following Architect of Song (which I haven't had the chance to read, dangit) – but it's ANOTHER retelling. And of Phantom. Life doesn't get much better than this.
---
#2
Carve the Mark
by Veronica Roth
book one in the Carve the Mark (title uncomfirmed) series
17th January 2017
On a planet where violence and vengeance rule, in a galaxy where some are favored by fate, everyone develops a currentgift, a unique power meant to shape the future. While most benefit from their currentgifts, Akos and Cyra do not — their gifts make them vulnerable to others' control. Can they reclaim their gifts, their fates, and their lives, and reset the balance of power in this world?

Cyra is the sister of the brutal tyrant who rules the Shotet people. Cyra's currentgift gives her pain and power — something her brother exploits, using her to torture his enemies. But Cyra is much more than just a blade in her brother's hand: she is resilient, quick on her feet, and smarter than he knows.

Akos is from the peace-loving nation of Thuve, and his loyalty to his family is limitless. Though protected by his unusual currentgift, once Akos and his brother are captured by enemy Shotet soldiers, Akos is desperate to get his brother out alive — no matter what the cost. When Akos is thrust into Cyra's world, the enmity between their countries and families seems insurmountable. They must decide to help each other to survive — or to destroy one another

.
Shall we dare to offer our hearts up to the Rothinator once more? I think so. I'm very intrigued to see what it's like revisiting an author who I associate so strongly with dystopia, or at least, Divergent. If you weren't aware, Roth is the author of the Divergent series so I'd say we're in for one heck of a ride with this new duology!
---
#3
The Wish Granter
by C. J. Redwine
book two in the Ravenspire series
14th February 2017
An epic fantasy inspired by the Rumpelstiltskin fairy tale, about a bastard princess who must take on an evil fae to save her brother's soul, from the New York Times bestselling author of The Shadow Queen.

The world has turned upside down for Thad and Ari Glavan, the bastard twins of Súndraille's king. Their mother was murdered. The royal family died mysteriously. And now Thad sits on the throne of a kingdom whose streets are suddenly overrun with violence that he can't stop.

Growing up ignored by the nobility, Ari never wanted to be a proper princess. And when Thad suddenly starts training Ari to take his place, she realizes that her brother's ascension to the throne wasn't fate. It was the work of a Wish Granter named Alistair Teague, who tricked Thad into wishing away both the safety of his people and his soul in exchange for the crown.

So Ari recruits the help of Thad's enigmatic new weapons master, Sebastian Vaughn, to teach her how to fight Teague. With secret ties to Teague's criminal empire, Sebastian might just hold the key to discovering Alistair's weaknesses, saving Ari's brother—and herself.

But Teague is ruthless and more than ready to destroy anyone who dares stand in his way—and now he has his sights set on the princess. And if Ari can't outwit him, she'll lose Sebastian, her brother…and her soul.
This truly is right up there on the list of books I'm hopping from foot to foot with excitement for. I ADORED Redwine's start to this series and the most exciting thing about it is that each book is a retelling of a different fairytale. The Shadow Queen was Snow White but The Wish Granter is Rumpelstiltskin. I can only just contain my excitement over this!
---
#4
Dreamfall
by Amy Plum
book one in the Dreamfall series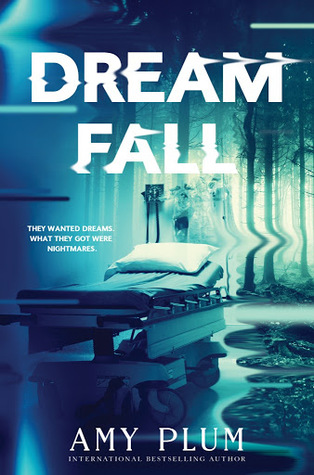 2nd May 2017
Cata Cordova suffers from such debilitating insomnia that she agreed to take part in an experimental new procedure. She thought things couldn't get any worse…but she was terribly wrong.

Soon after the experiment begins, there's a malfunction with the lab equipment, and Cata and six other teen patients are plunged into a shared dreamworld with no memory of how they got there. Even worse, they come to the chilling realization that they are trapped in a place where their worst nightmares have come to life. Hunted by creatures from their darkest imaginations and tormented by secrets they'd rather keep buried, Cata and the others will be forced to band together to face their biggest fears. And if they can't find a way to defeat their dreams, they will never wake up.
If you've been hanging around me for a while now, you might be aware of my slightly weird obsession with Plum's books that developed this year. I 100% fell in love with her writing and her stories and when I found out that she had a new series starting in 2017 I jumped about over-enthusiastically because I couldn't believe my luck. Plus I've got a real taste for this heavily based sci-fi dystopians – BUT THIS ONE SOUNDS A LITTLE SCARY.
---
#5
A Court of Wings and Ruin
by Sarah J. Maas
book three in the A Court of Thorns and Roses series
2nd May 2017
my review of book two, A Court of Mist and Fury
This is without a doubt the book I am most anticipating. I think this is my favourite series at the moment because I am in love with this world and just enjoying the flow of the story that little bit more than in Throne of Glass. I can't wait to see the cover (I'm crossing my fingers that it's purple, what about you?) and I can't wait for my heart to be destroyed. Again. *yay*
---
#6
Flame in the Mist
by Renée Ahdieh
book one in the Flame in the Mist series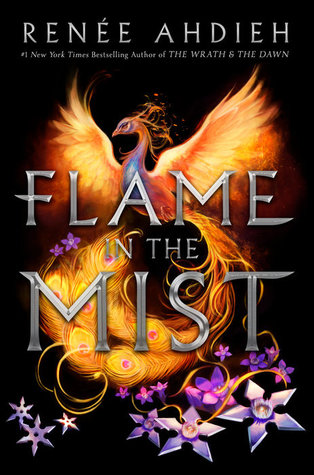 2nd May 2017
The daughter of a prominent samurai, Mariko has long known her place—she may be an accomplished alchemist, whose cunning rivals that of her brother Kenshin, but because she is not a boy, her future has always been out of her hands. At just seventeen years old, Mariko is promised to Minamoto Raiden, the son of the emperor's favorite consort—a political marriage that will elevate her family's standing. But en route to the imperial city of Inako, Mariko narrowly escapes a bloody ambush by a dangerous gang of bandits known as the Black Clan, who she learns has been hired to kill her before she reaches the palace.

Dressed as a peasant boy, Mariko sets out to infiltrate the ranks of the Black Clan, determined to track down the person responsible for the target on her back. But she's quickly captured and taken to the Black Clan's secret hideout, where she meets their leader, the rebel ronin Takeda Ranmaru, and his second-in-command, his best friend Okami. Still believing her to be a boy, Ranmaru and Okami eventually warm to Mariko, impressed by her intellect and ingenuity. As Mariko gets closer to the Black Clan, she uncovers a dark history of secrets, of betrayal and murder, which will force her to question everything she's ever known.
Undoubtedly one of the greatest debuts authors of the last few years, Ahdieh has killed us all with feels-overload in her duology: The Wrath and the Dawn. And now? NOW SHE'S DOING AND FREAKING MULAN RETELLING. Can you hear me fangirling over here? CAN YOU. I can't breath. I'm already dead. I need this now. AND IT COMES OUT THE SAME DAY AS ACOWAR *faints*.
---
#7
Roar
by Cora Carmack
book one in the Stealing Storms series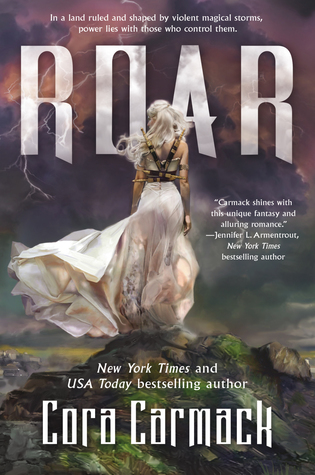 13th June 2017
In a land ruled and shaped by violent magical storms, power lies with those who control them.

Aurora Pavan comes from one of the oldest Stormling families in existence. Long ago, the ungifted pledged fealty and service to her family in exchange for safe haven, and a kingdom was carved out from the wildlands and sustained by magic capable of repelling the world's deadliest foes. As the sole heir of Pavan, Aurora's been groomed to be the perfect queen. She's intelligent and brave and honorable. But she's yet to show any trace of the magic she'll need to protect her people.

To keep her secret and save her crown, Aurora's mother arranges for her to marry a dark and brooding Stormling prince from another kingdom. At first, the prince seems like the perfect solution to all her problems. He'll guarantee her spot as the next queen and be the champion her people need to remain safe. But the more secrets Aurora uncovers about him, the more a future with him frightens her. When she dons a disguise and sneaks out of the palace one night to spy on him, she stumbles upon a black market dealing in the very thing she lacks—storm magic. And the people selling it? They're not Stormlings. They're storm hunters.

Legend says that her ancestors first gained their magic by facing a storm and stealing part of its essence. And when a handsome young storm hunter reveals he was born without magic, but possesses it now, Aurora realizes there's a third option for her future besides ruin or marriage.

She might not have magic now, but she can steal it if she's brave enough.

Challenge a tempest. Survive it. And you become its master.
This sounds like it's going to be a splendid epic fantasy release of 2017. There were many in 2016, although I feel I did not read most of them – who knows why. HOWEVER. Carmack might also be the author of a little series you might have heard of called Losing It (go look at the cover *blushes*) and GOOD LORD did I love that story – it was so funny! I'm super curious to see how well Carmack makes the jump between Contemporary-Sexy to Fantasy with crowns, kingdoms, foes, and legends.
---
#8
The Fallen Kingdom
by Elizabeth May
book three in The Falconer series
13th June 2017
my review of book one, The Falconer
my review of book two, The Vanishing Throne
This series has been giving me respiratory problems. I'm so eager to get to this last book and find out how the series ends that I think I may explode from anticipation. Firstly, the covers for this series are on point, and secondly, I'm so glad I did find this series because I plucked book one randomly off the shelves at the library! More people definitely need to get onto these books! Scotland + Fae = What could possibly go wrong?
---
#9
The Dragon's Price
by Bethany Wiggins
21st February 2017
Fans of Julie Kagawa's Talon and Renee Ahdieh's The Wrath and the Dawn will devour this action-packed fantasy adventure about a girl who chooses to surrender herself to a deadly dragon rather than marry an enemy prince.

When two warring kingdoms unified against a deadly menace laying waste to both their lands, they had to make a choice: vow to marry their heirs to one another, or forfeit their lives to the dragon.

Centuries later, everyone expects the sheltered princess Sorrowlynn to choose the barbarian prince over the fire-breathing beast—everyone, that is, except Sorrow, who is determined to control her own destiny or die trying.

As she is lowered into the dragon's chamber, she assumes her life is over until Golmarr, the young prince she just spurned, follows her with the hopes of being her hero and slaying the dragon. But the dragon has a different plan. . . .

If the dragon wins, it will be freed from the spell that has bound it to the cave for centuries. If Sorrow or Golmarr vanquish the dragon, the victor will gain its treasure and escape the cave beneath the mountain. But what exactly is the dragon hiding?

There are no safe havens for Sorrow or Golmarr—not even with each other—and the stakes couldn't be higher as they risk everything to protect their kingdom.
Not going to lie, the number one reason that my interest was piqued for this book was because the blurb boldly states that this is THE book for fans of Kagawa and Ahdieh, and um, HELLO THESE AUTHORS ARE MY LIFE. I'm so ready for this series to start it's not even funny, I'm totally going to be its number one fan. Plus it has dragons in it, and we all know I'm partial to dragons.
---
#10
Hunted
by Meagan Spooner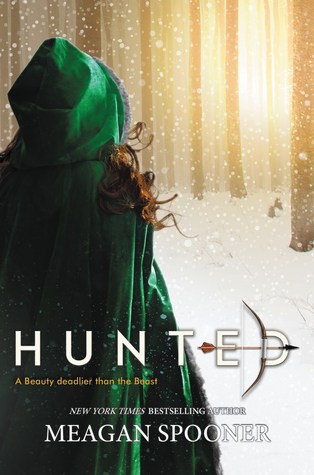 14th March 2017
Beauty knows the Beast's forest in her bones—and in her blood. Though she grew up with the city's highest aristocrats, far from her father's old lodge, she knows that the forest holds secrets and that her father is the only hunter who's ever come close to discovering them.

So when her father loses his fortune and moves Yeva and her sisters back to the outskirts of town, Yeva is secretly relieved. Out in the wilderness, there's no pressure to make idle chatter with vapid baronessas…or to submit to marrying a wealthy gentleman. But Yeva's father's misfortune may have cost him his mind, and when he goes missing in the woods, Yeva sets her sights on one prey: the creature he'd been obsessively tracking just before his disappearance.

Deaf to her sisters' protests, Yeva hunts this strange Beast back into his own territory—a cursed valley, a ruined castle, and a world of creatures that Yeva's only heard about in fairy tales. A world that can bring her ruin or salvation. Who will survive: the Beauty, or the Beast?
Finally, I leave you with this delectable piece of work. This is a retelling of Beauty and the Beast that finally makes the story sound badass. There are loads of retellings of this fairytale, but if you ask me, this one sounds like it going to be the real winner. I definitely need to crack on and read some of Spooner's other books soon but boy oh boy am I ready for this one!
---
Which book are you most looking forward to in 2017?
There are hundreds of other books coming out in the first half of the year that I'd love to talk about, too. But these were the ones that sprung to mind! I think 2017 is looking really promising in the literary world and I can't wait to get to all of these beauties!
Share your thoughts below! 
I am a Book Depository affiliate so by you using the provided links to buy the books I will receive a small commission. Thank you!
---
~~ Kirstie ~~