5/5 STARS
Genre: Young Adult, High Fantasy, Retelling {Beauty and the Beast}
Author: Sarah J. Maas
Published: May 2016
Publisher: Bloomsbury
Pages: 624 {paperback}
Originally posted on Goodreads
This review is spoiler free UNTIL I tell you otherwise. So read away, lassy.
---
Initial Thoughts Upon Finishing
OH MY GOD. THAT'S IT, MAAS HAS RUINED MY SOUL. I cannot wait a whole year for the next book, uh UH, I need that in my hands right now. Omg, omg, omg, this is just all not okay. My poor, poor Rhysand – somebody hold him. Can we please invent time travel so I can get the next book ARGH. This is utter perfection and now I need to lie down and die for a bit.
---
A Court of Mist and Fury
So yes. After several months of recovering, here I am. Finally ready to put my thoughts on paper in an almost coherent manner to tell you why you needed to read this yesterday. This book is beyond perfection – in fact, it did one of the most interesting things a book has ever done: people who didn't like the first one but read this, LOVED it. I can't even begin to tell you how much I WANT to discuss about this book – I think the bottom line is that books just don't get any better than this.

This was EVERYTHING you ever need in a sequel and I loved it so much. Obviously, if you haven't read book one, A Court of Thorns and Roses, then stop reading now because you're going to get spoiled. End of story.
---
The Feels
This book will dragged you backwards through the world of horrendous feels and you'll come the other side gasping like a fish. I thought that it was a really interesting place that we find Feyre in. Being newly immortal, she's got a lot on her plate – an eternity to fill. And things between her and Tamlin aren't exactly great. In short, she's depressed and feeling confined. Tamlin's super concerned about her safety so she's barely allowed to do anything. It's driving her mad. It's driving ME mad. Bless Lucien, though, he has a good heart, I know it. Damn those confusing loyalties.

I have not been so emotionally bruised by a book for such a long time. I really, really liked Rhysand in this book. He is such a babe and an incredible saviour for Feyre's sanity, even if she's reluctant to admit it. Now, for those of you who haven't read this book I'm afraid this simply won't do because I need to discuss spoilers before I explode so DON'T READ THE REST OF THE REVIEW. Just take my advice and hear that this is an excellent sequel that you need to read and I apologise for the destruction of your soul that is about to happen. Now, LEAVE.

Okay, now that they're gone, let's get to the nitty gritty. I am in love with Rhysand, like, damn. That guy is so deep and there's so much going on there it's insane. I found it absolutely fascinating learning more things about him – especially that seen where he's leaking darkness and Feyre comes to him to console him. LIKE DANGIT MAAS, I CAN'T TAKE IT.
"I was not a pet, not a doll, not an animal.
I was a survivor, and I was strong.
I would not be weak, or helpless again
I would not, could not be broken. Tamed."

The emotional journey that Feyre goes through is insane though – and when she and Tamlin have their little spat and he nearly hurts her? Oooh, boy. I was ready to reach through the pages and slap him silly. I absolutely adored the fact that Rhysand comes to whisk her away as she's walking down the aisle. I was having a mini-heart attack that she would actually end up married to Tamlin. Whew.

Also, the family struggles that are going on in the background are so intense. I actually really like Nesta's character and I found it so painful at the tensions between her and Feyre. I just want them to be a happy family *sobs*. I am SO GODDAMN pleased with the ending though – the fact that they're now immortal etc makes me so happy. ALSO – who's heart is bleeding over the whole Lucien-Elaine business? MINE IS.
"When you spend so long trapped in darkness, Lucien, you find that the darkness begins to stare back."
---
The Characters
There are a whole bunch of new and shiny characters in this book and it was glorious, *leaps through the air*. I think my new favourite character is definitely Mor. The first time we meet them all at that dinner when Feyre is ready to actually go into the Night Court, well, it was good. They make such a badass team, though, it's insane.

I really, REALLY liked like Amren. She is the embodiment of badass-ness. She's such a mysterious character and just GAH. I need her as my best friend because she's too cool for school. I also really enjoyed the little friendship going on between her and Feyre, I have to say – particularly their little scene together when they nearly drown. Sheeshkababs.

Most of all, I just loved how supportive Rhys' friends were. I loved their little hideout (y'know, the one that he and Feyre totally ruin, *waggles eyebrows*). I thought it was such a cute thing with how supportive and understanding they all are of him. He's such a complex character with a difficult past and it is GLORIOUS. I need to join this band of character – quick, someone make me a fictional character!
Feyre is obviously the most complicated character in this book. Hands down. Apart from the fact that for a good portion of the book she's a complete wreck, she has some big decisions to make. Namely, that of leaving the Spring Court. And I'm sure glad she did. I am INFINITELY happy that she realised the abuse that was going on there and left. Damn straight. I loved the complexities that came with her learning her powers too. When she finally manages to tap into Rhys' power I just died – especially when she has to go and save him and he's practically dead and just – *dies of feels again*.
"He thinks he'll be remembered as the villain in the story. But I forgot to tell him that the villain is usually the person who locks up the maiden and throws away the key. He was the one who let me out."
But the best bit of this book is definitely Rhys and Feyre together. The whole thing was beyond amazing. I loved how their relationship progressed and the way that Rhys was gentle with her in every way that mattered – but particularly in that they had this shared experience of under the mountain to share with each other.
"If you were going to die, I was going to die with you. I couldn't stop thinking it over and over as you screamed, as I tried to kill her: you were my mate, my mate, my mate."
I mean, my heart broke into a thousand teeny tiny pieces, but I enjoyed it. The ending though, oooh the ending. When they have to break their "bond" but all they do is break the mental connection, well, I have a few things to say about that:
I'm very sad that they no longer have that mental connection because my heart died when they did that.
But, HOW CLEVER ARE THEY? The fact that they can't break their actual bond (duh, Tamlin) was so sneaky. I loved that Feyre went with the trick that she'd been mind-wiped (and good lord did that destroy me) but JUST YES. I can't wait to see her wreak absolute havoc in the spring court. BECAUSE OUR LITTLE DARLING IS NOW HIGH LADY OF THE NIGHT COURT *celebrates*
I have to admit, I was pretty shocked with the whole Tamlin thing. I was not expecting his treachery to be on such an extreme scale, nor was I expecting him to be so obsessed with Feyre, blimey. I just can't believe he teamed up with Jurien to get her back. Bloody hell.
And finally, let's all agree that Cassian and Nesta are going to be a thing because they are. Also, Cassian's wings, *sobs*.
---
THE NIGHT COURT, DANGIT
And we definitely need to talk about the Night Court itself. I found it super interesting that Rhys had these two faces, if you will. That his court with all the snobby unwanted subject (i.e. Mor's dad) were treated as though he was this fearless character – I loved it. I especially loved that scene between Feyre and Rhys when . . . well, you know.
But Velaris itself was just gorgeous – I can't even. I want someone to paint infinite pictures of what it looks like because it is the most beautiful place in the world in my mind. I was devastated when it was attacked, but it is literally the ultimate city in my mind's eye. Rhys' little baby. Omg, now I'm thinking of Rhys being a father . . . IT'S TOO MUCH.
---
Now Would Be a Good Time for the Doctor to Turn Up with the TARDIS
I really, really, really need book three. Like, really. I can't deal with having to wait until next May for the next one because I just have to know where things are going. It's going to be so epic in the next book with Feyre being back in the Spring Court – well played, Maas, well played. But I'm SUPER DUPER curious to see where Mor has hidden Feyre's sisters and what the heck is going to happen with them. I'm glad though, they needed to be a bigger part of this and whilst it is just a little too convenient in some ways that they're now immortal, well, I'm not really complaining. My poor Lucien needs a companion, oh, my heart doth break at his loneliness. IT GUNNA BE GOOD.
I suppose I should briefly mention that I'm sort of quite concerned about Jurien. But I mean, at the end of the day, I don't really care about the plot – I just care that Rhys and Feyre can have their happily ever after. AND LET'S NOT GET ME STARTED ON ALL THE QUOTES IN THIS BOOK.
"To the people who look at the stars and wish, Rhys."
Rhys clinked his glass against mine. "To the stars who listen— and the dreams that are answered."
---
Summary
Just go and read this if you haven't. And if you have, shall we cry together? The feels are too much. Everything is too much. I'm probably (definitely) going to end up rereading this because there's always time for more emotional destruction, right? MAAS YOU GENIUS. Does this woman ever cease to impress? No, she does not. And the fact that she's writing more books for this series – well, you can only imagine how much I squealed (a lot).
---
 You might also like . . . 
If you enjoy adventuring through high fantasy that toys with your hearts, Wards of Faerie are for you.
If you like faeries and NEED MORE, The Iron King is for you.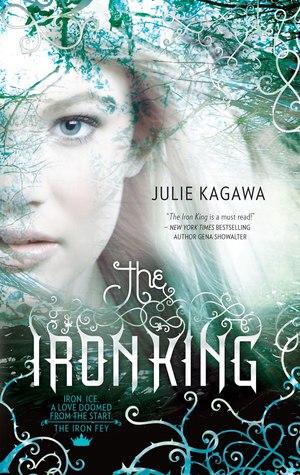 If you like books that takes pleasure in destroying your soul, The Wrath and the Dawn is for you.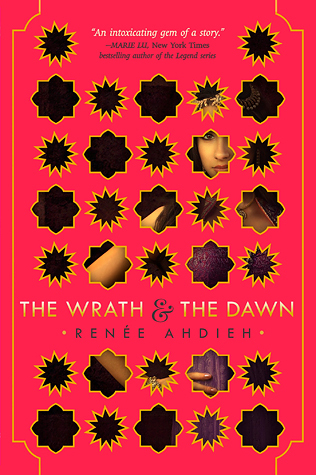 ---
 Have you read ACOMAF? What did you think?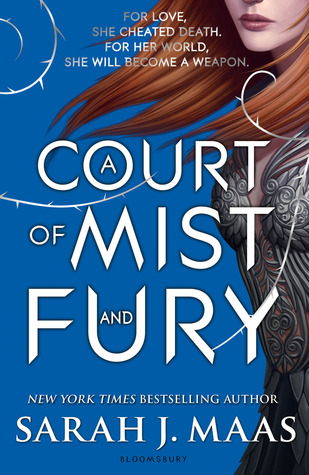 Share your thoughts below!
---
~~ Kirstie ~~