Why hello there, and welcome to another Tuesday! I am currently elbowing my way through the week wishing it was the weekend already even though it's only Tuesday. I've also spent a strange amount of time day dreaming about Christmas – I can't wait for the weather to warm up and to lounge around, boogying to Christmas carols and baking STUFF. Oooh, it's going to be good.
This week's theme is:
Top Ten All Time Favourite YA Books
So the original theme was: Top Ten ALL TIME Favorite Books Of X Genre and I decided to go with YA! Which seems mainstream, sure, but when I actually think about it I spend so many posts talking about everything other than YA I think it's time to splurge and go READTHISANDTHISANDTHIS because YA is life, guys, it is life.
Top Ten Tuesday is a weekly meme hosted over @ The Broke and the Bookish and each week there's a different theme that we get to make a list about featuring ten related books. It's so much fun and the topics are always great! It's also a fabulous way to learn more about people's reading adventures and I recommend heading over to the official page to do some exploring through the link up.
I am a Book Depository affiliate – so if you buy a book via one of the links I provide I get paid a small commission! It doesn't cost anything extra on your behalf so it would be much appreciated if you used my links!
---
#1
Tiger's Curse
by Colleen Houck
Passion. Fate. Loyalty.

Would you risk it all to change your destiny?

The last thing Kelsey Hayes thought she'd be doing this summer was trying to break a 300-year-old Indian curse. With a mysterious white tiger named Ren. Halfway around the world. But that's exactly what happened. Face-to-face with dark forces, spellbinding magic, and mystical worlds where nothing is what it seems, Kelsey risks everything to piece together an ancient prophecy that could break the curse forever.
This should really come as no surprise to you – Houck is my favourite author and I will forever read everything she publishes. I loved this series so much and it 100% got me into mega reading because I read this so fast. I'm definitely due a reread of this series and I can't recommend it enough!
---
#2
Throne of Glass
by Sarah J. Maas
Meet Celaena Sardothien.

Beautiful. Deadly.
Destined for greatness.

In the dark, filthy salt mines of Endovier, an eighteen-year-old girl is serving a life sentence. She is a trained assassin, the best of her kind, but she made a fatal mistake. She got caught.

Young Captain Westfall offers her a deal: her freedom in return for one huge sacrifice. Celaena must represent the prince in a to-the-death tournament—fighting the most gifted thieves and assassins in the land. Live or die, Celaena will be free. Win or lose, she is about to discover her true destiny. But will her assassin's heart be melted?
This series is fabulous and I'm loving it so much. Everything is happening just the way I want it to so I cannot wait to get around to picking up Empire of Storms – my copy is eye me off from the shelf, *squeals with delight*. If you haven't started this series yet then I do not know what you're doing with your life.
---
#3
Splintered
by A.G. Howard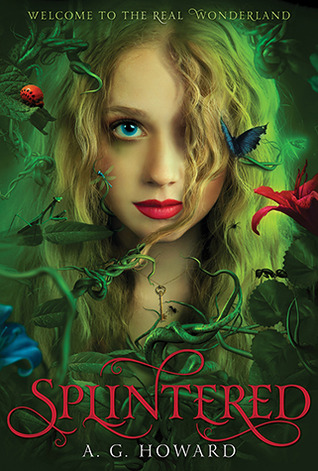 Alyssa Gardner hears the whispers of bugs and flowers—precisely the affliction that landed her mother in a mental hospital years before. This family curse stretches back to her ancestor Alice Liddell, the real-life inspiration for Lewis Carroll's Alice's Adventures in Wonderland. Alyssa might be crazy, but she manages to keep it together. For now.

When her mother's mental health takes a turn for the worse, Alyssa learns that what she thought was fiction is based in terrifying reality. The real Wonderland is a place far darker and more twisted than Lewis Carroll ever let on. There, Alyssa must pass a series of tests, including draining an ocean of Alice's tears, waking the slumbering tea party, and subduing a vicious bandersnatch, to fix Alice's mistakes and save her family. She must also decide whom to trust: Jeb, her gorgeous best friend and secret crush, or the sexy but suspicious Morpheus, her guide through Wonderland, who may have dark motives of his own.
This woman, guys, wow. I loved this series so much I was practically bursting at the seems with joy. I have become a complete Alice in Wonderland retelling addict and also a die-hard Howard fan. This series has everything you ever want from a YA fantasy book and UNF. The love triangle is real guys. Whew.
---
#4
 The Iron King
by Julie Kagawa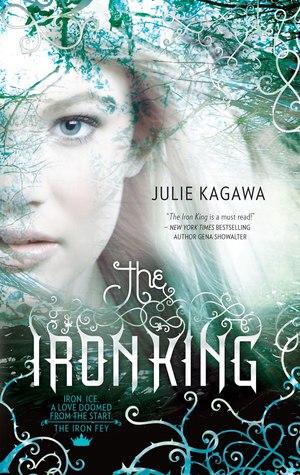 Meghan Chase has a secret destiny; one she could never have imagined.

Something has always felt slightly off in Meghan's life, ever since her father disappeared before her eyes when she was six. She has never quite fit in at school or at home.

When a dark stranger begins watching her from afar, and her prankster best friend becomes strangely protective of her, Meghan senses that everything she's known is about to change.

But she could never have guessed the truth – that she is the daughter of a mythical faery king and is a pawn in a deadly war. Now Meghan will learn just how far she'll go to save someone she cares about, to stop a mysterious evil, no faery creature dare face; and to find love with a young prince who might rather see her dead than let her touch his icy heart.
This series has a special place in my heart. I've thoroughly enjoyed reading it – and I've even put off the last couple of books in the spin-off series because I just don't want it to end. I love Ash so much it hurts – I think this is a seriously underrated book!
---
#5
Seraphina
by Rachel Hartman
Four decades of peace have done little to ease the mistrust between humans and dragons in the kingdom of Goredd. Folding themselves into human shape, dragons attend court as ambassadors, and lend their rational, mathematical minds to universities as scholars and teachers. As the treaty's anniversary draws near, however, tensions are high.

Seraphina Dombegh has reason to fear both sides. An unusually gifted musician, she joins the court just as a member of the royal family is murdered—in suspiciously draconian fashion. Seraphina is drawn into the investigation, partnering with the captain of the Queen's Guard, the dangerously perceptive Prince Lucian Kiggs. While they begin to uncover hints of a sinister plot to destroy the peace, Seraphina struggles to protect her own secret, the secret behind her musical gift, one so terrible that its discovery could mean her very life.

 
This book is all about dragons – and we all know that makes Kirstie a happy chappy. I really did love this story though; the characters were fabulous and the plot was delicious. I can't wait to continue reading with the second book to see where things go because WHEW, there's a lot going down in these books, I'll tell ya that.
---
#6
Die For Me
by Amy Plum
In the City of Lights, two star-crossed lovers battle a fate that is destined to tear them apart again and again for eternity.

When Kate Mercier's parents die in a tragic car accident, she leaves her life–and memories–behind to live with her grandparents in Paris. For Kate, the only way to survive her pain is escaping into the world of books and Parisian art. Until she meets Vincent.

Mysterious, charming, and devastatingly handsome, Vincent threatens to melt the ice around Kate's guarded heart with just his smile. As she begins to fall in love with Vincent, Kate discovers that he's a revenant–an undead being whose fate forces him to sacrifice himself over and over again to save the lives of others. Vincent and those like him are bound in a centuries-old war against a group of evil revenants who exist only to murder and betray. Kate soon realizes that if she follows her heart, she may never be safe again.
I'm fairly certain that this series was actually written for me. You all need to do yourself a favour and go buy this trilogy. IT IS MAGNIFICENT. I won't mention that there's a ridiculously drool-worthy lad in it by the name of Vincent, *fans self*. GAH – I still have the final book to read but oh my goodness do I love Plum's writing style.
---
#7
Reawakened
by Colleen Houck
When seventeen-year-old Lilliana Young enters the Metropolitan Museum of Art one morning during spring break, the last thing she expects to find is a live Egyptian prince with godlike powers, who has been reawakened after a thousand years of mummification.

And she really can't imagine being chosen to aid him in an epic quest that will lead them across the globe to find his brothers and complete a grand ceremony that will save mankind.

But fate has taken hold of Lily, and she, along with her sun prince, Amon, must travel to the Valley of the Kings, raise his brothers, and stop an evil, shape-shifting god named Seth from taking over the world.

From New York Times bestselling author Colleen Houck comes an epic adventure about two star-crossed teens who must battle mythical forces and ancient curses on a journey with more twists and turns than the Nile itself.

 
Because where there is one Houck book, there is always another. This is her most recent series (and I'm currently reading the sequel (it's amazing)) and it's all about ancient Egypt! Sort of. It's complicated. I just love the ways that Houck draws in mythological aspects of history into a compelling narratives with characters that are to die for – and then makes those characters endure character tests and challenges. JUST READ HER BOOKS, ALRIGHT?
---
#8
Fire & Flood
by Victoria Scott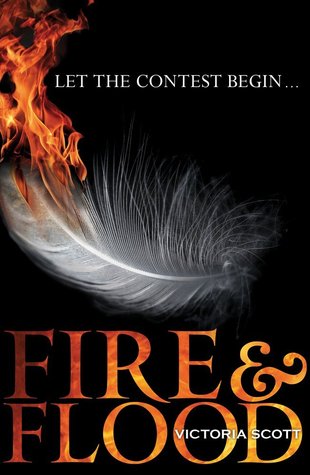 What would you do to save someone you love?

Time is slipping away. . . .

Tella Holloway is losing it. Her brother is sick, and when a dozen doctors can't determine what's wrong, her parents decide to move to the middle of nowhere for the fresh air. She's lost her friends, her parents are driving her crazy, her brother is dying–and she's helpless to change anything.

Until she receives mysterious instructions on how to become a Contender in the Brimstone Bleed. It's an epic race across jungle, desert, ocean, and mountain that could win her the prize she desperately desires: the Cure for her brother's illness. But all the Contenders are after the Cure for people they love, and there's no guarantee that Tella (or any of them) will survive the race.

The jungle is terrifying, the clock is ticking, and Tella knows she can't trust the allies she makes. And one big question emerges: Why have so many fallen sick in the first place?
I cannot express enough how much I enjoyed this book. If you like The Hunger Games or Divergent – or basically any popular Dystopian book, YOU WILL LOVE THIS. This was such a crazily addictive read, you have no idea. I can't believe more people aren't squealing about this on a daily basis because I am in love.
---
#9
 The Darkest Minds
by Alexandra Bracken
When Ruby woke up on her tenth birthday, something about her had changed. Something frightening enough to make her parents lock her in the garage and call the police. Something that got her sent to Thurmond, a government ′rehabilitation camp′. Ruby might have survived the mysterious disease that killed most of America′s children, but she and the others had emerged with something far worse: frightening abilities they could not control. 

Now sixteen, Ruby is one of the dangerous ones.
This review actually goes on, but it basically outlines ALL of the book, so I advise reading no more than what I've provided if you want to go in blind and be shocked and surprised in all the right places.
I read this one recently and it has officially made it onto my all time favourite list (like, of every book EVER that I've read). It was better than chocolate, I kid you not. I loved the story and the complications of the world. I am in love with the characters and my heart is falling to pieces not knowing where they're going to end up in the next book. I need to finish this series like I need air, *gasps*.
---
#10
A Court of Thorns and Roses
by Sarah J. Maas
She stole a life. Now she must pay with her heart.

When nineteen-year-old huntress Feyre kills a wolf in the woods, a beast-like creature arrives to demand retribution. Dragged to a treacherous magical land she knows about only from legends, Feyre discovers that her captor is not an animal, but Tamlin—one of the lethal, immortal faeries who once ruled their world. 

As she dwells on his estate, her feelings for Tamlin transform from icy hostility into a fiery passion that burns through every lie and warning she's been told about the beautiful, dangerous world of the Fae. But an ancient, wicked shadow over the faerie lands is growing, and Feyre must find a way to stop it . . . or doom Tamlin—and his world—forever.
I put ACOTAR here, but really it's ACOMAF. I have never read a series before where the sequel was so insanely good that it eclipsed the previous book on about 29571 different levels. I'm dying with anticipation to see where this series goes because oh my goodness, does it get crazy. I think Maas might be the official Queen of pulling your heart strings and writing books that make you die in all the right ways.
---
#11
Carry On
by Rainbow Rowell
Simon Snow just wants to relax and savor his last year at the Watford School of Magicks, but no one will let him. His girlfriend broke up with him, his best friend is a pest, and his mentor keeps trying to hide him away in the mountains where maybe he'll be safe. Simon can't even enjoy the fact that his roommate and longtime nemesis is missing, because he can't stop worrying about the evil git. Plus there are ghosts. And vampires. And actual evil things trying to shut Simon down. When you're the most powerful magician the world has ever known, you never get to relax and savor anything.
Just don't even get me started on how much I loved this book. This is also on my all time favourite list and I shall worship it until the end of my days. I just wish we had more books on Snow and Baz's adventures and more time with the two of them centre stage because ARGH, THE SEXUAL TENSION *melts*.
---
#12
Falling Kingdoms
by Morgan Rhodes
In the three kingdoms of Mytica, magic has long been forgotten. And while hard-won peace has reigned for centuries, a deadly unrest now simmers below the surface.

As the rulers of each kingdom grapple for power, the lives of their subjects are brutally transformed… and four key players, royals and rebels alike, find their fates forever intertwined. Cleo, Jonas, Lucia, and Magnus are caught in a dizzying world of treacherous betrayals, shocking murders, secret alliances, and even unforeseen love.

The only outcome that's certain is that kingdoms will fall. Who will emerge triumphant when all they know has collapsed?

It's the eve of war…. Choose your side.
I love this series so, so much. I haven't finished it/caught up yet but what I've read so far I just can't get enough of! It's right up my alley with all the crazy internal politics, magic wielding, and ridiculous love triangles – I don't think I have a bad word to say about this series other than GIVE ME MORE ALREADY.
---
#13
The Wrath and the Dawn
by Renée Ahdieh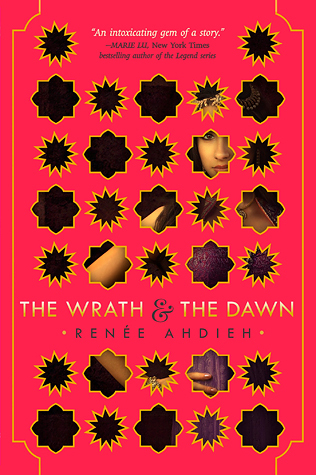 One Life to One Dawn.

In a land ruled by a murderous boy-king, each dawn brings heartache to a new family. Khalid, the eighteen-year-old Caliph of Khorasan, is a monster. Each night he takes a new bride only to have a silk cord wrapped around her throat come morning. When sixteen-year-old Shahrzad's dearest friend falls victim to Khalid, Shahrzad vows vengeance and volunteers to be his next bride. Shahrzad is determined not only to stay alive, but to end the caliph's reign of terror once and for all.

Night after night, Shahrzad beguiles Khalid, weaving stories that enchant, ensuring her survival, though she knows each dawn could be her last. But something she never expected begins to happen: Khalid is nothing like what she'd imagined him to be. This monster is a boy with a tormented heart. Incredibly, Shahrzad finds herself falling in love. How is this possible? It's an unforgivable betrayal. Still, Shahrzad has come to understand all is not as it seems in this palace of marble and stone. She resolves to uncover whatever secrets lurk and, despite her love, be ready to take Khalid's life as retribution for the many lives he's stolen. Can their love survive this world of stories and secrets?
This series officially destroyed my soul. Holy cow was it good. If you haven't tackled this duology  yet then DO. You won't regret it. It's the most magnificent retelling of 1001 Nights and just ARGH, *collapses*. I also recently heard and Ahdieh is working on a retelling of Mulan and I. CAN'T. BREATHE.
---
 Voila!
There we have it! The best of the best in my opinion. I could probably make this list even longer but I shall stop at twelve to avoid doing so. YA is just the best genre and I can never have enough of it. Just to prove my point, here are some honourable mentions:
 What's your favourite YA book?
---
~~ Kirstie ~~