Another week, another Tuesday! I've had such a crazy week that I'm just about ready to go to bed forever. Wouldn't that be nice? This week for TTT I'm excited to do another self-depreciating post where I can feel horribly guilty about not having read these books yet, *sigh*.
This week's theme is:
 Ten Books That Have Been On Your Shelf (Or TBR) From Before You Started Blogging That You STILL Haven't Read Yet
I started blogging last year in October (it's nearly been a whole year now!) so there's DEFINITELY a lot of books that I've had on my TBR since before then. I'm not going to talk about the  oldest books on my shelf because I have done several posts recently on that topic. So let's a look at some of the not quite archaic, but well overdue reads. I can assure you that it's not because I don't want to read these (I want to read them very much) – it has more to do with me buying far too many books . . . ahem.
Top Ten Tuesday is a weekly meme hosted over @ The Broke and the Bookish and each week there's a different theme that we get to make a list about featuring ten related books. It's so much fun and the topics are always great! It's also a fabulous way to learn more about people's reading adventures and I recommend heading over to the official page to do some exploring through the link up.
---
#1
Unremembered
by Jessica Brody
The only thing worse than forgetting her past . . . is remembering it.

When Freedom Airlines flight 121 went down over the Pacific Ocean, no one ever expected to find survivors. Which is why the sixteen-year-old girl discovered floating among the wreckage—alive—is making headlines across the globe.

Even more strange is that her body is miraculously unharmed and she has no memories of boarding the plane. She has no memories of her life before the crash. She has no memories period. No one knows how she survived. No one knows why she wasn't on the passenger manifest. And no one can explain why her DNA and fingerprints can't be found in a single database in the world.

Crippled by a world she doesn't know, plagued by abilities she doesn't understand, and haunted by a looming threat she can't remember, Seraphina struggles to piece together her forgotten past and discover who she really is. But with every clue only comes more questions. And she's running out of time to answer them.
Her only hope is a strangely alluring boy who claims to know her from before the crash. Who claims they were in love. But can she really trust him? And will he be able to protect her from the people who have been making her forget?
I remember getting this for myself as a reward for something or rather. I, of course, then put it on my shelf and haven't touched it for a couple of years, *sigh*. I can remember being so excited when it was released and so pumped to read it. There have been several occasions where I've told myself I'll read this one next – I have no idea why I haven't just picked it up.
---
#2
The Gospel of Loki
by Joanne M. Harris
The first adult epic fantasy novel from multi-million copy bestselling author of CHOCOLAT, Joanne Harris. The novel is a brilliant first-person narrative of the rise and fall of the Norse gods – retold from the point of view of the world's ultimate trickster, Loki. It tells the story of Loki's recruitment from the underworld of Chaos, his many exploits on behalf of his one-eyed master, Odin, through to his eventual betrayal of the gods and the fall of Asgard itself. Using her life-long passion for the Norse myths, Joanne Harris has created a vibrant and powerful fantasy novel.

Loki, that's me. Loki, the Light-Bringer, the misunderstood, the elusive, the handsome and modest hero of this particular tissue of lies. Take it with a pinch of salt, but it's at least as true as the official version, and, dare I say it, more entertaining. So far, history, such as it is, has cast me in a rather unflattering role. Now it's my turn to take the stage.

With his notorious reputation for trickery and deception, and an ability to cause as many problems as he solves, Loki is a Norse god like no other. Demon-born, he is viewed with deepest suspicion by his fellow gods who will never accept him as one of their own and for this he vows to take his revenge. From his recruitment by Odin from the realm of Chaos, through his years as the go-to man of Asgard, to his fall from grace in the build-up to Ragnarok, this is the unofficial history of the world's ultimate trickster.

 
I bought this one on holiday a while back and I'm still super duper keen to read it. I think it sounds like a lot of fun and totally awesome. And let's be honest, I'm totally going to imagine it's Tom Hiddleston narrating the book to me the whole way through. But that aside, I'm a big fan of Norse Mythology so I can't wait to read it from this unique perspective.
---
#3
 Tess of the D'Urbervilles
by Thomas Hardy
"I would be content, ay, glad, to live with you as your servant, if I may not as your wife; so that I could only be near you, and get glimpses of you, and think of you as mine … I long for only one thing in heaven or earth or under the earth, to meet you, my own dear! Come to me – come to me, and save me from what threatens me!"

When Tess Durbeyfield is driven by family poverty to claim kinship with the wealthy D'Urbervilles and seek a portion of their family fortune, meeting her 'cousin' Alec proves to be her downfall. A very different man, Angel Clare, seems to offer her love and salvation, but Tess must choose whether to reveal her past or remain silent in the hope of a peaceful future. With its sensitive depiction of the wronged Tess and powerful criticism of social convention, Tess of the D'Urbervilles is one of the most moving and poetic of Hardy's novels.
A lovely present from my Dad which inspired my addiction of collecting paperback classics in this edition. I just adore the designs on this one and the funkiness of the spine (it's got orange stripes on it). This is a classic that I'm super eager to get to but I really do buy too many books and never end up getting around to it, *stomps foot angrily*.
---
#4
 The Elegance of the Hedgehog
by Muriel Barbery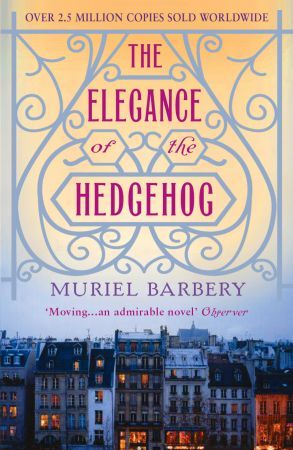 Renée is the concierge of a grand Parisian apartment building, home to members of the great and the good. Over the years she has maintained her carefully constructed persona as someone reliable but totally uncultivated, in keeping, she feels, with society's expectations of what a concierge should be. But beneath this facade lies the real Renée passionate about culture and the arts, and more knowledgeable in many ways than her employers with their outwardly successful but emotionally void lives.

Down in her lodge, apart from weekly visits by her one friend Manuela, Renée lives resigned to her lonely lot with only her cat for company. Meanwhile, several floors up, twelve-year-old Paloma Josse is determined to avoid the pampered and vacuous future laid out for her, and decides to end her life on her thirteenth birthday. But unknown to them both, the sudden death of one of their privileged neighbours will dramatically alter their lives forever. 
This one, was a present for a couple of birthdays ago. I had every intention of reading this one but I went on holiday not long after and then just ARGH. Derailment, right there. I'm waiting for the right opportunity to slip this into my TBR and give it a whirl.
---
#5
 Anna and the French Kiss
by Stephanie Perkins
Can Anna find love in the City of Light?

Anna is happy in Atlanta. She has a loyal best friend and a crush on her coworker at the movie theater, who is just starting to return her affection. So she's less than thrilled when her father decides to send her to a boarding school in Paris for her senior year.

But despite not speaking a word of French, Anna meets some cool new people, including the handsome Étienne St. Clair, who quickly becomes her best friend. Unfortunately, he's taken —and Anna might be, too. Will a year of romantic near misses end with the French kiss she's waiting for?
Yeah, I don't know why this is still unread either. I thought that actually buying it would encourage me to pick the silly thing up, but apparently not. There was actually a moment when this was the next book I was going to read. Then it suddenly wasn't. So you know, I'm sure I'll get to it eventually.
---
#6
My Dear I Wanted to Tell You
by Louisa Young
While Riley Purefoy and Peter Locke fight for their country, their survival and their sanity in the trenches of Flanders, Nadine Waveney, Julia Locke and Rose Locke do what they can at home. Beautiful, obsessive Julia and gentle, eccentric Peter are married: each day Julia goes through rituals to prepare for her beloved husband's return. Nadine and Riley, only eighteen when the war starts, and with problems of their own already, want above all to make promises – but how can they when the future is not in their hands? And Rose? Well, what did happen to the traditionally brought-up women who lost all hope of marriage, because all the young men were dead?

Moving between Ypres, London and Paris, My Dear I Wanted to Tell You is a deeply affecting, moving and brilliant novel of love and war, and how they affect those left behind as well as those who fight.

 
I bought this for myself for a couple of birthdays ago. But I have a terrible habit of not getting around to historical fiction books. I think this really does sound good (and sad) so I can't wait until I finally get around to reading this. It certainly sounds right up my alley.
---
#7
I'll Give You the Sun
by Jandy Nelson
From the author of The Sky Is Every­where, a radiant novel that will leave you laughing and crying – all at once. For fans of John Green, Gayle Forman and Lauren Oliver. Jude and her twin Noah were incredibly close – until a tragedy drove them apart, and now they are barely speaking. Then Jude meets a cocky, broken, beautiful boy as well as a captivating new mentor, both of whom may just need her as much as she needs them. What the twins don't realize is that each of them has only half the story and if they can just find their way back to one another, they have a chance to remake their world. 
I bought this one just before I started blogging. It was the first time I went into Waterstones in Ireland and I went nuts (I got some funny looks walking around with a stack of book as high as a small child). But this was one of them and I've heard such great things about it, so I'm sure I'll get around to it eventually.
---
#8
Travelling to Infinity
by Jane Hawking
Soon to be a major motion picture called The Theory of Everything, starring Eddie Redmayne as Hawking and Felicity Jones as his wife Jane. It chronicles their relationship, from his early development of ALS to his success in physics. In this compelling memoir his first wife, Jane Hawking, relates the inside story of their extraordinary marriage.

As Stephen's academic renown soared, his body was collapsing under the assaults of motor neurone disease, and Jane's candid account of trying to balance his 24-hour care with the needs of their growing family will be inspirational to anyone dealing with family illness. The inner-strength of the author, and the self-evident character and achievements of her husband, make for an incredible tale that is always presented with unflinching honesty; the author's candour is no less evident when the marriage finally ends in a high-profile meltdown, with Stephen leaving Jane for one of his nurses, while Jane goes on to marry an old family friend.

In this exceptionally open, moving and often funny memoir, Jane Hawking confronts not only the acutely complicated and painful dilemmas of her first marriage, but also the faultlines exposed in a relationship by the pervasive effects of fame and wealth. The result is a book about optimism, love and change that will resonate with readers everywhere.
The reason I have this one is actually because I won a copy of the book and the film from Bloomsbury (cool, right?). I haven't plucked up the courage to actually read it yet as it is quite a read, but I absolutely adored the film so I'm hoping those emotions etc will translate into the book as well.
---
#9
Frostfire
by Amanda Hocking
Will she give up her dream to follow her heart?

Bryn Aven is determined to gain status amongst the Kanin, the most powerful of the hidden tribes. But as a half-blood, winning respect is a huge challenge. Bryn's almost-human community distrusts people, and those from other tribes are almost as suspect.
She has just one goal to get ahead: to join the elite guard protecting the Kanin royal family. And Bryn's vowed that nothing will stand in her way, not even a forbidden romance with her boss, Ridley Dresden.
But her plans are put on hold when fallen hero Konstantin starts acting dangerously. Bryn loved him once, but now he's kidnapping Kanin children – stealing them from hidden placements within human families. She's sent to help stop him, but will she lose her heart in the process?
I bought this book because HELLO? Amanda Hocking! I haven't read all of her other books – I've read the Tryll Trilogy and some of the Water Song series but I knew I had to just buy her new one when it came out. So I'm sure I'll find the time to actually read it at some point – plus her books are also quick to read so … *makes excited noises*.
---
#10
Soulmates
by Holly Bourne
Every so often, two people are born who are the perfect matches for each other. Soulmates. But while the odds of this happening are about as likely as being struck by lightning, when these people do meet and fall in love…thunderstorms, lightning strikes and lashings of rain are only the beginning of their problems.

Enter Poppy, the 17-year-old cynic with a serious addiction to banana milk, and Noah, the heart-throb guitarist; residents of mediocre Middletown, sometime students, and…soulmates. 

After a chance meeting at a local band night, Poppy and Noah find themselves swept up in a whirlwind romance unlike anything they've ever experienced before. But with a secret international agency preparing to separate them, a trail of destruction rumbling in their wake, (and a looming psychology coursework deadline), they are left with an impossible choice between the end of the world, or a life without love…
My Dad actually bought this for me as a lovely spontaneous gift and look at the shame on my face as I tell you I haven't read it yet. What is wrong with me. I have every intention of reading this but it somehow never makes it into my hands. It's a sneaky book, that's a my verdict; it enjoys evading me.
---
 Badaboom – the end!
Obviously I could make a list of about 200 books for this topic but let's pretend that 10 covers it, *hides books behind back*. The struggle of controlling your TBR, I've decided, is quite literally impossible.
What's a book you've been hoarding, unread for awhile? 
---
~~ Kirstie ~~