It's that terribly exciting time again where we all get to look at the terrifying amount of books I bought last month and go: yep, she has no self control and will be eating books for dinner this month.
Maybe you're surprised that I accumulated so many books last month considering that I spent the entire time on the other side of the world restricted by weight allowance. In which case, Hi I'm Kirstie, nice to meet you – BECAUSE WHERE THERE ARE BOOKS THERE IS A WAY. There are also amazing bookstores such as Waterstones, Foyles, and Heffers in England so there really no way that I wouldn't buy oodles some books.
---
BOUGHT
These books are all those from England.
On the Other Side
by Carrie Hope Fletcher
Evie Snow is eighty-two when she quietly passes away in her sleep, surrounded by her children and grandchildren. It's the way most people wish to leave the world but when Evie reaches the door of her own private heaven, she finds that she's become her twenty-seven-year-old self and the door won't open.

Evie's soul must be light enough to pass through so she needs to get rid of whatever is making her soul heavy. For Evie, this means unburdening herself of the three secrets that have weighed her down for over fifty years, so she must find a way to reveal them before it's too late. As Evie begins the journey of a lifetime, she learns more about life and love than she ever thought possible, and somehow , some way, she may also find her way back to her long lost love . . .
So this is Carrie Fletcher's new book! I'm so excited for this one!! I went to her signing in London (which she vlogged) and it was amazing. After a 5 hour ordeal of waiting about in serious heat I finally came away starstruck and with a signed copy of this book. It's all about a character who dies but can't get into heaven (as I understand it) – so the story follows her and she does what she needs to do to get those pearly white gates open. Which has to be one of the most entertaining plots I've ever heard of.
Go Set a Watchman
by Harper Lee
Go Set a Watchman is set during the mid-1950s and features many of the characters from To Kill a Mockingbird some twenty years later. Scout (Jean Louise Finch) has returned to Maycomb from New York to visit her father Atticus. She is forced to grapple with issues both personal and political as she tries to understand both her father's attitude toward society, and her own feelings about the place where she was born and spent her childhood. 
I think it's pretty obvious why I got this one. This is the companion (can I call it that?) to To Kill a Mockingbird – it's actually a publication of the first draft of that book and has pretty interesting reviews but anyway. I absolutely adored TKAM and it's one of my favourite books so I'm really interested to see why this ruffled so many people's feathers. And it was on sale so I had to get it, obviously.
Cruel Crown
by Victoria Aveyard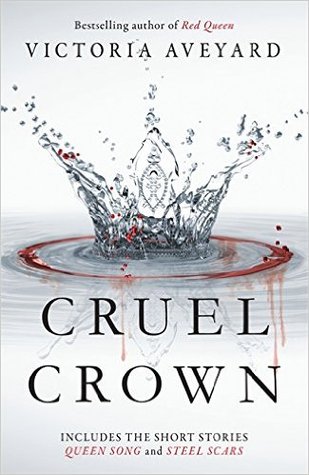 I'm a big fan of this series so far, I can't wait to continue reading it. When I saw this in the bookstore I had to pick it up – namely because it's small and therefore my brain went: well that won't make much of a difference in my suitcase – which is an excellent reason to buy a book. It's the two novellas to the Red Queen series (Queen Song, and, Steel Scars) and I'm super keen to read them. I have no idea which stories they follow so bring it on!
Glass Sword
by Victoria Aveyard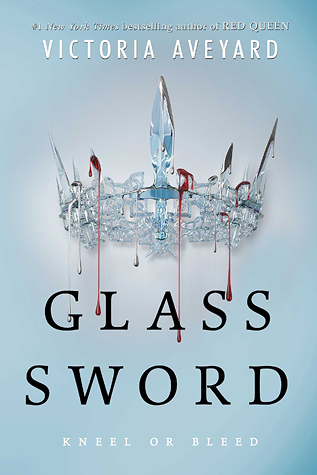 And then I found the sequel! When I say "found" it I mean I found it in the edition I wanted. Up until recently it was only published in the big paperback edition which didn't match my copy of Red Queen (and we can't have that, can we?). This is also super cool because the leafing on the pages is blue with little sword-ish symbols running down it . . . it's hard to explain.
Harry Potter and the Cursed Child
by J. K. Rowling et al

Review to come
It was always difficult being Harry Potter and it isn't much easier now that he is an overworked employee of the Ministry of Magic, a husband and father of three school-age children.

While Harry grapples with a past that refuses to stay where it belongs, his youngest son Albus must struggle with the weight of a family legacy he never wanted. As past and present fuse ominously, both father and son learn the uncomfortable truth: sometimes, darkness comes from unexpected places.
On my very last day I made a detour on my way to the airport to pick this up (I could have waited until I got to the airport but I'm impatient, alright). I read this whole wonderful thing on the plane home and had to keep the air stewardesses up dated as to how it was going (they kept walking past asking if it good, every time they walked past, without fail). I loved it!! And I will be reviewing it soon.
Soundless
by Richelle Mead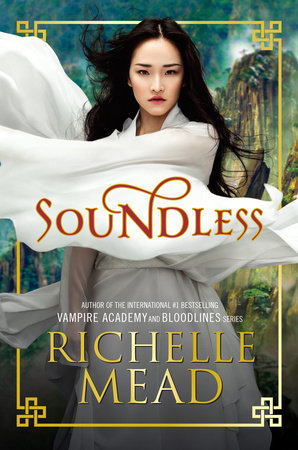 In a village without sound…

For as long as Fei can remember, no one in her village has been able to hear. Rocky terrain and frequent avalanches make it impossible to leave the village, so Fei and her people are at the mercy of a zipline that carries food up the treacherous cliffs from Beiguo, a mysterious faraway kingdom. 

When villagers begin to lose their sight, deliveries from the zipline shrink. Many go hungry. Fei and all the people she loves are plunged into crisis, with nothing to look forward to but darkness and starvation.

One girl hears a call to action…

Until one night, Fei is awoken by a searing noise. Sound becomes her weapon.

She sets out to uncover what's happened to her and to fight the dangers threatening her village. A handsome miner with a revolutionary spirit accompanies Fei on her quest, bringing with him new risks and the possibility of romance. They embark on a majestic journey from the peak of their jagged mountain village to the valley of Beiguo, where a startling truth will change their lives forever…

And unlocks a power that will save her people.
You may be wondering why I decided to buy this. You may be wondering that because the reviews for this book are somewhat less than favourable (I don't think I've seen an enthusiastic one yet? If you enjoyed this please shout loudly about it in the comment below). There are two reasons: I found it in Waterstones and went I RECOGNISE THAT BOOK and also that I think it sounds cool and refuse to believe the rest of the world saying that it's not. It's much smaller than I thought it would be, too.
The Square Root of Summer
by Harriet Reuter Hapgood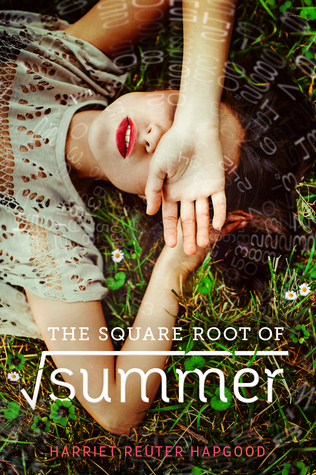 This is what it means to love someone. This is what it means to grieve someone. It's a little bit like a black hole. It's a little bit like infinity.

Gottie H. Oppenheimer is losing time. Literally. When the fabric of the universe around her seaside town begins to fray, she's hurtled through wormholes to her past:

To last summer, when her grandfather Grey died. To the afternoon she fell in love with Jason, who wouldn't even hold her hand at the funeral. To the day her best friend Thomas moved away and left her behind with a scar on her hand and a black hole in her memory.

Although Grey is still gone, Jason and Thomas are back, and Gottie's past, present, and future are about to collide—and someone's heart is about to be broken.
Guys, this book has PINK leafing. The same pink at the colour the author's name is written in. It's so cool I can't even. I got equally excited to see this one in the bookstore and it sounds right up my alley so I just had to buy it. I really hope it lives up to expectations!
Shadow Scale
Rachel Hartman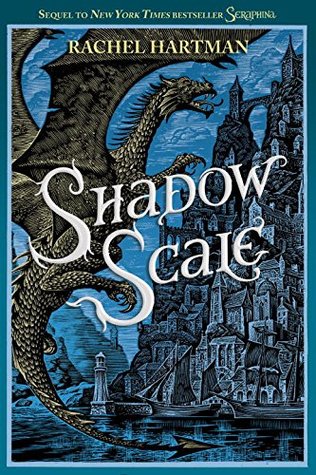 I recently read book one in this series, Seraphina, and enjoyed it immensely so. It's a series about dragons so things couldn't really go wrong, could they? I love how blue this book it, I must say. I absolutely adore this series because it's about dragons who can shapeshift into humans and are seriously cool. It's like someone stole my dreams and made them into a book.
Prince of Shadows
by Rachel Caine
In the Houses of Montague and Capulet, there is only one goal: power. The boys are born to fight and die for honor and—if they survive—marry for influence and money, not love. The girls are assets, to be spent wisely. Their wishes are of no import. Their fates are written on the day they are born.

Benvolio Montague, cousin to Romeo, knows all this. He expects to die for his cousin, for his house, but a spark of rebellion still lives inside him. At night, he is the Prince of Shadows, the greatest thief in Verona—and he risks all as he steals from House Capulet. In doing so, he sets eyes on convent-bound Rosaline, and a terrible curse begins that will claim the lives of many in Verona…

…And will rewrite all their fates, forever.
I bought this one because I actually saw it in a bookstore. For those of you who DON'T live in Australia let me paint you a picture of Dymocks (our main bookstore): popular new releases and several shelves of Game of Thrones. And that's it. GAH. I cannot even tell you how frustratingly limited Dymock's selection is (well, in Perth anyway – are they bigger over East?). I've had this on my Wishlist since the dinosaurs were around so when I saw this in Waterstones I squealed, got looked at funny, and then bought it. FINALLY.
Sense & Sensibility
by Jane Austen
'The more I know of the world, the more am I convinced that I shall never see a man whom I can really love. I require so much!'

Marianne Dashwood wears her heart on her sleeve, and when she falls in love with the dashing but unsuitable John Willoughby she ignores her sister Elinor's warning that her impulsive behaviour leaves her open to gossip and innuendo. Meanwhile Elinor, always sensitive to social convention, is struggling to conceal her own romantic disappointment, even from those closest to her. Through their parallel experience of love—and its threatened loss—the sisters learn that sense must mix with sensibility if they are to find personal happiness in a society where status and money govern the rules of love.
I actually forgot to put this in when I first wrote this so allow me to just jump in an talk loudly about this for a moment. I had zero intentions of buying another edition of Sense & Sensibility BUT when I saw this one I new I had to get it. It's basically impossible to get this edition – there is a similar publisher but it's not the same one so I feel like I've stumbled across gold dust. I have a very battered second hand copy of this novel but the movie adaptations is one of my FAVOURITE movies of all time (following Notting Hill, if you're curious). I am anxious to read this but put it off all the time because I'm so worried I won't like it. I love this edition so much so I could not pass up the opportunity to buy it! The cover is the same without the dust jacket on as well (excuse my photo of it, but the Goodreads version is very non-professional looking).
---
RECEIVED
I haven't been requesting books lately because I'm so bogged down with a bunch of review books that I've had for ages. Literally ages. I did not understand how easily I could get approved on NetGalley to start with which created a mound of books to climb over from the get go, *sigh*. But Bluemoon publishing actually contacted me to say KIRSTIE WE HAVE DRAGONS and I went OH GOD YES. So I shall be reading these soon. Guaranteed.
Rise of the Chosen
by Anna Kopp
RELEASE DATE: 4th October 2016
In Sam's world there are two rules. Rule #1: Nobody dies. Protect the living at all costs. Rule #2: Everybody dies. At least once.

The Waking was a global event in which a force called the Lifeblood invaded all humans who died. The few strong enough to control it came back as powerful immortals. The rest let the bloodlust take over and awoke with one goal – to kill.

Newly appointed Watch Guard Samantha Shields has a legacy to uphold. Her father died a hero defending their city and now she wants to follow in his footsteps. Except for the dying part, of course. Unfortunately, fate has other plans as she discovers deep dark secrets that make her choose between her loyalties and the lives of everyone in her city. Both rules are in play as Sam is forced to make hard decisions that could cost her everything – including the person she cares about most.
Look at that eye. Isn't that a creepy wonderful eye. Okay, to be fair this one isn't about dragons but it is about immortal people who are powerful and a girl being probably awesome. There's literally nothing about this blurb that I don't love. I cannot wait to read it, *hops excitedly*.
Immortal Writers
by Jill Bowers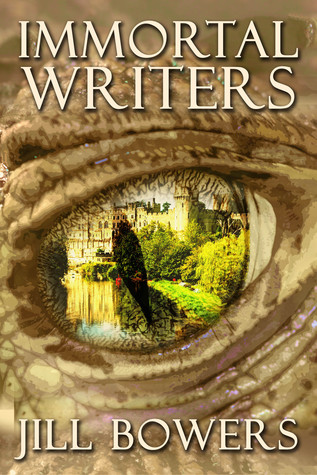 RELEASE DATE: 5th November 2016
Young up-and-coming author Liz McKinnen has no idea that her life is about to change forever when she comes home from her first book tour. When she's kidnapped and told by her captors that she has to kill her fantasy book's antagonist, she thinks that she's fallen into the hands of crazy, dangerous fans… until her antagonist sends a real, fire-breathing dragon after her. Liz is quickly initiated into the Immortal Writers, a group of authors from throughout time whose words have given them eternal life, and whose prose is so powerful that it's brought stories over from the Imagination Field into the Reality Field. As Liz meets authors such as William Shakespeare, JRR Tolkien, Edgar Allan Poe, and Jane Austen, she has to learn how to control magic, fight dragons, and face her own troubled past before her power-hungry villain takes over the world. Will she survive the ultimate battle against the dragon lord whom she created?
BUT THIS ONE IS DRAGONS, *squeee*. But,  the main thing that grabbed me with this one is the actual, goddamn plot. Like oh my god. Have you read it? Scroll back up and read it. Kidnapped and told to kill HER book character? JUST ARGH. And this whole "immortal writers" business, like wow, this book better live up to expectations or I will cry.
---
PRE-ORDERS
I could have preordered about 100 books this month but I did refrain – and I also didn't order any subscription boxes so woo, record low for me!
The Shadow Hour
by Melissa Grey
I have been so excited to get this book in my hands and demolish it. It's the sequel to the book The Girl at Midnight which had an interesting plot that suddenly went BADABOOM in your face and transformed into something magnificent. So yeah, I'm pretty over-excited about this release. Now if I could just grab a time turner to give myself somewhere to squeeze this in in my reading schedule . . .
---
And Then There Was Doctor Who
Just to explain here: when I was in England, the people I was staying with had a couple of CRATES of the Doctor Who novels. Naturally, I took home as many as I could in my suitcase. You might have noticed that I've been reading a few of these whilst I way away so just to let you know where I'm at with that, I'm going to take a break from them because there are some other books I want to tick off soon but I will go back to munching through a bunch of these at some point. So these are those books!
The Price of Paradise
by Colin Brake
Review to come
Laylora – the Paradise Planet. A world of breath-taking beauty, where peace-loving aboriginals live in harmony with their environment. Or do they? The Doctor and Rose arrive to find that the once-perfect eco-system is showing signs of failing. The paradise planet has become a death trap as terrifying creatures from ancient legends appear and stalk the land… Is there a connection between the human explorers who have crash-landed and the savage monsters? What secret lies at the heart of the natives' ancient ceremonies? And what price might one human have to pay to save the only home he has ever known? When a planet itself becomes sick, can there be a cure? The Doctor and Rose find themsleves in a race against time to find out…
Snowglobe 7
by Mike Tucker
Earth, 2099. Global warming is devastating the climate. The polar ice caps are melting.

In a desperate attempt at preservation, the governments of the world have removed vast sections of the Arctic and Antarctic and set them inside huge domes across the world. The Doctor and Martha arrive in Snowglobe 7 in the Middle East, hoping for peace and relaxation. But they soon discover that it's not only ice and snow that has been preserved beneath the Dome.

While Martha struggles to help with an infection sweeping through the Dome, the Doctor discovers an alien threat that has lain hidden since the last ice age. A threat that is starting to thaw.
Wetworld
by Mark Michalowski
When the TARDIS makes a disastrous landing in the swamps of the planet Sunday, the Doctor has no choice but to abandon Martha and try to find help. But the tranquillity of Sunday's swamps is deceptive, and even the TARDIS can't protect Martha forever.

The human pioneers of Sunday have their own dangers to face: homeless and alone, they're only just starting to realise that Sunday's wildlife isn't as harmless as it first seems. Why are the native otters behaving so strangely, and what is the creature in the swamps that is so interested in the humans, and the new arrivals?

The Doctor and Martha must fight to ensure that human intelligence doesn't become the greatest danger of all.
Judgement of the Judoon
by Colin Brake
Elvis the King Spaceport has grown into the sprawling city-state of New Memphis – an urban jungle, where organised crime is rife. But the launch of the new Terminal 13 hasn't been as smooth as expected. And things are about to get worse…

When the Doctor arrives, he finds the whole terminal locked down. The notorious Invisible Assassin is at work again, and the Judoon troopers sent to catch him will stop at nothing to complete their mission.

With the assassin loose on the mean streets of New Memphis, the Doctor is forced into a strange alliance. Together with teenage private eye Nikki and a ruthless Judoon Commander, the Doctor soon discovers that things are even more complicated – and dangerous – than he first thought…
Prisoner of the Daleks
by Trevor Baxendale
The Daleks are advancing, their empire constantly expanding into Earth's space. The Earth forces are resisting the Daleks in every way they can. But the battles rage on across countless solar systems. And now the future of our galaxy hangs in the balance…

The Doctor finds himself stranded on board a starship near the frontline with a group of ruthless bounty hunters. Earth Command will pay them for every Dalek they kill, every eye stalk they bring back as proof.

With the Doctor's help, the bounty hunters achieve the ultimate prize: a Dalek prisoner – intact, powerless, and ready for interrogation. But where the Daleks are involved, nothing is what it seems, and no one is safe. Before long the tables will be turned, and how will the Doctor survive when he becomes a prisoner of the Daleks?
Winner Takes All
by Jacqueline Rayner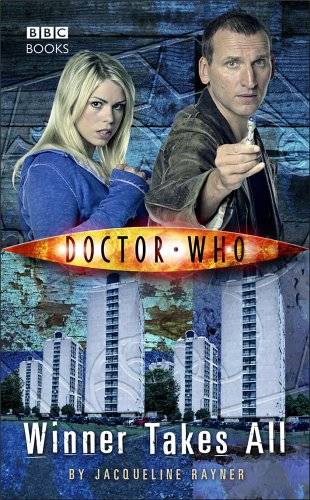 Rose and the Doctor return to present-day Earth, and become intrigued by the latest craze – the video game, Death to Mantodeans. Is it as harmless as it seems? And why are so many local people going on holiday and never returning? Meanwhile, on another world, an alien war is raging. The Quevvils need to find a new means of attacking the ruthless Mantodeans.

Searching the galaxy for cunning, warlike but gullible allies, they find the ideal soldiers on Earth. Will Rose be able to save her family and friends from the alien threat? And can the Doctor play the game to the end and win?
The Feast of the Drowned
by Stephen Cole
When a naval cruiser sinks in mysterious circumstances in the North Sea, all aboard are lost. Rose is saddened to learn that the brother of her friend, Keisha, was among the dead. And yet he appears to them as a ghostly apparition, begging to be saved from the coming feast… the feast of the drowned. As the dead crew haunts loved ones all over London, the Doctor and Rose are drawn into a chilling mystery. What sank the ship, and why? When the cruiser's wreckage was towed up the Thames, what sinister force came with it? The river's dark waters are hiding an even darker secret, as preparations for the feast near their conclusion…

 
Martha in the Mirror
by Justin Richards
Castle Extremis – whoever holds it can control the provinces either side that have been at war for centuries. Now the castle is about to play host to the signing of a peace treaty. But as the Doctor and Martha find out, not everyone wants the war to end.

Who is the strange little girl who haunts the castle? What is the secret of the book the Doctor finds, its pages made from thin, brittle glass? Who is the hooded figure that watches from the shadows? And what is the secret of the legendary Mortal Mirror?

The Doctor and Martha don't have long to find the answers – an army is on the march, and the castle will soon be under siege once more…
Wooden Heart
by Martin Day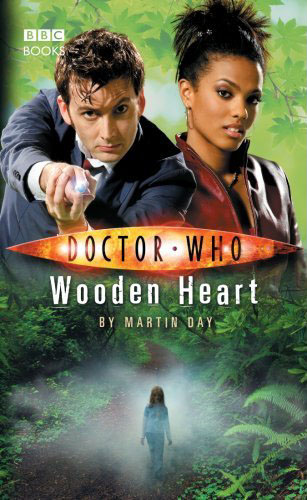 The Castor, a vast starship, seemingly deserted and spinning slowly in the void of deep space. Martha and the Doctor explore the drifting tomb, and discover that they may not be alone after all…

Who survived the disaster that overcame the rest of the crew? What continues to power the vessel? And why has a stretch of wooded countryside suddenly appeared in the middle of the craft?

As the Doctor and Martha journey through the forest, they find a mysterious, fogbound village – a village traumatised by missing children and tales of its own destruction…
Nuclear Time
by Oli Smith
'My watch is running backwards.'

Colorado, 1981. The Doctor, Amy and Rory arrive in Appletown – an idyllic village in the remote American desert where the townsfolk go peacefully about their suburban routines. But when two more strangers arrive, things begin to change. The first is a mad scientist – whose warnings are cut short by an untimely and brutal death. The second is the Doctor…

As death falls from the sky, the Doctor is trapped. The TARDIS is damaged, and the Doctor finds he is living backwards through time. With Amy and Rory being hunted through the suburban streets of the Doctor's own future and getting farther away with every passing second, he must unravel the secrets of Appletown before time runs out…
Night of the Humans
by David Llewelyn
'This is the Gyre – the most hostile environment in the galaxy…' 250,000 years' worth of junk floating in deep space, home to the shipwrecked Sittuun, the carnivorous Sollogs, and worst of all – the Humans. The Doctor and Amy arrive on this terrifying world in the middle of an all-out frontier war between Sittuun and Humans, and the countdown has already started. There's a comet in the sky, and it's on a collision course with the Gyre…When the Doctor is kidnapped, it's up to Amy and "galaxy-famous swashbuckler" Dirk Slipstream to save the day. But who is Slipstream, exactly? And what is he really doing here?
Apollo 23
by Justin Richards
'For a few moments this afternoon, it rained on the moon…' An astronaut in full spacesuit appears out of thin air in a busy shopping centre. Maybe it's a publicity stunt. A photo shows a well-dressed woman in a red coat lying dead at the edge of a crater on the dark side of the moon – beside her beloved dog 'Poochie'. Maybe it's a hoax. But as the Doctor and Amy find out, these are just minor events in a sinister plan to take over every human being on earth. The plot centres on a secret military base on the moon – that's where Amy and the TARDIS are. The Doctor is back on Earth, and without the TARDIS there's no way he can get to the moon to save Amy and defeat the aliens. Or is there? The Doctor discovers one last great secret that could save humanity: Apollo 23.
Dead of Winter
by James Goss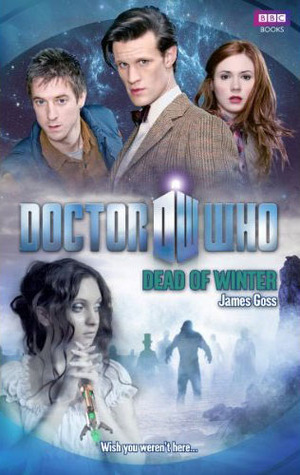 'The Dead are not alone. There is something in the mist and it talks to them.'

In Dr Bloom's clinic at a remote spot on the Italian coast, at the end of the 18th century, nothing is ever quite what it seems. Maria is a lonely little girl with no one to play with. She writes letters to her mother from the isolated resort where she is staying. She tells of the pale English aristocrats and the mysterious Russian nobles and their attentive servants.

She tells of intrigue and secrets, and she tells of strange faceless figures that rise from the sea. She writes about the enigmatic Mrs Pond who arrives with her husband and her physician, and who will change everything. What she doesn't tell her mother, is the truth that everyone knows and no one says – that the only people who come here do so to die.
Ghosts of India
by Mark Morris
India in 1947 is a country in the grip of chaos – a country torn apart by internal strife. When the Doctor and Donna arrive in Calcutta, they are instantly swept up in violent events.

Barely escaping with their lives, they discover that the city is rife with tales of 'half-made men', who roam the streets at night and steal people away. These creatures, it is said, are as white as salt and have only shadows where their eyes should be.

With help from India's great spiritual leader, Mohandas 'Mahatma' Gandhi, the Doctor and Donna set out to investigate these rumours.

What is the real truth behind the 'half-made men'? Why is Gandhi's role in history under threat? And has an ancient, all-powerful god of destruction really come back to wreak his vengeance upon the Earth?
Wishing Well
by Trevor Baxendale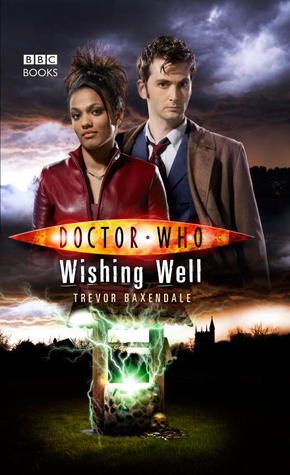 The old village well is just a curiosity – something to attract tourists intrigued by stories of lost treasure, or visitors just making a wish. Unless something alien and terrifying could be lurking inside the well? Something utterly monstrous that causes nothing but death and destruction?

But who knows the real truth about the well? Who wishes to unleash the hideous force it contains? What terrible consequences will follow the search for a legendary treasure hidden at the bottom?

No one wants to believe the Doctor's warnings about the deadly horror lying in wait – but soon they'll wish they had…
---
That's a wrap!
I think I had a pretty exciting haul for July and I can't wait to read all of these books. I'm expecting the rest of the year, until Christmas, to cool right down with the incoming books (aside from free e-book downloads and any further books I accept for review – oh and pre-orders of course!).
Have you read any of these? What did you think!
---
~~ Kirstie ~~