4/5 STARS
Genre: Middle-Grade Fiction, Adventure
Author: Katherine Rundell
Published: March 2016 {1st pub. Jan. 2011}
Publisher: Simon & Schuster Books for Young Readers
Pages: 272 {paperback}
---
Initial Thoughts on Finishing
Ah this was just beautiful. I absolutely love Rundell's style of storytelling and sincerely hope that she writes a million more books because I can't get enough. This story is such a lovely take on the meaning of life, so to speak, and is utterly breathtaking! Will is such a unique and crazy character!!
---
Cartwheeling in Thunderstorms
This book was marvellous. True to Rundell's magnificent ability to spin a yarn this was everything I wanted it to be and more. I loved how unique this story was and how wild the main character was. Set in both Zimbabwe and England, it follows the story of young Will as she has to leave her farm in Africa and join a strict, very British boarding school. It's a wonderful view of life from a child's perspective and I just thoroughly enjoyed it. It's chaotic and crazy and just generally amazed me. This definitely confirms that I will read everything that Rundell puts out from now on. I will trek through the wilderness of Antarctica if it means I get to read more of her books. I LOVE IT.
---
What Happens
We slowly get to know the character of Will. We learn that she's this mad, wild, and free spirit who's allowed to do almost anything. We sit on the fence for a bit trying to determine if she's a good person or whether she needs to be reined in and straightened out. Her father is a loving man who is terribly proud of her. I don't want to tell you too much without giving things away but basically a woman who's all prim and proper arrives and starts to bring about changes. This eventually results in Will unwillingly being sent away to England to go to a boarding school. CHAOS I TELL YOU, CHAOS.
Except she doesn't know how to be a normal British girl. She has no idea what is right and wrong and she doesn't understand a lot of things. In fact there are HEAPS of things that Will has exactly zero knowledge of how to do. Or even things such as taking regular baths are quite foreign to her. It's so unfair on her and the task of fitting in is incredibly overwhelming. So Will tries to take matters into her own hands to get away from the horrible rigidness of the sensible life of the British.
---
What I Loved
If you want to know how a story is done, then Rundell is your woman. I absolutely love the way she writes. It's such a captivating writing style that constructs worlds beautifully. You feel like you're the character and you're the one who's in tune with settings. Whether it be 19th century Russia or the wilderness of Zimbabwe, you suddenly feel like those places are your home.
I really enjoyed all the characters that we come across and I think the blissful ignorance of the children in relation to the world is incredibly adorable. I especially loved how in tune to nature Will was because of her love of everything wild. This book had a powerful message as well about bravery and the difficulties of growing up. I just all up loved it.
---
Will
Will, short for Wilhelmina, has to be one of the coolest characters ever. She's wild and amazing and I really enjoyed her character full stop. It was so nice to read about a child who had fun with life and was carefree. The way she's portrayed in the book was just perfect and summed up how childhood should be perfectly. I particularly loved the way she mades friends with people and how simple and easy that process was. And then there's me, the reader, reflecting on how I don't go outside ever because people are scary. So it's a great way of pretending you're a social butterfly.
She has to deal with some pretty huge issues in the book and I was impressed to see how well she did this. It was that simplified mindset of a child who doesn't really understand the consequences of what she's doing but does it anyway in an incredibly determined fashion. It was brilliant. But I don't think there's much more I can say about this book without starting to spoil you now.
"Perhaps forgiving people was easier than it looked. But then, so was breaking into a zoo. Perhaps things were easier once you tried them, Will thought."
---
Summary
I think I can say as much as I like about the awesomeness of Rundell's writing and how much I enjoyed this book, but at the end of the day it's up to you to just go and pick this one up! It was a wonderful story that I think almost everyone can enjoy so absolutely YES you should go and read this. And then you should go and read all of her other books, too. All praise Rundell!
---
 You might also like . . .
If you love good storytelling, The Wolf Wilder is for you.
If you like characters who adventure into new and foreign worlds, Inkheart is for you.
If you love interesting and complex characters, Because You'll Never Meet Me is for you.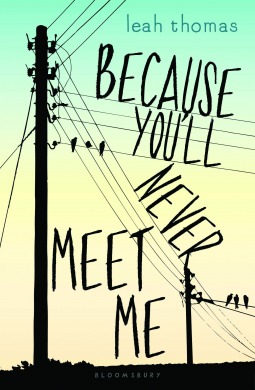 ---
 Have you read this book?
What did you think?
---
~~ Kirstie ~~