Genre: Historical Fiction, Retelling [Pride & Prejudice]
Author: Molly Greeley
Published: December 2019
Publisher: Allen & Unwin
Pages: 288 {paperback}
Thank you to Allen & Unwin for sending me a copy in exchange for an honest review
---
Initial Thoughts upon Finishing
This turned out better than expected! The beginning didn't quite have me convinced but I loved the quiet message of the story in the end and I really enjoyed revisiting the world of Pride & Prejudice!
---
The Clergyman's Wife
This book is a retelling of Pride & Prejudice (well, sort of) as it imagines the story of Charlotte after the events of the original story. I love books that revisit old classics and dive back into a world we know so well. And Greeley has done a magnificent job here!
I'd heard quite a number of good reviews about this book before reading it but after the first few chapters, I was a little concerned. This is a slow-paced book and I'm not sure what I was expecting at first, but it wasn't that. However, I quickly grew to love it.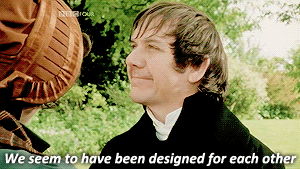 Charlotte is such a quiet and logical character that the pacing felt right once I'd shifted my brain into the right gear. It was such a great reimagining of this character, exploring the quiet corners of her personality and really bringing it to life.
We follow Charlotte's story several years after her marriage to Mr Collins and she has a daughter, who is about nine months old in this story. The book seems to look at and challenge the role of women and the battle between happiness and duty. I really enjoyed the tasteful way Greeley explored these themes through Charlotte's internal battles where she sternly tells herself that she's provided for and has a good life and that that should be enough. It was really interesting the way Charlotte stomps down on the validity of her own emotions.
---
Why I Ended Up Loving This
There is something whimsical about this story. It's a scary look into a world where a woman's value comes down to her ability to produce an heir. It's also a clever examination of the intricacies of what makes us human and what makes humans HAPPY. I loved all the small moments that added up to tell a bigger story.
I also found myself really liking Charlotte. Whilst she could easily be portrayed as a pithy and weak character, Greeley has painted her in a way that has me respecting Charlotte a lot. The strength it would have taken to accept her position in life and her "lack" of beauty/vivaciousness is incredible.
Sure, this is just a story. But there's something about the way that Charlotte is written that makes me pause to examine my own, seemingly small, problems in comparison and say well gee, at least I'm allowed to speak.
---
Summary
This is just really good. It's such a calm and soothing story, lulling the reader back into the comforting world of Pride & Prejudice and even indulging us with a cute moment here and there between Elizabeth and Darcy. I really enjoyed this and thoroughly appreciated its quietness for what it is.
---
Grab a Copy!
I am an affiliate with these companies. By using these links to purchase books you are supporting Upside-Down Books!
Get free worldwide shipping and great prices with The Book Depository and Wordery!
Support an Australian company with Angus & Robertson and get free shipping on orders over $60!
Support an Australian company with Booktopia and enjoy flat rate shipping for AUS/NZ!
---
 

You might also like . . .
---
Have you read The Clergyman's Wife?
Are you planning on reading it?
---

~~ Kirstie ~~