Genre: Young Adult, Fantasy
Author: Susan Dennard
Published: January 2016
Publisher: Pan Macmillan
Pages: 484 {paperback}
---
Initial Thoughts upon Finishing
Oh boy this was good. I've been waiting to read this for the longest of times and there has been SO much hype around it: it lived up to it! All the magic and secrets and pirate-y stuff going on was excellent. I was thrilled by how strong the pirate vibes were in this book (okay, they're not actually pirates but shhhhh)—that was unexpected. How DARE Dennard tease us so badly with such a good slow-burn romance, though!! Now I NEED book two so badly!!
---
Truthwitch
This story is all about two girls: Safi (a truthwitch) and Iseult (a threadwitch). It's a grand adventure as they try to make their way in the world but constantly run into trouble, unexpected betrothals, sea monsters and good looking pirate princes.
The witch-y side of things in this story is a really cool magic system that I quite liked. There are people like Safi and Iseult who have a variety of different abilities. We also have a Bloodwitch, Aeduan who tracks people by something akin to scenting their blood. He's the bad guy tracking the two girls down and making their life difficult.
And of course we have the delightful and handsome Merik who is a Windwitch. He's the admiral of a navy as well as a prince but we're going to come back to him a bit later because he deserves his own section.
Ultimately, this is the story of a continent ruled by three empires that have a treaty of sorts in place for peace. But this treaty has an expiry date and some want war with the others desperately, and others really don't.
---
Awesome Girl Power
Safi and Iseult are a really good team in this book and made the story really enjoyable. They're threadsisters which means they have a special bond, though they are just friends and nothing more. This is the kind of BFF relationship I think we all want in our lives.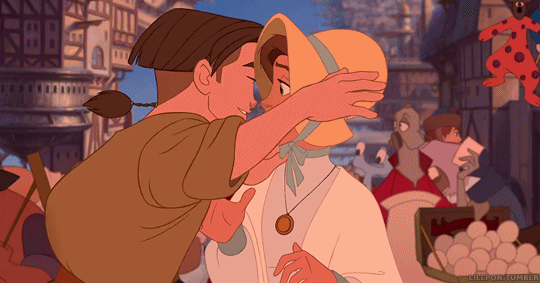 They are so in sync with each other and I particularly loved moments when they fought together because they were absolutely fearsome. Iseult being a threadwitch means that she can see the threads (connections) that tie people together. I thought this was a really cool element in the story because it added a bit of drama knowing how certain people felt towards each other. However, Iseult cannot see her own threads so that's all a bit of a mystery.
Safi's truthwitchery was a little less exciting. At the end of the day, she can more of less tell when someone is lying (but only if they know they're lying. For example, if someone said something was false but they believe it was the truth, welp). But Safi is the lady in demand as Aeduan is on a mission to retrieve her and other people who find out about her ability come running hot on his heels, too.
---
Interesting Magic System
I'm really excited to continue reading the series particularly because I want to see even more of the magic system. I'm hoping we'll discover more long-lost secrets about witchery, especially with all the hints at the importance of the Origin Wells.
We see some really epic things throughout the book of what powerful witches can do, notably with Kullen, and I'm anticipating that things are only going to get even more epic. Not to mention I really want like a whole backstory series about Evrane because she was totally the Molly Weasley of the story.
---
MERIK: YES.
Merik *heart eyes* I loved him. I did not love how tortuously slow-burning the romance he's involve in was, however. I died. Merik is such a conflicted character being the admiral of the navy and also the prince of Nubrevna. I loved the depth of his character as he battled between right and wrong, between want and duty.
I am SO excited to see what happens with his character in the next few books. I loved the bromance between him and Kullen and the whole loyal admiral complex he had going on where he would do ANYTHING for his crew was just beautiful. Not to mention the added drama of him and his cruel sister battling it out for peace versus war.
---
Summary
This was really enjoyable! I'm fully anticipating that this series will only get better as it goes along and so have quietly tempered my excitement so that there room within me for the next level of fangirling. If anything, I'm just upset that I didn't get onto this series sooner!
---
Grab a Copy!
I am an affiliate with these companies. By using these links to purchase books you are supporting Upside-Down Books!
Get free worldwide shipping and great prices with The Book Depository and Wordery!
Support an Australian company with Angus & Robertson and get free shipping on orders over $60!
Support an Australian company with Booktopia and enjoy flat rate shipping for AUS/NZ!
---
 You might also like . . .
---
Have you read Truthwitch?
Are you planning on reading it?
---

~~ Kirstie ~~