Amazingly, I haven't done one of these posts for about two months and it's resulted in me buying less books. Since starting to put together this post, I've bought two new books. Huh. Clearly, writing this has a terrible influence on me. BUT there are just so many books each month to get excited about. So I'm not that sorry.
Hi! Hello! How are we all? I hope you've got your wallets ready because we're going to zap through the ULTIMATE tour of all the books that we should be getting excited about and ready to BUY in August (yeah okay, this list is mostly my own personal fangirl list, so sorry if I missed something you're excited about, or you hate the idea of all of these books *shrug*).
But! If you do think you're going to buy something, please use MY AFFILIATE LINK with the Book Depository! *bats eyelashes* It makes absolutely no difference to you (you're not charged more, etc) but I earn a small commission that helps keep this website chugging along. If you do, YOU'RE THE BEST.
---
FANTASY
House of Salt and Sorrows | Erin A. Craig

RELEASE DATE: 6th August
In this story, there's a family that lives by the sea. But the family is cursed. They used to have 12 members in their family but one by one, they have died a tragic death. It's a bit of a mystery and a retelling of 12 Dancing Princesses (a story I am unfamiliar with). But I love the race against time to unravel the secrets behind the deaths (and the sisters who are sneaking out to dance) to try and save the family!
Beasts of the Frozen Sun |
Jill Criswell
RELEASE DATE: 6th August
In this book, we have a girl who is descended from a god-gifted mortal. This ancestors once sparked a war between man and the gods. Whoops. But our MC, Lira, has a gift of her own: she can read people's soul just by touching them. When a man from an enemy city (realm? kingdom? town? idek?) washes ashore, they end up making an unlikely alliance and SHIT GOES DOWN. There was also a mention of dragons (but with a capital D, so Dragons) in the blurb but I am unsure if this is the roaring, fire-breathing type or just a name.
Bursts of Fire | Susan Forest

RELEASE DATE: 6th August
Here we have three sisters whose mother is magical. She calls upon the gods to protect the people of the city from the terrors of the afterlife. A raging king desires to destroy the stone that their mother uses to do this and all HELL breaks loose (pun? maybe? yes?). So the sisters scatter into the winds driven by different ambitions to reclaim their birthright.
Crown of Sunlight

| Payton Taylor
RELEASE DATE: 20th August
Okay, here's a wild plot. It sounds normal at first, two ordinary people who have lived on earth their entire life. BUT. Turns out a king from another realm has been tracking them via their blood (ie their blood is a tracking device). They're thrown into a fantasy world, they fight, they find new things and it all sounds terribly exciting.
The Stolen Kingdom |

 Bethany Atazadeh

RELEASE DATE: 20th August
Get excited, we've got an Aladdin retelling on our hands! In this book, the MC is set to inherit her kingdom, but she's manifested Jinni powers and this is a huge no-no. Then there's an evil king at play and everything turns bAd. Also people might find out about her powers which is even worse. Also also, isn't that just such a pretty cover?
The First Girl Child |
Amy Harmon
RELEASE DATE: 20th August
This cover 100% looks like a horror, am I right? I'm right. Well, there's a cheiftain and his son, the son is cursed by his mother. We're off to a good start. The lands have been cursed so that no more daughters are born, but our MC comes to the forefront when, for the first time in AGES, a girl is born. And now he's gotta protect her. There's more to it, but I'm already sold on that alone. SIGN ME UP.
Turning Darkness into Light |
Marie Brennan

RELEASE DATE:  20th August
There are dragons on this cover and that is the main reason that this book is on this list. I am shallow, yes. Okay but this also follows a girl who wants to become a scholar and reads/studies an ancient tablet about a draconic civilisation. WHICH IS EXCITING. Life goals, right there. But all this research gets her caught up in a conspiracy and then everything snowballs into a potentially rebellion/war. Yeehaw!
The Blacksmith Queen | G.A. Aiken
RELEASE DATE:  27th August
A prophecy brings war to this fantastical civilisation, the best kind of start to an epic fantasy. But then – BUT THEN – the MC joins forces with a clan of mountain warriors (what are mountain warriors? where can I sign up??) but WAIT -they're actually centaurs!! *mind blown* The blurb killed me at this point, I can't handle it's awesomeness. Quick! Someone fetch me a copy. Bring me my mountain warring centaurs and a cup of tea!
Crown of Coral and Pearl |

Mara Rutherford

RELEASE DATE: 27th August
One did try to get an advance copy of this, but alas, one failed. This book I should probably pause writing this for, in order to order myself a copy. There's actually a giveaway (US only, wah) on Goodreads for the Americans in the crowd tonight, to win a copy. You're welcome. AHEM. So. The MC has a disfiguring scar which means her twin sister is likely to the be the one who is chosen to marry the prince (as per tradition: Prince marries beautiful maiden). But then her sister is injured and she's sent in her place. But when she gets there, the Prince turns out to be mean and cold-hearted, there are secrets and a rather more dashing younger brother. This book sounds awesome.
---
SCI-FI
The Warehouse |

 Rob Hart

RELEASE DATE: 20th August
In this story there's a huge company called Cloud. The world isn't great anymore and getting a job at Cloud is a huge perk and nice. This is what happens to our MC. Then there's another perspective who's infiltrating Cloud. Guess what? Their paths cross and everyone begins questioning everything about their lives. Specifically, they're going to see just how far this all-consuming, mega-giant of a company will go to 'make the world a better place'. DRAMA.
Mind Games | Shana Silver
RELEASE DATE: 27th August
Here, we have our MC selling memories. I was sold at this point but I shall explain a bit more for people who require more substance. She sells experiences so people can experience whatever they want to, and it feels real. But then she realises that her own memories have been hacked, which is really not great. She forgets things and discovers that her memories have been deleted – including those about her crush (and he has lost all of his memories). Is bad. Much sleuthing ensues.
The Cruel Stars | John Birmingham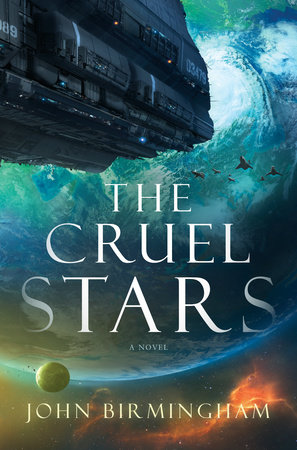 RELEASE DATE: 20th August
An epic space odyssey awaits us in this book. After an alien race swept through the galaxies, killing all in their way, a long period of peace followed in the wake of their defeat. People assumed they were all gone – but they were wrong. An initial attack wipes out almost all of humanities defences and it's left to a brave few to save the planet. WOOO I love sci-fi like this right now!
---
HISTORICAL FICTION
Nottingham | Nathan Makaryk

RELEASE DATE: 6th August
Ding! Ding! A Robin Hood retelling be upon us. Although this *is* described as a 'deconstruction' of the myth. Either way, I'm on board. From the blurb, I've no idea how different (if at all?) this tale will be from the original, but I so want to read it!
All the Flowers in Paris 

| Sarah Jio
RELEASE DATE: 13th August
This book caught my eye because it was compared to Kristin Hannah's, The Nightgale. And I'm a big fan of that book. This is set in two time periods, the interesting one being Nazi-occupied Paris (WWII) and follows the sad story of two women. I can't deny that I'm intrigued.
---
CONTEMPORARY
Pumpkin Heads |
Rainbow Rowell

RELEASE DATE: 27th August
I mean, it's a new Rainbow Rowell book. With a fun cover. What more needs to be said??
---
And that's a wrap!
 What books are you looking forward to this month?
---

~~ Kirstie ~~