Genre: Young Adult, Paranormal
Author: Jennifer L. Armentrout
Published: November 2011
Publisher: Entangled Teen
Pages: 335 {paperback}
---
Initial Thoughts upon Finishing
Honestly? This book was so much fun. I haven't read something that I could just take for face value and BINGE read all the teenage romance and dramas (and alien invasions) since Kiera Cass' The Selection. There are many things I could pick apart with this book, but I'm not going to. This is a fantastic, fun and easy Jennifer L. Armentrout read that I DEVOURED within two days.
---
Obsidian
This is the story of a girl who moves to the country from somewhere that wasn't the country in Florida. I mean, it's not really country? It's just not a big city. ANYWAY, this is set in cowboy America (sadly without any cowboys – but we *do* get aliens). The MC, Katy, has some strange neighbours and after she befriends the sister and makes a weird enemy out of the brother, things go weird, really quick.
I've gotta say the blurb surprised me with how up front it was about things. You don't get any specifics on the aliens until about halfway through (for real) although you know they're not human. This book did take its time getting around to the point.
But the bottom line is that this is a really fun and quick read that I think a lot of people will enjoy. Sometimes you just need a book that you don't have to take too seriously and can get carried away with a sizzling romance and aliens going PEW PEW PEW with their magical space powers at each other.
---
The Vibe
I'm going to say something that may make many of you crinkle your noses, but hear me out. This totally gave me Twilight vibes. That small American town feel? A mysterious man who moves really fast? Okay, actually I think it was pretty much 100% just because Daemon moved really fast that it felt like Twilight. You know? You're having a conversation and do a dramatic turn on your heel to skulk and away and then — ZIP — there they are in front of you? Anyway, this is a pointless line of thought.
---
The Characters
Katy is worrying. This, I must admit. Several times throughout the book she is far too trusting of Daemon considering how he treats her. BUT, I'm not going to read into this book so we'll leave that there. She's an alright character, but she gets some epic battle scenes and is totally badass which I greatly appreciated.
My favourite thing about Daemon was his inability to explain his people. I don't know if Armentrout decided it wasn't worth the time to explain the science and wanted to keep it light and fluffy, but it came across as a hilarious lack of bother from the author. Like, it goes down like this:
Daemon: *all big and manly and sexy*
Katy: but . . . how do you work?
Daemon: ah, well you see it's to do with light.
Katy: ….
Daemon: *flexes a bicep*
Katy: yeah, and?
Daemon: PFT. Well I don't know the science.
It's great. Daemon is a total dick, you have so much to look forward to within these pages.
The enemy in this book is cool though. They are basically the opposite, a direct contrast to what Daemon and Dee are. For reasons unknown and unexplained, they hate their race with a great passion and pursue them across the stars. That's where all the drama tangles up in this book; Katy starts spending time with Daemon and Dee and they use powers around/on her, it leaves a trace. So this book is essentially them trying to hide or get rid of the trace whilst fighting off some epic bad guys, which forces Katy and Daemon together and the audience goes WILD.
---
Summary
I don't really know what more to say about this book truth be told. It's a good laugh just like I knew it would be because GOOD OL' J. L. ARMENTROUT. Am I right? Definitely one to take at face value and an excellent book for some holiday reading, a car journey, or a night in with your pot of tea.
---
Grab a Copy!
I am an affiliate with these companies. By using these links to purchase books you are supporting Upside-Down Books!
Get free worldwide shipping and great prices with The Book Depository and Wordery!
Support an Australian company with Angus & Robertson and get free shipping on orders over $60!
Support an Australian company with Booktopia and enjoy flat rate shipping for AUS/NZ!
---
 You might also like . . .
---
Have you read Obsidian?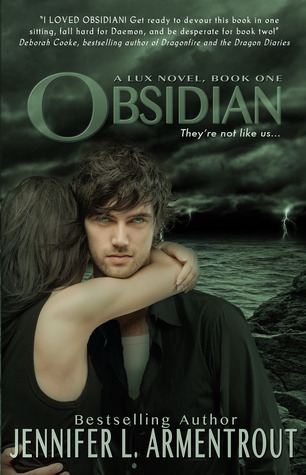 Share your thoughts below!
---

~~ Kirstie ~~