I bought all the books in October. I showed no restraint or mercy. I just bought them ALL. So here we are today to half clap and half shake our heads at my total lack of self-control. Personally, I'm really quite impressed with myself. My TBR, is not.
Places I shopped at this month? The Book Depository, Booktopia, a secondhand fair, Boffins (local bookstore), maybe Dymocks? Sheesh I don't even remember.
---
BOUGHT
Captive
Aimee Carter
This is the second book in the Blackcoat Rebellion which I have been meaning to read forever. Long story short, I've been waiting for this particular edition to go on sale and down to a reasonable price. For years I waited, my patience impeccable. And the time finally arrived. This is a YA dystopian where people have their class tattooed on the back of their neck and the MC is a lower class gal who has to pretend to be one of the royals against her will. HIGHLY recommend.
Old Man's War
John Scalzi
A book recommended to me by my boyfriend and for once I listened. I've decided this will be one of my goals for 2019 – to read what people recommend to me. I think this plot sounds super interesting with old people able to get a genetic do-over, providing they pay for it with 2 compulsory years (I think) of military service defending the earth on other planets.
Sabriel
Garth Nix
I've been meaning to start this series for a very long time. I have Clariel, one of the prequel books, which I've been told repeatedly I can read before this but still never picked up. But I saw a copy of Sabriel at a secondhand book fair and I just couldn't pass it up. Hopefully, now I can get into this world!
The Moving Finger
Agatha Christie
This was another acquisition from a secondhand book fair. I love collecting these editions of Agatha Christie's works – the ones with her signature as the author name font on the cover. So when I saw this I couldn't pass it by!
Jump
Sean Williams
I found this at the second-hand fair too and couldn't leave it. I've had this as an ebook for years and been meaning to get around to reading it – I think it sounds really good! But because I've had it in ebook format I haven't picked it up. I was thrilled to find a paperback edition of this. This is set in a world where there is a world teleport system, people can go anywhere they like, whenever. But there's an upgrade that comes around – one that will allow the system to change your body, also, in whichever way you like. And stuff starts going wrong.
Illusions of Fate
Kiersten White
I've been wanting to buy this for years and it finally dropped its price on the book depository so I grabbed it! A Kiersten White book can't let you go too far wrong – and isn't the cover just gorgeous?! This is a YA fantasy story with magic and nobility.
Stealing Snow
Danielle Paige
I've been itching to read this one since it came out, but I'd heard some very average reviews of it. I've finally decided to give it a go myself, however, and have high hopes. It's a retelling of Snow White where the MC is in a mental institution but escapes into an alternate world filled with witches and all sorts: her true home.
Spare and Found Parts
Sarah Maria Griffin
I found a copy of this – a book I've had my eye on since its release, also – in a local bookstore with sprayed red edges. How could I not take that home? I think it sounds really interesting with its almost steampunk vibes set in a world where survivors of a plague are missing limbs and the MC's father builds mechanical ones to replace them. It should prove to be an interesting self-growth story as the MC find her place in this world with her mechanical heart and inability to fill her father's shoes!
American Gods
Neil Gaiman
I do already own the audiobook version of this story. But the audiobooks I've really enjoyed reading I want to collect in their physical formats as well. But not only did I find a nice edition, but a SUPER nice edition. This bad boy is an illustrated hardback version of the 10th anniversary cut of the story (it has extra content). I love it so much.
---
RECEIVED
Shadow of the Fox
Julie Kagawa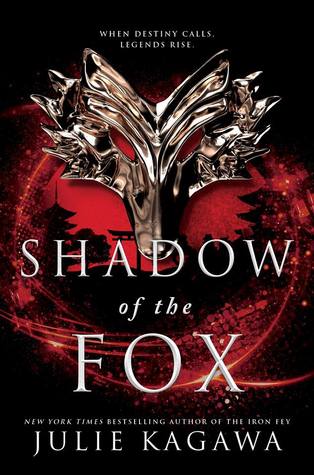 This book was phenomenal. Sent to me by HarperCollins after I asked for a copy (many thanks) I whizzed through these pages and gobbled up the story. Kagawa has done an amazing job with this story and it's not to be missed. It's a Japanese-inspired YA fantasy.
The Christmas Lights
Karen Swan
I'm actually looking forward to reading this one when Christmas is just that little bit closer. Pan Macmillan sent me a copy of this one – and I've been sent one of Swan's previous books, The Greek Escape. Which I gave to my mum to read and she LOVED it. So much so, that I'm itching to pick that one up myself. Mayhap I'll have a Karen Swan binge soon.
The Boneless Mercies
April Genevieve Tucholke
I requested a copy of this one from Simon & Schuster because I simply HAD to know how this story panned out. It was a really enjoyable read but didn't quite blow my socks off. Very nearly, however. I'm really looking forward to continuing this series and expanding on the world. It's about a group of women who are hired for 'mercy' killings and they're super cool.
The Confectioner's Guild
Claire Luana
I then also requested this book off NetGalley – I was really getting trigger happy with my review requests in October. I've also read this one and found it to be a delightful, light-hearted fantasy. I'd totally recommend this if you need something fun to read. It's a YA mystery-fantasy where people can cook or bake magic into food.
---
PRE-ORDERS
What if it's Us?
Becky Albertalli & Adam Silvera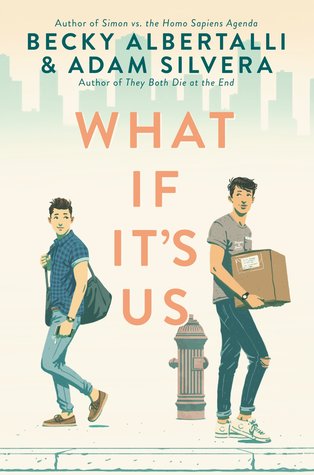 I was so excited when this pre-order landed on my doorstep. I've yet to read it but just the thought of Albertalli and Silvera writing something together is mind-boggling. Their styles fit together so well – ACH – I cannot wait to dive into it!
Kingdom of Ash
Sarah J Maas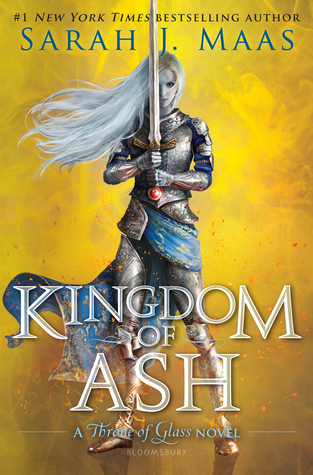 I'd decided once this bad boy arrived I was going to do a re-read of the entire series and work my way up to it. Which I'm in the process of doing. So far, I've read Assassin's Blade and am hoping to start Throne of Glass soon. It's actually really nice re-visiting the story from the start!
---
 AUDIOBOOKS
The Drums of Autumn
Diana Gabaldon
I've been reading the Outlander series this year and thoroughly enjoying it. I'm up to this book, the fourth (which I'm currently reading), and powering through on audiobook. The audiobooks are so well done and I love them so much. This series never fails to deliver!
---
That's a wrap!
Have you read any of these? What did you think!
---

~~ Kirstie ~~