5/5 STARS
Genre: Fantasy, Young Adult
Author: Julie Kagawa
Published: September 2018
Publisher: HarperCollins
Pages: 464 {paperback}
Many thanks to HarperCollins for sending me a copy for review!
---
Initial Thoughts Upon Finishing
This was absolutely incredible!! It was everything I could have hoped for from a Kagawa book. There definitely needs to be Japanese-inspired fantasy books out there and (whilst I personally know nothing about this) this seemed to capture so many elements of their stories, culture and mythology beautifully!! Cannot recommend enough.
---
Shadow of the Fox
This is an amazing Japenese-inspired story filled with incredible characters, sarcasm and some badass fighting. I loved it. Kagawa has written a stunner of a novel and definitely something somewhat redeeming from the underwhelming series that was Talon. If you're hoping for something of the awesome quality of the Iron Fey but unique and SO MUCH FUN, this is it.
The story follows a young girl called Yumeko who is a yokai. Yokai are essentially shapeshifters that can take the form of one animal. Yumeko is a kitsune, a fox. She was abandoned at a monastery at a young age and is very naive about the world – she's never been out of its grounds. But the monks raised her to be the best person she could be as yokai are disliked by the main populace and considered to be deceiving and dishonest.
Prejudices are hard, man. But the plot follows the up-coming awakening of the great dragon which rises every 1000 years. A scroll must be found and used to awaken it and whoever does is grant one wish. EXCEPT, once this happened and a really bad guy wanted some really bad things and everyone else went AW HELL NAH. So the scroll was torn into pieces and nobody knows where they are (barely anyone even knows about the myth) and the few baddies who want it this millennium are pulling out all the stops to find and put those pieces together.
When some demons (oni, etc) attack the monks, it's up to Yumeko to travel into the capital (and not die) with the rescued piece of the scroll they protected. Once there, she has to find a monk who can tell her the location a temple that can protect it. BUT (I know, this is all too exciting), before she makes it hardly anywhere she bumps into Tatsumi: a demon slayer. He's all down for killing her on the spot but with a little lie that she doesn't *have* the scroll but is travelling to *get* she convinces him to accompany her as her guide. And thank god she does.
Along the way we fight many demons, encounter some hilarious characters (and some totally evil ones) and journey our way on a plight unlike any other to reach their destination. Everyone has their own motives, no-one is being totally honest and the threat of Tatsumi being consumed by the demon he's possessed by (literally no end to the layers of this story) hangs over us all.
If you're not sold yet, I think you're broken.
---
Why I Loved It
I loved how different this was but most of all I loved how this has ignited a fiery and renewed passion for Japenese mythology and inspired stories. I don't know if mythology is the right word but I'm gunna roll with it.
The characters are all beautiful and whilst the naivety of Yumeko could be 100% misconstrued as annoying, it only ever comes off as sweet and brave and I want to be Yumeko. Tatsumi is my new bad boy that I love. Seriously, he's right up there with The Darkling from The Grisha trilogy. He's handsome, amazing with a sword and HIS EYES GLOOWW when he fights. Which is cool on so many levels.
Nothing beats a good journey in a story and this felt expansive and well-researched; it felt like many important and intriguing aspects of Japenese culture were masterfully incorporated into these 400 pages and I applaud Kagawa on so many levels. I cannot wait to see where the story will go from here.
---
Summary
An absolutely brilliant novel that 100% deserves to make my all time favourite's list. I can't recommend it enough and I will absolutely be forcing this upon anyone that I can. I want to reread it, I want to continue the series and dannng I need some fan art PLEASE.
---
Grab a Copy!
I am an affiliate with these companies. By using these links to purchase books you are supporting Upside-Down Books!
Get free worldwide shipping and great prices with The Book Depository and Wordery!
Support an Australian company with Angus & Robertson and get free shipping on orders over $60!
Support an Australian company with Booktopia and enjoy flat rate shipping for AUS/NZ!
---
 You might also like . . .
---
Have you read Shadow of the Fox?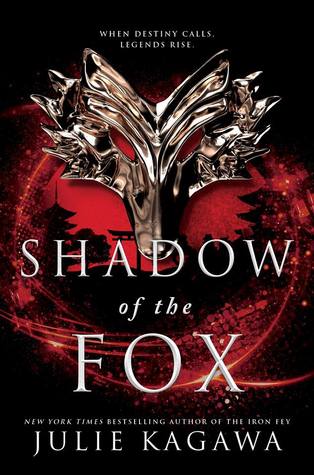 Share your thoughts below!
---

~~ Kirstie ~~