Hey guys!! Hope you're all well. I've had such a busy week last week and I think I'll be short of time this week too!! I'm impressed I managed to squeeze this Top Ten Tuesday post in and WHAT a relief I did. As a quick and unnecessary backstory, I've started my new publishing job this last week and it's now my third job that I have. So to say I'm short on time is an understatement. BUT IT'S EXCITING TIMES, LADLES AND JELLYSPOONS!
Top Ten Tuesday is a weekly event hosted by That Artsy Reader Girl and this week's prompt is:
Books By My Favourite Authors That I Still Haven't Read
And I'm glad I had time to write this because I really like this prompt and there are pleeenty of books by my favourite authors I haven't read. I am a shameful child.
---
1. The Lantern's Ember
by Colleen Houck
This is a very new release hence I haven't gotten around to it yet. I also haven't quite finished her Reawakened trilogy – I've yet to read Reunited. But Houck is my all time favourite author and I'm really looking forward to picking up this book!
---
2. Tower of Dawn
by Sarah J. Maas
I'm one of THOOOSE people who still hasn't read Tower of Dawn!! However, one of my friends recently (a.k.a today) convinced me to do a reread of the whole series to get back into the swing of things. Everyone's really been enjoying ToD so I'm getting increasingly excited about it! I think I'll do my reread once my pre-order of Kingdom of Ash arrives!!
---
3. Leah on the Offbeat
by Becky Albertalli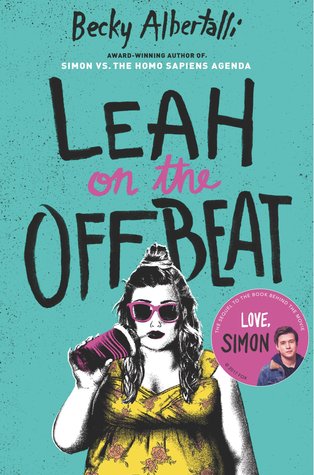 Damn, I can't believe this is on another list about books I need to read. I've literally just finished my latest read so maybe actually I'll pick this one up. What a good idea. I LOVE Albertalli's books and I've hyped this one up so much in my mind I'm terrified I'll be let down.
---
4. The Wish Granter
by C. J. Redwine
Honestly? I keep forgetting I own this book. That's why it hasn't been read yet. I really loved the first book in this fairytale retellings series (first book was Snow White, this book is Rumpelstiltskin). So hopefully one day soon I'll remember I do have a copy and actually pick it up! I first fell in love with Redwine's writing in her Deliverance trilogy.
---
5. The Architect of Song
by A. G. Howard
I have a real soft spot for Howard's works. I adored her Splintered trilogy and was so sad when that series ended. This then came out after that but before RoseBlood and I just never quite got around to picking it up. And I want to!! But RoseBlood wasn't quite the 10/10 read I'd hoped it to be so lately I've been lacking motivation to pick this up, even though I know Howard will take me on an awesome adventure!
---
6. Virgins
by Diana Gabaldon
This one is fairly new to the TBR so that's its excuse. But in all honesty this is another one I keep forgetting I own. I'm up to Voyager (#3) in the Outlander series and loving it. I had every intention of picking up Virgins before I read Dragonfly in Amber but evidently that didn't happen. And now that I'm reading it out of order? I feel less pressured to pick it up anytime soon. But DUDE. A whole book about Jamie?!? What's wrong with me?!!!
---
7. The Iron Traitor
by Julie Kagawa
This series has to be one of my favourites. Oh boy I love it. The Iron Traitor is the second last book (I think) in this series and I just sort of stumbled to a halt with it after the original quartet finished. Because there's The Iron Fey and then this spin off series about their children. I really should finish it off though but it just never quite feels like the right time!
---
8. Landline
by Rainbow Rowell
I'm not actually too fussed for when I get around to reading this. I think I need a nice summer day to sit and chomp through this. But I do love Rowell's works (I've read Fangirl and Carry On, so far) and I want to read everything she's done. She's a beautiful story teller and everyone just loves her. So one day this shall be read!
---
9. The Messenger
by Markus Zusak
This book is probably THE book on my TBR that causes me the most guilt. I received it as a gift for a birthday many years ago from a good friend. But I didn't get around to it straight away and therefore years later still haven't. Since then, I've read The Book Thief which is one of my all time favourite reads and I so need to pick this up. I REALLY DO. Maybe this should be my next read – arghh!! It just never feels like the right time. Quick! Somebody make me want to read this more!!
---
10. Caleb's Crossing
by Geraldine Brooks
Geraldine Brooks is one of my favourite historical fiction authors. I've only read one other of her books but I loved it to pieces and have literally bought every single other one of her books I've been able to get my hands on. My mum has actually read this and loved it so it's the next book of hers that I want to read and I don't have any idea why I never reach for it. It's a mystery.
---
That's a wrap!!
What are some books by your favourite authors you haven't read yet?
---

~~ Kirstie ~~