5/5 STARS
Genre: Young Adult, Fantasy (Fae)
Author: Holly Black
Published: January 2018
Publisher: Hot Key Books
Pages: 370 {paperback}
Thanks to Allen & Unwin for providing my a copy of this book in exchange for an honest review!
---
Initial Thoughts Upon Finishing
Ahhh I was so satisfied with this book. I loved every page of it and all the adventure, betrayal and mishaps that happen along the way. I will certainly be continuing this series and I can't wait to see how things unfold next!!
---
The Cruel Prince
The Cruel Prince is a masterpiece of a novel and I will never doubt that Holly Black has a knack for writing faerie stories. Having read one other of her novels previously, The Darkest Part of the Forest and loved it, I had high expectations for this one.
The story takes place in the fae world which exists alongside the human world. After some shocking circumstances, our main character, Jude, and her two sisters – one of which is half-fae – find themselves whisked away into the world of faerie and brought up but a particularly blood thirsty step-father.
Jude and her twin sister Taryn struggle to fit in being mortals raised like the gentry of the fae (which neeever happens) and they get bullied by others all the time. Jude, however, is strong and feisty character who knows her weaknesses and still strives to be as good as the fae and to have power.
It's a story full of self-exploration – seeing how far you can push yourself and how much you'll put up with – a tale of mystery, espionage, sword fighting and magic. It's intriguing, it's fun, it's addictive and if you love the fae you need to read this. Nobody tricks each other and lays blame like the fae.
---
Why It Was Brilliant
What I thought was so fantastic about this book was how it manages to be something a little different from any other faerie story I've read before, whilst still sticking to familiar items. By this I mean that the types of fae we see are familiar, traditional sorts – but the story follows a human who is and has been for a long time fully integrated into their world.
We don't suffer through any longer explanations of how this fantastical world works; we are thrust into it swords flailing and retorts hot on ours tongues. I loved the spirit of Jude and how tormented she was – the way her character sees the world and her determination to gain power was something I loved. This isn't a story about someone who just wants to fit in, this is a story about someone who wants power and influence. And I guess I just loved the honesty of this. Jude isn't lying to herself about what she wants: she knows exactly what she wants.
The best bit about the story is the mystery of it all. We know everyone is going behind everyone's backs. And I knew what I wanted to happen and was thrilled when the storyline continued down that path. I loved the spy work that happened, the secret messages, the toying of the fae and the general not knowing what exactly is going to go down. It keeps you on your toes and is a delight to read and discover.
---
The Ending?
I simply have to have a little spoiler discussion here! So expand the tab if you want to read my thoughts on how the events of the story unravelled.
Click to read spoilers

I can't lie, I was delighted at the bloodshed that happened at Dain's supposed coronation. Why? Because it made sure nothing was going to happen easily. PLUS, we're all hanging on the edge of our seats for Jude to prove her worth and she doesn't even get the slightest of chance whilst everyone is stabbing each other on stage.

I loved that Madoc was a traitor to the cause. I mean, we all knew this was going to happen but it just put the nail in the coffin for any chance of some weird father-daughter relationship between him and Jude. When she poisoned him (but not killed, I assume?) in the final scene I thought that was brilliant. Speaking of . . .

The plot she devises to coronate Cardan was awesome. I loved all the hints throughout the book that even though he was a bully there was something more to his character. ALSO, the fact that Jude and himself are attracted to each other?! I weirdly ship this. I believed it and I saw it from page one. I don't even know how that developed but it's a thumbs up from me. Especially because he's such a worthless character and Jude will put him right.

But by the time she captured him after he avoided the carnage of Dain's coronation, I was not so sure there was any decent plot line that could be laid before our feet to tie off the story nicely. But the revealed twist with Oak's true parentage and Jude's clever thinking to keep the throne seat hot for her little brother until he was old enough to rule was brilliant. I loved this.

But the fact that her poisoning herself and enduring all those hardships to better herself ACTUALLY came into play and wasn't just a side-point to the story was awesome. When she manages to pull off the poisoning of Madoc I could've given her a standing ovation.
---
Summary
In short, I cannot wait to see where the sequel of this goes. I so enjoyed reading it and only wish I'd picked it up sooner! It was a real gritty fae story that had the perfect number of deceits and cloak and dagger action happening to do the fantastical story justice. I'm certain this is going to be one of my favourite fantasy series involving the fae!
---
Grab a Copy!
I am an affiliate with these companies. By using these links to purchase books you are supporting Upside-Down Books!
Get free worldwide shipping and great prices with The Book Depository and Wordery!
Support an Australian company with Angus & Robertson and get free shipping on orders over $60!
Support an Australian company with Booktopia and enjoy flat rate shipping for AUS/NZ!
---
 You might also like . . .
---
Have you read The Cruel Prince?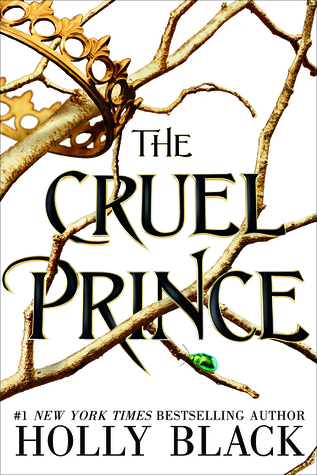 Share your thoughts below!
---

~~ Kirstie ~~