Hi guys! I have yet another reasonable book haul for you. I'm amazed, it's like I'm a different person. This year I've been so damn good with my book buying. Granted, it's way less fun then accidentally letting yourself loose on a book buying binge – but dang, I'm keeping on track with my buying goals for the year!
One of my buying goals is to not exceed 250 books on my physical TBR (I know, I'm out of control). And I'm sitting on a happy 250 at present. Which means I'm not allowed to buy another whisp of a book until that number goes down. It's trying, oh so trying.
But I have been receiving some excellent books from publishers – and particularly the upcoming ones you're about to see, I'm very excited for. So, let's get down to the haul!
---
BOUGHT
Furyborn
Claire Legrand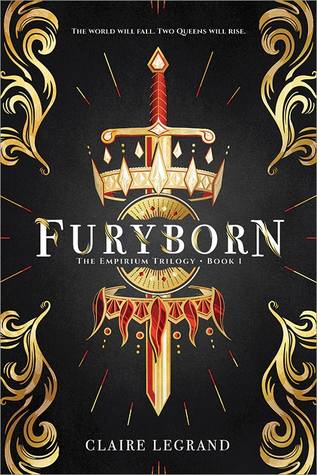 The one and only book I bought this month for myself! Who's proud?! This was on my list of books to watch out for in April and when I was strolling past the bookstore one day I just though, oh heck – let's get it! It's high fantasy, spanning centuries as it revolves around two women who are in different time periods and MAGIC.
---
RECEIVED
The Greek Escape
by Karen Swan
Whilst I was first dubious and rolled my eyes when I received yet another chick lit book, I'm actually quite keen to read this now. I've had so many books of this type lately sent to me (and if you've been around here for a bit then you'll understand when I screech BUT WHERE ARE THE DRAGONS?!), and this one looks uber lame. However! I palmed it off to my mum as some light reading and the woman has not stopped raving about it since. So, indeedily do I shall pick this up at some point – mum's fangirling has won out.
Painter to the King
by Amy Sackville
THE HISTORICAL NERD IN ME REJOICES! Finally! Someone has sent me some nitty gritty historical STUFF. This is a book telling the narrative of a Spanish king based on the portraits done of him during his life time. From my brief little flip through I've had I believe this is going to read more like non-fiction even though it's classed as fiction. I'm drooling over this guys, drooling.
Dear Mrs. Bird
by A.J. Pearce
Yet another fantastically perfect book sent to me. It sound so interesting, set during World War II in London and following a woman who lands a job as a secret advice columnist. She's told to throw out any letters that come in that are unpleasant, but after reading the plight of some women decides to reply in secret. Ahhh, I don't know but this just tickles my fancy.
Eleanor's Secret
by Caroline Beecham
I'm really hyped for this one too! What a month of books for review!!! This is not only historical fiction but a time flip. It's partly set in London 1942 and partly in Melbourne 2010. The main character begins in the past being hired onto the War Artist Advisory Committee. Here, she meets a painter – Jack – but is soon separated from his company. In present time, she insists her granddaughter takes her back to London to return a painting to an artist, to Jack. I'm just keen as a bean for how this is all going to unfold.
The Guernsey Literary and Potato Peel Pie Society
by Mary Ann Shaffer & Annie Barrows
And finally, I was sent a movie-tie in edition of this one! I haven't read it yet but I did go to the movies and have a watch. I loved it. This is exactly my sort of story so I'm really excited now to dive into the book and see what it has to offer in this format.
---
 AUDIOBOOKS
American Gods
by Neil Gaiman
This month with my Audible subscription I decided to go with American Gods! Casey @ Adoptabookaus has been reading it and it's been catching my eye for some time now. So I've finally decided to take the plunge and see what it has to offer.
---
That's a wrap!
Have you read any of these? What did you think!
---

~~ Kirstie ~~