Well hello my fine feathered friends. I think I've reached new heights of denial about how many books I own. I'm ever so quickly slowly nearing the point where I'll need a third (I mean what) bookcase. The only solution to this problem of course, is to get better at Book Tetris and MAKE THEM FIT as I gaily buy and accept even more books with smiles and tittering laughter.
To be perfectly fair, in March I was practically saint-like when it came to buying books. Except for the two weeks I was abroad and bought EVERYTHING. But aside from that: saint-like. Oh shush and don't give me that look – I've got a tower of freshly printed books at the ready and I ain't afraid to use them. But I know you're all here for the books so let's get into it.
---
BOUGHT
So there's this store called Waterstones in the UK and if you know me/live in the UK/are aware of how nice new books smell/etc/all the reasons then you'll know I stood no chance. It was definitely the bookstores' fault.
State of Sorrow
by Melinda Salisbury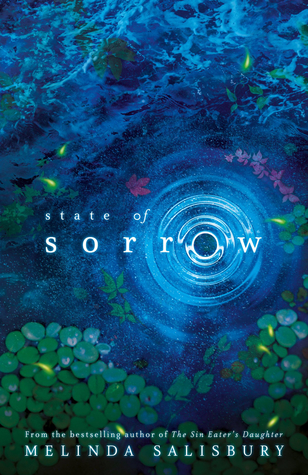 As I was wandering, wide-eyed around Waterstones I was delighting in the fact that UK bookstores actually have the latest releases when they're released, #AustraliaWhy. And I saw the oh so pretty cover of this book and quietly bought it. End of story. Although I had actually heard of it before and KEEN AS A BEAN for the plot: fantasy world, Court of Tears, romance and danger – aww yeah.
To Kill a Kingdom
by Alexandra Christo
So this was one of those books where I had to read it straight away – WHICH, fyi, NEVER HAPPENS with me. I thoroughly enjoyed it and rated it highly. It's like a loose retelling of the Little Mermaid (read: original, not Disney) and there's so much awesome adventure, wicked characters and voyaging. Can we have a YUS PUH-LEASE?
The Sword of Shannara
by Terry Brooks
I've been meaning to grab a copy of this ever since I read Wards of Faerie. I'm am muchos pleased with myself for finding said item in a bookstore in the goodly kingdom of unitedness. Honest to goodness, I have had troubles getting my hands on a copy of this particular edition – The Book Depository has been out of stock for yonks and I was beginning to PANIC, I say. So, crises averted.
The Phantom of the Opera
by Gaston Leroux
Another book I have been meaning to pick up for a long time. Since first seeing the musical waaaay back in 2015 (heh, yeah not that long ago but SHHH) I've been trying to find the right excuse to buy it. When I saw the jaw-droppingly low price it was going for on The Book Depository in Ireland I snapped it up like a furious game of Uno.
The Hate U Give
by Angie Thomas
This is much the same story at Phantom – a ridiculously hyped book that I've honestly heard not one bad thing about going for a wicked awesome price. Of course I was going to buy it, there is literally nothing else one can do in such a situation.
Neverfade
by Alexandra Bracken
This is the second book in this series and I super duper definitely highly recommend it. I loved the first book, The Darkest Minds – it's a really well written young adult dystopian where a disease left the surviving children with supernatural powers. And then the adults are trying to use them for their own benefit. Sooo good. I've been meaning to pick up a copy of book two for a while but feeling guilty at needing to finish other series first – but my resolve failed so AH WELL.
Turtles All the Way Down
by John Green
I have been resisting buying this. Why? Because I hoard Green books and don't get around to them. I've read exactly two of his and REALLY WANTED THIS. So I told myself not to get it because bookworms are full of logic. The reason I did get it was a) because I saw it and b) because it comes with a special "poster" edition of the cover jacket. Aka, there's writing on the inside of the jacket. I'm counting it as a win.
Pantomime
by Laura Lam
This was my wild card buy. I love walking into a bookstore that has a tonne of books you've never seen before and picking one up at random and going: YES! This will do. It's like you can pretend your TBR doesn't exist for a moment. *contented sigh*. I believe this narrative is led by a hermaphrodite main character (which is new to me) and they become an aerialist in a circus. Because why the fuck not. Oh, and they have magic. #Sold.
---
RECEIVED
This month I didn't receive any advanced reader copies of books but I was so graciously given quite a few from friends. Always nice!
Evernight
by Claudia Gray
A friend of mine benevolently gave me her copy of this series. I am yet to decide if I'm actually going to read it but the point it I LOVE Claudia Gray and want to own all her books. And now I do.
Stargazer 
by Claudia Gray
So this is book two and it's purple and oooooh.
Hourglass
by Claudia Gray
And this is book three which is dark and mysterious.
The Alchemist
by Michael Scott
And then she also helped me fill in what I own of this series. I have forever only had book two. An odd occurrence that is most unhelpful. I've just been looking at my copy of book numero two for about ten years like, mate, I don't know what to do with you. And then turning away. AND NOW I HAVE MY SOLUTION.
The Sorceress
by Michael Scott
So duh, of course I took book three as well. The series nears completion! *delighted cackles*.
Mortal Beings
by Carl Lombard
One of my cousins in Ireland in an author and this be one of his books. He very kindly gave me a copy and signed it for my enjoyment and I'm super keen to give it a whirl. It's even been made into a movie – cool or what?!
---
 AUDIOBOOKS
The Narrow Road to the Deep North
by Richard Flanagan
The book that I picked this month for my audible subscription was this one! It's a book I've have my eye on for a while but have never been committed to buying and reading. Thank god audiobooks are my saving grace and answer to such scenarios. I seriously cant wait to get around to it!
---
That's a wrap!
Have you read any of these? What did you think!
---

~~ Kirstie ~~