3/5 STARS
Genre: Young Adult, Fantasy
Author: Kiera Cass
Published: June 2014
Publisher: HarperCollins
Pages: 323 {pages}
---
Initial Thoughts Upon Finishing
The ending we'd all been waiting for! This was seriously quite a bit cringe but still enjoyable for being a nice fluffy read filled with all the corny lines you could ever wish for. I'm really curious to see how the next part of the series goes.
---
The One
The One carries one straight away from the events of the previous (and second) book in the series, The Elite. Not a moment is missed! From page one to the end we don't waste a single word waffling about descriptions or world building, it's all about the competition, the boys and the drama. Just what we signed up for.
The rest of this review will contain spoilers for The Selection and The Elite
Down to the final few girls, tensions are running high in the palace as they work out what truths to share and which to hide. The levels of bitchiness fluctuate as each susses out the other as potential competition (well duh).
This is the final book in this part of the series. The next book is The Heir as is still the "fourth" book in the series given that it's within the same universe and chronologically follows on — but brace yourselves, for The One is where the decision over Aspen vs Maxom is finally going to be settled. This is the book where the Selection ends.
---
Characters
I've never been a fan of America, let's start with that. This series has always been a bit of fun and something I've not taken too seriously. And I'm glad that's how I've viewed it because it meant I could just enjoy it for what it was. America is written to be relatable, but it's so forced she's just meh. She's also so flippy-floppy over decisions and just all up a NOPE heroine.
Maxom I do like. And not just because he's roguishly handsome. I think he was written well — if suffering from the surface-level character development this whole series has inflicted upon its characters. But I like him. I think he's the perfect blend of a tortured son (in every sense of the word), a man in love and someone who's just trying to fulfil his role and do the right thing.
I still don't like Aspen, either and never will. He's just in the way — PLEASE GO NOW. Although I preferred him in this book versus the other two.
---
Plot . . . ?
My main "issue" with this book and the reason for its 3-star rating is the lack of stuff happening in the plot. I don't know why but I just found this to not be anymore exciting than the previous books; it didn't really build on anything, nothing new happened and nothing terribly exciting happened. Except for the few standard issue, non-essential characters' deaths.
I felt like this whole series could have been done as a duology if the decisions made in this one had happened in the previous book and it had been a little (just a little) longer. Some extra plot aspects were introduced, sure, but not explored and just seriously felt unnecessary.
---
A Few Spoiler-y Notes
skip to summary to avoid
*
*
*
*
*
*
Celeste's death was entirely stupid, pointless and weirdly out of place on the violence spectrum.
I liked that the king died but did they have to kill the queen?
Maxom's little temper tantrum and EXTREME spitefulness over America being seen next to Aspen was mega eye-roll worthy but also like, dude, you're a fucking adult, grow up.
The rebel thing? Why. Why do we need a secret society. The politics is already way over-complicated for a fluffy, small page count series. Gah.
---
Summary
Overall I did definitely enjoy reading this. Like I said, it's a fun series and a bit of YA drama that you just need sometimes. My issues with it weren't all that serious — even if saying the plot, full stop, wasn't fantastic is the issue — because if you just take this series as it is and enjoy it for what it is, it's just fine.
---
Grab a Copy!
I am an affiliate with these companies. By using these links to purchase books you are supporting Upside-Down Books!
Get free worldwide shipping and great prices with The Book Depository and Wordery!
Support an Australian company with Angus & Robertson Bookworld and get free shipping on orders over $60!
Support an Australian company with Booktopia and enjoy flat rate shipping for AUS/NZ!
---
 You might also like . . .
---
Have you read The One?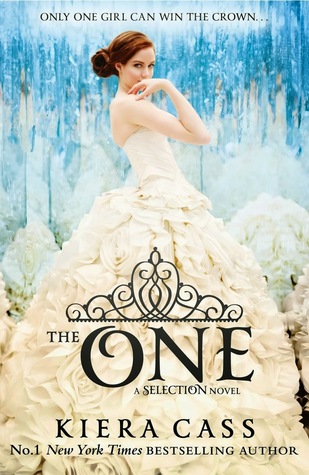 Share your thoughts below!
---

~~ Kirstie ~~