I had a pretty decent haul of books in November, mostly thanks to the extortionate amount of books sent my way from publishers. I'm totally not stressing over those, nuh-uh, definitely not sipping tea like a madwoman wondering how on earth I'm going to get them all read by the end of the year . . . 
Welcome! I hope I find you all well and I hope you've all had at least one bite of chocolate in your day so far. Some could say that this book haul is a little late – it is most definitely mid-December now – but to those people I scoff and throw mince pies at them: December is not the month to be punctual, my fine feathered friends. So keep drinking your tea and let's all gawk together at the NEW SHINIES on my bookshelf this month.
as a quick side note, if you'd rather WATCH this haul come check it out on my BookTube channel! 
---
BOUGHT
That's right, ladles and jellyspoons, I have only bought one physical book. ONE. IS IT A MIRACLE? I THINK SO.
Stitching Snow
by R.C. Lewis
Princess Snow is missing.

Her home planet is filled with violence and corruption at the hands of King Matthias and his wife as they attempt to punish her captors. The king will stop at nothing to get his beloved daughter back—but that's assuming she wants to return at all.

Essie has grown used to being cold. Temperatures on the planet Thanda are always sub-zero, and she fills her days with coding and repairs for the seven loyal drones that run the local mines.

When a mysterious young man named Dane crash-lands near her home, Essie agrees to help the pilot repair his ship. But soon she realizes that Dane's arrival was far from accidental, and she's pulled into the heart of a war she's risked everything to avoid. With the galaxy's future—and her own—in jeopardy, Essie must choose who to trust in a fiery fight for survival.
This is the December book club pick of the month for mine and Casey's book club, the Squabbling Dragons. We read this one over the month, so we started reading on the 17th of December and finish on the 16th of January. Head over to our Goodreads page to read more about our club! We'd love to see you join!
---
RECEIVED
But now, to the bulk of this haul wherein I receive an extortionate number of books.
Children of Blood and Bone
by Tomi Adeyemi
RELEASE DATE: 8th March 2018
Zélie Adebola remembers when the soil of Orïsha hummed with magic. Burners ignited flames, Tiders beckoned waves, and Zelie's Reaper mother summoned forth souls. 

But everything changed the night magic disappeared. Under the orders of a ruthless king, maji were targeted and killed, leaving Zélie without a mother and her people without hope.

Now, Zélie has one chance to bring back magic and strike against the monarchy. With the help of a rogue princess, Zélie must outwit and outrun the crown prince, who is hell-bent on eradicating magic for good. 

Danger lurks in Orïsha, where snow leoponaires prowl and vengeful spirits wait in the waters. Yet the greatest danger may be Zélie herself as she struggles to control her powers—and her growing feelings for the enemy.
I'm so excited to read this one. I couldn't believe my eyes when I opened the package and saw that I had an ARC for this one. The ARC is actually so pretty, too. I'm so hoping this lives up to expectations because the blurb is everything I ever wanted from a book.
We See Everything
by William Sutcliffe
RELEASED
Lex lives on The Strip – the overcrowded, closed-off, bombed-out shell of London. He's used to the watchful enemy drones that buzz in the air above him. 

Alan's talent as a gamer has landed him the job of his dreams. At a military base in a secret location, he is about to start work as a drone pilot. 

These two young men will never meet, but their lives are destined to collide. Because Alan has just been assigned a high-profile target. Alan knows him only as #K622. But Lex calls him Dad.
I think one sounds incredible. The blurb totally threw me when I first read it – and now I just can't wait to get around to it. I do love a good ol' dystopian, but the post-apocalyptic/war setting of this one with the added family drama has me so excited.
Unearthed
by Amie Kaufman & Meagan Spooner
RELEASE DATE: 9th January 2018
When Earth intercepts a message from a long-extinct alien race, it seems like the solution the planet has been waiting for. The Undying's advanced technology has the potential to undo environmental damage and turn lives around, and Gaia, their former home planet, is a treasure trove waiting to be uncovered.

For Jules Addison and his fellow scholars, the discovery of an alien culture offers unprecedented opportunity for study… as long as scavengers like Amelia Radcliffe don't loot everything first. Mia and Jules' different reasons for smuggling themselves onto Gaia put them immediately at odds, but after escaping a dangerous confrontation with other scavvers, they form a fragile alliance.

In order to penetrate the Undying temple and reach the tech and information hidden within, the two must decode the ancient race's secrets and survive their traps. But the more they learn about the Undying, the more their presence in the temple seems to be part of a grand design that could spell the end of the human race…
Who in the world isn't excited for this book??? The blurb, the recommendations – just everything about this book sounds incredible. I've been positively itching to pick up my copy of this one!
Into the World
by Stephanie Parkyn
RELEASED
In the midst of the French Revolution, in 1791, unwed mother Marie-Louise Girardin takes one last look at her baby son before thrusting him into the arms of her friend, the revolutionary Olympe de Gouges. She must escape, and only the most daring plan will bring her both the anonymity she needs and the independence to return one day for her son.

Marie-Louise disguises herself as a man and joins a voyage of exploration employed as a steward on the Recherche, one of two ships commissioned to journey to the Great Southern Ocean to find the missing explorer La Perouse.

Protecting her identity throughout, Marie-Louise forms friendships among the eccentric naturalists. But tensions rise between the royalist officers and the revolutionaries, and Marie-Louise's position becomes precarious when she discovers someone on board knows the secrets of her past. When the expedition docks in Java, chaos erupts as they learn of King Louis XVI's execution and are imprisoned by the Dutch. Marie-Louise seems certain to be unmasked. Will she ever return to France and be reunited with her child?

Inspired by a true story, Into the World is a compelling novel of the amazing life of Marie-Louise Girardin battling perilous seas, her own self-doubt, and finding unforeseen loves on a journey to reclaim her child.
I'm not too sure what to make of this one, but I certainly think it sounds interesting. The book seems to have an awful lot going on for it, but I'm honestly quite excited to dive in and see what happens. The era and countries it's set in are certainly a huge draw!
The Cruel Prince
by Holly Black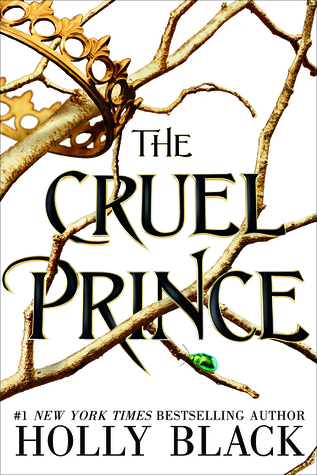 RELEASE DATE: 2nd January 2018
Of course I want to be like them. They're beautiful as blades forged in some divine fire. They will live forever.

And Cardan is even more beautiful than the rest. I hate him more than all the others. I hate him so much that sometimes when I look at him, I can hardly breathe.

Jude was seven years old when her parents were murdered and she and her two sisters were stolen away to live in the treacherous High Court of Faerie. Ten years later, Jude wants nothing more than to belong there, despite her mortality. But many of the fey despise humans. Especially Prince Cardan, the youngest and wickedest son of the High King.

To win a place at the Court, she must defy him–and face the consequences.

In doing so, she becomes embroiled in palace intrigues and deceptions, discovering her own capacity for bloodshed. But as civil war threatens to drown the Courts of Faerie in violence, Jude will need to risk her life in a dangerous alliance to save her sisters, and Faerie itself.
You have no idea just how excited I am to read this one. I adore Holly Black, having read one of her books earlier this year and I'm like a child with candy having an ARC of this one. It's fantasy, it's Holly Black and it sounds awesome: what more could I possibly have asked for in life?
Love and Other Consolation Prizes
by Jamie Ford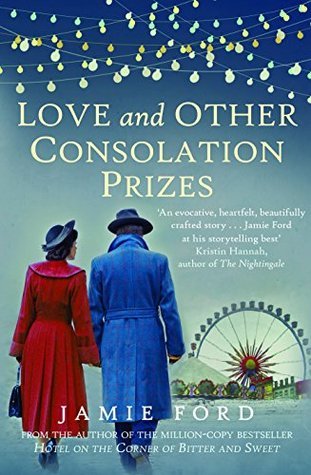 RELEASED
A powerful novel about an orphan boy who is raffled off at Seattle's 1909 World Fair, and the friends who teach him what it really means to have a family, from the author of Hotel on the Corner of Bitter and Sweet.

Inspired by a true story, this is the unforgettable story of a young boy named Ernest, set during the 1909 Seattle world's fair called the Alaska Yukon Pacific Expo. It is a time when the magical wonders of technology on display at the expo future seems limitless. But for Ernest, a half-Chinese orphan who found his way to America through a last desperate act of his beloved mother, every door is closed. A charity student at a boarding school, he has never really had a place to call home. Then one day, his wealthy sponsor announces that if a home is what he wants, then that is what he will have: Ernest will be offered as a prize in the daily raffle at the fair, advertised as "Healthy boy to a good home for the winning ticket holder." The woman who "wins" him is the madam of a notorious brothel who was famous for educating her girls. He becomes a houseboy in her brothel and is befriended by the daughter of the madam, as well as a Japanese girl who works in the kitchen. The friendship and love between these three form the first real family Ernest has ever known.
I have to say I was really excited about this one too! I'd heard of it before receiving it in the mail and it sure sounds like my kind of thing. Apart from being set in a unique setting, the story that goes with it is totally unexpected – so I'm anticipating really enjoying this one!
The Stolen Marriage
by Diane Chamberlain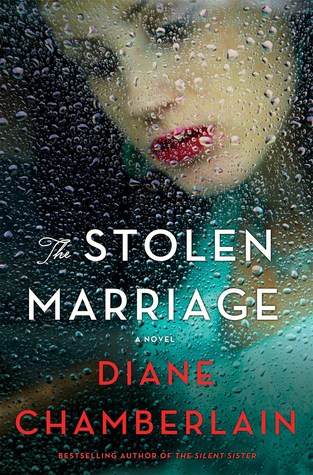 RELEASED
In 1944, twenty-three-year-old Tess DeMello abruptly ends her engagement to the love of her life when she marries a mysterious stranger and moves to Hickory, North Carolina, a small town struggling with racial tension and the hardships imposed by World War II. Tess's new husband, Henry Kraft, is a secretive man who often stays out all night, hides money from his new wife, and shows no interest in making love. Tess quickly realizes she's trapped in a strange and loveless marriage with no way out.

The people of Hickory love and respect Henry and see Tess as an outsider, treating her with suspicion and disdain, especially after one of the town's prominent citizens dies in a terrible accident and Tess is blamed. Tess suspects people are talking about her, plotting behind her back, and following her as she walks around town. What does everyone know about Henry that she does not? Feeling alone and adrift, Tess turns to the one person who seems to understand her, a local medium who gives her hope but seems to know more than he's letting on.

When a sudden polio epidemic strikes the town, the townspeople band together to build a polio hospital. Tess, who has a nursing degree, bucks Henry's wishes and begins to work at the hospital, finding meaning in nursing the young victims. Yet at home, Henry's actions grow more alarming by the day. As Tess works to save the lives of her patients, can she untangle her husband's mysterious behavior and save her own life?
Being a totally hyped book, I was stoked to be sent a copy of this one. I think I'm going to 100% love this. The historical setting and the plot to go with it sounds like a guaranteed 5-star read for me. I can't wait!
One More Song
by Nicki Edwards
RELEASED
Harrison Baxter and Edwina Campbell lead completely different lives.

Much has changed for Harry since he escaped his home town of Yallambah ten years ago, headed for the bright lights of the big city. Now he's the star of Melbourne's hottest musical, chasing only the next standing ovation. Why bother going back to Yallambah to visit his parents when his father couldn't care less about his success?

Meanwhile, nothing much has changed for Edwina in the last decade, which is exactly how she likes it. Eddie adores her career as a nurse and loves the Yallambah community – she can't imagine living anywhere else. And even if she wanted to, she could never leave her beloved grandparents, who raised her and love her like their own daughter. She's not going to abandon them in their old age. Not for anything.

So when Harry and Eddie bump into each other on one of Harry's flying visits home, their instant mutual attraction seems as pointless as it is intense. There's no way they could ever make it work.

Or is there?
This is one book on my list here that I'm not sure I'm actually going to read. I ran a giveaway for the book's release day, but the genre is not really even close to what I usually read. I'm telling myself that if I fancy it I'll pick it up, but I don't think I will.
Nineteen Letters
by Jodi Perry
RELEASED
Braxton

Nineteen. There's something about that number; it not only brought us together, bonding us forever, it also played a hand in tearing us apart.

The nineteenth of January 1996. I'll never forget it. It was the day we met. I was seven and she was six. It was the day she moved in next door, and the day I developed my first crush on a girl.

Exactly nineteen years later, all my dreams came true when she became my wife. She was the love of my life. My soul mate. My everything. The reason I looked forward to waking up every morning.

Then tragedy struck. Nineteen days after we married, she was in an accident that would change our lives forever. When she woke from her coma, she had no memory of me, of us, of the love we shared.

I was crushed. She was my air, and without her I couldn't breathe.

The sparkle that once glistened her eyes when she looked at me was gone. To her, now, I was a stranger. I had not only lost my wife, I had lost my best friend.

But I refused to let this tragedy be the end of us. That's when I started to write her letters, stories of our life. Of when we met. About the happier times, and everything we had experienced together.

What we had was far too beautiful to be forgotten.
This one sounds super mysterious. When I first went through the blurb I wasn't sure what to think of it, but now I'm definitely curious to give it a try to see what this book is about. I have a hunch that this could really be quite the enjoyable read, after all.
---
 AUDIOBOOKS
The Handmaid's Tale
by Margaret Atwood
In Gilead, where women are prohibited from holding jobs, reading, and forming friendships, Offred's persistent memories of life in the 'time before' and her will to survive are acts of rebellion. Provocative, startling, prophetic, and with Margaret Atwood's devastating irony, wit, and acute perceptive powers in full force, The Handmaid's Tale is at once a mordant satire and a dire warning.
With my Audible subscription this month I decided to purchase the audiobook copy of The Handmaid's Tale. I do actually own a physical copy of this one too, but I'm really keen to get around to this sooner – and the audio sounded really good!
---
That's a wrap!
Have you read any of these? What did you think!
---

~~ Kirstie ~~