Welcome to my November book haul! I honestly nearly forgot to actually write this one – it felt like I hardly accumulated any books last month, but as always, I did get some. High five to me, however, for keeping this relatively small (in comparison to my average hauls when I'm not restraining myself from buying books!). 
---
BOUGHT
I didn't quite keep up my amazing streak of no books being bought as in October but I did a pretty good job! I'm very determined to buy less so I can get to those books I own and I'm also poor as a beggar right now because of going to America, so that helps.
Tales of the Peculiar
by Ransom Riggs
Do you know what lived in the ancient forests, before we walked the earth?

Do you know of the giants and cannibals who came before us?

Do you know the origins of the first ymbryne?

These are the stories that came long before us peculiars, and that will outlive us all.
Joyce – who runs The Dragon's Hoard box – recommended a bookstore in my home city that I had no idea existed. It's called Stefen's Book and Stefen was lovely! So of course I had to thank him by purchasing a book. I've read the Miss Peregrine's in this series and can't wait to continue it – and I can't wait to add to my knowledge of the world with this book!
---
RECEIVED
I actually received two books from NetGalley but I muffed up the download process on one so never mind there. Ah well. I've started to request a few more books lately because I'll be taking only my e-reader over to America – so what better a time to catch up on my books for review and grab copies of delicious-sounding up and coming releases?!
Dragon's Green
by Scarlett Thomas
'Some people think opening a book is a simple thing. It's not. Most people don't realise that you can get truly lost in a book. You can. Especially you. Do not open any of these books without my permission, Euphemia.'

Effie is a pupil at the Tusitala School for the Gifted and Strange. When her grandfather becomes ill she discovers she is set to inherit the family library. The more she learns about it the more unusual it is. Before she knows it, her life is at risk from dark forces from this world and beyond, intent on using the books and the power they contain.

With her grandfather gone and the adult world ignoring her, can her unreliable classmates help save her life?

Packed with puzzles, curses, evil nemeses and a troupe of beguiling heroes, Dragon's Green is an adventure novel for children about the nature of magic. It is the first in a chapter-book series for fans of Pullman's Northern Lights, Diana Wynne Jones' Chrestomanci series, T.H. White's The Once and Future King, Neil Gaiman's The Graveyard Book, Lemony Snicket's A Series of Unfortunate Events series and the Harry Potter series by J.K. Rowling.
Not going to lie, I love this cover. It also has some pretty serious recommendations going on there at the bottom – fans of Pullman, Snicket, Gaiman and Rowling? Sheesh. I'm certainly expecting some pretty great things from this, that's for sure!
---
PRE-ORDERS
Radiance
by Catherynne M. Valente
Severin Unck's father is a famous director of Gothic romances in an alternate 1986 in which talking movies are still a daring innovation due to the patent-hoarding Edison family. Rebelling against her father's films of passion, intrigue, and spirits from beyond, Severin starts making documentaries, traveling through space and investigating the levitator cults of Neptune and the lawless saloons of Mars. For this is not our solar system, but one drawn from classic science fiction in which all the planets are inhabited and we travel through space on beautiful rockets. Severin is a realist in a fantastic universe.

But her latest film, which investigates the disappearance of a diving colony on a watery Venus populated by island-sized alien creatures, will be her last. Though her crew limps home to earth and her story is preserved by the colony's last survivor, Severin will never return.

Aesthetically recalling A Trip to the Moon and House of Leaves, and told using techniques from reality TV, classic film, gossip magazines, and meta-fictional narrative, Radiance is a solar system-spanning story of love, exploration, family, loss, quantum physics, and silent film.
This was November's book for The Dragon's Hoard subscription box. I was thrilled to see that this was the book because it's alternate historical fiction which I just LOVE as a genre. It also has the most beautiful cover ever! I'll be doing a full unboxing for November very soon (I keep forgetting, alright?).
Heartless
by Marissa Meyer
Long before she was the terror of Wonderland — the infamous Queen of Hearts — she was just a girl who wanted to fall in love.

Catherine may be one of the most desired girls in Wonderland, and a favorite of the yet-unmarried King of Hearts, but her interests lie elsewhere. A talented baker, all she wants is to open a shop with her best friend and supply the Kingdom of Hearts with delectable pastries and confections. But according to her mother, such a goal is unthinkable for the young woman who could be the next Queen.

At a royal ball where Cath is expected to receive the king's marriage proposal, she meets Jest, the handsome and mysterious court joker. For the first time, she feels the pull of true attraction. At the risk of offending the King and infuriating her parents, she and Jest enter into an intense, secret courtship.

Cath is determined to define her own destiny and fall in love on her terms. But in a land thriving with magic, madness, and monsters, fate has other plans.
Of course I had this one on pre-order. I do, however, have my doubts that I'll get around to reading it before I leave – which it very sad! Being an Alice in Wonderland retelling, though, I just had to have this one on my shelves. I can't wait until I do get a chance to pick it up because it's sure to be fabulous!
Holding Up the Universe
by Jennifer Niven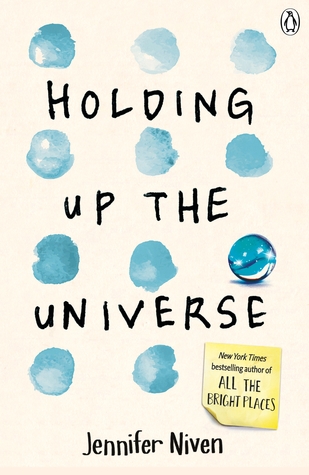 Everyone thinks they know Libby Strout, the girl once dubbed 'America's Fattest Teen'. But no one's taken the time to look past her weight to get to see who she really is. Since her mum's death, she's been picking up the pieces in the privacy of her home, dealing with her heartbroken father and her own grief. Now, Libby's ready: for high school, for new friends, for love, and for EVERY POSSIBILITY LIFE HAS TO OFFER. I know the part I want to play here at MVB High. I want to be the girl who can do anything.

Everyone thinks they know Jack Masselin too. Yes, he's got swagger, but he's also mastered the art of fitting in. What no one knows is that Jack has a secret: he can't recognize faces. Even his own brothers are strangers to him. He's the guy who can re-engineer and rebuild anything, but he can't understand what's going on with the inner workings of his own brain. So he tells himself to play it cool: Be charming. Be hilarious. Don't get too close to anyone.

Until he meets Libby. When the two get tangled up in a cruel high school game which lands them in group counseling, Libby and Jack are both angry, and then surprised. Because the more time they spend together, the less alone they feel. Because sometimes when you meet someone, it changes the world – theirs and yours.
This was November's book for The YA Chronicles. I'm very curious to read this book and see what it's about as I've heard absolutely amazing things about it from other people. So fingers crossed it lives up to expectations!
---
 E-BOOKS
Kiss of Fire
Rebecca Ethington
Joclyn Despain has been marred by a brand on her skin. She doesn't know why the mark appeared on her neck, but she doesn't want anyone to see it, including her best friend Ryland, who knows everything else about her. The scar is the reason she hides herself behind baggy clothes, and won't let the idea of kissing Ryland enter her mind, no matter how much she wants to.




The scar is the reason she is being hunted.

If only she knew that she was.

If only she had known that the cursed stone her estranged father sent for her 16th birthday would trigger a change in her. Now, she is being stalked by a tall blonde man, and is miraculously throwing her high school bully ten feet in the air.

Joclyn attempts to find some answers and the courage to follow her heart. When Ryland finds her scar; only he knows what it means, and who will kill her because of it.
I saw this highly recommended by Ben @ Benjaminoftomes and it was free to download on iBooks so I did just that! Ben always has such great recommendatiosn so I'd be a fool to pass this opportunity up.
The Jakkattu Vector
by P. K. Tyler
They came as saviors to a deteriorating Earth

Julip Thorne questions whether there is more to life beyond the barren dirt, acidic seas, and toxstorms her people work and die in. Living in poverty on the withering Greenland Human Reservation, she wonders if the alien Mezna goddesses are truly as holy as the temple preaches. Julip begins to dig deeper into the history of the planet and her leaders' rise to power. But nothing can prepare her for the atrocities she uncovers.

Meanwhile, Jakkattu prisoner Sabaal suffers constant torture and heinous medical experiments as her Mezna-priest captors seek to unlock the key to her genetic makeup. Escaping from captivity, she finds herself suddenly alone on the hostile alien planet of Earth. To survive, she's forced to work with the same Mezna-human hybrids she's loathed her entire life, but the more they work together, the more they realize that their enemy is the same.

When humans and Mezna collide, will Sabaal turn out to be the genetic vector the Mezna have been searching for all along, or will she spark the flame that sets a revolution ablaze?
I was able to grab a free copy of this for having been a part of the blog tour for this book. I think it actually sounds really fun and up my aley so fingers crossed I enjoy it!
For the King
by Kiera Carpenter
Shiloh was supposed to die. The assassins meant to kill the entire royal family that cold winter morning. They tried to kill her, of course. The Fallen couldn't allow the king and queen's only daughter to survive. But Shiloh's heart kept beating. Left to die in the dirt, she was spirited away to safety by a woman and her grandson, Aden.

en years later, Shiloh is no longer the girl she once was. Trained for combat and in the powerful position of having nothing left to lose, she is determined to join the Redemption army formed to oppose Orjak and his followers—a regime he proudly calls the Fallen. How else will Shiloh be granted access to the men who murdered her parents? She intends to return the favor.

When Shiloh hears that Redemption recruiters are passing through a nearby village, she sets out with Aden and their trainer to enlist. But they soon find that their journey won't be so simple. As the three of them fight to survive the treacherous path to Headquarters, Shiloh begins to see that their pasts refuse to be forgotten. That their histories are intertwined in a way she never expected. That the time has come to confront her feelings for Aden.

But reaching their destination is only half the battle. When situations suddenly threaten to expose her true identity as the lost princess, Shiloh learns that her role in the Redemption will require a strength she's not sure she possesses. And as war finally descends upon the realm, Shiloh may be forced to put aside her thirst for revenge to ensure the survival of her parent's kingdom, and perhaps even save the boy who first saved her.
I just think that this book sounds magnificent! As soon as the word assassin graced the blurb I was instantly sold. Mostly it just sounds like an irresistable read so YOINK it found its way into my hands.
The Girl in Between
by Laekan Zea Kemp
Bryn Reyes is a real life sleeping beauty. Afflicted with Klein-Levin Syndrome, she suffers episodes of prolonged sleep that steal weeks, and sometimes even months, from her life. But unlike most KLS patients, she doesn't spend each episode in a catatonic state or wake up with no recollection of the time she's missed. Instead, Bryn spends half her life in an alternate reality made up of her memories. For Bryn, the past is a place, until one day a boy she's never met before washes up on the illusory beach of her dreams with no memory of who he is.

But the appearance of this strange boy isn't the only thing that's changed. Bryn's symptoms are worsening, her body weakening as she's plagued by hallucinations even while awake. Her only hope of finding a cure is to undergo experimental treatment created by a German specialist. But when Dr. Banz reveals that he knows more about her strange symptoms than he originally let on, Bryn learns that the boy in her head might actually be the key to understanding what's happening to her, and worse, that if she doesn't find out his identity before it's too late, they both may not survive.
I totally requested this book solely because it's a Sleeping Beauty retelling. I've myself to be quite partial to retelling of this particular tale because there are so many different spins that you can put on it! Fingers crossed this delivers. But I mean, sleeping and actually being in an alternate reality?? Yes please.
War at the Edge of the World
by Ian Ross
The epic first installment in a new series set at the end of empire in the reign of the Emperor Constantine, The War at the Edge of the World follows newly promoted centurion Aurelius Castus into the tumultuous battle for the future of Rome.


Once a soldier in an elite legion from the Danube, now stuck in Britain's provincial backwater, Castus believes his glory days are over. But fate is about to intervene. When the king of the Picts, the savage people beyond Hadrian's Wall, dies in mysterious circumstances, Castus is selected to command the bodyguard of a Roman envoy sent to negotiate with the barbarians.

But the diplomatic mission ends in bloody tragedy. Castus and his men are soon fighting for their lives and the legionary discovers that nothing about his doomed mission was ever what it seemed.
This was the book of the week for iBooks one week and I couldn't resist such an adventure in historical ficiton. I do love all the history relating to Constantinople and this period so I have high hopes that this will be a really fun read.
Ghosts of Tsavo
by Vered Ehsani
Armed with Victorian etiquette, a fully loaded walking stick and a dead husband, Beatrice Knight arrives in colonial Kenya desperate for a pot of tea and a pinch of cinnamon. But she'll need more than that if she's to unravel the mystery of the Ghosts of Tsavo without being eaten in the process. All this while surviving the machinations of her best friend's dashing godfather and the efforts of her safari guide to feed her to any lion willing to drag her away. What is a ghost-chasing widow to do?

This is Case #1 in the "Society for Paranormals" series: A series concerning dead husbands, African legends and the search for a perfect spot of tea. For those readers who adore "Pride & Prejudice" and would love to experience "The Parasol Protectorate" set in colonial Africa, this is for you!
Lastly, I have this book. I came across this in the author's newsletter and couldn't deny that I was quite interested in the story line. I'm keen to see how it reads but mostly excited that I managed to steal a few bargains!
---
That's a wrap!
Have you read any of these? What did you think!
---
~~ Kirstie ~~