You might be somewhat surprised to see me doing a TBR post – I have a general rule that I don't make TBRs. HOWEVER, since I have reassessed my situation I've decided I need to have a self-inflicted intervention and make a TBR. And you have the absolute pleasure today of seeing the result of this meeting. Grab your tea, ladles and jellyspoons, the fun is about to start.
This week's theme is:
Kirstie Decided to do Her Own Thing, AGAIN
(it's November TBR in case you missed the title) 
If you'd like to see my full TBR, you're more than welcome to peruse it on Goodreads (it's ordered by "position"). Basically, I decided that I need to finish some books gifted to me and get those new releases (which are no longer new releases) READ. I'm aiming to read 15 books in November (because I'm an ambitious dragon) and so these are ten of those that I'm going to do my best to get around to.
You might have also noticed (although probably not) that this week's TTT is going up a bit later than usual. Firstly, I apologise if this caused a mini-apocalypse in your life (but really). Secondly, that's because I haven't had time to SNEEZE lately but guess who has time now? Guess who's one assignment away from finishing her Bachelor's? THAT'S RIGHT. ME. Allons-y!
Top Ten Tuesday is a weekly meme hosted over @ The Broke and the Bookish and each week there's a different theme that we get to make a list about featuring ten related books. It's so much fun and the topics are always great! It's also a fabulous way to learn more about people's reading adventures and I recommend heading over to the official page to do some exploring through the link up.
---
#1
A Torch Against the Night
by Sabaa Tahir 
Obviously, I'm going to be reading this asap. It's the next book I'll be picking up because there is currently a read-a-thon on for it and has been for a few weeks (it's a long one) – so I'll be joining up with them over on Instagram to plunge my way back into this world and probably die of over-excitement. Twill be brillig.
// GOODREADS //
---
#2
Crooked Kingdom
by Leigh Bardugo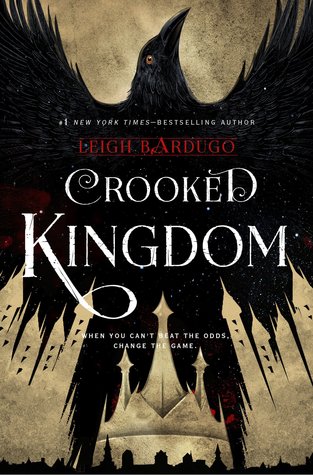 It breaks my heart that I haven't had time to read this one yet. I've been panicking for a year now about the fate of certain characters and I can't wait to finally pick this one up and see what happens. I don't really know where things will be going but OH BOY am I excited. I'm expecting great things from you, young warlock . . . I mean, ahem.
// GOODREADS //
---
#3
Hollow City
by Ransom Riggs
I read the first book, Miss Peregrine's Home for Peculiar Children, last month and I am keen as a bean to continue reading. I love this story so much and I thought the movie was a really fun adaptation of it. I hope the series continues to be awesome (and from what I've heard, it will) – but there's only one way to find out!
// GOODREADS //
---
#4
The Glass Palace
by Amitav Ghosh 
Set in Burma during the British invasion of 1885, this masterly novel by Amitav Ghosh tells the story of Rajkumar, a poor boy lifted on the tides of political and social chaos, who goes on to create an empire in the Burmese teak forest. When soldiers force the royal family out of the Glass Palace and into exile, Rajkumar befriends Dolly, a young woman in the court of the Burmese Queen, whose love will shape his life. He cannot forget her, and years later, as a rich man, he goes in search of her. The struggles that have made Burma, India, and Malaya the places they are today are illuminated in this wonderful novel by the writer Chitra Divakaruni calls "a master storyteller."
Finally, FINALLY I will be getting around to this book. This was a birthday present but I've been too intimidated by its historical fiction-y-ness to actually pick it up whilst studying. NOVEMBER IS THE MONTH THIS SHALL HAPPEN. I can't wait because I've been dying to read one of Ghosh's books for so long now, so I hope this blows me away.
// GOODREADS //
---
#5
Maisie Dobbs 
by Jacqueline Winspear
Hailed by NPR's "Fresh Air" as part "Testament of Youth," part Dorothy Sayers, and part "Upstairs, Downstairs," this astonishing debut has already won fans from coast to coast and is poised to add Maisie Dobbs to the ranks of literature's favorite sleuths.

Maisie Dobbs isn't just any young housemaid. Through her own natural intelligence and the patronage of her benevolent employers, she works her way into college at Cambridge. When World War I breaks out, Maisie goes to the front as a nurse. It is there that she learns that coincidences are meaningful and the truth elusive. After the War, Maisie sets up on her own as a private investigator. But her very first assignment, seemingly an ordinary infidelity case, soon reveals a much deeper, darker web of secrets, which will force Maisie to revisit the horrors of the Great War and the love she left behind.
This is a mystery book and I'm very keen to read it. I believe this was recommended to me after I read my first Agatha Christie book so I can't wait to see what it's all about. It is another of my birthday books so hopefully I'll be able to tick this off the list soon!
// GOODREADS // 
---
#6
 Great Expectations
by Charles Dickens
In what may be Dickens's best novel, humble, orphaned Pip is apprenticed to the dirty work of the forge but dares to dream of becoming a gentleman — and one day, under sudden and enigmatic circumstances, he finds himself in possession of "great expectations." In this gripping tale of crime and guilt, revenge and reward, the compelling characters include Magwitch, the fearful and fearsome convict; Estella, whose beauty is excelled only by her haughtiness; and the embittered Miss Havisham, an eccentric jilted bride.
Because I'm finally going to read it. I've been wanting to read this for so long that it's killing me. I will endeavour to pick this book up this month because I have a strong hunch that I'm going to absolutely adore it. Let's hope I'm right.
// GOODREADS //
---
#7
The Architect of Song
by A. G. Howard
For most of her life, Juliet Emerline has subsisted – isolated by deafness – making hats in the solitude of her home. Now, she's at risk to lose her sanctuary to Lord Nicolas Thornton, a mysterious and eccentric architect with designs on her humble estate. When she secretly witnesses him raging beside a grave, Juliet investigates, finding the name "Hawk" on the headstone and an unusual flower at the base. The moment Juliet touches the petals, a young English nobleman appears in ghostly form, singing a song only her deaf ears can hear. The ghost remembers nothing of his identity or death, other than the one name that haunts his afterlife: Thornton.

To avenge her ghostly companion and save her estate, Juliet pushes aside her fear of society and travels to Lord Thornton's secluded holiday resort, posing as a hat maker in one of his boutiques. There, she finds herself questioning who to trust: the architect of flesh and bones who can relate to her through romantic gestures, heartfelt notes, and sensual touches … or the specter who serenades her with beautiful songs and ardent words, touching her mind and soul like no other man ever can. As sinister truths behind Lord Thornton's interest in her estate and his tie to Hawk come to light, Juliet is lured into a web of secrets. But it's too late for escape, and the tragic love taking seed in her heart will alter her silent world forever.

International and NYT bestselling author, A.G. Howard, brings her darkly magical and visual/visceral storytelling to Victorian England. The Architect of Song is the first installment in her lush and romantic Haunted Hearts Legacy series, a four book New Adult gothic saga following the generations of one family as – haunted by both literal and figurative ghosts – they search for self-acceptance, love, and happiness.
Because HELLO. Howard!? I've so far loved everything that Howard has written, she's such a fabulously talented author. I can't wait to dive into this one and see what it's all about!
// GOODREADS //
---
#8
Collide
by Aimee Jessica Russ 
This must be a dream after all. I pinch myself.

"Ouch."

Why the hell aren't I waking up?

After mysteriously waking up on a different planet, not knowing how she got there or even her name, K – as she becomes known – finds herself in a fascinating world much different to the one she can barely remember. K becomes part of an Exodian family and begins to feel at home on the beautiful, peaceful planet known as Exodus. That is until her new world is turned upside down. Can K be brave enough to stand up to the enemy and help her new family save their planet?
This is the book that the Dragon's Hoard read-along will be doing in November (link to group in sidebar). It's a sci-fi book where the main character wakes up on a different planet AND I DON'T NEED TO KNOW ANYTHING ELSE. Sold.
// GOODREADS // 
---
#9
The Dalai Lama's Cat
by David Michie 
Starving and pitiful, a mud-smeared kitten is rescued from the slums of New Delhi and transported to a life she could have never imagined. In a beautiful sanctuary overlooking the snow-capped Himalayas, she begins her new life as the Dalai Lama's cat.

Warmhearted, irreverent, and wise, this cat of many names opens a window to the inner sanctum of life in Dharamsala. A tiny spy observing the constant flow of private meetings between His Holiness and everyone from Hollywood celebrities to philanthropists to self-help authors, the Dalai Lama's cat provides us with insights on how to find happiness and meaning in a busy, materialistic world. Her story will put a smile on the face of anyone who has been blessed by the kneading paws and bountiful purring of a cat.
After about 8475729 years of being on my TBR I think November will finally be the month in which I pick this book up. I have no idea what to expect from it but the point is that it will finally be getting read. I am so pumped.
// GOODREADS //
---
#10
Hickory Dickory Dock
by Agatha Christie

 
Normally, a mere outbreak of petty thefts in a youth hostel wouldn't be enough to interest the great detective Hercule Poirot. However, the warden of the hostel is sister to Poirot's secretary Miss Lemon, and concern for her sister is interfering with Miss Lemon's typing abilities. Poirot finds himself with an intriguing puzzle on his hands, and before long, murder increases the mystery. The fastidious Belgian sleuth is brought to life by the voice of veteran British actor Hugh Fraser.
We all need a frequent dosage of Agatha Christie in our lives and this is mine for November. I'm completely hooked on her stories and surprised, without fail, every time when it comes to working out the murder (or whatever the crime is). I can't wait to get set into this one!
// GOODREADS //
---
 Tah-dahh! What's your November TBR?
You might be wondering how I'm going to read so much whilst participating in NaNoWriMo, the answer is, who knows. I've never done NaNo before so I don't really know how much that'll tie my hands up (especially as I'll be starting late thanks to uni) – but I'm super keen to get reading so we shall see!
If you're interested in buying any of these – please use the links provided as I am a Book Depository affiliate! This means I'll get paid a small commission, at no extra cost to you, from the company for each book you buy! It'd really help me out so I appreciate it!
 Share below!
---
~~ Kirstie ~~