I have been so good this month. Somebody please give me a pat on the back. Be prepared to see how small the non-e-book part of this haul is. I've literally never bought so few books in my life. You may worship me now. There have been a few books given away (e-books) on various websites, so the biggest part of this haul will be there – because self control is not a thing when it comes to free books. Don't deny it.
I actually thought I'd take a quick moment to explain my TBR. On Goodreads, you'll find I have my To Read shelf (currently it's at 211 books) – these are the books I own and haven't read. I also have an e-books shelf, which are all the e-books I own and haven't read; I might not ever read some of these but I like to collect them for those rare moments when I just want to read something completely different to my physical books. There is also my Sounds Good shelf, these are books I think sound interesting but I do not own and therefore will not be reading, just yet. And finally, there's my Family Books shelf, these are the books my family own and I pretty much have that one to avoid doubling-up when I buy books.
---
BOUGHT
I genuinely did not buy any books this month. Who's proud? The books I received this month have been part of subscription boxes, free e-books or ones from publishers. I'm very proud of myself. Go me!
---
RECEIVED
This month I couldn't stop myself from having a little look on NetGalley and we all know what happens when you do that. I'm going to be finished with classes for uni this week so I'm going to be focussing my efforts on getting through some books for review. I received two new books, one from Algonquin Young Readers and another from Hachette Australia and OH MY LORD they sound amazing.
The Wingsnatchers
by Sarah Jean Horwitz
Aspiring inventor and magician's apprentice Felix Carmer III would rather be tinkering with his latest experiments than sawing girls in half on stage, but with Antoine the Amazifier's show a tomato's throw away from going under, Carmer is determined to win the cash prize in the biggest magic competition in Skemantis. When fate throws Carmer across the path of fiery, flightless, one-winged faerie princess Grit (do notcall her Grettifrida), they strike a deal. If Carmer will help Grit investigate a string of faerie disappearances, she'll use her very real magic to give his mechanical illusions a much-needed boost against the competition. But Carmer and Grit soon discover they're not the only duo trying to pair magic with machine – and the combination can be deadly.
PUBLICATION DATE: 25th April 2017
Firstly, the cover for this book absolutely drew me in. I thought it looked stunning and then I read the blurb and it was like CIRCUS and SHOW TRICKS and ADVENTURE, and I stood no chance. This will absolutely be one of the next books I pick up and I seriously cannot wait.
Frostblood
by Elly Blake
In a land governed by the cruel Frostblood ruling class, seventeen-year-old Ruby is a Fireblood who has spent most of her life hiding her ability to manipulate heat and light – until the day the soldiers come to raid her village and kill her mother. Ruby vows revenge on the tyrannous Frost King responsible for the massacre of her people. 

But Ruby's powers are unpredictable…and so are the feelings she has for Arcus, the scarred, mysterious Frostblood warrior who shares her goal to kill the Frost King, albeit for his own reasons. When Ruby is captured by the Frost King's men, she's taken right into the heart of the enemy. Now she only has one chance to destroy the maniacal ruler who took everything from her – and in doing so, she must unleash the powers she's spent her whole life withholding.
PUBLICATION DATE: 10th January 2017
Not going to lie, this was totally a cover thing again. Truth be told, it was when I read that this was recommended for fans of Victoria Aveyard and Sarah J. Maas that I fell of my chair scrambling to press the request button. There's no other way to deal with this book, it simply demands to be read, and that it shall.
---
PRE-ORDERS
As always, there are various pre-order for the month. If you're wondering how I make these decisions – at the start of the year I have a good idea of the big books that I'll be wanting to get throughout the year. So, to stop myself buying every single shiny new book I do a big (or small) order of all the books for that year that I want on the Book Depository. That way they arrive throughout the year at my doorstep without me having to worry about it.
I also subscribe to a few subscription boxes with my main one being The Dragon's Hoard box at the moment. This month I received a one-off purchase because of the special book that was in it, and I will be stopping my subscription to The YA Chronicles after October.
Collide
by Aimee Jessica Russ
This must be a dream after all. I pinch myself.

"Ouch."

Why the hell aren't I waking up?

After mysteriously waking up on a different planet, not knowing how she got there or even her name, K – as she becomes known – finds herself in a fascinating world much different to the one she can barely remember. K becomes part of an Exodian family and begins to feel at home on the beautiful, peaceful planet known as Exodus. That is until her new world is turned upside down. Can K be brave enough to stand up to the enemy and help her new family save their planet?
This was the book that came in October's edition of The Dragon's Hoard box. I will be doing a full unboxing of this very soon! It sounds absolutely wicked and any story that has someone accidentally waking up on a different planet has me HOOKED. Myself and Casey @ AdoptaBookAUS will be, as usual, hosting the read-along for this book on the 15th of November, so make sure you head over to the Goodreads group to check that out.
Three Dark Crowns
by Kendare Blake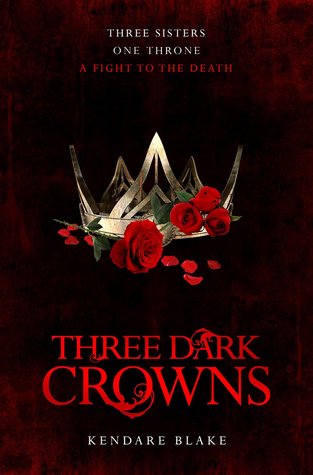 Three sisters. One crown. A fight to the death.

In every generation on the island of Fennbirn, a set of triplets is born: three queens, all equal heirs to the crown and each possessor of a coveted magic. Mirabella is a fierce elemental, able to spark hungry flames or vicious storms at the snap of her fingers. Katharine is a poisoner, one who can ingest the deadliest poisons without so much as a stomachache. Arsinoe, a naturalist, is said to have the ability to bloom the reddest rose and control the fiercest of lions.

But becoming the Queen Crowned isn't solely a matter of royal birth. Each sister has to fight for it. And it's not just a game of win or lose . . . it's life or death. The night the sisters turn sixteen, the battle begins.

The last queen standing gets the crown.
This was the book that came in the September edition of The YA Chronicles. This edition was very late being sent out, at no fault of the subscription company, so that is why I've only just received it. To see the full unboxing, click here. I'm so chuffed that this was the book in the box, this being a book I really wanted to buy but didn't because one cannot buy all the books (yeah I know, that's a lie) – but the point is NOW I HAVE IT *evil laughter*.
Aerie
by Maria Dahvana Headley
Well of course I had this one on pre-order. I adored Magonia last year when I read it so I'm so keen to dive right back into the story and see where the second one takes us. Plus, look at that cover, man, that is a gorgeous cover.
The Architect of Song
by A. G. Howard
For most of her life, Juliet Emerline has subsisted – isolated by deafness – making hats in the solitude of her home. Now, she's at risk to lose her sanctuary to Lord Nicolas Thornton, a mysterious and eccentric architect with designs on her humble estate. When she secretly witnesses him raging beside a grave, Juliet investigates, finding the name "Hawk" on the headstone and an unusual flower at the base. The moment Juliet touches the petals, a young English nobleman appears in ghostly form, singing a song only her deaf ears can hear. The ghost remembers nothing of his identity or death, other than the one name that haunts his afterlife: Thornton.

To avenge her ghostly companion and save her estate, Juliet pushes aside her fear of society and travels to Lord Thornton's secluded holiday resort, posing as a hat maker in one of his boutiques. There, she finds herself questioning who to trust: the architect of flesh and bones who can relate to her through romantic gestures, heartfelt notes, and sensual touches … or the specter who serenades her with beautiful songs and ardent words, touching her mind and soul like no other man ever can. As sinister truths behind Lord Thornton's interest in her estate and his tie to Hawk come to light, Juliet is lured into a web of secrets. But it's too late for escape, and the tragic love taking seed in her heart will alter her silent world forever.
I just want to say how please I am with myself regarding this book.  If you want to see my full unboxing, click here. I am a massive Howard fan – although I have not had time to pick up this particular books just yet. Her Splintered series blew my socks off. I decided way back when that I would purchase a special guest box from Lit-Cube – the box being curated by Howard, herself. It was an amazing box and although I had to wait forever for it to get to Aus, it was well worth. You can now purchase a physical copy of this book in Aus but for a while it was only selling in the US so DAMN STRAIGHT I ORDERD THE BOX. I can't wait to read it.
---
 E-BOOKS
We can't forget the glorious e-books! I haven't bought any of these, these are all from competitions/free, just so you know. Truth be told I find it really hard to keep track of which e-books I've hauled, which ones I forgot to haul and which ones are secretly dragons in disguise. It's a tough life. But yes, there's probably a good few of these I've simply forgotten to haul previously but I shall share them with you now. I'm also not going to talk about each one because there are quite a few, but READ THE BLURBS, because some of these sound wicked.
The Seven Sisters
by Lucinda Riley
Maia D'Apliése and her five sisters gather together at their childhood home of 'Atlantis' – a fabulous, secluded castle situated on the shores of Lake Geneva – having been told that their beloved father, the elusive billionaire they call Pa Salt, has died.

Maia and her sisters were all adopted by him as babies and, discovering he has already been buried at sea, each of them is handed a tantalising clue to their true heritage – a clue which takes Maia across the world to a crumbling mansion in Rio de Janeiro in Brazil. Once there, she begins to put together the pieces of where her story began . . .

Eighty years earlier, in the Belle Epoque of Rio, 1927, Izabela Bonifacio's father has aspirations for his daughter to marry into aristocracy. Meanwhile, architect Heitor da Silva Costa is working on a statue, to be called Christ the Redeemer, and will soon travel to Paris to find the right sculptor to complete his vision.

Izabela – passionate and longing to see the world – convinces her father to allow her to accompany him and his family to Europe before she is married. There, at Paul Landowski's studio and in the heady, vibrant cafés of Montparnasse, she meets ambitious young sculptor Laurent Brouilly, and knows at once that her life will never be the same again.
XODUS
by K. J. McPike
All Lali Yavari wanted for her sixteenth birthday was for her mom to come back. Instead, she starts flashing between realities and seeing people disappear before her very eyes. Then the unsettling Kai Awana shows up at school, and Lali soon discovers she has inherited the ability to astral project—with a surprising twist. When Kai offers to use his own unique ability to help Lali find her mother in exchange for her help on a misguided mission, she can't refuse…even if she's not quite sure she can trust him.
Katana Shodan: The Scroll of the Five Masters
by Ken Warner
An evil lord has risen: Can Katana uncover his identity before he becomes immortal?

Something strange happens when Katana tests for her Black Belt: she stops several attackers using only her chi. Master Osaka sends her away to the Hall of the Dragon to learn to use and control her power. Soon after her arrival, a mysterious band of warriors tries to steal the Scroll of the Five Masters, which contains the key to immortality. Katana learns that they are the Arashi, a secret society that preserves the dark art of dim mak.

It was believed that knowledge of the art's highest power, the death touch, was taken to the grave by its ancient master. But now a new dim mak master has risen, commanding a power even more terrifying than the death touch—and he will stop at nothing to obtain the Scroll of the Five Masters. In the end, it's up to Katana to confront this new enemy and uncover the shocking truth of his identity.
Translucent
by Dan Rix
When a meteorite falls near her campsite in the San Rafael Wilderness, troubled teen Leona Hewitt ventures down into the crater looking for a souvenir. What she discovers changes her life.

Contained in the meteorite is a sticky, mucous-like fluid that bends light, cannot itself be seen, and seems to grow in the presence of living tissue. It's drawn to her.

But when a government team arrives in hazmat suits and cordons off the meteorite impact site, Leona questions her decision to take it home with her. For one thing, there are rumors of an extraterrestrial threat.

For another, it has been speaking to her.

It wants to be worn . . . stretched on like a second skin. It's seeking out her weaknesses, exploiting her deepest fear—that the only boy she's ever loved will unearth the vile secret in her past and see her as a monster. Now it promises salvation.

It can make her invisible.
First Year
by Rachel E. Carter
Before the age of seventeen the young men and women of Jerar are given a choice –follow tradition, or pursue a trial year in one of the realm's three war schools to study as a soldier, knight or mage…

For 15-year-old Ryiah the choice has always been easy. Become a warrior and leave the boring confines of her lowborn life behind. She enrolls with her twin brother to the Academy, the realm's most notorious war school for those with magic.

When Ry arrives she finds herself competing against friend and foe for one of the exalted apprenticeships. It seems like everyone is rooting for her to fail –first and foremost among them Prince Darren, the school prodigy who has done nothing but make life miserable since she arrived.

The lines of friendship become blurred as she starts to improve… But will Ry be good enough?
Into the Wilderness
by Sara Donati
When Elizabeth Middleton, twenty-nine years old and unmarried, leaves her Aunt Merriweather's comfortable English estate to join her father and brother in the remote mountain village of Paradise on the edge of the New York wilderness, she does so with a strong will and an unwavering purpose: to teach school.

It is December of 1792 when she arrives in a cold climate unlike any she has ever experienced. And she meets a man different from any she has ever encountered–a white man dressed like a Native American, tall and lean and unsettling in his blunt honesty. He is Nathaniel Bonner, also known to the Mohawk people as Between-Two-Lives.

Determined to provide schooling for all the children of the village–white, black, and Native American–Elizabeth soon finds herself at odds with local slave owners. Much to her surprise, she clashes with her own father as well. Financially strapped, Judge Middleton has plans for his daughter–betrothal to local doctor Richard Todd. An alliance with Todd could extract her father from ruin but would call into question the ownership of Hidden Wolf, the mountain where Nathaniel, his father, and a small group of Native Americans live and hunt.

As Judge Middleton brings pressure to bear against his daughter, she is faced with a choice between compliance and deception, a flight into the forest, and a desire that will bend her hard will to compromise and transformation. Elizabeth's ultimate destiny, here in the heart of the wilderness, lies in the odyssey to come: trials of faith and flesh, and passion born amid Nathaniel's own secrets and divided soul.
The Undelightened
by Bentz Deyo
Leam Holt's eighteenth birthday tomorrow caps the most depressing year of his life, marking the anniversary of his failed delightenment—the soul-darkening, magic-bestowing rite of passage that should've launched him into the fight between Darkness and Light. Making things worse,Leam's insufferable brother, Zach, the pride of the family, is set to delighten in a few short hours.

When Gideon, the evil leader of Darkness, arrives to preside over Zach's ceremony, the course of Leam's life takes a drastic turn. Rather than fading farther into the background, Leam is ordered to undergo a series of brutal trials. Vast magical power is suddenly within Leam's grasp if he triumphs, but Leam can't seem to stay away from a beautiful girl of Light, and his testing is yielding disturbing results.

As Leam begins to uncover secrets on both sides of the war, he realizes the fate of humanity is at stake, and he may have the most to lose in the fight.
Silent Orchids
by Morgan Wylie
A dying realm.

The ancient evil of the Droch-Shúil has been unleashed.

The Orchids have been silenced… but for how long?

Daegan, elite of the Ferrishyn warrior tribe of Faeries, is charged with a mission to find the Sol-lumieth, a mysterious new power that could change the fate of all in the realm of Alandria. But he is conflicted by his purpose, and he cannot trust the motives of those he serves. He has too many questions and they must be answered.

Kaeleigh, a girl abandoned as a small child just outside Missoula, Montana, is now 18. She is trying to discover who she is and where she belongs. In her heart, she feels she has family out there… somewhere. Desperate to unravel the mysteries of her past, she embarks on a journey that will forever change her along with her two best friends, Finn and Chel—who have secrets of their own.
Lichgates
by S. M. Boyce
When Kara Magari uncovers a secret door in the middle of the forest, she discovers (and trips through) a portal to a hidden world full of terrifying things: Ourea. She just wants to go home, but the natives have other plans for her. She clashes with immortal shapeshifters, is carried off by a dragon, nearly dies on several occasions, and somehow becomes the master of an ancient book of magic called the Grimoire. Every time she thinks she's safe, her new "friends" show their true colors.

Kara needs an ally, or she might not survive Ourea's monsters. She drops her guard when Braeden, a native soldier with a dark secret, vows to keep her safe. And though she doesn't know it, her growing attraction to him may just be her undoing.

For twelve years, Braeden Drakonin has lived a lie. The Grimoire is his one chance at redemption, and it lands in his lap when Kara Magari comes into his life. Though he begins to care for this stranded girl, there's something he wants more. He wants the Grimoire.

Welcome to Ourea, where only the cunning survive.
Curse of the Sphinx
by Raye Wagner
How long can a monster stay hidden in plain sight?

Seventeen year-old Hope Nicholas has spent her entire life on the run. But no one is chasing her. In fact, no one even knows she exists. With her mom, she's traveled from town to town and school to school, barely staying long enough to meet anyone, let alone make friends. And she'll have to keep it that way. It's safer.

When her mother is brutally ripped away from her, Hope's life shatters. Is this the fulfillment of Apollo's curse, murder from the shadow monsters of the Underworld, or have the demigods finally found her? Orphaned and alone, Hope flees again, but this time there's no one to teach her who to trust—or how to love.
Song of the Sending: The Expatriates
by Corinne O'Flynn
They told him his world was destroyed.




And they were the last to escape.




They thought he was safe.




They were wrong.

Seventeen-year-old Jim Wales can communicate with animals, but that's not why he lives with a traveling carnival. Turns out his family's been hiding him there since he was little, since someone started hunting all the scholars. Jim is a scholar–someone who can manipulate energy using magic–and he has no idea.

When a message arrives from Jim's father–who supposedly died twelve years ago–Jim's whereabouts are discovered, their carnival is attacked, and his mother is kidnapped. On the run with a strange glass map and a single coin, Jim finds himself racing to reclaim the father he thought he'd lost, plotting to save his mother, and discovering the truth about who he is.

But going home isn't the same as being safe, and trust is everything.
Altered Genes: Genesis
by Mark Kelly
When an unconscious British businessman arrives at NYC's Bellevue Hospital with a deadly surprise, a doctor finds herself at the epicenter of an infectious outbreak. Meanwhile, a world-renowned geneticist receives an enigmatic telephone call that hints at a bacterial threat, unlike anything the world has ever seen. As civilization collapses around them, the two ex-lovers lead a small group in their desperate fight for survival while they run from the man who started it all.
King Hall
by Scarlett Dawn
King Hall — where the Mysticals go to learn their craft, get their degrees, and transition into adulthood. And where four new Rulers will rise and meet their destinies.

Lily Ruckler is adept at one thing: survival. Born a Mystical hybrid, her mere existence is forbidden, but her nightmare is only about to start. Fluke, happenstance, and a deep personal loss finds Lily deeply entrenched with those who would destroy her simply for existing — The Mystical Kings. Being named future Queen of the Shifters shoves Lily into the spotlight, making her one of the most visible Mysticals in the world. But with risk comes a certain solace — her burgeoning friendships with the other three Prodigies: a wicked Vampire, a wild-child Mage, and a playboy Elemental. Backed by their faith and trust, Lily begins to relax into her new life.

Then chaos erupts as the fragile peace between Commoners and Mysticals is broken, and suddenly Lily realises the greatest threat was never from within, and her fear takes on a new name: the revolution.
Life First
by R. J. Crayton
Strong-willed Kelsey Reed must escape tonight or tomorrow her government will take her kidney and give it to someone else.

In this future forged by survivors of pandemics that wiped out 80 percent of the world's population, life is valued above all else. The government of "Life First" requires the mentally ill to be sterilized, outlaws abortions and sentences to death those who refuse to donate an organ when told.

Determined not to give up her kidney, Kelsey enlists the help of her boyfriend Luke and a dodgy doctor to escape. The trio must disable the tracking chip in her arm for her to flee undetected. If they fail, Kelsey will be stripped of everything.
Siren's Kiss
by XX
Her kiss might save the world . . .

Unless his kiss kills her first.

It's been almost two thousand years since the mer-shifter Skyla walked the streets of Athens—not since her heart was broken by a human man and she exchanged the land and sky for the ocean depths. Ever since, she has lived in the underwater ruins of Atlantis, studying with the priestesses of the goddess Amphitrite, refining her mermaid powers and ignoring her human half.

But her studies are interrupted when she is called upon by the god Poseidon himself to investigate rumors that the world above is being polluted by the magic of creatures from another realm—and worse, that the ocean kingdom of the mer-people might be next.

When her inquiries in modern-day Greece lead her to an American detective asking similar questions, Skyla realizes that the magical problem she's been sent to research is bigger than she anticipated—and that one human's kisses might be more dangerous to her, and her world, than she ever could have imagined.
---
That's a wrap!
So perhaps that was slightly longer than you thought it would be. But at least we're all caught up on what e-books I do and do not own (besides, I'm mostly just stocking up for when I go to America, a girl's got to have some books). LET'S JUST FOCUS ON THE LACK OF BOOKS I BOUGHT.
Have you read any of these? What did you think!
---
~~ Kirstie ~~