I hope everyone's been having a fabulous week – but if not, the great news is that it's Tuesday and you get to read another of my terribly exciting TTT lists. Let's be honest, it's the highlight of your week. This week's theme was  "Top Ten Books With X Setting" so who's excited to see what I've picked? *raises hand*
The #ReadThemAllThon has officially started so I've been spending a naughty amount of time powering through my books instead of studying and it's been wonderful. If you want to know what I'm going to be reading then have a read of my TBR post and we can pray together that I manage to magically read 8 books in 3 weeks.
This week's theme is:
Ten Books Set in Re-Imagined Worlds
Now, before you light your pitchforks in confusion allow me to explain. I'm about to make a list of ten books that are set in places such as parallel universes or alternate historical settings, etc. Any book that takes place somewhere that has been imagined to tackled the almighty what if? or something to confuse us with paradoxes. This list is not looking at the Dystopian genre as that's just a whole other kettle of fish.
Top Ten Tuesday is a weekly meme hosted over @ The Broke and the Bookish and each week there's a different theme that we get to make a list about featuring ten related books. It's so much fun and the topics are always great! It's also a fabulous way to learn more about people's reading adventures and I recommend heading over to the official page to do some exploring through the link up.
---
#1
 A Thousand Pieces of You
by Claudia Gray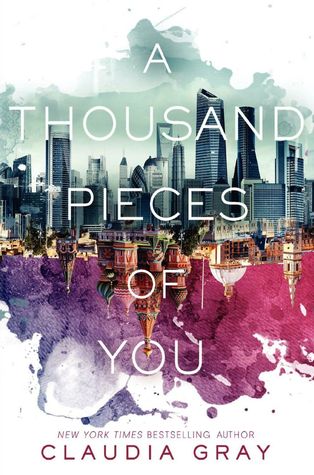 Cloud Atlas meets Orphan Black in this epic dimension-bending trilogy by New York Times bestselling author Claudia Gray about a girl who must chase her father's killer through multiple dimensions.

Marguerite Caine's physicist parents are known for their groundbreaking achievements. Their most astonishing invention, called the Firebird, allows users to jump into multiple universes—and promises to revolutionize science forever. But then Marguerite's father is murdered, and the killer—her parent's handsome, enigmatic assistant Paul— escapes into another dimension before the law can touch him.

Marguerite refuses to let the man who destroyed her family go free. So she races after Paul through different universes, always leaping into another version of herself. But she also meets alternate versions of the people she knows—including Paul, whose life entangles with hers in increasingly familiar ways. Before long she begins to question Paul's guilt—as well as her own heart. And soon she discovers the truth behind her father's death is far more sinister than she expected.

A Thousand Pieces of You explores an amazingly intricate multi-universe where fate is unavoidable, the truth elusive, and love the greatest mystery of all.
A Thousand Pieces of You is set in the modern day but because of certain events that go down, we get to explore various parallel universes and it's absolutely awesome. I love how much each of the worlds in this book changes (and quite drastically) because of small things that did or did not happen. If you haven't started this series then then I can say this: you're missing out.
---
#2
 Wolf by Wolf
by Ryan Graudin
Once upon a different time, there was a girl who lived in a kingdom of death. Wolves howled up her arm. A whole pack of them-made of tattoo ink and pain, memory and loss. It was the only thing about her that ever stayed the same.Her story begins on a train. 

Germania, 1956. Over ten years since the Nazis won the war. 18-year-old Yael is part of the resistance, and she has just one mission: to kill Hitler.

But first she's got to get close enough to him to do it. 

Experimented on during her time at Auschwitz, Yael has the unique ability to change her appearance at will. The only part of her which always remains are the five tattooed wolves on her arm; one for each of the people she's lost. Using her abilities, she must transform into Adele Wolfe, Germany's most famous female rider and winner of the legendary Axis Tour; an epic long distance motorcycle race from Berlin to Tokyo, where only the strongest (and wiliest) riders survive. If she can win this, she will be able to get close enough to kill the Fuhrer and change history forever.

But with other riders sabotaging her chances at every turn, Yael's mission won't be easy. . .
This is a very popular alternate history novel at the moment. Wolf by Wolf is an ingenious novel that imagines a world where Hitler won WWII. It's an absolutely awful prospect but the plot of the book actually follows a girl who is a Jew in hiding who is infiltrating a motorbike race because the winner gets to meet Hitler (and it's not hard to imagine what she wants to do when she meets him). It's absolutely awesome and the sequel is very nearly here *squeals*.
---
#3
Coraline
by Neil Gaiman
Coraline's often wondered what's behind the locked door in the drawing room. It reveals only a brick wall when she finally opens it, but when she tries again later, a passageway mysteriously appears. Coraline is surprised to find a flat decorated exactly like her own, but strangely different. And when she finds her "other" parents in this alternate world, they are much more interesting despite their creepy black button eyes. When they make it clear, however, that they want to make her theirs forever, Coraline begins a nightmarish game to rescue her real parents and three children imprisoned in a mirror. With only a bored-through stone and an aloof cat to help, Coralineconfronts this harrowing task of escaping these monstrous creatures.
This has to be one of the classic parallel universe stories. A girl who stumbles into a parallel world where everything seems better and wonderful – only to find that she really doesn't want to stay there but going back isn't quite that easy. Ooh, boy.
---
#4
Parallel
by Claudia Lefeve
Destiny has a way of catching up. 

Saddled with powers she doesn't understand, Etta Fleming's world is turned upside-down the day she meets Cooper Everett, the man who transports her to an alternate reality. A reality she was meant to be a part of. 

One minute, she's an orphan living at Dominion House for Girls, an institution for delinquent foster kids, then finds herself attending the exclusive Dominion Hall Academy. 

Plucked from the only world she's ever known, Etta now has to deal with an aunt she never knew, a boyfriend she doesn't know, and a best friend who can't know. 
This is a book I've had my eye on for a while. It doesn't have the best average rating but I think it sounds really good. In fact, the ratings for this are flat out confusing. One will tell you that the book is put together like an eton mess and the next will tell you it's more brilliant than chocolate fudge. Well, personally I think I'm just going to have to read this for myself to find out but the concept of someone being taken to a parallel universe where they were supposed to be in the first place just ARGH. This sounds like my kind of book.
---
#5
Inkheart
by Cornelia Funke
Twelve-year-old Meggie learns that her father, who repairs and binds books for a living, can "read" fictional characters to life when one of those characters abducts them and tries to force him into service.

Characters from books literally leap off the page in this engrossing fantasy. Meggie has had her father to herself since her mother went away when she was young. Mo taught her to read when she was five, and the two share a mutual love of books. He can "read" characters out of books. When she was three, he read aloud from a book called Inkheart and released characters into the real world. At the same time, Meggie's mother disappeared into the story. This "story within a story" will delight not just fantasy fans, but all readers who like an exciting plot with larger-than-life characters.
This is the classic of "other worlds" isn't it? I loved Inkheart when I first read it but I never managed to continue on with the story – and not because I didn't want to! I love the concept of people having the ability to bring things out of books by reading aloud. If only I could do that!
---
#6
His Majesty's Dragon
by Naomi Novik
Aerial combat brings a thrilling new dimension to the Napoleonic Wars as valiant warriors ride mighty fighting dragons, bred for size or speed. When HMS Reliant captures a French frigate and seizes the precious cargo, an unhatched dragon egg, fate sweeps Captain Will Laurence from his seafaring life into an uncertain future – and an unexpected kinship with a most extraordinary creature. Thrust into the rarified world of the Aerial Corps as master of the dragon Temeraire, he will face a crash course in the daring tactics of airborne battle. For as France's own dragon-borne forces rally to breach British soil in Bonaparte's boldest gambit, Laurence and Temeraire must soar into their own baptism of fire.

 
If you know me, then you can probably guess that the premise for this book really excited me. It's a re-imagining of the Napoleonic wars but with dragons. Yeah, I'm freaking out too. I can't wait to read this series and I seriously hope that I completely love it when I get around to it.
---
#7
Front Lines
by Michael Grant

1942. World War II. The most terrible war in human history. Millions are dead; millions more are still to die. The Nazis rampage across Europe and eye far-off America.

The green, untested American army is going up against the greatest fighting force ever assembled—the armed forces of Nazi Germany.

But something has changed. A court decision makes females subject to the draft and eligible for service. So in this World War II, women and girls fight, too.

As the fate of the world hangs in the balance, three girls sign up to fight. Rio Richlin, Frangie Marr, and Rainy Schulterman are average girls, girls with dreams and aspirations, at the start of their lives, at the start of their loves. Each has her own reasons for volunteering. Not one expects to see actual combat. Not one expects to be on the front lines.

Rio, Frangie, and Rainy will play their parts in the war to defeat evil and save the human race. They will fear and they will rage; they will suffer and they will inflict suffering; they will hate and they will love. They will fight the greatest war the world has ever known.
This is definitely one of my favourite re-imaginings that I've heard of (I, unfortunately, have yet to read it). Front Lines provides a narrative where both men and women fought on the front lines during WWII. I would go on to say more but if you haven't already flipped your chair over in a mad rush to get out of your seat and run to the bookstore to get there, then I don't know what you're doing.
---
#8
Dissonance
by Erica O'Rourke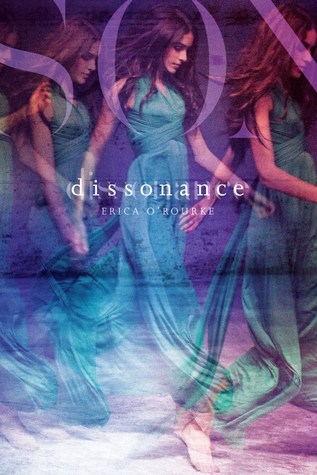 Some decisions have unimaginable consequences.

Every time someone makes a choice, a new parallel world is spun off the existing one. Eating breakfast or skipping it, sneaking out instead of staying in bed—every decision creates an alternate universe in which an Echo self takes the road not traveled. As a Walker who can navigate between these realities, Del is training to help keep the dimensions in harmony.

When Del secretly starts to investigate other dissonant worlds, she get tangled up with an Echo of her longtime crush. She knows she shouldn't keep seeing him. But as Del persists, she uncovers a truth that the Council of Walkers is trying to hide—a secret that threatens the entire multiverse.
I have to admit that I only just found this book. And I think I need it. Like right now. I love the idea that EVERY little thing we do makes a new parallel universe – how crazy is that. But mostly I love that our characters are going to get mixed up in things and find out what the Council's big secret is. This seems like it might read with a similar "feel" to it as A Thousand Pieces of You – and that can surely only mean good things.
---
#9
Through Fire & Sea
by Nicole Luiken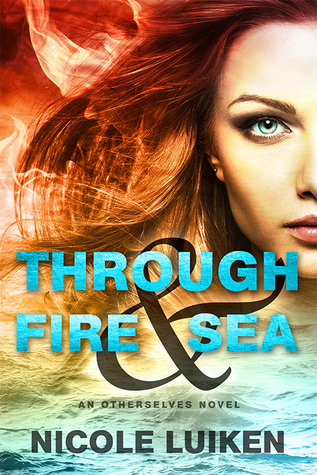 Mirror mirror, hear my call…

In the Fire world, seventeen-year-old Leah is the illegitimate daughter of one of the realm's most powerful lords. She's hot-blooded—able to communicate with the tempestuous volcano gods that either bless a civilization or destroy it. But then Leah discovers she's a Caller, gifted with the unique—and dangerous—ability to "call" her Otherselves in mirror worlds. And her father will do anything to use her powers for his own purposes.

In the Water world, Holly nearly drowns when she sees—and interacts with—Leah, a mirror image of herself. She's rescued by Ryan, a boy from school with a secret he'd die to protect. Little do they know, his Otherself is the son of a powerful volcano god at war in the Fire world…and he's about to fall.

As Leah and Holly's lives intersect, the Fire and Water worlds descend into darkness. The only way to protect the mirror worlds is to break every rule they've ever known. If they don't, the evil seeping through the mirrors will destroy everything—and everyone—they love…
I read this book fairly recently and it had some interesting concepts going on for it. Whilst it think it was a little slow in parts the basic concept is that there are five worlds. The main character lives in the fire world but there are three other versions each fashioned after a particular element and fifth and final version of the world that is sort of the ultimate/perfect/complete version. It's hard to describe. But everyone could potentially have a parallel universe version of themselves in these other worlds but not everyone does – and it's quite rare to have all 5 versions of yourself. Ah, I'm butchering this, just read the blurb and take me for my word that it's a cool concept.
---
#10
100 Cupboards
by N. D. Wilson
Twelve-year-old Henry York is going to sleep one night when he hears a bump on the attic wall above his head. It's an unfamiliar house—Henry is staying with his aunt, uncle, and three cousins—so he tries to ignore it. But the next night he wakes up with bits of plaster in his hair. Two knobs have broken through the wall, and one of them is slowly turning…

Henry scrapes the plaster off the wall and discovers doors—ninety-nine cupboards of all different sizes and shapes. Through one he can hear the sound of falling rain. Through another he sees a glowing room—with a man strolling back and forth! Henry and his cousin Henrietta soon understand that these are not just cupboards. They are, in fact, portals to other worlds.
I hesitated to put this on the list. I've not read this myself but my brother has and seems to have got along with it quite nicely. The concept is that there are all these different doors that this boy comes across in a house and each leads to another world. I couldn't, however, work it if these were entirely different worlds where pigs rule and giraffes have tattoos of butterflies on them, or if they were parallel worlds. So let's all nod and pretend that this fits perfectly on this list (it sounds cool, though, right?).
---
 What's your favourite re-imagining of the world?
 Share your thoughts below!
---
~~ Kirstie ~~