We're here guys, we have arrived at The Question. This is the ultimate quizzicality, the last battle, the penultimate dance, the leap of faith: WHAT IS YOUR FAVOURITE COVER?
This week's theme is:
Favourite Covers 
It really is a difficult question, though. How does one decide these things? There are so many beautiful covers out there (and also a good handful of bad ones, sheesh) so how am I supposed to compile a list of just TEN of these? The answer: I make a longer a list. Obviously.
So this week I decided to be naughty again and use one of the older prompts as this week was supposed to be about beach reads. But. I don't really read on the beach. Ever. Who's insane idea is that? For starters, you get sand in the spine of the book which you CAN NEVER GET OUT AGAIN, and let's not even mention the oh-goodness-does-a-comfortable-position-exist. Sand becomes surprisingly hard after about ten minutes. AND THEN there's the matter of the very hot super burn-y sun (remember, I live in Australia, you Europeans enjoy a sun that doesn't gleefully burn holes in your skin). And there's also the matter of not wanting to wear sunnies but if you don't, then you  can't see anything. Gah.
Hence we arrive at a much safer (if difficult) question. Prepare yourself, my good fellow, for we are about to enter the world of (beg pardon) book porn!
Top Ten Tuesday is a weekly meme hosted over @ The Broke and the Bookish and each week there's a different theme that we get to make a list about featuring ten related books. It's so much fun and the topics are always great! It's also a fabulous way to learn more about people's reading adventures and I recommend heading over to the official page to do some exploring through the link up.
---
#1
Trial by Fire by Josephine Angelini
I love the colours of this one. It's so vibrantly orange and sparkly. I haven't read this book yet but I'm super excited to because I think it sounds like a lot of fun – and with a cover like that you can't go wrong, right?
// GOODREADS //
---
#2
Tarzan of the Apes by Edgar Rice Burroughs
I am in love with this edition of this book. It's wonderfully green and magnificent and the book itself feels awesome to hold. The publisher is Fall River and I highly recommend seeing if they've done an edition of your favourite classic because their books are beautiful!
// GOODREADS //
---
#3
The Wise Man's Fear by Patrick Rothfuss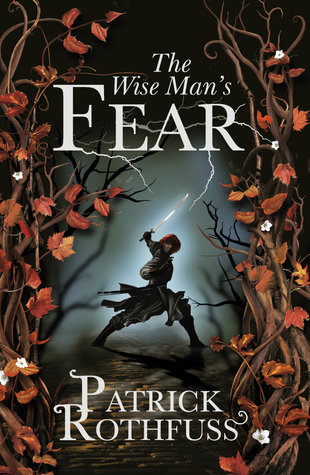 I can't get over how pretty this cover is. I haven't actually read this one yet, I've read the first book and it was amaaazzing. I can't wait to continue the journey, Rothfuss is a wickedly fun fantasy author and with a cover like this how could you do anything but love it?
// GOODREADS //
---
#4
Cartwheeling in Thunderstorms by Katherine Rundell
I just finished reading this book and it was fantastic. I'm such a fan of Rundell at the moment, like oh wow, I don't think I'm ever going to read anything by her that I don't love. This is a crazy book about a young girl from Africa who, for various reasons, ends up in a boarding school in England. I think the cover just represents the story perfectly with its chaos, colours, and funness. 
// GOODREADS //
---
#5
The Neverland Wars by Audrey Greathouse
Don't try and tell me that you didn't gasp when you saw this one. I LOVE this cover. And it's a Peter Pan retelling so WHY ARE YOU STILL SITTING THERE? I cannot wait to read this one and it's a new release for May – so very soon I'll be diving into this world (and showing off the beautiful cover to anyone who has eyes).
// GOODREADS //
---
#6
Madame Tussaud's Apprentice by Kathleen Benner Duble
*Much gawping* I love this cover. This is one of my new all time favourite covers. I got this for my birthday last week and I can't stop staring at it. I mean, aside from the obviously intriguing title the cover is just beautiful. It's so red and swirly – it's practically begging to be read.
// GOODREADS // 
---
#7
 Foundling by D. M. Cornish
I had a disastrous time trying to sort this book out to photograph for you guys. Why? If you have a look carefully at the face of the guy on the right you'll see it's a bit, skgaldjfj. That's because there was a sticker there, *angry glaring*. And this book isn't new so in my attempt to take it off I also took of a small section of the cover (because apparently that's possible) so now IT'S IMPERFECT. *wails* But I still love, love, love this cover so much and I can't wait to dive back into this series. It's been such a long time since I read this but I remember it being really quite unique.
// GOODREADS //
---
#8
Tiger's Destiny by Colleen Houck
I think it's safe to say that a Colleen Houck book will always make it onto any list I make. This is the final book in the Tiger's Curse Saga and I am forever in love with its cover. It capture the craziness of the book so well and the colours are just perfect. Absolutely perfect.
// GOODREADS //
---
#9
The Wolf Wilder by Katherine Rundell
I think this is one of the most clever book covers I've seen. It's absolutely stunning but I adore the way that the story of the book is melded together with the images here. I love how the wolf silhouette suddenly becomes the landscape and the little silhouettes of the girl and the wolf are beautiful. This story is amazing and reads very much so as a Russian fairy tale. I told you I was obsessed with Rundell.
// GOODREADS //
---
#10
Seraphina by Rachel Hartman
The reason I love this cover so much is because of how it looks like a spectacular sketch. I love drawing myself and I see this and think boy, I'd love to be able to just sit and create something like this. I also think it's wonderfully rustic and just has the feel of the story all summed up in the colours, texture and look of this image, *delighted shudders*.
// GOODREADS //
---
#11
Thorn by Intisar Khanani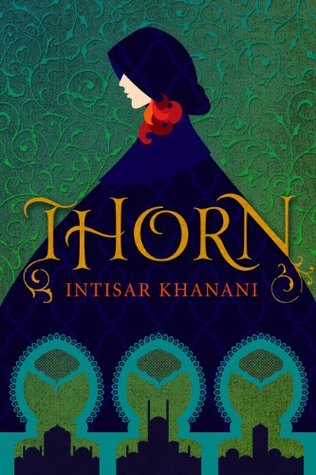 The only reason I wanted to read this originally was because of its cover (and then I read the blurb and went WOW). Khanani is another fabulous author whose work I will forever read. This is a retelling of The Goose Girl which is probably a fairytale you're not familiar with. And I'm not going to tell you what it is. So off you pop, have a read up of this and go buy the book because you know you just want to sit there and stare at it.
// GOODREADS //
---
#12
The Selection by Kiera Cass
Of course this was going to be on the list. Kiera Cass has been blessed with some of the most drool worthy covers for this series. I love all the artwork for all of the books and they actually make me want to read it. I particularly like the colour of this dress.
// GOODREADS //
---
#13
The Adamantine Palace by Stephen Deas
I love the little curlicues around the edge of this cover and I love the greenness of it. I'm actually not entirely sure what the book is about itself, this was literally something I bought purely because of the cover. It's just such a pretty book all up. Oh, and of course there's a dragon.
// GOODREADS //
---
#14
Reawakened by Colleen Houck
This has to be one of the prettiest designs out there at the moment. This book is set in Egypt and has one of the most adorably awkward/out of place character ever – and I think the weirdness of the cover sums this up wonderfully. Houck has been blessed with stunning book covers and I cannot wait for the sequel to this one! I mean, just look at it.
// GOODREADS //
---
 What's your favourite cover?

Let me know below! 
---
~~ Kirstie ~~