I hope you're all ready for a shock because I only bought ONE – THAT'S RIGHT ONE – book last month. *the sound of jaws dropping across the universe*. I mean, one book as far as I can remember. I've obviously reached that point where I have such a ridiculous number of books I can't remember them anymore. BUT, that sure doesn't mean I only hauled one book. Ho-no, let's take a look!
---
BOUGHT
Nil Unlock
by Lynee Matson
I bought this one immediately after finishing the first one. I so enjoyed Nil and I had to continue on the story and found out more about the island itself so hell yeah I got my hands on a copy of the sequel! Soooo excited!!
---
RECEIVED
Whisper of the Tide
by Sarah Tolscer
I won this one from a Twitter competition run by Little Book Owl and I'm so excited about it!! I haven't read the first one yet but I've had my eye on this series so I'm super keen to binge read these books and hopefully love them!
---
PRE-ORDERS
A Thousand Perfect Notes
C. G. Drews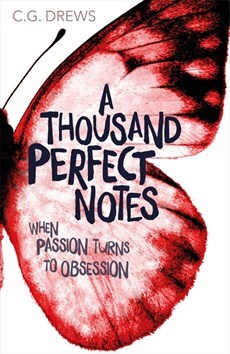 I've been highly anticipating this release ALLL year seeing as it is written by the wonderful Cait @ PaperFury! I'm super excited to get around to it at some point in July and I've heard some amazing reviews for it so far.
---
 AUDIOBOOKS
Uprooted
by Naomi Novik
This was the book I got this month with my Audible subscription and I'm actually so stoked that I decided on this one. I've been wanting to read a Novik book for SO LONG – and this one has some great reviews. So I'm really looking forward to reading it.
Dune
by Frank Herbert
Seeing as it is the month-long edition of the Alphabethon this July I decided to boost my audiobook TBR and bought a copy of Dune because it was on special. Having had several people (mostly my boyfriend) tell me I have to read this because I'd love it, I decided to bite the bullet.
---
That's a wrap!
I can't believe how few books I hauled this month. I'm seriously impressed with myself. But don't you worry, I've already bought more in July than I did throughout the whole of June. July is going to be a good month!
Have you read any of these? What did you think!
---

~~ Kirstie ~~