And a good evening to you. Or good morning – look, you can just pretend it's evening and roll with it, alright? We have the exciting task of assessing another of my lists today! Somehow, for the second week running, I am bringing you a Top Ten Tuesday. Clearly February is going to be my month.
Top Ten Tuesday is hosted by That Artsy Reader Girl!
The Prompt:
Books I've Decided I'm No Longer Interested In Reading
Which is like a crazy difficult prompt for me to do because I rarely give up on a book before at least give it a try. So, instead, I'm going to twist it and list:
Books on My TBR I Keep Forgetting are There
And by that I mean, those books that have been on my TBR the longest I just haven't read because I either can't remember what they're about or have forgotten to get excited over them.
---
1. Unremembered
by Jessica Brody
I remember being so so so excited to buy this one – like wow look at that cover and have you read the blurb?! But it has just sat and sat and sat on my TBR because I didn't pick it up straight away and now could not tell you (other than guessing off the title) what this is actually about. Literally no idea. But every time I scroll through my TBR and see it I go: oh my god I need to read that already!
---
2. I'll Give You the Sun
by Jandy Nelson
It's only just now, going through my TBR to make this list that I saw this and went, oh good lord I've owned this book for several years now and I'd completely forgotten I had. Which is probably more a sign that I own far too many books but SHUSH YOU. Eat your popcorn and be quiet. Did I buy this for the awesome yellow colour of the cover? I mean, maybe. Do I have any idea what it's about? Nope.
---
3. The Queen of the Tearling
by Erika Johansen
I was so keen for this when I bought it. I'm pretty sure it's epic fantasy and that is most definitely right up there on my list. But most importantly, I've seen some fantastic reviews for this one. I don't remember what it's about but I think the main reason this one ended up slipping all the way down my TBR was simply that I didn't read it when the hype was about for the first one and now other new shiny books are in the way.
---
4. The Colour of Magic
by Terry Prachett
I have actually tried reading this one before. But it was a long, long time ago and definitely before I was ready to read it. Which evidently put me off the book somewhat. I've been tempted several times to cull it from my TBR – but a stubborn part of my bookish soul says No, Kirstie! Give it another go now you're older! So naturally, it slipped the entire way down my TBR and I forget about it almost 99% of the time.
---
5. All Our Yesterdays
by Cristin Terill
I adore the cover for this one. I'm pretty sure that's probably why I also bought it. To be honest, I'm not sure why this one keeps getting ignored. A simple case of not being constantly in my face and few people talking about it makes it easy to forget I suppose! Although that being said, I couldn't tell you what this one was about either.
---
6. Holding Up the Universe
by Jennifer Niven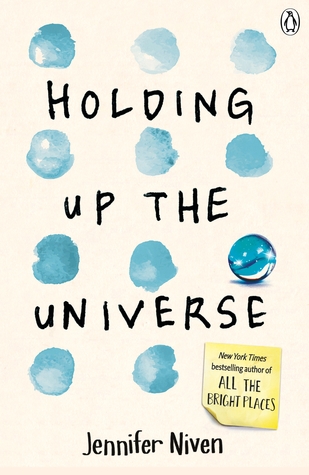 I saw this on my TBR just now and went oh yeah, that book! I think I received this as part of a subscription box a few years back. I was never actively planning on going out and getting this book myself – so I think from the beginning I've had low motivation to pick it up. Now I just can't remember its existence, full stop.
---
7. These Broken Stars
by Amie Kaufman & Meagan Spooner
How I've managed to live 21 years of my life and not read a book written by these women beats me. I bought this some years ago and am almost 100% certain that I'm going to enjoy it. This one keeps falling victim to the card I play of "oh, I'll read it when I finish off some of the series I'm already reading." Except I never do.
---
8. His Majesty's Dragon
by Naomi Novik
Being someone who's totally in love with dragons it's a wonder I've been forgetting about this book for so long. Whenever I'm thinking of what I want to read next, not once has this jumped to mind. Which is ridiculous – I think I need to change this and make a concerted effort to add this to my TBR in the near future.
---
9. Archangel
by Robert Harris
I cannot remember what this one is about either. I picked it up at a secondhand book fair after a friend of mine read the blurb and recommended it to me. I'm now not even entirely sure what genre it is. I just know it's a tall book, white and I should probably get around to reading it at some point in my life.
---
10. The Beekeeper's Apprentice
by Laurie R. King
Firstly, this is not the cover I have (I prefer mine). Secondly, I bought this one crazy cheap from the Book Depository because SHERLOCK HOLMES PEOPLE. It of course has then sat on my shelf for such a long time it's become more a decoration than an item on my TBR. Oops.
---
What's a book you keep forgetting about?
---

~~ Kirstie ~~