Hello friends! Today is a most glorious day in Perth and whilst I gaze out on the rolling meadows and am fed grapes by my personal dragon servant whilst my fictional boyfriends fan me with a palm frond, I thought hey, I should make a list of books that give you all the feelings that Spring gives you. What a good idea.
For ye fellow northern hemispheres, sorry and HAH because WINTER IS COMING for you sorry lot. But for my amigos in the southern hemisphere we're finally, finally, seeing the beginnings of excellent weather and butterflies. Lots and lots of butterflies. It such a nice time of the year so clearly we need to arm ourselves with books that will double our feelings of joy and make it feel like this season will never end.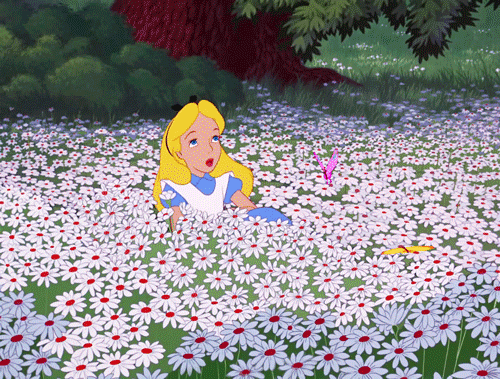 Thus! I have compiled a list of ten books which will make you so relaxed, sigh-ful and at peace that you might even believe that I have a servant dragon and rolling meadows (I don't, but by golly it is a nice day).
---
Between the Lines
by Samantha van Leer & Jodi Piccoult
What happens when happily ever after… isn't?

Delilah hates school as much as she loves books. In fact, there's one book in particular she can't get enough of. If anyone knew how many times she has read and re-read the sweet little fairy tale she found in the library, especially the popular kids, she'd be sent to social Siberia… forever.

To Delilah, though, this fairy tale is more than just words on the page. Sure, there's a handsome (well, okay, hot) prince, and a castle, and an evil villain, but it feels as if there's something deeper going on. And one day, Delilah finds out there is. Turns out, this Prince Charming is real, and a certain fifteen-year-old loner has caught his eye. But they're from two different worlds, and how can it ever possibly work?

Together with her daughter Samantha Van Leer, #1 New York Times bestselling author Jodi Picoult has written a classic fairy tale with a uniquely modern twist.
Was there ever a book made for a bookworm more so than this one? Do you think your characters enjoy replaying each scene in a book every time your read it?? Have you ever wanted to pull your favourite characters off the page??? Because this book is about that. I love this story so much just because it's made of your dreams. It's a perfect happy book to read on a nice, warm day.

Can You Keep a Secret?
by Sophie Kinsella
Emma is like every girl in the world. She has a few little secrets.

Secrets from her mother:
1. I lost my virginity in the spare bedroom to Danny Nussbaum while Mum and Dad were downstairs watching Ben Hur.

…From her boyfriend:


2. I'm a size twelve. Not a size eight, like Connor thinks.




3. I've always thought Connor looks a bit like Ken. As in Barbie and Ken.

…From her colleagues:


4. When Artemis really annoys me, I feed her plant orange juice. (Which is pretty much every day)




5. It was me who jammed the copier that time. In fact, all the times.

…Secrets she wouldn't share with anyone in the world:


6. My G string is hurting me.




7. I faked my Maths GCSE grade on my CV.




8. I have no idea what NATO stands for. Or even what it is…

…until she spills them all to a stranger on a plane. At least, she thought he was a stranger…
Can you ever actually go wrong reading a Kinsella book for some light-hearted fun? I think not. This is actually the only book of hers that I've read but it's hilarious. When a turbulent plane ride leads to Emma telling a stranger next to her all her secrets her life gets a little more complicated . . . because lo and behold she encounters him at her new works place when she's back home. Awkward turtling is abound. I recommend this one for the laughs, the cringing of awkward moments and the wonderfully happy ending to the book.

Poison
by Bridget Zinn
Sixteen-year-old Kyra, a highly-skilled potions master, is the only one who knows her kingdom is on the verge of destruction—which means she's the only one who can save it. Faced with no other choice, Kyra decides to do what she does best: poison the kingdom's future ruler, who also happens to be her former best friend.

But, for the first time ever, her poisoned dart . . . misses.

Now a fugitive instead of a hero, Kyra is caught in a game of hide-and-seek with the king's army and her potioner ex-boyfriend, Hal. At least she's not alone. She's armed with her vital potions, a too-cute pig, and Fred, the charming adventurer she can't stop thinking about. Kyra is determined to get herself a second chance (at murder), but will she be able to find and defeat the princess before Hal and the army find her?

Kyra is not your typical murderer, and she's certainly no damsel-in-distress—she's the lovable and quick-witted hero of this romantic novel that has all the right ingredients to make teen girls swoon.
For some light fantasy with a relatable heroine this is the book you need. If your day is warm and the sky is blue but you still feel like fantasy then this is perfect. It's funny and interesting and Kyra, our main character, somehow ends up with a pig trailing around her as she escapes the wrath of the kingdom. You're just going to love this one.

Fangirl
by Rainbow Rowell
Cath and Wren are identical twins, and until recently they did absolutely everything together. Now they're off to university and Wren's decided she doesn't want to be one half of a pair any more – she wants to dance, meet boys, go to parties and let loose. It's not so easy for Cath. She would rather bury herself in the fanfiction she writes where there's romance far more intense than anything she's experienced in real life.

Now Cath has to decide whether she's ready to open her heart to new people and new experiences, and she's realizing that there's more to learn about love than she ever thought possible …
You can't go wrong with this book. If you're in need of some sighing and some great moment where you go OMG CATH WE NEED TO BE FRIENDS, this is the book for you. Cath is introverted to the core and the most relatable fictional character out there, I swear. Like, she won't go exploring to find the cafeteria because she didn't do it when she first moved into her college and now it's too late – anyone else just 100% understand that way of thinking? Yes. Quick, go read it and look luxurious sunbathing as your flip through the pages.

Carry On
by Rainbow Rowell
Simon Snow is the worst chosen one who's ever been chosen

That's what his roommate, Baz, says. And Baz might be evil and a vampire and a complete git, but he's probably right. 

Half the time Simon can't even make his wand work, and the other half, he sets something on fire. His mentor's avoiding him, his girlfriend broke up with him, and there's a magic-eating monster running around wearing Simon's face. Baz would be having a field day with all this, if he were here – it's their last year at Watford School of Magicks, and Simon's infuriating nemesis didn't even bother to show up. 

Carry On is a love letter to love stories and the power of words – to every 'chosen one' who ever had more on their mind than saving the world…
Because one Rainbow Rowell book is certainly not enough. If you delighted in reading Fangirl then you absolutely should pick this one up next. Deliciously longer than is companion book, Carry On will make you laugh and cry and scream JUST KISS ALREADY to the main characters as sexual tensions run higher than mount Everest. Man, I need to reread this.

Simon vs the Homo Sapiens Agenda
by Becky Albertalli
Sixteen-year-old and not-so-openly gay Simon Spier prefers to save his drama for the school musical. But when an email falls into the wrong hands, his secret is at risk of being thrust into the spotlight. Now Simon is actually being blackmailed: if he doesn't play wingman for class clown Martin, his sexual identity will become everyone's business. Worse, the privacy of Blue, the pen name of the boy he's been emailing, will be compromised.

With some messy dynamics emerging in his once tight-knit group of friends, and his email correspondence with Blue growing more flirtatious every day, Simon's junior year has suddenly gotten all kinds of complicated. Now, change-averse Simon has to find a way to step out of his comfort zone before he's pushed out—without alienating his friends, compromising himself, or fumbling a shot at happiness with the most confusing, adorable guy he's never met.
Moving on to another spectacular contemporary author, Simon vs is the book you've been waiting for. It will keep you up on those balmy nights as you sit by the window waiting for Spring breezes to pass by. At approximately 2am you'll finish this book and sigh out that widow and go, damn, this chick knows how to write a perfect romance.

The Upside of Unrequited
by Becky Albertalli
Seventeen-year-old Molly Peskin-Suso knows all about unrequited love—she's lived through it twenty-six times. She crushes hard and crushes often, but always in secret. Because no matter how many times her twin sister, Cassie, tells her to woman up, Molly can't stomach the idea of rejection. So she's careful. Fat girls always have to be careful.

Then a cute new girl enters Cassie's orbit, and for the first time ever, Molly's cynical twin is a lovesick mess. Meanwhile, Molly's totally not dying of loneliness—except for the part where she is. Luckily, Cassie's new girlfriend comes with a cute hipster-boy sidekick. Will is funny and flirtatious and just might be perfect crush material. Maybe more than crush material. And if Molly can win him over, she'll get her first kiss and she'll get her twin back.

There's only one problem: Molly's coworker Reid. He's an awkward Tolkien superfan with a season pass to the Ren Faire, and there's absolutely no way Molly could fall for him. Right?
Like there was only going to be one Albertalli book on this list. If you thought Cath was relatable, wait until you get to know Molly. Molly is me, I swear it. This book is brilliant and great to read wherever you are enjoying the sun that's finally surprised you with its presence having been held captive by winter for so long. The romance is unf-worthy and the characters are awesome.

To All the Boys I've Loved Before
by Jenny Han
Lara Jean keeps her love letters in a hatbox her mother gave her. One for every boy she's ever loved. When she writes, she can pour out her heart and soul and say all the things she would never say in real life, because her letters are for her eyes only. Until the day her secret letters are mailed, and suddenly Lara Jean's love life goes from imaginary to out of control…
Do you need a good laugh to match how brightly the sun is shining? Well then, VOILA. Imagine you write letters to all your previous crushes . . . and then they read them. CAN YOU FEEL YOUR CHEEKS BURNING? Oh, boy. This book is going to make you feel it all and it's just the most perfect Spring read.

Because You'll Never Meet Me
by Leah Thomas
Ollie and Moritz are best friends, but they can never meet. Ollie is allergic to electricity. Contact with it causes debilitating seizures. Moritz's weak heart is kept pumping by an electronic pacemaker. If they ever did meet, Ollie would seize. But Moritz would die without his pacemaker. Both hermits from society, the boys develop a fierce bond through letters that become a lifeline during dark times—as Ollie loses his only friend, Liz, to the normalcy of high school and Moritz deals with a bully set on destroying him.

A story of impossible friendship and hope under strange circumstances, this debut is powerful, dark and humorous in equal measure. These extraordinary voices bring readers into the hearts and minds of two special boys who, like many teens, are just waiting for their moment to shine.
I think this book is such a great story. It's something a little different but ultimately light-hearted (and then you get to the ending and things get a little more real). It ends on such a beautiful note though. Two boys who are outcasts of society – one unable to be anywhere near electricity, the other born without eyes but uses echolocation to see – find companionship by being pen pals to each other. It's adorable, it's thought-provoking and it makes you want to squeeze the characters to give them some lovin'.

Trick
by Natalia Jaster
There is a rule amongst his kind: A jester doesn't lie.

In the kingdom of Whimtany, Poet is renowned. He's young and pretty, a lover of men and women. He performs for the court, kisses like a scoundrel, and mocks with a silver tongue.

Yet allow him this: It's only the most cunning, most manipulative soul who can play the fool. For Poet guards a secret. One the Crown would shackle him for. One that he'll risk everything to protect.

Alas, it will take more than clever words to deceive Princess Briar. Convinced that he's juggling lies as well as verse, this righteous nuisance of a girl is determined to expose him.

But not all falsehoods are fiendish. Poet's secret is delicate, binding the jester to the princess in an unlikely alliance—and kindling a breathless attraction, as alluring as it is forbidden.
And finally, to crown off your Spring list with some really quite fun fantasy with characters discovering just how complicated their lives can get, you'll be wanting to read Trick. Apart from having an awesome cover, it really is the foolish love story as its tag line states. You're going to love the characters, ride out the rollercoasters of tension (both of the stress and sexual variety *waggles eyebrows*) and slam the book down with sheer joy and happiness at the end running to the bookstore for more of Jaster's books.

---
Ahhh, isn't that nice?
I hope you're all feeling suitably prepped to relax and enjoying the lovely weather, I hope your weather is indeed lovely, and if you live in the northern hemisphere you'll just have to wait until Spring is coming around for you, at which point I'll be throwing Autumnal recommendations your way, much to your disgruntlement.
What's your favourite Spring read?
---

~~ Kirstie ~~