Hello all and welcome! Recently I've had the greatest itch (and I'm not talking about the mosquito BITES – plural – on my foot) to participate in a read-a-thon. So, of course, I took to the internet and good golly gosh, have you seen the number of read-a-thons that are on? The answer is A LOT.
**disclosure: links to video on my YouTube channel will not be live until the 19th July**
But I've managed to whittle my selection down to the two I most want to participate in. As my schedule for general life right now is fairly empty I figured what better a time than to stuff myself full of read-a-thons?! My selections were therefore:
Booktube-a-thon: 24th – 30th July
Alphabethon: 31st July – 6th August
However, today, right here, we are just going to look at the first option. Also however, I have a video up on my YouTube channel giving a swift overview of my reading goals for both read-a-thons here. Feel free to check that out, too.
If you're someone who hasn't ever participated in a read-a-thon or is quirking an eyebrow unsure of their existence until this point, allow me to explain. Read-a-thons are events organised by daring people to bring more people together to dare each other to read a lot of books. Sometimes they come with challenges, sometimes it's a flat out READTILLYOUDROP sort of attitude.
---
Booktube-a-thon
This is a read-a-thon I've never participated in before. Why? Because it's a read-a-thon (man, that word is getting old fast) celebrating booktube and the video-inclined community that it is. I am most evidently a blogger. HOWEVER! I recently joined booktube community (see channel here) so therefore I feel able to participate this year.
The Booktube-a-thon is a yearly occurrence and has reading goals as well as daily challenges. I'm not planning on participating in those daily challenges but will certainly have a crack at the reading challenges. Therefore! Onto the important stuff: my TBR.
---
1. Read a book with a person on the cover
The Philosopher Kings
by Jo Walton
This book has a small white figure in the top left hand quarter of the cover and therefore qualifies. Myself and Casey @ adoptabookaus are going to buddy read this one together and I'm so excited!
This is the sequel to The Just City which was a terribly interesting read about Athene and Apollo who band together to create a perfect city according to the writings of Socrates. It sounds as mad as you're thinking and more.
I found it to actually be a rather compelling story and highly entertaining. I can't wait to see where this sequel takes things and fingers crossed I can read through it fairly swiftly (it's not the lightest of reads).
---
2. Read a hyped book
The Upside of Unrequited
by Becky Albertalli
I bought this book super recently; I had a bunch of rewards points on my Dymocks card (Australian bookstore chain) and ended up being only $1 out of pocket to get this book #Win.
Everybody needs Albertalli in their life – she's a fabulous author and Simon vs the Homo Sapiens Agenda was a brilliant read. Whether this is actually a "hyped" book is potentially debatable but I've declared it to be so and thus it is. I can't wait to dive into this one because I'm certain it's going to be great.
---
3. Finish a book in one day
Kitty Hawk and the Curse of the Yukon Gold
by Iain Reading
Look at you all sniggering at me. If you're been here for any length of time you might be familiar with my slow reading pace. I didn't dub my self ozbookSNAIL for nothing. This book, however, is a relatively small-looking piece of literature that I have great faith in myself that I can finish (or at least, almost finish) in one day.
You've also probably never heard of it. I received it for review a little while back and I really need to get a crack on and read it. So a read-a-thon seemed like a perfect opportunity to tick this one off the list.
---
4. Read about a character that is very different from you
The Glass Palace
by Amitav Ghosh
You might be asking: Kirstie, why would you place a heavy historical fiction book on a TBR list for a week-long marathon? The answer is, because I'm crazy.
I've been wanting to read this book forever. I'm fairly sure that I couldn't finish just this book alone in one week, let alone another 4! But nonetheless, I've added it to my TBR in the hopes that I'll get around to starting it and therefore finally tap into this story which I'm sure will be fabulous.
The book is set in Burma during the 19th century (which is the 1800s, you're welcome) and therefore the main character is more than likely going to be very different from me seeing as I can't quite pinpoint exactly where Burma (or presently, Myanmar) is on a map.
---
5. Finish a book completely outside
I shan't be doing this challenge for two reasons:
It's winter in Australia so NOPE.
I think we already know this TBR is beyond my capabilities of finishing.
---
6. Read a book you bought because of the cover
City of a Thousand Dolls
Miriam Forster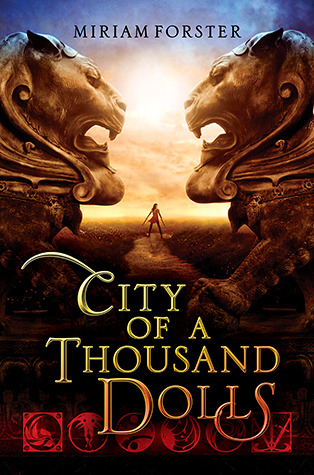 Now, before you throw eggs at me for being a fool and having yet another book on this TBR, hear me out. The Alphabethon starts on the back of this read-a-thon, and, for reasons you will uncover with a future blog post (or if you watch my video) this book is doubling up as the first book on my TBR for that read-a-thon.
See? I do plan these things. This was a great choice for this reading challenge though because I actually couldn't tell you what the book is about. Hopefully it's not actually about dolls because that'd be terrifying. I literally bought this because of the cover. #Oops.
---
7. Read seven books
Annnnd that's never going to happen. MOVING ON.
---
So there we have it!
My completely read-iculous (*crying laughter face*) TBR for the up-coming booktube-a-thon. I have exactly 0% faith that I will make any decent headway through this set up but hey! In my opinion, half the fun of these read-a-thons is just making a stupid TBR and imaging how godly you would be if you could actually finish it.
Are you participating in this read-a-thon? If so, let me know what your TBR is! If we're reading any of the same books then give me a shout because buddy reading is always great motivation!
---
~~ Kirstie ~~
SaveSaveSaveSaveSaveSaveSaveSave