How exciting! The first Top Ten Tuesday of the new year. Of course, there wouldn't really be any other way to start this but to look at some of the debuts coming out this year. I hope you had a lovely new year and Christmas, et cetera, and are perhaps enjoying a final few days of rest before trundling back off to work!
This week's theme is:
Top Ten 2017 Debuts I'm Excited For
Now, there are about 92856721 releases each year and maybe more, so it's very hard to know what is coming out when I haven't had the time to sit on Goodreads for 10 years and scroll through everything . . . yet. I love getting to the end of the year and going – damn, how did I miss that book this year? So here are a few that I am aware of and shall point out.
Top Ten Tuesday is a weekly meme hosted over @ The Broke and the Bookish and each week there's a different theme that we get to make a list about featuring ten related books. It's so much fun and the topics are always great! It's also a fabulous way to learn more about people's reading adventures and I recommend heading over to the official page to do some exploring through the link up.
---
#1
Caraval
by Stephanie Garber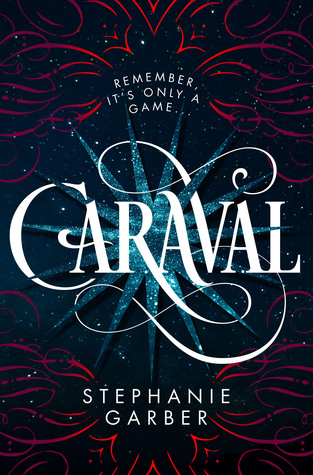 Young Adult, Fantasy
RELEASE DATE: 31st January 2017
Whatever you've heard about Caraval, it doesn't compare to the reality. It's more than just a game or a performance. It's the closest you'll ever find to magic in this world . . .

Welcome, welcome to Caraval—Stephanie Garber's sweeping tale of two sisters who escape their ruthless father when they enter the dangerous intrigue of a legendary game.

Scarlett has never left the tiny island where she and her beloved sister, Tella, live with their powerful, and cruel, father. Now Scarlett's father has arranged a marriage for her, and Scarlett thinks her dreams of seeing Caraval, the far-away, once-a-year performance where the audience participates in the show, are over.

But this year, Scarlett's long-dreamt of invitation finally arrives. With the help of a mysterious sailor, Tella whisks Scarlett away to the show. Only, as soon as they arrive, Tella is kidnapped by Caraval's mastermind organizer, Legend. It turns out that this season's Caraval revolves around Tella, and whoever finds her first is the winner.

Scarlett has been told that everything that happens during Caraval is only an elaborate performance. But she nevertheless becomes enmeshed in a game of love, heartbreak, and magic with the other players in the game. And whether Caraval is real or not, she must find Tella before the five nights of the game are over, a dangerous domino effect of consequences is set off, and her sister disappears forever.
I've seen quite a few advanced reviews for this one and I think the general consensus is that it's quite good. I also really like the character's name Tella (because I like another character called Tella) and I like the cover – all very valid reasons for picking this book.
---
#2
Wintersong
by S. Jae-Jones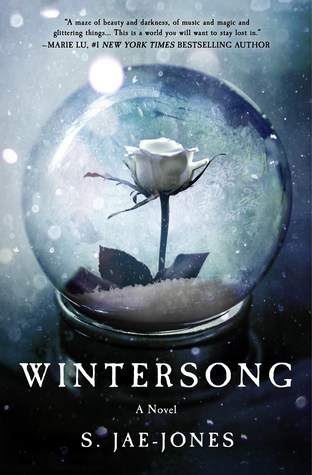 Young Adult, Fantasy, Retelling 
RELEASE DATE: 7th February 2017
Beware the goblin men and the wares they sell.

All her life, nineteen-year-old Liesl has heard tales of the beautiful, mysterious Goblin King. He is the Lord of Mischief, the Ruler Underground, and the muse around which her music is composed. Yet, as Liesl helps shoulder the burden of running her family's inn, her dreams of composition and childish fancies about the Goblin King must be set aside in favor of more practical concerns.

But when her sister Käthe is taken by the goblins, Liesl journeys to their realm to rescue her sister and return her to the world above. The Goblin King agrees to let Käthe go—for a price. The life of a maiden must be given to the land, in accordance with the old laws. A life for a life, he says. Without sacrifice, nothing good can grow. Without death, there can be no rebirth. In exchange for her sister's freedom, Liesl offers her hand in marriage to the Goblin King. He accepts.

Down in the Underground, Liesl discovers that the Goblin King still inspires her—musically, physically, emotionally. Yet even as her talent blossoms, Liesl's life is slowly fading away, the price she paid for becoming the Goblin King's bride. As the two of them grow closer, they must learn just what it is they are each willing to sacrifice: her life, her music, or the end of the world.
I think 2017 is to be the year of beautiful book covers, for this one is gorgeous. I have to say I'm really intrigued about this one because it's talked about goblins. I don't know about you but aside from Lord of the Rings I don't remember the last time these mythical creatures came up in a book. This is also supposed to be a retelling but I can't work out for the life of me which – Beauty and the Beast? Hades and Persephone? Phantom of the Opera? It honestly could be any of those.
---
#3
Blood Rose Rebellion
by Rosalyn Eves
Young Adult, Fantasy
RELEASE DATE: 28th March 2017
Sixteen-year-old Anna Arden is barred from society by a defect of blood. Though her family is part of the Luminate, powerful users of magic, she is Barren, unable to perform the simplest spells. Anna would do anything to belong. But her fate takes another course when, after inadvertently breaking her sister's debutante spell—an important chance for a highborn young woman to show her prowess with magic—Anna finds herself exiled to her family's once powerful but now crumbling native Hungary.

Her life might well be over.

In Hungary, Anna discovers that nothing is quite as it seems. Not the people around her, from her aloof cousin Noémi to the fierce and handsome Romani Gábor. Not the society she's known all her life, for discontent with the Luminate is sweeping the land. And not her lack of magic. Isolated from the only world she cares about, Anna still can't seem to stop herself from breaking spells.

As rebellion spreads across the region, Anna's unique ability becomes the catalyst everyone is seeking. In the company of nobles, revolutionaries, and Romanies, Anna must choose: deny her unique power and cling to the life she's always wanted, or embrace her ability and change that world forever.
If that cover didn't catch you eye then perhaps you're blind. I like the dystopian vibes from this blurb – barred from society because of your blood? Ooh, yes please. Plus there's magic too (and you can't really go wrong with magic). Just everything about this blurb is a yes from me.
---
#4
Frostblood
by Elly Blake
Young Adult, High Fantasy
RELEASE DATE: 10th January 2017
Seventeen-year-old Ruby is a fireblood who must hide her powers of heat and flame from the cruel frostblood ruling class that wants to destroy all that are left of her kind. So when her mother is killed for protecting her and rebel frostbloods demand her help to kill their rampaging king, she agrees. But Ruby's powers are unpredictable, and she's not sure she's willing to let the rebels and an infuriating (yet irresistible) young man called Arcus use her as their weapon.

All she wants is revenge, but before they can take action, Ruby is captured and forced to take part in the king's tournaments that pit fireblood prisoners against frostblood champions. Now she has only one chance to destroy the maniacal ruler who has taken everything from her and from the icy young man she has come to love.

Fast-paced and compelling, Frostblood is the first in a page-turning new young adult three-book series about a world where flame and ice are mortal enemies—but together create a power that could change everything.
The beautiful cover theme continues. Also the theme of rebellions, apparently. I haven't seen too much of this book around the blogosphere so I'd be going into this one relatively blind. I'm digging the terminology being thrown around though, "fireblood" and "frostblood" and I can just imagine the wonders that are waiting in these pages!
---
#5
Poison's Kiss
by Breena Sheilds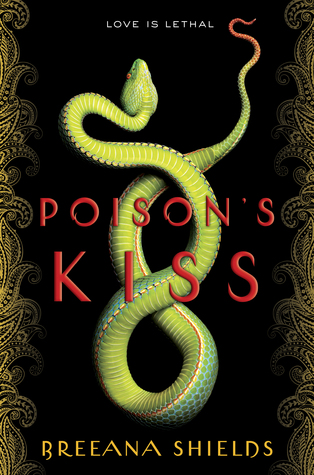 Young Adult, Epic Fantasy, Mythology [Indian]
RELEASE DATE: 10th January 2017
Marinda has kissed dozens of boys. They all die afterward. It s a miserable life, but being a visha kanya a poison maiden is what she was created to do. Marinda serves the Raja by dispatching his enemies with only her lips as a weapon.

Until now, the men she was ordered to kiss have been strangers, enemies of the kingdom. Then she receives orders to kiss Deven, a boy she knows too well to be convinced he needs to die. She begins to question who she s really working for. And that is a thread that, once pulled, will unravel more than she can afford to lose.

This rich, surprising, and accessible debut is based in Indian folklore and delivers a story that will keep readers on the edge of their seats.
This is definitely an anticipated book for me this year! I think I'll be making a little trip to the bookstore when it comes out. I adore this cover to new levels but it's the whole assassin thing + kiss of death that has me sold. There's nothing better than the good old being ordered to kill someone you love – nor something set in Indian mythology.
---
#6
Gilded Cage
by Vic James
Young Adult, High Fantasy
RELEASE DATE: 14th February 2016
Not all are free. Not all are equal. Not all will be saved.

Our world belongs to the Equals — aristocrats with magical gifts — and all commoners must serve them for ten years. But behind the gates of England's grandest estate lies a power that could break the world.

A girl thirsts for love and knowledge.

Abi is a servant to England's most powerful family, but her spirit is free. So when she falls for one of the noble-born sons, Abi faces a terrible choice. Uncovering the family's secrets might win her liberty, but will her heart pay the price?

A boy dreams of revolution.

Abi's brother, Luke, is enslaved in a brutal factory town. Far from his family and cruelly oppressed, he makes friends whose ideals could cost him everything. Now Luke has discovered there may be a power even greater than magic: revolution.

And an aristocrat will remake the world with his dark gifts.

He is a shadow in the glittering world of the Equals, with mysterious powers no one else understands. But will he liberate—or destroy?
The cover game truly is strong. Sidling away from rebellions and towards its cousin, revolution, we're ready to tackle the world in this book. But seriously: a magic revolution. Yes. Please.
---
#7
Shimmer and Burn
by Mary Taranta
Young Adult, High Fantasy
RELEASE DATE: 8th August 2017
To save her sister's life, Faris must smuggle magic into a plague-ridden neighboring kingdom in this exciting and dangerous start to a brand-new fantasy duology.

Faris grew up fighting to survive in the slums of Brindaigel while caring for her sister, Cadence. But when Cadence is caught trying to flee the kingdom and is sold into slavery, Faris reluctantly agrees to a lucrative scheme to buy her back, inadvertently binding herself to the power-hungry Princess Bryn, who wants to steal her father's throne.

Now Faris must smuggle stolen magic into neighboring Avinea to incite its prince to alliance—magic that addicts in the war-torn country can sense in her blood and can steal with a touch. She and Bryn turn to a handsome traveling magician, North, who offers protection from Avinea's many dangers, but he cannot save Faris from Bryn's cruelty as she leverages Cadence's freedom to force Faris to do anything—or kill anyone—she asks. Yet Faris is as fierce as Bryn, and even as she finds herself falling for North, she develops schemes of her own.

With the fate of kingdoms at stake, Faris, Bryn, and North maneuver through a dangerous game of magical and political machinations, where lives can be destroyed—or saved—with only a touch.
*explodes* Do I need to even mention the beauty that is this cover? Truth be told, I was really sold on this book simply because there is mention of magic being smuggled, multiple kingdoms, and one being plagued. If that isn't drama to die for then I don't know what is.
---
#8
 Shadow Run
by AdriAnne Strickland & Michael Miller
Young Adult, Sci-FI
RELEASE DATE: 21st March 2017
Nev has just joined the crew of the starship Kaitan Heritage as the cargo loader. His captain, Qole, is the youngest-ever person to command her own ship, but she brooks no argument from her crew of orphans, fugitives, and con men. Nev can't resist her, even if her ship is an antique.

As for Nev, he's a prince, in hiding on the ship. He believes Qole holds the key to changing galactic civilization, and when her cooperation proves difficult to obtain, Nev resolves to get her to his home planet by any means necessary.

But before they know it, a rival royal family is after Qole too, and they're more interested in stealing her abilities than in keeping her alive.

Nev's mission to manipulate Qole becomes one to save her, and to survive, she'll have to trust her would-be kidnapper. He may be royalty, but Qole is discovering a deep reservoir of power—and stars have mercy on whoever tries to hurt her ship or her crew.
I'm not 100% sure what to think of this book actually, but I'm really keen. I love the space-y vibes of this books and the terminology like "galactic civilisation" – because if you throw that into a blurb then I'll probably buy the book. It does sound like there'll be a good deal of drama however and the forbidden love story line is shining bright.
---
#9
City of Saints and Thieves
by Natalie C. Anderson
Young Adult, Thriller
RELEASE DATE: 24th January 2017
In the shadows of Sangui City, there lives a girl who doesn't exist. After fleeing the Congo as refugees, Tina and her mother arrived in Kenya looking for the chance to build a new life and home. Her mother quickly found work as a maid for a prominent family, headed by Roland Greyhill, one of the city's most respected business leaders. But Tina soon learns that the Greyhill fortune was made from a life of corruption and crime. So when her mother is found shot to death in Mr. Greyhill's personal study, she knows exactly who's behind it.

With revenge always on her mind, Tina spends the next four years surviving on the streets alone, working as a master thief for the Goondas, Sangui City's local gang. It's a job for the Goondas that finally brings Tina back to the Greyhill estate, giving her the chance for vengeance she's been waiting for. But as soon as she steps inside the lavish home, she's overtaken by the pain of old wounds and the pull of past friendships, setting into motion a dangerous cascade of events that could, at any moment, cost Tina her life. But finally uncovering the incredible truth about who killed her mother—and why—keeps her holding on in this fast-paced nail-biting thriller.
I'm so keen for this book. Unfortunately, I'm less keen on the cover. It's very busy and I just think it could be more striking than what it is. The diverse setting and characters has me particularly interested but I mean, "a girl who doesn't exist" – COUNT ME IN.
---
#10
The Wood
by Chelsea Bobulski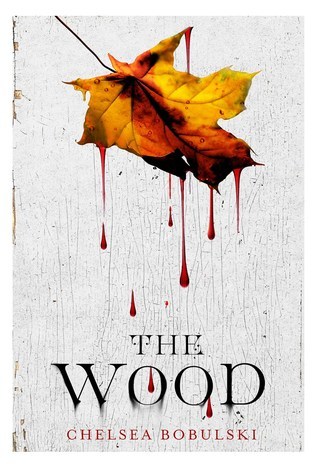 Young Adult, Sci-Fi
RELEASE DATE: 1st August 2017
After her father goes missing in the woods that they protect, Winter tries to seek the truth in what happened, why the wood is changing, and what it all has to do with the arrival of a mysterious stranger in this thrilling YA debut.

When Winter's dad goes missing during his nightly patrol of the wood, it falls to her to patrol the time portals and protect the travelers who slip through them. Winter can't help but think there's more to her dad's disappearance than she's being told.

She soon finds a young man traveling in the wood named Henry who knows more than he should. He believes if they can work together to find his missing parents, they could discover the truth about Winter's dad.

The wood is poisoned, changing into something sinister—torturing travelers lost it. Winter must put her trust in Henry in order to find the truth and those they've lost.

Bobulski's eerie debut is filled with friendship, family, and the responsibilities we choose and those we do not.
At this point in the selection I was trying to keep it to ten and find another interesting book. I stumbled across this and I'd not heard of it before. Lo! A pretty cover. But also it sounds intriguing – I do think there's potential for it to all be a bit cliché but I'm hoping it's amazing. I thought this was a Robin Hood retelling to start with but I don't think so – there's a mysterious disappearance, time portals, magic and much drama. I'm in.
---
What debut are you looking forward too?
There are so many amazing books coming out this year and I just cannot wait to get around to them. I can't believe how beautiful all these books looks and I can't wait to find even more debuts and other new releases that I've yet to find and get all excited over them!
 Share your thoughts below!
---
~~ Kirstie ~~