So May was my birthday month and I turned 20 this year! That meant that most of my books this month came from gifts people bought me as I try not to buy books in my birthday month or at Christmas – I'm very lucky as people like to buy me books as presents.
This birthday I had an epic day and thoroughly enjoyed myself. I was completely spoilt by my family so I thought I'd share everything that I received with you! Believe it or not, there might be a few more books on the way but you'll probably see them in my next haul.
And now: onto the books!
---
Once I Was Twenty Years Old
So here's a little peek at all the books I received specifically for my birthday. They're all beautiful and super exciting!
The Glass Palace by Amitav Ghosh
I'm really quite excited about this book for two reasons: firstly I've been dying to pick up one of Ghosh's books because I've heard so many amazing things about them. And secondly, this book is set in Burma and I've always wanted to read a book set there. I can't wait!
Madame Tussaud's Apprentice
I've been interested in this one namely because of its title but also how beautiful its cover is. I'm super hoping that I thoroughly enjoy this one. I think it sounds really unique and could definitely make for quite an awesome read.
Maisie Dobbs by Jacqueline Winspear
I was recommended this book a while back because I enjoyed reading Agatha Christie. This series follows the character Maisie Dobbs who sets up as her own private investigator and goes on many an adventure. I'm really excited to read this and get stuck into the series!
And Then There Were None by Agatha Christie
Speaking of Agatha Christie, voila! I read my very first Christie mystery last year and fell in love with it. Since then I've decided I'm going to read ALL of her books in this beautiful 75th anniversary edition. These are such fun little books!
The Snow Globe by Jenna Nelson
I absolutely love the cover of this book, I mean, just look at it. I'm really excited to have this one as this is definitely a lesser known book. It's set in the late 19th century and follows a character who works in a curio shop. Don't know what a curio shop is? Around this time people set up cabinets of curiosities and curio shops – these are essentially what became museums and cool shops that sold quirky things that you might find in a museum. This book sounds really fantastic and, if I've interpreted the blurb correctly, the main character actually gets stuck within the snow globe.
Hickory Dickory Dock by Agatha Christie
Of course, the only thing more exciting than one Agatha Christie book, is two!! I love, love, love the title of this one and, again, I just cannot wait to pick it up and enjoy it.
Orphan Train by Christina Baker Kline
I've seen this book floating around the blogosphere a bit and was very intrigued by it. I eventually put it solidly on my radar after seeing quite a few excellent reviews of it. It has an amazing average rating on Goodreads and certainly sounds like it's going to be an intriguing read.
Cartwheeling in Thunderstorms by Katherine Rundell
I can't deny that I'm über ecstatic about this one. I read The Wolf Wilder by Rundell last year and absolutely loved it, she really has a way with writing. Since then, I've had my eye on a couple of her other books so I can't even express how excited I was that my family decided to pick this one for me. This is actually the first of these books that I'm reading and I shall be shortly burying myself into its story.
Great Expectations by Charles Dickens
I adore these editions of the classics and I'm so excited to have this one. I recently finished watching the TV series Dickensian with my Dad so I can't wait to now dive into Great Expectations and read the story!
---
So as you can see I received many a wonderful book and I'm so excited to read them. As a side note, if you're interested, the way I organise books as gifts in my reading schedule is that my TBR goes on hold and I read all the books given to me before I resume reading my other books.
And these are the other books that came in May:
---
PRE-ORDERS
The Neverland Wars by Audrey Greathouse
I don't think it's hard to see why I wanted this one. IT'S A PETER PAN RETELLING. When I first discovered this book earlier this year I nearly died of excitement. The cover is beyond pretty and I can't wait to get on to reading it, whenever that will be now!
Ruined by Amy Tintera
I just had to pre-order this one. This was a sneaky purchase for me, really. I hadn't planned on ordering any more new releases (as I do all of that in December/January for the coming year) but when I stumbled upon this one I fell in love with its cover (both this one, and the hardback edition) and loved the sound of it. It just sounds ridiculous badass in the way that only fantasy can be.
A Court of Mist and Fury by Sarah J. Maas
Not surprisingly, I also had this one on order. I seriously can't wait to revisit this story, however, I'm waiting until uni is over because otherwise there'll just be no way that I can put it down and I won't get any study done. I'm REALLY excited about this one.
The Wrath and the Dawn by Renée Ahdieh
I have been relatively obsessed with this duology and omg it lived up to expectations. I have already read this one now so keep an eye out for my review – I'll hopefully be getting around to it soon!
---
E-BOOKS
Red Palace by Sarah Dalton
I read the first book in this series just recently and was really surprised and impressed by it – so much so that I bought the second book. I can't wait to continue the series and see where things go, the first book sure ended on a huge cliff-hanger!
Dorothy Must Die by Danielle Page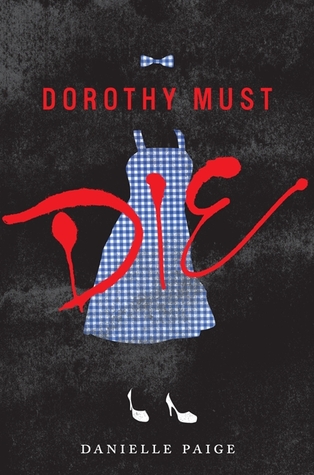 I got this one because it was the book of the week (therefore free) on iBooks and it's definitely a series I'm interested in starting. I'm keen to get into it but I don't know if I'll start it any time soon. I'd quite like to get the physical copy of this book but for now I have the option of the e-book if I fancy it.
Dragonlands: The Complete Trilogy by Megg Jenson
Very kindly, Amanda @ Cover2CoverMom let me know that this complete trilogy was specifically going for free on Amazon/iBooks at the moment and I very quickly grabbed a copy. If you don't know me, I LOVE dragons. So I was super excited about that. But not only the dragon thing, I'm a big fan of Megg Jenson because she also wrote a series called The Cloud Prophet Trilogy of which I've read the first book and thoroughly enjoyed it. I can't wait to have a crack at these.
---
 FOR REVIEW
Forever Doon by Carey Corp
I've received this one for review from NetGalley but I didn't realise that this was actually the fourth book in the series. I'm not quite sure what I'm going to do about that because that's a lot of catching up to do.
The Lost Soul by K. S. Marsden
I'm not entirely sure what this was is actually about, but it's fantasy and sounds historical-ish. And it has a unicorn on the cover, so, you know.
Angel in Training by C. L. Coffey
I've always been a bit of a sucker for books involving angels. I'm hoping that this one will be entertaining and interesting.
Wager's Price by G. P. Ching
I was mostly sold with this book at the mention of dark magic and adventure. The cover feels like it's going to be a really fun read.
---
But now: the rest of the birthday haul:
Bookish Pins
I received these really cute bookish pins which I LOVE. I think they're super adorable and I will hang them up with my other bookish pins that I have.
A Bookish Jigsaw Puzzle
I'm super excited to start this jigsaw. My family is an avid jigsaw playing family and this one is super funny. You can't really see in the picture but all the titles of the books have been changed into something funny. For example: Lord of the Flies has become Lord of the Pies.
A Bookish Jungle
These are absolutely adorable. They're not bookmarks, they're just meant for decoration and I think they're great. I've got them all put up in my John Green books on display and they look super cool. They're such a great bit of fun.
Apple Lights
Now these are seriously cool. I have two of them and they're just little plastic apples that light up. I'm not sure where I'm going to keep them, at the moment they're on my main bookshelf and I quite like them there. They look seriously cool at night with these two little balls of green light illuminating parts of my bookshelf.
Novelty Socks
Something you might not know about me is that I love novelty socks. So my family managed to find these adorable home socks that I can gallop around in. They're the ones with the little sucker things on the bottom so that you don't slip on tiles.
Potterhead Earrings

We found these at a little craft fair and obviously I had to get them. I love these so much and they're just the perfect thing for any Potterhead.
Adult Dot-to-Dot Book

So whilst the rest of the world has been obsessed with colouring-in books I've been avidly doing dot-to-do. This one is full of different flower designs and I can't wait to get started with it. Speaking of colouring books, one of my friends has pre-ordered my the Throne of Glass colouring book – I'M EXCITED.
Elephant Bookends
So I really love these. They're currently holding up my Barnes & Noble leather-bound editions of the classics and looking rather fabulous. They're handmade from Tanzania, Africa from soapstone and I LOVE them.
A BABY DINOSAUR
I've always joked around that I want a baby dinosaur so my parents thought it would be hilarious to get me this adorable plush dinosaur. I love it. I really do.
The Best Journal Ever
So this is something pretty special. You might have seen these in your gallivanting through the internet – they're special journal where you write between the lines of your favourite novel. I've got a Peter Pan edition and it looks magnificent. I'm planning on taking this to England to use as my journal when I go travelling in a month's time! Just take a look at the inside:

The Greatest Movie

Of course, my Dad and I are quite addicted to watching good movies so I received The Help this year! I'm really excited to watch this movie again as I thought it was powerful and hilarious all at once.
A Paradise of Sticky Notes
It's a well known fact that 86.8% of bookworms love sticky notes (well, a fact as of now). I've got a bunch of different sticky notes to use now and I can't wait – I love putting sticky notes in books to refer back to when writing reviews. It's handy dandy and quite a lot of fun.
New Funko Pops!

Come now, you didn't really think we'd get through all of this and not see some funko pops, did you? I love these adorable little things and I got some magnificent ones for my birthday. Most importantly, I NOW HAVE DAVID TENNANT'S DOCTOR. Which is a very exciting thing, indeed. Look at his little converse shoes.
I can't get over how ridiculously adorable Dumbledore looks. I'm super excited to have this one. He's just so cute.
Excuse me whilst I FLAIL. I love Cogsworth and I've desperately wanted to have this pop – I mean, just look at him. As soon as I can I will keep him company with the pop of Lumiere.
The Best Jewellery
At a fair that we attended we found a magnificent little stall called Coin Carnival. The stuff there was amazing. I got this matching set of earrings and a ring. What are they? They're coins made into jewellery. Thomas is the owner of the store and he hand makes all these items – they're stunning and completely unique. Being a bit of a history buff I just adore these. He's makes things from all different sorts of coins. The earrings are Palestinian 5 Mils from 1927.
I love this ring to pieces. This is a French Moroccan 10 Franks from, wait for it, 1366. THAT'S RIGHT. If that's not completely awesome then I don't know what is. The way he makes these is he takes the coin, drills a hole in the middle, and then whilst applying heat bends the ring into shape and size whilst keeping the design on. It's seriously cool.
A Fun Book
This book is hilarious. It shows many different animals but the cards are split into three. The idea is that you can mix and match the images and not only the picture changes, the name and the description of the animal. I've had far too much fun with this. Observe:
PLATYPUS: Once described as  looking like hot-water bottles, these animals have huge appetites and eat half their own weight every night. They are extremely shy and almost impossible to keep in captivity.
And then:
PLY-TOSH: Once described as looking like hot-water bottles, these animals hover over fragrant flowers daintily sipping nectar. Like winged gems, they seem to be quite rigid except for small movements at the end of the backbone.
As you can imagine, I'm having great fun chortling over this one.
Fairy Lights
Alas we come to the end. The final thing I received (aside from a yoga mat, which I haven't picture because that's far too much effort) was some fairy lights. The new ones are to the right of the picture. And voila, my bookshelf now looks mighty fine.
---
And thus we reach the end of a magnificently long haul of things. I dare say you've earned a cup of tea and a biscuit for reading all of that. Whew. Now, I must go play with all my presents – adieu!
What's your favourite Funko Pop?
Let me know in the comments below!
---
~~ Kirstie ~~