5/5 STARS
Genre: Young Adult, Fantasy
Author: Holly Black
Published: January 2018
Publisher: Hot Key Books
Pages: 326 {paperback}
Big thanks to Allen & Unwin for sending me a copy of this in exchange for an honest review
---
Initial Thoughts upon Finishing
Just when you thought things couldn't get more exciting than book one – THEY DO. This was amazing and I'm both delighted and furious at the NEW cliff-hanger at the end of book two. Seriously! What am I supposed to do for a year?! Holly Black is a cruel author . . . and completely brilliant. This is just as fabulous as the first and you absolutely MUST read this series if you haven't started it already!
---
The Wicked King
So, this is the sequel that follows The Cruel Prince and it is 100% worth the read. If you haven't read book one, however, then it's time to stop reading this review or be spoiled.
The sequel picks up soon after the events of book one with Jude secretly manipulating Cardan as the High King. She's having a tough time of working out how to play this game and it is all STRESS as she tries different tactics and basically is just wading through shit a lot of the time. Here's a depiction of how Jude feels on the inside:
We still have all our interesting characters to stir the pot and it was great watching certain characters, such as Locke, blossom into the full assholes you know they're going to be. But now, let's talk about what went down. If you haven't read this book, then stop reading now.
---
A Discussion of Everything I Loved
I'm going to start at the end and express just how much I LOVED the ending of this book! I slammed down the book and gasped in annoyance when all is revealed that Cardan was just playing Jude's emotions the whole time. And now? Now she's Queen of Faerie but banished to the mortal world. CHAOS.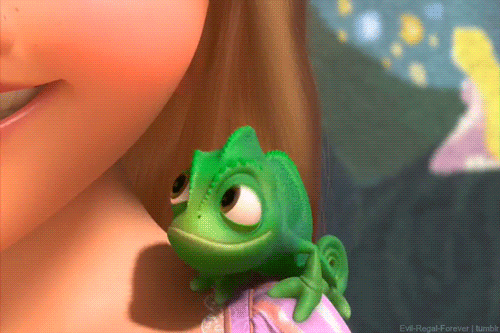 Except I don't believe that for a second. Cardan is a wonderfully grey character and until the series finishes, I'm not entirely sure we'll actually discover which side he's on. But I'm trusting my gut instinct that he does care for Jude and that he has some excellent tactical reason for 'banishing' her. I just cannot think what.
I also really enjoyed the look into the undersea world with their evil queen and the terrifying conditions in which they kept Jude. Okay, that sounds wrong – I didn't enjoy watching her suffer, I enjoyed the inventive and cruel tactics Holly Black thought up of how an underwater kingdom might keep its human prisoners. Especially with the glamouring (also lol to them that Jude can't be glamoured, that made me so happy).
I was a big fan of Balekin's blunt death, as well. The fact that he goes to surrender to Jude and she just flat out slits his throat. This bitch ain't got time for nobody. The whole book is a bloody mess and it's glorious. I cannot wait to see where political relations go from here. Particularly with the undersea and the way that Cardan just sassed them into submission. That was wonderful.
---
Summary
I'm so excited for book three. You have no idea. This series just gets more and more exciting with each instalment and its packed to the BRIM full of delicious characters you can't get enough of. Holly Black is a master writer and I am completely in love with this world of hers.
---
Grab a Copy!
I am an affiliate with these companies. By using these links to purchase books you are supporting Upside-Down Books!
Get free worldwide shipping and great prices with The Book Depository and Wordery!
Support an Australian company with Angus & Robertson and get free shipping on orders over $60!
Support an Australian company with Booktopia and enjoy flat rate shipping for AUS/NZ!
---
 You might also like . . .
---
Have you read The Wicked King?
Share your thoughts below!
---

~~ Kirstie ~~