4/5 STARS
Genre: Young Adult, Fantasy, Retelling [Phantom of the Opera]
Author: A. G. Howard
Published: January 2017
Publisher: Harry N. Abrams
Pages: 432 {hardback}
---
Initial Thoughts Upon Finishing
Once again Howard has delivered! Whilst it took me a little bit of time to really get into this one, it turned out to be a real page-turner of a book. I loved the retelling of Phantom of the Opera and Howard has put so much thought into its creation and all the different elements she's tying together. Her note at the end made me realise just how much. I love that this is a standalone (although I wish I had more time with Thorn and Rune) and it has me so excited at what is to come from Howard in the future!
---
RoseBlood
I was so excited for this book because I am such a fan of Howard's books – her way of making retellings is my FAVOURITE. RoseBlood was no exception. This is a fantastic spin on the beloved story of the Phantom of the Opera – a musical that I am far too obsessed with. It follows a girl called Rune who, upon hearing opera music (arias) is compelled to sing them – and she does so astonishingly well. This leads her to a school called RoseBlood where her mother hopes she might get some control of this strange affliction.
HOWEVER – being a Phantom retelling and the school having known ties to the legend means it's far more exciting than that. Rune soon discovers a boy called Thorn to whom she finds herself inexplicably drawn. He plays the violin and has the ability to help her with her song. Her initial problems with schoolmates and general teenage concerns soon become unimportant.
But before long we learn that Thorn's ties to the real phantom force him to make a choice – one that could harm Rune or make him a stranger to the only father he's ever known.
It's so good and so well done and the more you read the harder you'll find to put it down. So much is happening here and the mystery of the phantom's motives for getting involved with Thorn drew me further and further into the story.
---
Phantom Retelling
The retelling aspect of this book is on point. I feel like I've read a few retellings lately that are so far from the original story I forget that it's supposed to be a retelling. This book reminds you at every turn that you're not only in a retelling but experiencing a legend come back to life through Rune's eyes, too.
The thing I liked about this retelling is that Rune has read Leroux's book (the author of THE Phantom of the Opera) — so it's like a retelling within a retelling . . . sort of. She knows of the school's ties to the legend and is immediately making connections of mysterious events or shadows to the possibility of the phantom still haunting the building.
So whilst we know the phantom is going to appear and we know that Rune is caught up in a retelling of it, we don't know in what direction the retelling is going to take. It's all a glorious bundle of mysteries. Spiced up with some seriously sad backstories, of course.
The modernisation of the story was done impeccably well. I can't say too much without giving things away but the underlying intentions of the phantom which drive the plot line were astounding when revealed and the way the old is weaved into the new was so great. The club scene was particularly cool.
---
Characters
The temporary nature of living was what made it invaluable.

~ Thorn
Rune was a good main character. Whilst she didn't stand out from the crowd for me her complex problems and issues with trust make her more than a cardboard cutout. I loved that in this story she can't help but sing when she hears those songs — it's just so fitting with the whole phantom thing. I thought Howard did a really good job of making her a modern Christine Daaé.
Thorn, however, is one of my favourites. He touched a soft spot in me; his backstory not only broke my heart but left me wanting a lengthy novella to explore it more. His relationship with the phantom was a constant tug of war trying to find the caring man within a character we know so well to be demented and mostly insane. He's such a sweetheart though; the way he interacts with Rune is beautiful and his tender side makes me want to protect him as though he were a duckling.
SPOILER [highlight to see]: >> I quite liked where the story left them, however, I would have loved to explore their relationship post-phantom way more. Their romance was sizzling in every sense of the word and I really enjoyed the tattoo connection they shared — that was cool.<<
>>More importantly, I love the way Howard found a different way to explore the idea of soulmates. The twin flame thing was awesome and Howard explanation of where she came across it made me like it even more. GAH. These two.<<
The phantom was such an interesting character. I won't say too much so as not to spoil you, though. He's very complex. Very. We get a nice little back story to him too although it takes much longer to come out than for the other characters. His role in this book remains obscure for so much of it and I really enjoyed guessing where and how he was going to come into play. 10/10 for recreating and modernising the phantom.
SPOILER [highlight to see]: >>THE TORMENTED LOVE STORY BETWEEN HIM AND THE REAL CHRISTINE AND THEIR CHILD THAT DIDN'T QUITE LIVE NOR DIE? Ahhhhh. Howard, how do you ruin my soul so successfully with each book you write?!! I've always liked the phantom despite his major drawbacks but seeing the torment he's put himself through over this love was heart-breaking — even if he has hurt hundreds of others being selfish to bring back something he wanted.<<
>>I really enjoyed the flip-flopping between the fatherly figure that Thorn had come to admire and the monster within. That was awesome. I suppose I should say also that PSYCHIC VAMPIRES?! Awesome. Howard is bringing vampires back into fashion with this one.<<
---
Summary
I really enjoyed this. Each of Howard's books is so unique and so well done – it speaks to my imagination. I hope that Howard continues to write an infinite number of retellings, particularly lesser done ones in the YA category such as Phantom because damn, this was good. I don't think I could ever have dreamt up this spin on the story even if I'd tried. So to all you Phans out there: GET READING.
---
Get a Copy . . .
Get free shipping (worldwide!) on your order and a great bargain from The Book Depository:
Support an Australian company and snag a great deal from Angus & Robertson Bookworld!
Use Booktopia's current free shipping deal by using their promotional code [SPRINGTIME] to support an Australian company and get a great deal!
I am an affiliate with this companies. Buy using these links to purchase a book I earn a small commission which helps to support Upside-Down Books!
---
You might also like . . .
covers link to Goodreads
---
Have you read RoseBlood?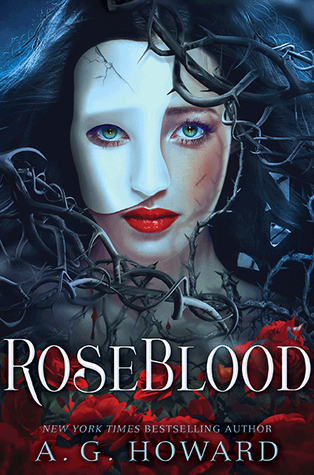 What did you think?
Share your thoughts below!
---

~~ Kirstie ~~