4/5 STARS
Genre: Classic, Graphic Novel
Author: Charlotte Brontë
Illustrator: Amy Corzine
Published: 2003
Publisher: Classic Comics
Pages: 141 {paperback}
Originally posted on Goodreads
---
Initial Thoughts Upon Finishing
Jane Eyre has always been one of my favourite classics – I just love Jane's character and honestly? I find her and Mr Rochester adorable in their dependency on each other for happiness. This was really weird but fun reading it as a graphic novel – I think I will certainly read more classics in this format now!
---
Jane Eyre
If you're not familiar with this classics, Jane Eyre is the story of an orphaned girl who is firstly taken in by a rude aunt, then sent to a boarding school until, when older, she becomes the governess at Mr Rochester's estate looking after a vivacious young girl called Adéle.
It is ultimately a love story – and somewhat long winded – but has always been one of my favourite classics. The first time I read this was for school some six years ago and I was behind the readings, so I furiously read it all over one or two days and thoroughly enjoyed it, pursuing the storyline at that pace.
Jane is a wholly independent and determined character (would you expect anything less from a Brontë?) and I've always really liked her as a leading lady. Granted, the love story between her and Mr Rochester feels uncomfortable from my perspective given their age difference (she's 18 when they meet, him going on 40) – but at the end of the day I'm willing to put that aside given the era and enjoy it for what it's worth.
For whatever reason I've always found the imagery of Jane Eyre to be beautiful and appealing to my mind's eye. This is probably why I enjoy it when so many don't – the waffly scenes of descriptions I like to paint in my mind's eye because the detail is so enjoyable to imagine. At the same time, I also love the added tension of the mysterious figure in the house.
---
Classics As Graphic Novels?
This is the first classic I have read in a graphic novel form. The result? I already have Pride & Prejudice checked out from the library and ready to go. I think it's a really clever way of presenting a classic.
The images are encouraging for a reader who isn't so invested in the story – they're much easier to read and this being a mere 140 pages is certainly more manageable than the actual mammoth size of Jane Eyre.
So yes, overall this format of a graphic novel is GENIUS. So if there's ever a classic I'm intrigued to read but don't want to do the hard work (Crime & Punishment, perhaps?) then I will pick up the graphic novel form instead.
The one thing I would say, is that I enjoyed this take on the classic more so than I enjoyed the film. Which is perhaps food for thought.
---
Illustrations
I really enjoyed the illustrations of this edition. Jane was portrayed so beautifully; her and Mr. Rochester dig at each other all the time about the other being hideous (and I'm honestly not sure if they mean it to any degree), but the pictures of her make her really beautiful. It also worked really well for helping the pace considering how much is sped up or omitted to make that 140 page mark. It was beautiful.
---
Summary
I highly recommend giving this a go in this format. It's such an enjoyable way of presenting a classic and easy to read. It took all the good parts of the novel and presented them in a reader-friendly format that I think worked really, really well. It's a thumbs up from me!
---
You Might Also Like . . .
If you loved Jane's character, Pride & Prejudice is for you
 If you enjoy reading the books of intelligent women from Brontë's era, Frankenstein is for you
If you enjoy classics but could do with something shorter, The Strange Case of Dr Jekyl and Mr Hyde is for you
---
Have You Read Jane Eyre?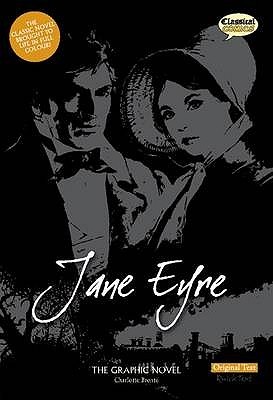 Share Your Thoughts Below!
---
~~ Kirstie ~~