Bookish candles are all the craze at the moment and the bug has certainly bit me. I've been wishing and wishing upon a star that someone in Australia would start such a candle store so that I could buy some – and someone did! Burning Pages Candles is fantabulous and I love it so much – the shipping is really affordable within Australia and the candle prices are fair. The candles even look beautiful! Tristen is the brains behind the genius of this store and she was kind enough to answer some of my questions which I thought you would all like to read as well. You can't deny you're curious about the magic behind candle making.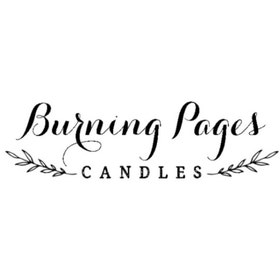 ---
The Questions!
What made you decide to start a bookish candle shop? 
I have always been a massive candle addict and used to make candles as a hobby for myself and for friends. One day when I heard that book themed candles were starting to become a trend I decided I wanted to try my hand at making them as well. I initially made book themed candles for myself and for friends and then based on their feedback I decided to bite the bullet and sell them online on Etsy.
What's your favourite candle that you've made — any particular reason why?
I love all of the candles I have made but there is one in particular that is my absolute favourite which is Nightlock that is inspired by The Hunger Games. It smells of fresh berries but also like candy and makes me want to eat it!
How time consuming is the physical process of making the candles?
The process of making candles itself is not too time consuming, however, as the business grows, I am finding it more and more time consuming as I also work full time on top of running a small business. The most time consuming aspect is brainstorming for scent ideas based on a particular book because I am such a  indecisive person and can never settle on one idea.
Do you do it all by yourself? With a team?
The business is run by myself and my boyfriend however he only does the packing of orders and deliveries to the post office! I do everything else.
What has been the most challenging obstacle that you've come across?
The most difficult aspect I have found with candle making is how temperamental soy wax can be, as it can frost and then not adhere to the jar properly. Even after you have made the perfect candle and shipped it off to a customer the elements of climate changes can cause the candle to melt, frost etc, which is really frustrating. All of this is perfectly normal for soy wax and it is a great way to ensure when you are buying a certified soy wax candle that you are getting the real thing but it is very frustrating nonetheless as I am a perfectionist.
How do you decide which scents to make?
I often struggle with deciding what scents to use. if the book describes the character or place to smell a certain way then can easily just create that scent however for the ones that have no scent cues in the books it can be difficult to create this myself as I create it they way I believe that character or place would smell which is difficult because everyone's taste is different. A lot of the deciding of what scents to use is simple trial and error.
Would you ever consider making a monthly box centred around your candles?
I Would love to be able to to start a monthly subscription or themed box or even start doing more orders for book subscription boxes however as we both still work full time it is just not a possibility at this stage due to time management.
All of your candles are Soy & Vegan, what was the reason behind this decision?
Soy wax burns cleaner than other waxes which is why I went with it. I then decided to make everything we use in making our candles vegan friendly as in this day and age there are a lot of vegans out there who miss out on so much because something is not vegan friendly. So, for the most part, the reason why we are vegan friendly is to accomodate for vegans who would otherwise miss out.
Are there any tips we should know of for maintaining and burning our candles?
The most important tip I could give is to make sure you burn your candle correctly the first time you burn your candle. I have seen so many photos of customers (not just my own) lighting candles for the first time for a photo and then blowing it out immediately after they have taken their photo which creates a tunnelling effect in the wax and they way the candle burns every other time after. For the initial candle burn you need to burn it for at least an hour so that the wax can melt evenly across the surface of the candle. This creates a "burn guide" ensuring the candle burns evenly every time and ensures that you get the most out of your candle.
Do you have any advice for someone thinking of starting their own candle store?
Absolutely! If you are wanting to start your own candle store or know someone that does, come and talk to me. Just send me a message or an email and I am happy to answer any questions and provide my experience in any way to help out. I have had quite a few girls already that I have been helping out that are wanting to start their own business.
e-mail:
burningpagescandles(at)gmail(dot)com
Do you have an news about the shop for the future that you'd like to share?
It is already common knowledge I think, but starting from January next year we will be starting a "candle of the month" whereby our followers can vote for what candle they want and then we will make the most voted candle as our candle of the month. The reason we are doing this is because I have a million ideas for candles that I want to make but it would be impossible to have them all as permanent editions to the store, so we decided that this was the best option.
// VISIT THE STORE //
---
My Experience
I have so far bought five candles from this store and I love them all. My favourite is the sandalwood scented candle: The Darkling, but all are an absolute delight to burn. Personally, I can't recommend this company enough and these are the perfect gifts to give  at Christmas time! Don't forget you can always ask Tristen to specially make a scent. The five candles that I own are:
The Darkling
As I said, this is definitely my favourite – I totally have a thing for sandalwood. It makes me think not only of The Darkling  but (for whatever reason) Khalid (The Wrath and the Dawn), too.
// BUY //
Bag End
This one is lovely and fresh and smells like freshly cut grass (and if you're anything like me, there is no better a smell (except maybe Sandalwood)). This will forever have me thinking of Martin Freeman whenever I burn it.
// BUY //
Sherlock
This is Benedict Cumberbatch in a jar. It also really does smell how you'd imagine his flat would smell – delightfully musky, like smelling books. Om nom nom.
// BUY //
Winter is Coming
I mean, one just has to own a candle that sits there burning away and looking ominous with those words printed across the front. This one smells absolutely divine – especially if you just smell the candle without lighting it. It's really fresh and makes me feel like I'm brooding in a pine forest.
// BUY //
Night Court
This one came in a subscription box that I ordered and that stared everything. This one is very strong and quite sweet and I love it. It's a real treat when it's burning and you can curl up and cry, thinking about how much you want Rhysand to be real.
// BUY //
---
That's a Wrap!
Burning Pages Candles have a fantastic selection of scents and Tristen is always bringing out new ones. So no matter where you are in the world then make sure you check out the store!
Share your thoughts & questions below!
---
~~ Kirstie ~~