4/5 STARS
Genre: Non-Fiction, Memoir, Autobiography
Author: Carrie Hope Fletcher
Published: April 2015
Publisher: Little Brown UK
Pages: 352 {paperback}
Originally posted on Goodreads
---
Initial Thoughts Upon Finishing
This was a great little advice book with many a word of wisdom in it. I always enjoy reading and listening to Carrie's advice because she's really got her head screwed on straight. The only downside was perhaps that I wasn't the right audience for this book, it's definitely aimed at girls in high school going through difficult times. Nonetheless it was still really enjoyable!
---
All I Know Now
This book is essentially the memoirs of Carrie Hope Fletcher intended as advice for younger people about to experience those same things. It's almost like hindsight decided to be kind and write a book. I really enjoyed reading this because I absolutely love Carrie. I love the videos she makes and if I'm being honest quite a number of her videos have made me stop and think. Really stop and think. And even change some of my ways.

I'd been meaning to pick up this book for such a long time because regardless of what was actually in it I wanted to read what she had to say. This is by no means a cop-out YouTuber novel – Carrie really does have some good things to say . . . but perhaps not that much for me, personally (but more on that in a bit).

The book is divided up like a play (very apt) with a "Props" section at the back – which is essentially a list of places and people and whatnot that you can turn to for help for various issues. I think that this is an incredibly clever book for the message is gives and the help that it provides for those who need it. It's definitely worth a read, especially if you are a Hopeful (someone who's a "fan" of Carrie) and like to hear what Carrie has to say.
---
Target Audience?
The main downside to this book for me is that unlike her videos this reads as though she's talking to a much younger audience. Which I found really interesting. I never feel like I'm being talked down to or that I'm too old for her videos, but there were many times throughout reading this that I thought, this just doesn't apply to me at all.

This is probably because I'm 20 and therefore not at school anymore and therefore the advice she can offer through her hindsight is much more applicable to a younger, teenage audience. Which made me a little sad because I wanted to lap it up thinking that every line was gold dust, but I'd also like to like in a castle made of chocolate so you know.

I still think that everyone can read this because it's nice to climb into someone else's head and have a look around sometimes – and there's definitely plenty of things that anyone can apply to their life in it.
---
Why Carrie Is Such a Beautiful Person
Carrie is practically my idol – everything she says and does is inspiring regardless of whether she thinks it or not. She makes life look like so much fun – as though it's this irresistible thing that you can't not get involved with. She's been dubbed as the big sister of the internet and I really think she deserves that title. If you need encouraging words or something to smile at then she's definitely your person.

All of that really shines through in this book and is what makes it enjoyable and useful to me as someone who isn't quite the target audience.
---
Summary
This was a really good book and I can't really fault it. It was a worthwhile read and definitely a fantastic read for someone who likes Carrie and even more so if they're a bit younger than I am. It's like binge watching a bunch of her videos all in one go, and things don't get much better than that.
---
You might also like . . .
If you like handy dandy memoirs but with more humour, Is It Just Me? is for you.
If you love Carrie she has a new book! So On the Other Side is for you.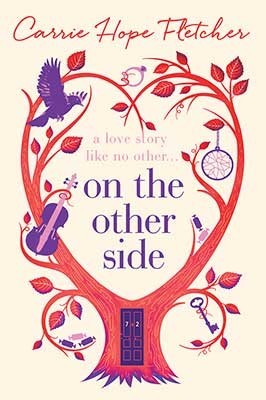 If you like good YouTuber's books, I've heard Binge is quite good, too.
---
Have you read this book?
Share your thoughts below!
---
~~ Kirstie ~~