Happy Tuesday everyone! I hope everyone's week is off to a splendid start. It seems summer has finally arrived in England so I've been enjoying a few days of wearing actual summer clothes – and believe it or not, I've even caught myself whining about the heat!
In some exciting news, I'm going to be meeting Carrie Hope Fletcher this evening at her book signing in London and I cannot even begin to tell you how excited I am for that. If you don't know who Carrie is then DO head over to her YouTube channel, It's Way Past My Bedtime, because she's such an amazing and inspirational person.
This week's theme is:
 Ten Books Set Outside of the USA
Which I think is a bit of an . . . interesting topic? I could list a bajillion books set in Australia or England for starters. Anyway, I'm going to focus on books set in countries that are less common in main stream books altogether. Diverse books if you will (although if you want to read about diverse books then head over to Naz @ Read Diverse Books).
Top Ten Tuesday is a weekly meme hosted over @ The Broke and the Bookish and each week there's a different theme that we get to make a list about featuring ten related books. It's so much fun and the topics are always great! It's also a fabulous way to learn more about people's reading adventures and I recommend heading over to the official page to do some exploring through the link up.
---
#1
The Little Coffee Shop of Kabul
by Deborah Rodriguez
My rating: 5/5 stars
Setting: Afghanistan
This book is amazing. I've bought almost all of Rodriguez's other books since finishing this one because I'm committed to reading them based off this one. It's set in Afghanistan and at a coffee shop run by an American. Basically it takes you through the trials and tribulations of living in such a war torn country – and you'll certainly admire the main character for setting up in such a perilous situation! This is a book that's pretty hard not to love.
---
#2
I Am Malala
by Malala Yousafzai
My rating: 5/5 stars
Setting: Pakistan
Now, I know that strictly speaking a good amount of this is in London but the important parts of the narrative are all in Pakistan. If you don't know who Malala is then you absolutely need to read this book. This is her autobiography that focusses on when she got shot in the head by the Taliban for speaking out about women's rights. Yup. She's an incredible woman and her story really should be read by all.
---
#3
The Shadow of the Wind
by Carlos Ruiz Zafón
My rating: 5/5 stars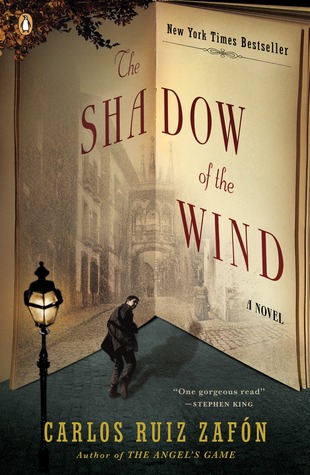 Setting: Barcelona, Spain
This book is good, however, I can't really remember much of it. Don't you just hate that? Amanda @ Cover2CoverMom has many a splendid thing to say about this book so go and read her review here and I'll just kick my feet up whilst she does all the hard work for me. But seriously! From what I do remember, you'll have difficulties putting this down – especially as you get closer to the end because I distinctly remember feeling very OHMYGOODNESSGRACIOUSME-like whilst reading this.
---
#4
The Water Diviner
by Andrew Anastasios & Meaghan Wilson-Anastasios
My rating: 4/5 stars
Setting: Turkey
This book is an interesting one. If you've been hovering around my blog for a while you might've noticed me mention this a few times. It's set in Turkey for the most part but the main character is an Australian looking for his three sons who are all MIA from WWI. It's a beautiful look into a foreign, war-torn world from a stranger's eyes. But whilst the book is good, I can't recommend the movie enough.
---
#5
 People of the Books
by Geraldine Brooks
My rating: 4/5 stars
Setting: Bosnia, Venice, Vienna, Barcelona, Seville
I have a strange obsession with Geraldine Brooks – strange in that I have decided I am a huge fan of her but I've only read one of her books, this one. If you're ever looking for a book that's a little something different, give this ago. We explore several different stories that tell us how certain items found their way into a book than an Australian expert is analysing to discover its history – of course she's not privy to the actual stories and can only guess at what occurred.
---
#6
The Railway Man
by Eric Lomax
My rating: 5/5 stars
Setting: England, Japan, Singapore, Burma, Various Prison Camps
You will eventually just give in and read this book if I continue to shove it in your faces. This is a slightly unconventional choice here – the character is British and parts of it are set in England, but I think this is an important story of the Thai-Burma railway line that Prisoners of War were forced to build in WWII. This is an autobiography that you won't forget, ever.
---
#7
The Wolf Wilder
by Katherine Rundell
My rating: 4/5 stars
Setting: Russia
Oh look at that, we're discussing Rundell again. Who'd've thought? The Wolf Wilder is, in my opinion, a very magical and wonderful book that I will force feed you all until you've at least tried it. It's written to read like a Russian fairytale and oh my giddy fudgesticles, it does that and then some. I love the brilliance of the characters in this and this is by far one of the most enjoyable middle-grade fictions I've read from a non-middlegrader's perspective. And wolves play a large part of the story so really I shouldn't need to tell you more than that.
---
#8
Frankenstein
by Mary Shelley
My rating: 4/5 stars
Setting: Switzerland
I think I may have caught a few of you out there (or maybe no-one, but let's just go with it). Frankenstein is set in Switzerland and is probably the only book I've ever read that's set there. I don't think this really gives you an insight into a different culture or place to be honest, but it's a darn good read and I think you should all have a go at it.
---
#9
The Martian
by Andy Weir
My rating: 5/5 stars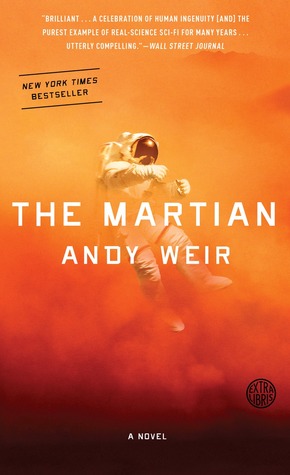 Setting: Mars
Okay, I'm sorry, this was just like a bad joke. But Mars is definitely is not the US. This book is so funny it's ridiculous (although I've astonishingly seen some negative reviews for it). I'm not a science person AT ALL but I loved this book so much I couldn't put it down when I read it. And if you're wondering, the movie is nothing compared to the book – this is the sort of book that just doesn't translate to the screen very well at all.
---
#10
Cartwheeling in Thunderstorms
by Katherine Rundell
My rating: 4/5 stars
Setting: Africa, England
Is it just me, or do I keep mentioning Rundell at least twice in almost every post? Ah well! This book is madness captured in pages and I loved it. To be fair, a good lot of this takes place in England but I think it's a wonderful way of capturing the weirdness of transplanting yourself into a foreign culture. Will is a pretty extreme example here because of how wild she is but the story is beautiful. You really need to just read this one to understand what's so good about it.
---
 And SHNAP. Another Tuesday done.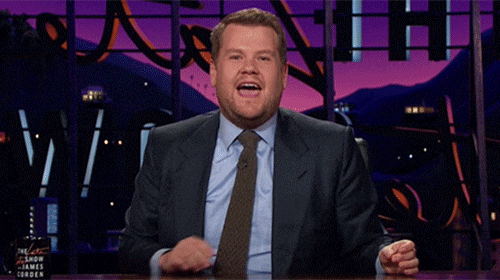 What's you favourite non-American novel?
---
~~ Kirstie ~~