It's time for another book tag! Isn't that exciting? Yes it is. Actually, something else that is also very exciting is that I started reading The Mortal Instruments yesterday! Who's proud?! Talk about being late to the party . . .
Thank you so much to Beth @ Reading Every Night who tagged me to do this tag. I feel like this is very realistic thing to consider because if ever I found myself stranded on an island then I would be very upset if I were stuck there without books. I mean, food is great and all but I'm not sure I could survive without books.
---
Water: A book you can simply cannot live without
Harry Potter and the Prisoner of Azkaban by J. K. Rowling
You might be asking, but why this one in particular, Kirstie? Ah, well I'm glad you did. Actually it's not really a very interesting story, this just happens to be my favourite book in the series because it's FABULOUS. A fun fact for you is that this is one of the few books that I've reread in my life. I'm such a terrible rereader. But if I was stuck on an island then I would definitely need this book to keep me sane. I also really like the cover of this one.
---
Food: A book that is a close second on your favourites list
Ensnared by A. G. Howard
BECAUSE THE FEEEEEELS. I distinctly remember finishing this book at about 2am in the morning after bawling my eyes out and then collapsing in a heap of unfflksadjf. Oh wow, did I love this book. What a stella ending to a series, I tell you. By the way, I thought you might like to know that Howard announced the other day the AUGUST 2016 RELEASE DATE of another series of hers? And nope, it's not Roseblood pushed forward – IT'S ANOTHER ONE. Excuse me whilst I faint.
---
Shelter: A book that makes you feel at home and safe
The Lion, the Witch and the Wardrobe by C. S. Lewis
Gotcha there, didn't I? You thought I was going to post the first Harry Potter book. Well, HAH! Whilst I love that first book, I did have quite the severe love/hate relationship with it when I was about 8. Firstly, I had a terrible bookmark that annoyed me to no end, and secondly, if a snail had been sitting on the page and crawling along each line, it would've been going faster than my reading pace (and yes, that's where my handle comes from). ANYWAY. I love this book, I think I've read this three whole times – look at you gasping – so yes, snuggling up with this is definitely equal to building myself a nice, safe shelter.
---
Flare gun: A book you would recommend to a person that doesn't read
Contest by Matthew Reilly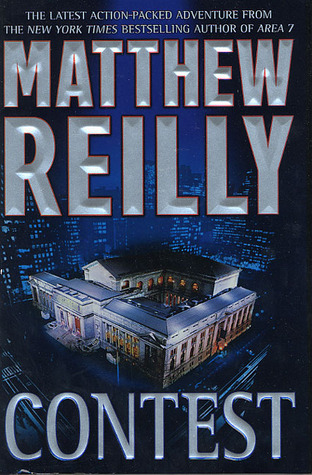 Now my reasoning for this one is very sound. My sister's boyfriend is not (or should I say, was not) a reader AT ALL. And obviously this bothered me. What strange human being doesn't enjoy staring at variations of the alphabet on endless pages for hours? PAH. So I actually marched to the shops, bought this for him, and gave it to him with the words READ THIS OR ELSE. And guess what? He loved it. L-o-v-e-d it. In fact, it was such a ridiculously successful conversion that he's even gone out and bought more books since, *self-five*. Because have you even read a Matthew Reilly book? They're monstrously fun and an excellent flare gun for a sinking reader.
---
Fire-matches: A book that warms your heart
The Name of the Wind by Patrick Rothfuss
You know, I was just imagining how ineffective this would be as a pick up line. But I'm keen to put this to the test. I think I shall wander around uni declaring that you make my heart warm like a matchstick, and see how that goes. I'll let you know. I LOVED this book (obviously, what human being in their right mind doesn't (sorry if you don't)). I also read this during winter and I don't know about you but when I think back on books I recall the time of year I read them in too – or just a general 'experience' of the time that I was reading them. So this book makes me think of tea, scarves, snugglyness, and happy thoughts. Ahh.
---
Compass: A book that directed you towards your love of reading
Tiger's Curse by Colleen Houck
If you don't know, this is my FAVOURITE book. I loved this series so much and just omg – I mean, the entire third book is heavily revolved around dragons and, well, you know me (I just realised that I have no dragon paraphernalia at all . . . this must change). This book 100% got me into reading because it was the first YA fantasy book that I read and went dayuuum that was good. And I have never read anything but YA fantasy since. The end. (I'm kidding, sort of).
---
 My tags:
Kirsty @ Kirsty's Book Reviews
Ashley & Veronica @ City Girl Scapes
---
So there we have it! This is the realistic list of items that I would bring with me if I were stuck on a desert island. Yup. This was a really fun tag to do so thank you again Beth for tagging me!! As a fun disclaimer, I'm writing this sipping on my brand spanking new mug from Cait (@ Paper Fury)'s Society6 store and it's BEAUTIFUL. If you want to see this oh so lovely mug then head over to this Twitter post of mine to see it in all its glory. #Supporting FabulousBloggers.
Would you choose any of these books if you were stuck on an island?
Let me know in the comments below!
---
~~ Kirstie ~~