5/5 STARS
Genre: Historical Fiction, Children's Fiction
Author: Paul Dowswell
Published: October 2017
Publisher: Bloomsbury
Pages: 288 {paperback}
Thank you to Bloomsbury for sending me a copy of this in exchange for an honest review!
---
Initial Thoughts Upon Finishing
This was such an interesting read. I've not read any of Dowswell's books before but I'm so glad I got the opportunity to try one. This was a fantastic piece of historical fiction that explores the war and Nazi Germany's attitude at the end of it from the perspective of abandoned children. All the characters have either lost their parents or been orphaned and it's done so well. I really enjoyed how well this was put together to explain how the German people couldn't comprehend what the Nazis were doing to others – absolutely brilliant.
---
Wolf Children
This is a story about the children of Berlin at the very end of WWII living in a broken and dangerous world. The children are on their own and struggling to survive. It follows their story from where we're introduced to them to the end of the war and what happens to them. It's set after Hitler is killed, so that interesting little window of time.
The purpose of the book – because oh boy do I believe there is a great educational purpose to it – is to explore the difficulties of children this age growing up in Nazi Germany having been taught Nazi ideology (subhumans, racial hygiene, etc) and deconstructing this as they realise it is wrong, cruel and disgusting.
We battle with the danger of living on the streets of Berlin when nowhere was safe, no help was available and death threats were a way of life.
It's a simple story and one you can read on surface level or have a full on debate about. I highly recommend it for its unique perspective that helps readers understand the stance of Germans who were shocked when they found out about concentration camps and how hard it was to be overruled by Russians and Americans and find a way to be proud of being German again.
---
Children's Fiction?
This definitely reads as children's fiction but I wouldn't give it to anyone under 12 just because of the mature issues dealt within, a couple of deaths and one particularly brutal murder. Being a war setting this is kind of inevitable – I'll discuss in a spoiler section what the adult moments are:
SPOILERS! SKIP TO NEXT SECTION TO AVOID
*
*
*
*
*
*
*
*
1. Otto gets bitten by a rat on his finger which becomes infected and gangrenous. They eventually do a make-shift operation to cut off the dead and festering parts of the finger to try and save him. No explicit details are given but it's not hard to imagine.
2. A man is stabbed in the chest.
3. References to boys killing another boy.
4. Constant death threats and one particularly nasty threat of cutting up Otto and Ulrich and burning them.
5. A mad Nazi man is bashed over the head repeatedly by the children and stabbed through the hand before set on a bonfire to be blown up (which fails, he wasn't dead) and then they knock him over and he breaks his neck.
6. The twins eventually go wrong with their exploding plans and blow themselves up moving some bombs.

---
The Characters
All of the characters were awesome in this book. It's really well written as I've said and Helene and Ulrich were definitely the main interesting ones for me — why? Because they were total opposite ends of the spectrum.
Helene has moved past the Nazi teachings and is doing her best to rebuild her life. Whereas Ulrich is so set on being a pure and proper Nazi and you watch him see reason painfully slowly without being altogether convinced he'll ever see the light.
However, Otto was great too. He was a strong main character but a decent one. The twins were a bit of fun and I liked what Hanna brought to the story although she is barely in it for a solid 50% of it. Ernst terrified me and the Doctor was a slippery character who I was never sure whether I liked or could trust. It was interesting also to see the German perspective on the Russian and American soldiers.
---
Summary
Highly recommend! Nothing beats a good historical fiction, especially one as short and sweet and done so well as this. I have no negative points to give to this — it's a simple and interesting read that I'd recommend to anyone.
---
Grab a Copy!
I am an affiliate with these companies. By using these links to purchase books you are supporting Upside-Down Books!
Get free worldwide shipping and great prices with The Book Depository and Wordery!
Support an Australian company with Angus & Robertson and get free shipping on orders over $60!
Support an Australian company with Booktopia and enjoy flat rate shipping for AUS/NZ!
---
 You might also like . . .
---
Have you read Wolf Children?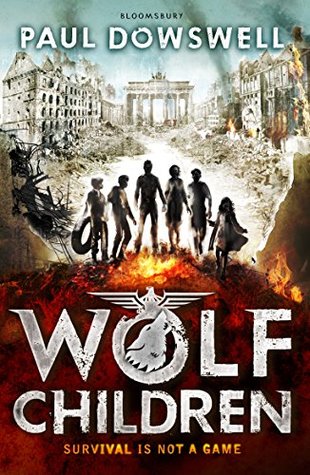 Share your thoughts below!
---

~~ Kirstie ~~