5/5 STARS
Genre: Young Adult, Epic Fantasy
Author: Leigh Bardugo
Published: September 2016
Publisher: Orion Children's Books
Pages: 536 {paperback}
This review is spoiler-free until I state otherwise
---
Initial Thoughts Upon Finishing
Well, GOOD LORD that was an emotional rollercoaster with an overdose of stress. Bardugo sure knows how to shave the years off your life. Kaz is ridiculously badass and I love him. SO MUCH LOVE for this series – heists and scheming do not get better than this. These guys have to be my favourite gang of characters ever – the sass is so real. I can't believe the adventure is all over now!
---
Crooked Kingdom
This is the second book in the Six of Crows duology by Leigh Bardugo and it was a fantastic sequel. However, if you haven't read the book then this review will contain spoilers for the first book. So run along now if you don't want to be spoiled.
Crooked Kingdom picks up from where we left off in the first book. About three weeks have passed since Inej was captured by Van Eck and the crew is trying to put together a rescue plan to get her back — however impossible that might seem. This book is much faster paced than the first and hooks you from the get-go. The scheming that goes on to not only plan Inej's rescue but to get back at both Van Eck and Pekka Rollins was awesome. How Bardugo thought that all up, I'll never know.
The story revolves a lot more around action and all the characters putting aside their individual problems to reach their end goal. So in that way, it's less character driven than the first book. Yet, you still get plenty of backstories and internal struggles amongst the characters. The most prominent ones being Jesper and Kaz, himself.
But now let's discuss some spoilers for the book itself. So! If you haven't read this book, skip to the summary if you don't want to be spoiled!
*
*
*
*
SPOILERS AHEAD!
---
Characters
Despite what I said, I feel like this story is, at the end of the day, about the characters. So I'm going to start with talking about them. I love these guys so much — I feel totally lost without having them at hand now that the story is finished. Bardugo has done a wonderful job of creating a band of misfits, as good as any Sarah J. Maas novel, that you absolutely fall in love with.
I love how different they all are but their absolute dedication to each other despite pretences that it's every man for himself. The relationships between characters took off like teasing fireworks which exploded when you were not expecting them too. But let's break it down.
Kaz
Kaz has got to be one of my favourite anti-heroes. He is so cold but caring, so daring but unpredictable and most of all he's so damn secretive. The entire way through the novel I was itching for him to confide everything in Inej. I need those two to be together as much as I need air. Obviously, this doesn't quite happen but we certainly make some excellent progress towards it. BUT THAT MOMENT WHEN HE CALLED JESPER JORDIE? AMIRITE?
I found it touching that he proposed all his grand scheming to be solely for getting back at Van Eck — but if anyone pointed out that it was clearly for Inej he snapped at them. He's like a wounded animal who can't bear to be seen as in any way sentimental. I am constantly in awe with his ability to predict with incredible precision what actions people will take. The fact that he pulled of the stunt with Kuwei during the auction was crazy. I also love that Kaz is not perfect in that he has a physical disability — if you could call it that — his constant struggle with pushing himself beyond the pain his leg causes him makes him a very real character.
When him and Inej have their moment in the bathroom I could have died. My heart absolutely bleeds for him and his boy-like determination to be better than he is: to be able to touch her. But whenever he tries and fails his harden mask slams back down and we're back to a Kaz Brekker who hasn't got time for anyone. When they finally come together in the last chapter or so and Kaz isn't wearing his gloves, I could have died. When he catches Inej as she falls when she sees her parents I practically squealed. Not only does he achieve physical contact through holding her hand — BUT HE EXPRESSES EMOTION. He is vulnerable and wondering whether he did the right thing to bring her parents here. I can't, I just can't.
Inej
Is there anyone cooler than Inej? I think not. She is Kaz's rock, whether he likes it or not, and the coolest damn spy ever. Did anyone else JUST DIE when Van Eck nearly had her legs smashed? I was ready to catapult the book across to the other side of the room in a rage. Thank goodness that didn't happen. Also omg to her crawling through the vent, claustrophobic/10.
I also nearly died when she fell off the bloody tightrope. Bardugo is clearly trying to give her readers a heart-attack. I really want more about Inej's character and I'm praying for a novella to find out why exactly she, in particular, came back for Pekka Rollins in that last chapter. Was it for herself? Was it for Kaz's benefit? Who knows. I wish I was Inej, she's just so cool. When she finally beats the White-whatever-she-was assassin chick I was waving my Gryffindor pompoms and doing a High School Musical victory boogie.
Nina
Nina is another character that I would absolutely love to see more of. If we don't get a novella about her (or a spin off series, is that too much to ask?) I will be utterly disappointed. Nina's struggles with the addiction/withdrawal from the Parem drug was awesome. As I was reading this with my trusty buddy-reading friend Amanda (@Cover2CoverMom), she commented on how that was a really unique perspective to add into a book. I totally agree here, I've never read anything that has that much time dedicated to the difficulties of drug addictions. I loved it! But it also broke my heart seeing Nina struggle so much and seeing Matthias support her so well.
AND CAN WE TALK ABOUT HER NEW POWERS? Like, come on, Bardugo, we ain't done with Nina's story now. Raising the dead? HECK YEAH. Nina is too cool for words.
Matthias
*sobs uncontrollably*. HOW DARE YOU.
Wylan
I loved how much Wylan came out of his shell in this book. When we get the full backstory to exactly how he ended up with this gang I was both shocked and impressed at his resolve. The fact that he was stuck looking like Kuwei for so long (Kuwei was a bitch FYI. How did he not die? Why couldn't he have died?!) was both sad and hilarious. If not for the fact that it caused Jesper so many problems — LIKE THAT TIME HE KISSED KUWEI BY ACCIDENT. Omg, that scene. Whew. The tension, the need, the wrong fucking guy.
AND, what about Wylan playing a badass motherfucker (no I will not stop swearing) when he allows himself to be beaten to a bloody (literally) pulp to ruse is father? Yaas. I didn't see that coming, I was nearly in tears when they started beating him up. Then he's all like, "I'll say whatever you want father" and I'm like SON, WHERE'S YOUR OSCAR?
Jesper
Oh, Jesper, bless you. The underlying story between him and his father, I really liked. I thought that was a nice touch to real the story in and bring us back to remembering and none of the characters really want this life, that they're all fighting for something. He's such a softie at the end of the day, and his absolutely lust and desperate need for Wylan is adorable. I'm so HAPPY that they're truly together now.
I wouldn't mind a novella about Jesper learning to use his powers either. That would be awesome. Also the scuffle fight between him and Kaz was brilliant. I loved that scene so much.
---
The Deceits
And to quickly touch on this base, I couldn't believe how unbelievable Kaz was in directing the outcomes of everything that happened. There are so many times throughout the story that you're absolutely sure no-one is going to make it out and then oh wait — Kaz has a plan.
It did sort of get to a point where I went, okay, this is a little too unbelievable now — but I decided to ignore that thought and continue loving everything whole-heartedly. But yeah, damn, Kaz, you're one evil mastermind. The silos, the bombs, the changing of Van Eck's will, the ousting of Pekka Rolins, the kidnapping of Alys, the false kidnapping of Pekka Rollins's son (bloody hell), the auction and everything in between. Just insane.
---
Summary
This book was phenomenal. I can't recommend the series enough and am on my hands and knees begging Bardugo to continue writing stories both in this world and about this cast of characters. I simply cannot settle to leave all of these characters where they're at. At the very least we need a novella to explain Nina's next moves, right? That is a story untold, right there.
---
Grab a Copy!
I am an affiliate with these companies. By using these links to purchase books you are supporting Upside-Down Books!
Get free worldwide shipping and great prices with The Book Depository and Wordery!
Support an Australian company with Angus & Robertson Bookworld and get free shipping on orders over $60!
Support an Australian company with Booktopia and enjoy flat rate shipping for AUS/NZ!
---
 You might also like . . .
---
Have you read Crooked Kingdom?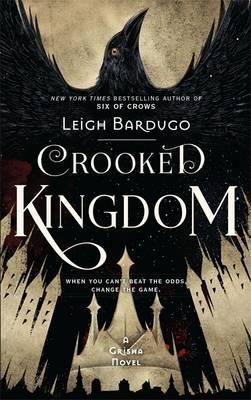 Share your thoughts below!
---

~~ Kirstie ~~