4.5/5 STARS
Genre: New Adult, High Fantasy
Author: Sarah J. Maas
Published: May 2017
Publisher: Bloomsbury Children's Books
Pages: 699 {paperback}
Originally posted on Goodreads
---
Initial Thoughts Upon Finishing
I have so many thoughts and emotions about this book – two main ones being OH GOOD LORD MY HEART I LOVED IT, and the other bring ….did that need to be 700 pages?? But first, I must ponder the events of this book over a strong cup of tea and maybe a few naps before I can properly express my thoughts.
---
A Court of Wings and Ruin
So. So, so, so. Where to start. This was a disappointing but also brilliant conclusion to this half of the series – well, it's basically just it's own trilogy, isn't it? If you've read A Court of Mist and Fury then I would highly recommend finishing off the series. I really enjoyed this third book but my main complaint is that it didn't need to be 700 pages. Which at the end of the day isn't really a big thing.
There are plenty of negative reviews for this one and hugely mixed feelings but my bottom line for those of you undecided whether to read it is: READ IT BRO BECAUSE DAMN. MAAS GUNNA MAKE YOU CRY LIKE A BABY. I love this world and this story so much and am really sad that the next three books are not following the same characters to the same degree.
But now, if you haven't read this book, off you pop. It's spoiler time.
---
A Discussion
We left the last book with shit hitting the fan at every angle. Every page of that book was perfection and now here we are, back in the Spring Court, watching our baby Feyre destroying it gloriously from the inside out. It's magnificent, it's like maybe 100-200 pages of YOU GO GIRL.
We have no idea what's really going on in anyone's head – Feyre yeah, but Tamlin – is he still crazy? Whose side is he really on? What does Lucien suspect? Should I like Jurien or is he evil? It's plot twist central. I loved this part of the book. It carried on just as the previous had done. But it ended so quickly.
I was expecting that section to be a good chunk of the book, I must say. Feyre then returns to the Night Court with Lucien in tow who's like a useless marshmallow not knowing what to do about Elain being his mate.
We discover that the sisters whilst okay are reclusive and unfriendly. My brain fails to remember what actually took the next 400 pages up. Feyre and Rhys have sex quite a lot, training occurs although Nesta always declines, there's an awkward dinner, Amren continues to talk back to the book she's deciphering, and plans are made for defeating Hybern and his cauldron. Oh, and there's a meeting.
It just seems to take a long time for anything to get going? This book will forever leave me confused. It's a notch down on the scale from the previous book but I still loved the dynamics of the characters. I loved the story and I love the world. The amount of sex did even bother me that much – it's Sarah J. Maas, what else were we expecting?!
The fighting was awesome. I loveeeed it. Maas writes battle scenes like it's no-body's business. One of my friend's (yes you, Kate) pointed out that it was curious that for a super team such as the characters we are following, it seems damn hard for them to defeat an average army. ALAS, I find this reasonable. Yes, I think it perhaps shouldn't have been so hard considering they have all powerful powers, but at the same time burning out is a real concern and hot dawg, Hybern has a lot of men at his disposal. But hats off to the battles.
SHOULD I MENTION HOW MUCH I LOVED THE RESCUE OF ELAIN? That was the best. Feyre taking her running leap of faith and praying to every god in existence that she doesn't plummet to her death. You can practically see Azriel moving in slow motion and thinking – Rhys is going to kill me, Rhys is going to kill me – and then everything continuing in a muted slo-mo effect as Tamlin saves the day by giving away his cover as Feyre launches herself over the cliff. Will there ever be a more tormented and misguided character as Tamlin? I think not.
The other forces coming in to help out at the end was quite cool though. And the Bone Carver etc – I'd love to see this battle on the big screen, that's for sure. I want to know more about the other new characters though – fingers crossed for the next books, eh?
So I'll say this: Feyre is an awesome kick-ass heroine and Rhys is so adorable I'm expecting him to accidentally turn into a puppy. I wanted Lucien to remain in the story more and feel like he could have given it a bit more OOMF if he hadn't been cast aside for the entire plot and I think the sisters should have moped for half the time they did – although I didn't mind Elain being like half mad. But damn it took the others a long time to figure out she was prophetic, jeez louise.
It's a good book and a solid end to the series. But it's not going to blow you away. Just make you aggressively cry and have confused feelings for the month or two (or maybe a whole year) after you finish reading it.
---
What I Didn't Like
But let's now have a look at what bothered me.
WHY DID NO BODY DIE. WHAT IS THIS? PETER RABBIT IS MORE HEART-BREAKING THAN THIS BOOK.
It really bothered me that no-one died. Someone should have, right? AND STAYED DEAD? RIGHT? But why do I want someone to die? I love these characters! I think it just seemed unrealistic – plus we are 100% prepped for Azriel and his damaged wings to make his way up to fae Valhalla during that battle.
What I thought was going to happen was this: I thought Rhys would die – and he does and I cried like a fucking baby thank you very much Maas, until he's brought back to life. AND THEN I CRIED SOME MORE: "be happy Feyre" *wails to the gods*. Oh Tamlin, you horrible, tormented, dastardly man. I hate you and love you in equal measures.
The Rhys thing was great though. I must give it to Maas that that was brilliant. But I thought Cassian would die – his whole thing with Nesta was borderline okay and the main reason I was hoping he wouldn't pop his cogs. The fact that he's battling recklessly and hinted at nearly dying twice before his damn leg is snapped and bone is sticking out of his leg, but he lives, was like OH COME ON. WHAT ARE YOU? A CAT!?
Can we talk about the mates though? Does everyone need one? Amren isn't even fae. Why was that happening. Why does Cassian and Nesta need to be a thing? Why was Lucien so pathetic. OH, speaking of Lucien.
MAAS WHY? WHY WASN'T HE THERE MORE? I was so upset that he'd disappeared for 500/700 pages. He's my favourite character bless his cotton socks and so much potential. So. Much. I'd practically forgotten about him by the time he came back from his quest. I also thought it was entertaining that when he does come back, he actually hadn't achieved anything and instead had run into the girls' father who'd already found the missing human queen. Anti-climatic or what.
Killing off the father seemed like a cop-out. If J. K. Rowling had written it he'd be the only character left standing. Why on earth did Amren need to come back to life? She had such a dramatic exit, it was brilliant. Then: *poof* back in the cauldron.
My final point point is that I simply wanted more. Something more adventurous to happen in the middle. Maybe Feyre retrieving that mirror could've been a bigger plot line or something else. Who knows. Just more would've been nice.
---
Summary
Indeedily-doo this was a most excellent book. Yet I find myself overwhelmingly disappointed at several aspects. However, I'm happy that in the end I'm pleased with how Maas has wrapped up this series. Maybe more characters should have died but hey! We've still got all our precious characters with us and I haven't had to cry myself to sleep over it. That's good, right? It's a 4.5 star from me, sitting smack-bang between book one and two. I prefer it to the first but no book that is not Harry Potter will ever be as good at A Court of Mist and Fury.
Get a copy!

I am an affiliate with these companies, by using these links you'll help support Upside-Down Books!
---
You might also like . . . 
---
Hav
e 
you read ACOWAR? What did you think?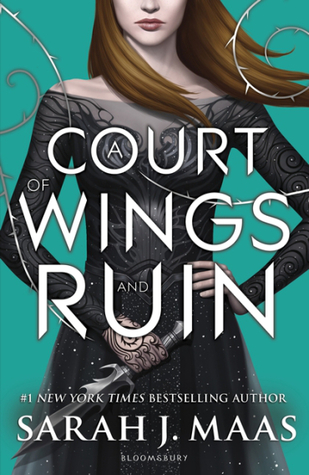 Share your thoughts below!
---

~~ Kirstie ~~
SaveSave