5/5 STARS
Genre: Young Adult, Epic Fantasy, Murder Mystery
Author: Miriam Forster
Published: February 2013
Publisher: HarperTeen
Pages: 384 {paperback}
Originally posted on Goodreads
---
Initial Thoughts Upon Finishing
This was crazy good. How are more people not raving about this? I loved every page of this book and I definitely need the companion book because I can't get enough of this world. The characters in this book are so complex and wonderful and I can't sing the book's praises enough!
---
City of a Thousand Dolls
I don't know what it is about this book but it's really sticking with me. It's been a few weeks since I finished reading it and I can't stop thinking about it. I loved the setting so much – I'm positively in love with the story itself. I seriously can't wait to continue the series, that's for sure.
The book follows a young girl called Nisha. She lives in the City of a Thousand Dolls – this is a place of refuge for unwanted girls. In this world, the emperor has cast a two child policy, which means that with women being the less desirable of the genders in this world, many girls are abandoned. The City was built to protect them and give them a chance at life.
Within its walls, there are various houses that the girls are placed into. Their skills are assessed and they learn a particular skill set that will make them desirable at their Redeeming. The houses train them in pleasure, knowledge, combat, etc – so they learn one of these skills.
The Redeeming is something that happens when they are 16 and essentially they are sold off to the highest bidder. However, it's not viewed like this (although Nisha shares the reader's perspective) – the girls see it as a chance to marry into a good caste and live a good life.
EXCEPT PLOT TWISTS OF HELL. Setting and context aside, this is a murder mystery. Girls start dropping dead and it becomes Nisha's mission to work out what on earth is going on and how she can stop it before either herself or a friend gets in the firing line. On top of this, she has personal issues abound and a heritage that is unknown yet comes into play.
---
The Best Setting Ever
Everything about this book just works. The setting is rich and wonderfully chosen. I love that there's the nice element of the City protecting the girls . . . but then on the flip side they're raised to be sold. So is it really better?
It's a wonderful sort of epic fantasy world and I'm super curious to explore outside of the City's walls. I want to explore Nisha's character even more and see what she makes of her life. There is the potential for so many political intricacies and a serious expansion of the world we know of in book one.
I love the layering of the plot, too. Forster has done an excellent job giving us a Young Adult novel with more than what you could ever have hoped for in 300-ish pages. Everything just works and makes for an excellent story.
---
Characters
There was a great amount of good and complex characters in this books. Nisha, herself, was quite relatable at times and pretty good with dealing with horrendous situations. Murders aside, she has so much other shit going on in her life.
The Matron for whom Nisha works for was a constant mystery. I liked her but I kept receiving hints that maybe she wasn't all she seemed. I was constantly second-guessing her nature and whether she was good or bad.
The other minor girls were all unique and had great stories. I loved the complexity of the two other girls in the story – one appearing evil but mostly a desperate and pathetic soul, and the other seeming wonderful but with a snake of a personality. I'll let you decide who's who.
Now I must quickly discuss the best plot twist ever written in history (highlight to see spoiler): JERRIT IS WONDERFULLY ATTRACTIVE. I had no idea that he was Tac all along. I loved, loved, loved that he'd been protecting Nisha the whole time – it was fantastic! I really want there to be a thing between them but I think the relationship is intended more as a platonic one – they're sort of family, right? Such a shame.
---
Summary
I can't recommend this enough. More people need to get onto this series if not for anything but it has a beautiful cover. The story is rich and promising, it's an excellent mystery and the world is something you will fall in love with. SO QUICK, go get yourself a copy!
---
You might also like . . .
If you like an epic fantasy world divided by castes and with a girl to save the world, A Torch Against the Night is for you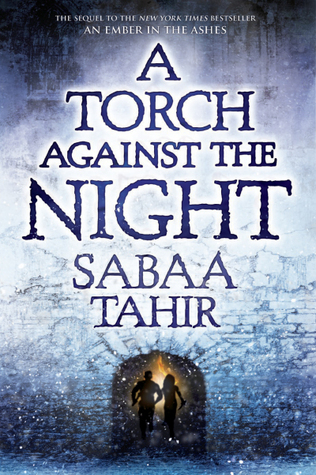 If you love meek heroines who turn out to be made of steelier stuff, Legacy of the Clockwork Key is for you
If you just love stories where people are trained with particular skills, The Ruins of Gorlan are for you
---
Have you read City of a Thousand Dolls? What did you think?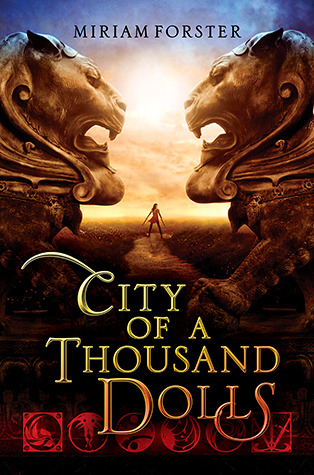 Share your thoughts below!
---

~~ Kirstie ~~