4/5 STARS
Genre: Memoir
Author: Stephen Fry
Published: 1997
Publisher: Arrow
Pages: 436 {paperback}
Originally posted on Goodreads
---
Initial Thoughts Upon Finishing
This was a masterpiece of an autobiography and I loved it. I find Fry to be such an interesting person and I thoroughly enjoyed his recounting of his childhood and various mishaps. The writing was sometimes a little too wordy and would lose me a little but other than that it was a fantastically hilarious book!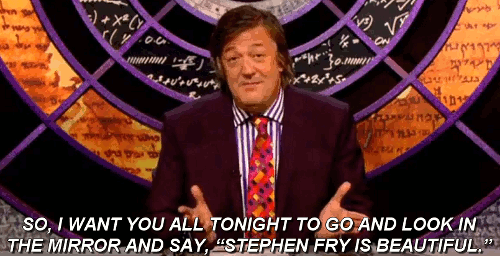 ---
Moab is My Washpot
This book is an excellent and entertaining memoir by Fry on his first 20 years of life. I thoroughly enjoyed it. He's a very interesting person and I've seen him on stage previously where he has talked about some of these events. It was fascinating to read about them in detail and experience them in what almost felt like first hand.
He's a very talented writer in that it's just so damn entertaining to read about his life. How one achieves to make a recount of their life more of a page-turner than some fantasy stories, I will never know. I loved hearing all the details and was actually quite shocked about some of the things from his childhood.
Honestly, when Fry is going through his schooling years (as he does for a majority of the book, to be fair) it felt like I was watching a movie. One of the things I loved the most about this book was being inside his head and having the perspective of what it was like to grow up as a gay man. A perspective I otherwise would quite impossibly have had the chance to experience.
His "queerness" as it is frequently referred to is not a huge, huge, huge, huge part of the story – most of it is focussed on his astonishing ability to lie and steal and be the cockiness student ever. I can only doff my hat to you sir, I wish I had the balls to do that to my teachers.
I also found it interesting to read about how he coped with hitting adulthood, prison – but most of all his attitude towards public singing and music-making. RELATABLE. If there's one person on this planet who can explain what it feels like to simply not physically be able to sing in public, it is he. This inability to "join in" as he says is heart-breaking but oh wow do I get him.
I love it when I read something in a book and see something of my mind splayed on the paper for me, it really gives you something to connect to that person with – and the most beautifully articulated explanation for your ailment in all humanity if it happens to be written by the one and only Fry.
I was devastated, however, to read about his struggles in life when it came to suicidal episodes and his nonchalance over stealing. It amazes me even more to see how far he's come from that. This memoir is honestly the most inspiring thing to read.
---
Fry's Writing
The one thing I found difficult with this book, however, was Fry's delightful waffle that was sometimes bamboozling. He has a wonderful vocabulary which, whilst enlightening and enriching, was sometimes frustrating because I'd be sitting here going, say what now. And the descriptions of places, good lord. I imagine J. R. R. Tolkien's memoirs would have a similar feel to those moments.
I'm not really complaining about that, however. What is that but simply me not having a big enough vocabulary? It's so refreshing to read a book by someone who can manipulate the English language so perfectly. But it did sometimes disconnect me from the book when I just couldn't take in a paragraph, a page, or a section.
---
Summary
Overall, this book was an absolute delight. I enjoyed every second of it. Never have I read a book that refers to the penis so much in my life and never would I have thought such a book could entertain me and enlighten me as much as this has. If you like Stephen Fry or are interested in his life and how he got to where he is, I can't recommend this book enough. It's such a unique read and will makes your childhood of cookie-baking, playground-playing and tv-watching seem a universe away.
---
You Might Also Like . . .
If you love entertaining autobiographies, Is It Just Me? is for you
If you enjoy autobiographies about successful British men, Life on Air is for you
If you can't get enough of Fry, continue his memoirs in The Fry Chronicles
---
Have you read Moab is My Washpot?
Share your thoughts below!
---
~~ Kirstie ~~